April showers bring May flowers but can it not rain on vacation, please?
We all hope for amazing weather when we travel, but sometimes it just doesn't work out, especially in the spring. For trips that can't be rescheduled, you just have to deal with it. Whether you've booked a non-refundable vacation, heading to a family gathering, or are on a business trip, don't let a few storms get in your way. Here's a handy guide to packing the right items for rainy weather.
Different types of rainy trips
I think there are a few different scenarios where one would need to pack for the rain.
The first one is that you're visiting a place with really unpredictable weather, where it can feel like four seasons in one day. That could be a place known for its freak rainstorms followed by beautiful sun, or just the nature of transitional or trans-seasonal weather.
Or, it's possible your beautiful holiday vacation that you planned months ago, is all of a sudden showing rain in the forecast and you're determined to make the most of it.
Or maybe the place you're travelling to is known for rain, like London, Seattle, or Vancouver, but it's a destination you're absolutely determined to visit and the rain is just part of the experience.
The last scenario is that you're going for a business trip or family function and don't really care about the weather anyway, but dressing for the weather seems like a reasonable call.
How to plan your rainy-weather packing list
If you've been following my channel for a while, you know that when I pack, I always consider four factors:
Weather
Activities,
Vibe (casual or dressy)
Length of the trip
I start with the weather because it has the biggest impact, but your exposure to the weather can really impact the way you pack. If you're taking a cab from the airport to the hotel and you're going to be in a conference centre for your entire trip, there's no point in you packing waterproof trousers. If you're going hiking on a dormant volcano, then maybe you'll want them.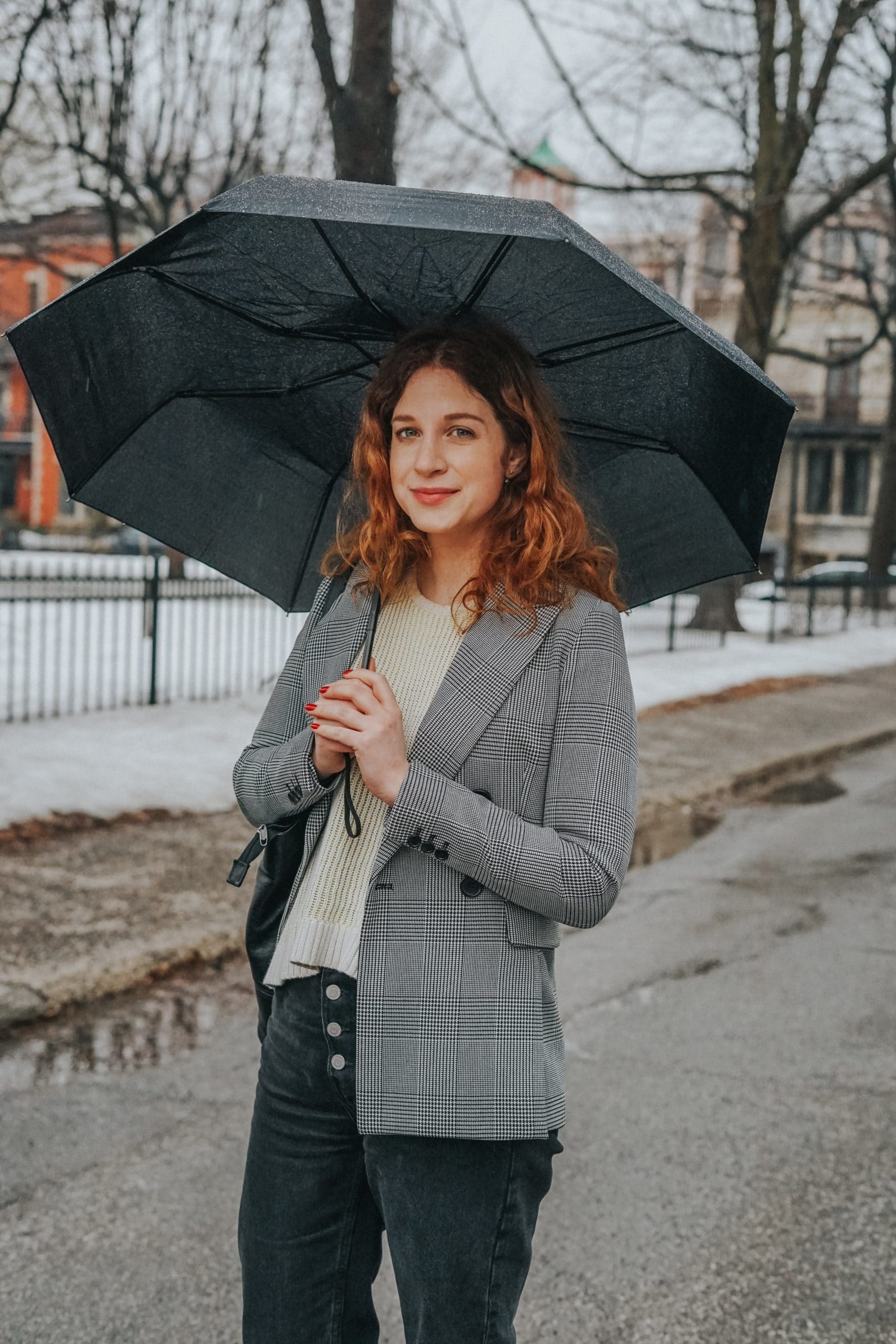 So my first piece of advice when packing for the rain is to determine:
How rainy it's going to be,
How much time in the rain you're going to spend,
How polished do you need to look.
The last category of how long you're travelling will simply help you determine how many changes of clothes you'll need to pack, but the major categories of footwear and outwear will be tackled.
The best footwear for the rain
If you're expecting a freak rainstorm only, you might get away with wearing any footwear, because you can duck into a covering or a cafe during the storm. I wouldn't risk it with canvas shoes or suede, for example, but whatever sneaker or booties you're wearing will totally be fine
Business trip footwear
For business trips, for example, my preferred styles are close-toed brogues, booties, or a substantial sneaker. Even in medium rain, these will do just fine. I would just recommend wiping off your shoes when you come inside. Rubber shoe covers can be a great business choice because you slide them over your dress shoes. For casual wear, Sillies are a pretty cute lightweight, easy-to-pack shoe cover for any occasion. They're like instant rainboots.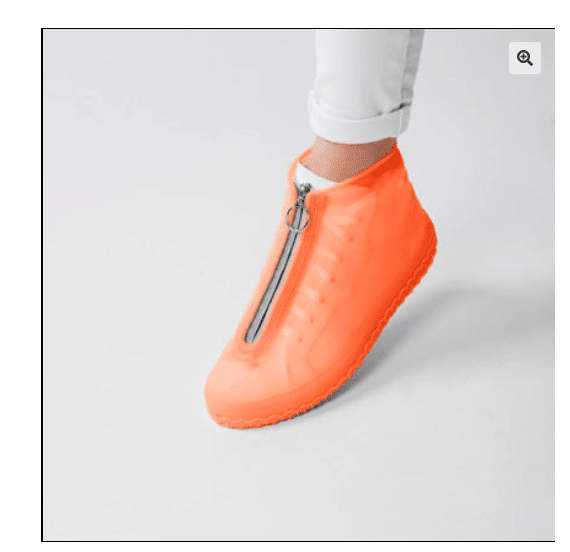 Shop
Water-resistant sneakers
If you're looking for a more athletic style, Vessi sneakers and Allbirds Mizzles are great options for water-repellant shoes that won't trap your feet in thick rubber. Because to be honest, here's the thing about dressing for the rain. It can get sweaty! Between the rubber boots and the plastic raincoats, there's little breathability.
If you want to wear your rain kit all day, there may be some compromises on fabrics to make sure you're not just as damp on the inside as you are on the outside. So, water repellant shoes can be a great option, just like leather treated with a rain repellant product can make your shoes/boots a comfortable all-weather option.
Shop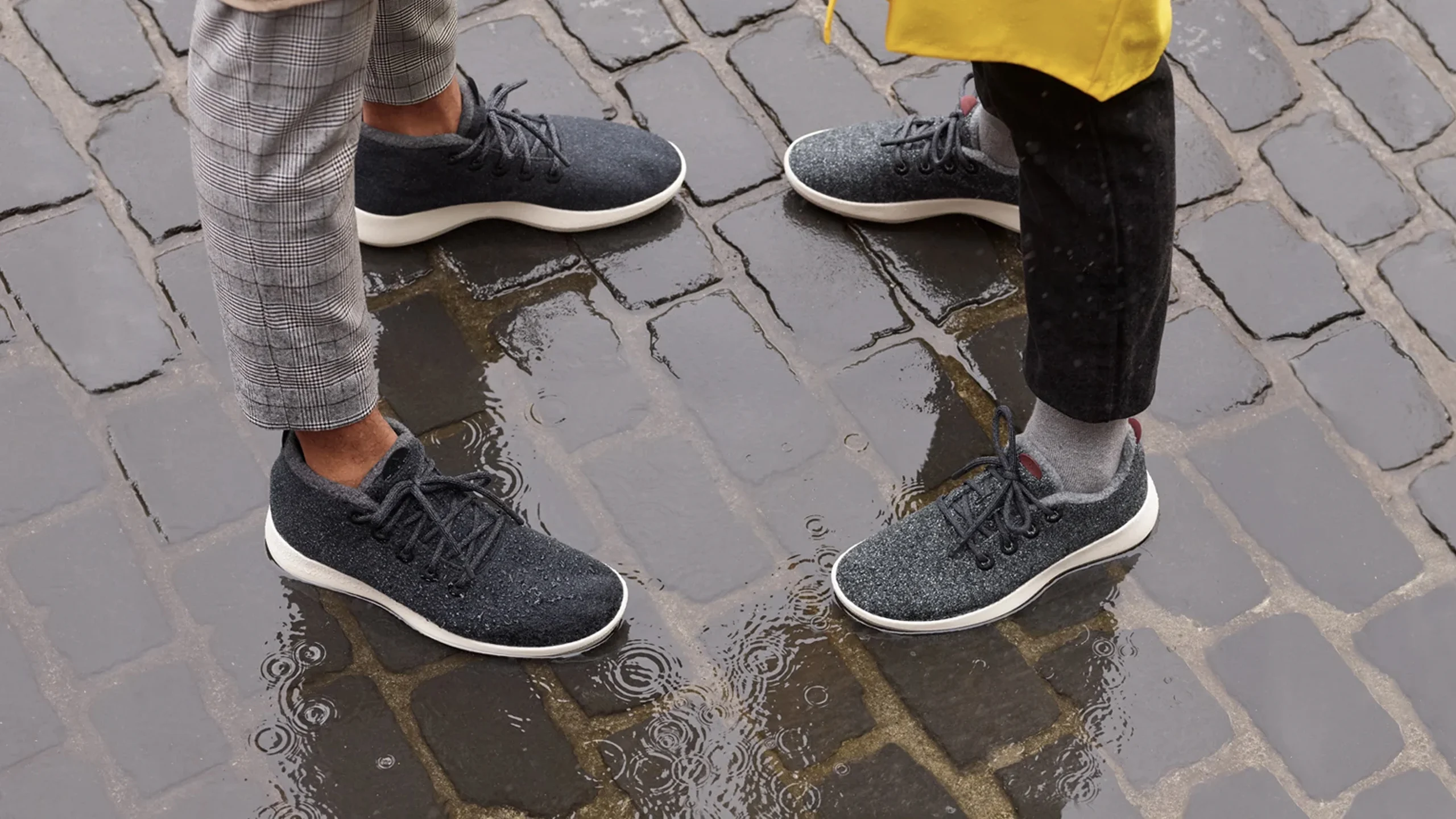 My last great rain-ready footwear purchase was Converse boots with an inner layer of Goretex. Goretex is a fabric that, at a microscopic level, has a weave that is tight enough to keep out water, but loose enough to let sweat exit.
The best rain boots for travel
Now, if you are committed to a proper rain boot, there are some really cute styles from high-heeled boots, to hiking styles, to ones that are tall but fold down, which I think are genius for fitting into a suitcase.
Shop
Beach trips
On the other extreme end, if it's summertime and you're on vacation, maybe plastic sandals are actually the best thing to wear in the rain! I've been on the beach when it rained and honestly, just rinsing off my sandals and letting them dry when the rain had passed was the easiest option. If you need to walk in sandals in the rain, I do find hiking sandals to be a bit safer because they are less slippery than flip-flops.
Shop
The best socks for rainy weather
One note on socks in rainy weather. As always I recommend merino wool socks because wool dries faster, it retains its thermal properties even when wet, and they are antimicrobial. If your cotton socks get wet, they lose all their warmth and take forever to fully dry. I've warned you. Always bring extra socks, because even mid-hike, a swap out of sweaty or damp socks can make all the difference.
Shop
Packing outwear for a rainy trip
If you're not sure if it's going to rain or you think the rain shower will only last a few minutes, packing a travel umbrella and simply seeking shelter will likely be fine. This also saves you from having to pack a full-on raincoat. Alternatively, you also have the option of purchasing a coat at your destination if the weather forecast takes a turn and you have to adapt. Always remember most packing mistakes can be remedied on location.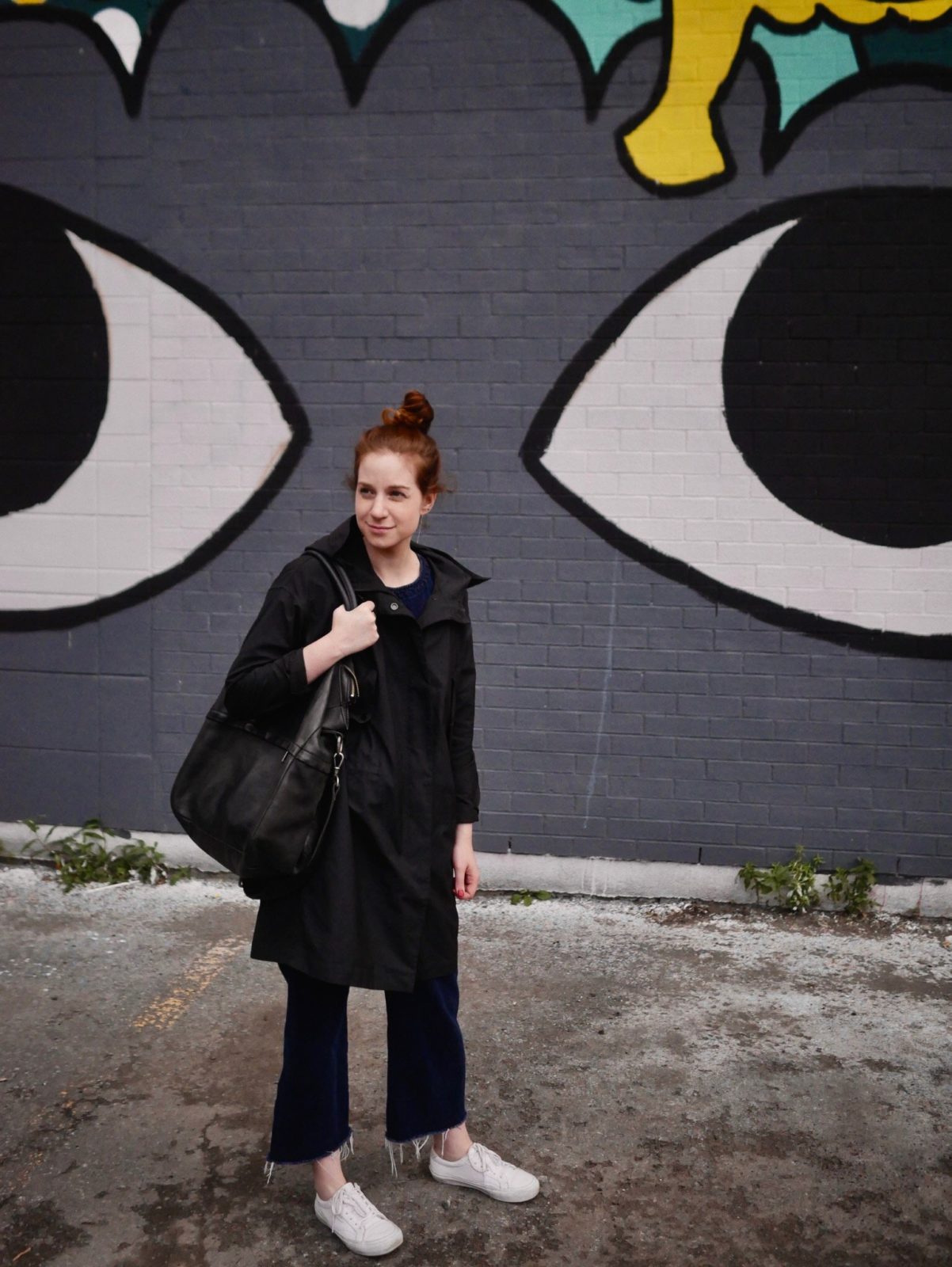 Other options for light rain are packable rain ponchos and the classic k-way packable raincoat.
My favourite style of raincoats is the lightweight kind with a deep hood, comes down to above the knee, so when I sit down on damp surfaces it's no big deal. Nothing with too many bells and whistles, but the hood is a must. I don't always love holding up an umbrella and when it's windy, I almost prefer not to have one and just count on my raincoat.
Other styles are longer trenches or rubberized long coats.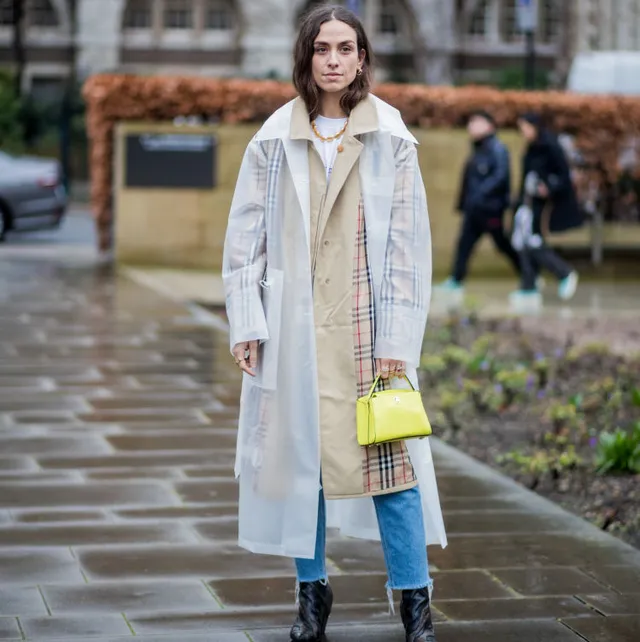 If it's a light drizzle, you can get away with a Mac coat or some sort of water repellant cotton, which means it's been treated to not soak in moisture.
Shop
Measuring your coat's rain-resistance
Are you always wondering what the difference is between water-resistant, water repellant and waterproof?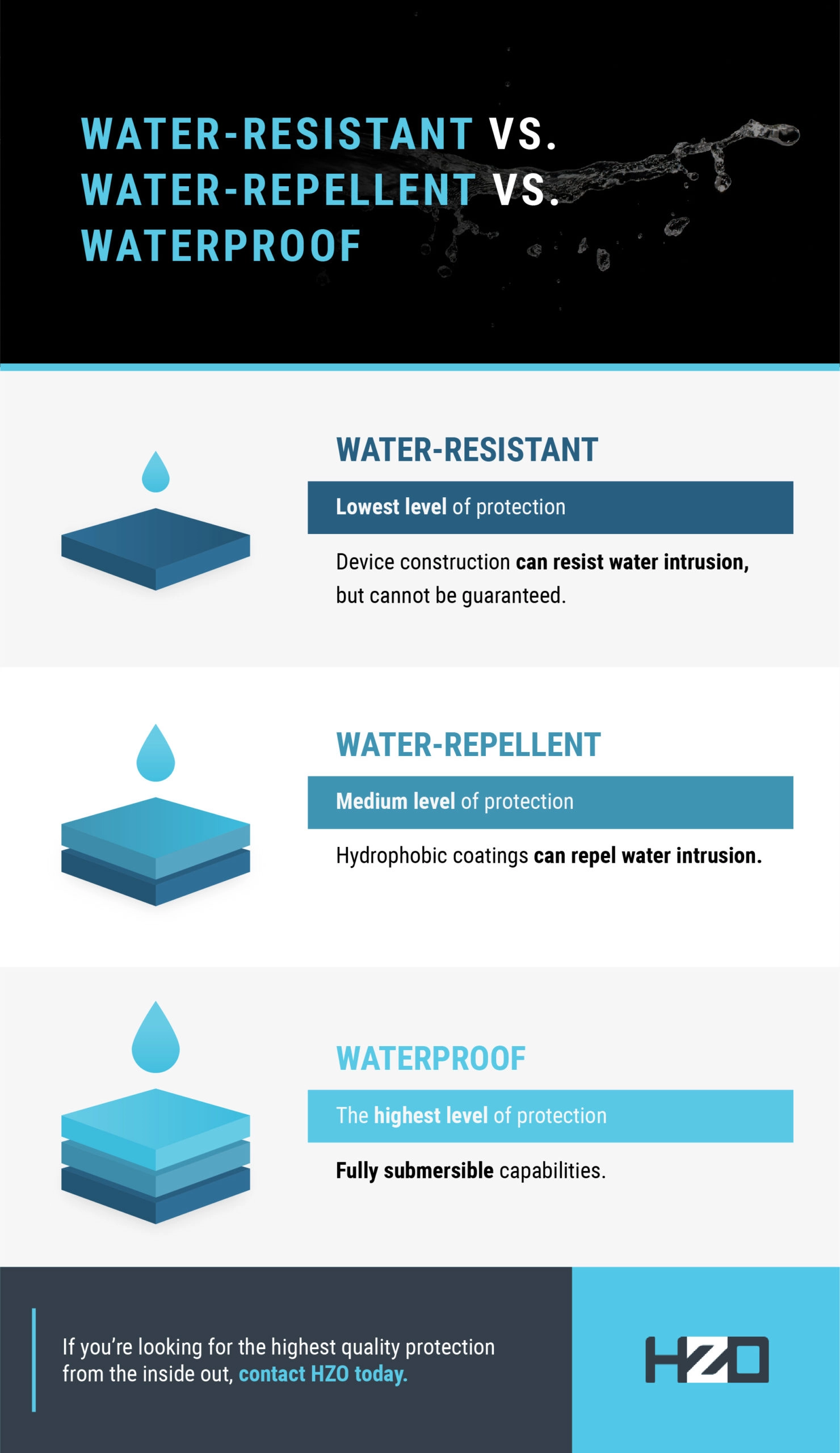 What does water-resistant mean?
Water-resistant garments offer the lowest level of water protection. If a garment resists water, it is usually because the fabric itself is acting as the barrier between you and a light rain shower. Tightly woven fabrics offer a degree of water resistance because it takes some time for water to seep through the material.
With the addition of a coating or impregnation, however, you can make the fabric water repellent.
What does water-repellant mean?
Water repellency is a step up from water resistance, which means water cannot easily penetrate the material. Instead, water beads on the outside. The technical term for this is "hydrophobic". This is usually achieved with wax coatings and other additional treatments that add a barrier on the fabric. You can even buy products to re-add repellant properties to your coats in the form of sprays, lotions, and in-washing machine products.
What does waterproof mean?
Waterproof means the fabric is designed from the start to absolutely be impenetrable. But who here has worn a jacket they thought was waterproof only to feel wet when caught in a downpour? That's because different waterproof fabrics have different thresholds of how much-added pressure of an intense shower will make water seep through the fabric to your skin. Some sources measured this information by the water column. So a jacket with a water column of 10,000 millimetres means you would only start getting wet if a single point of the jacket was hit by a 10-metre column of water. In other places, this was also called the fabric's Hydrostatic head.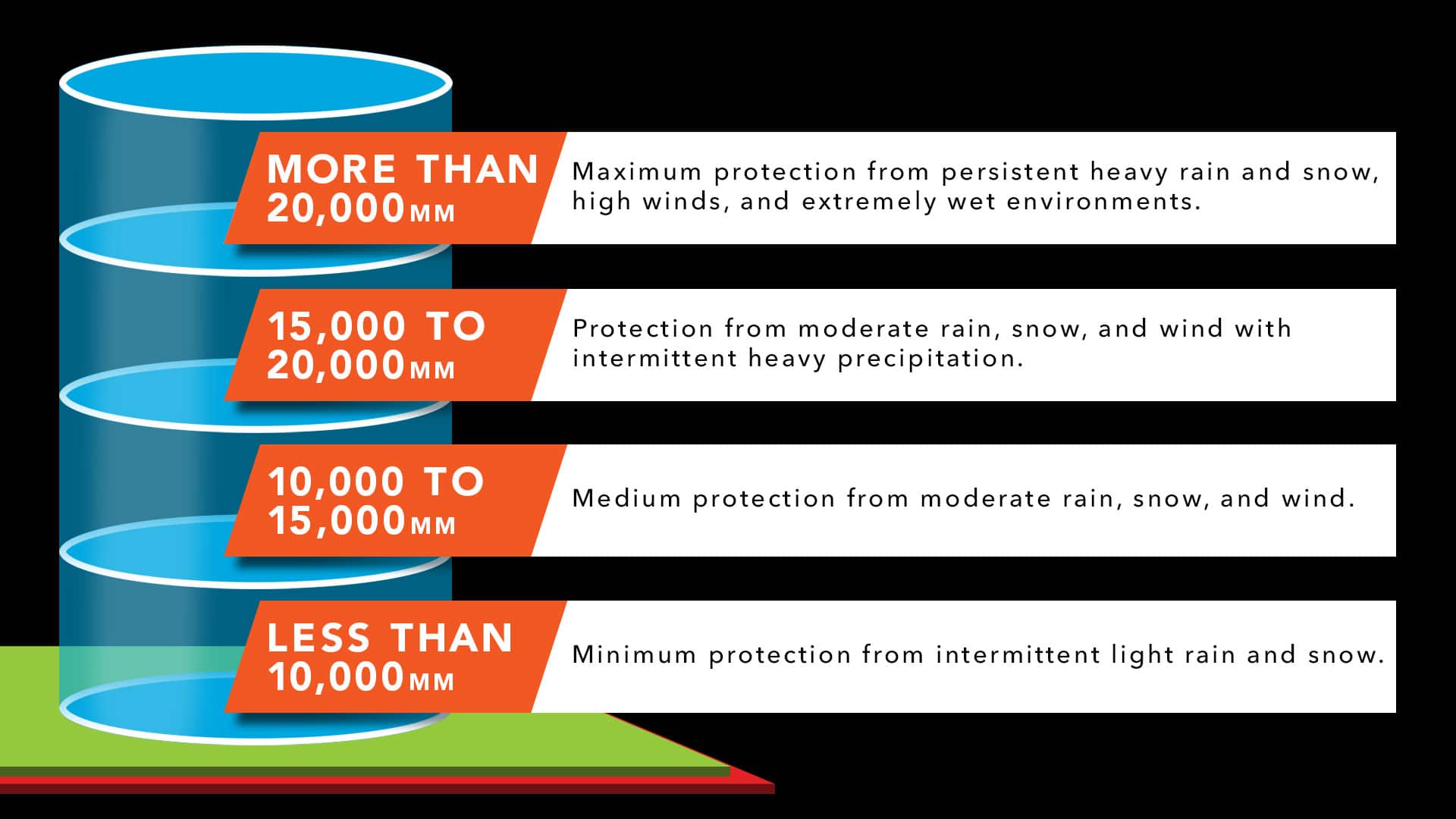 The best raincoat for hiking in the rain
So, if you are in fact planning to go hiking in a downpour, what's the best coat? I went looking on some backpacking forums to find the answer and it seems most people recommend a coat that has a hood, sufficient length to make sure water isn't dripping down your butt and can be tightened around wrists and around the face. They also recommend a water column of 20,000 millimetres or more, and then layer that over a more breathable, but still repellant inner layer. If it's cold, add a down layer underneath or fleece if it's not too cold and for your base layer, you guessed it, merino wool.
Shop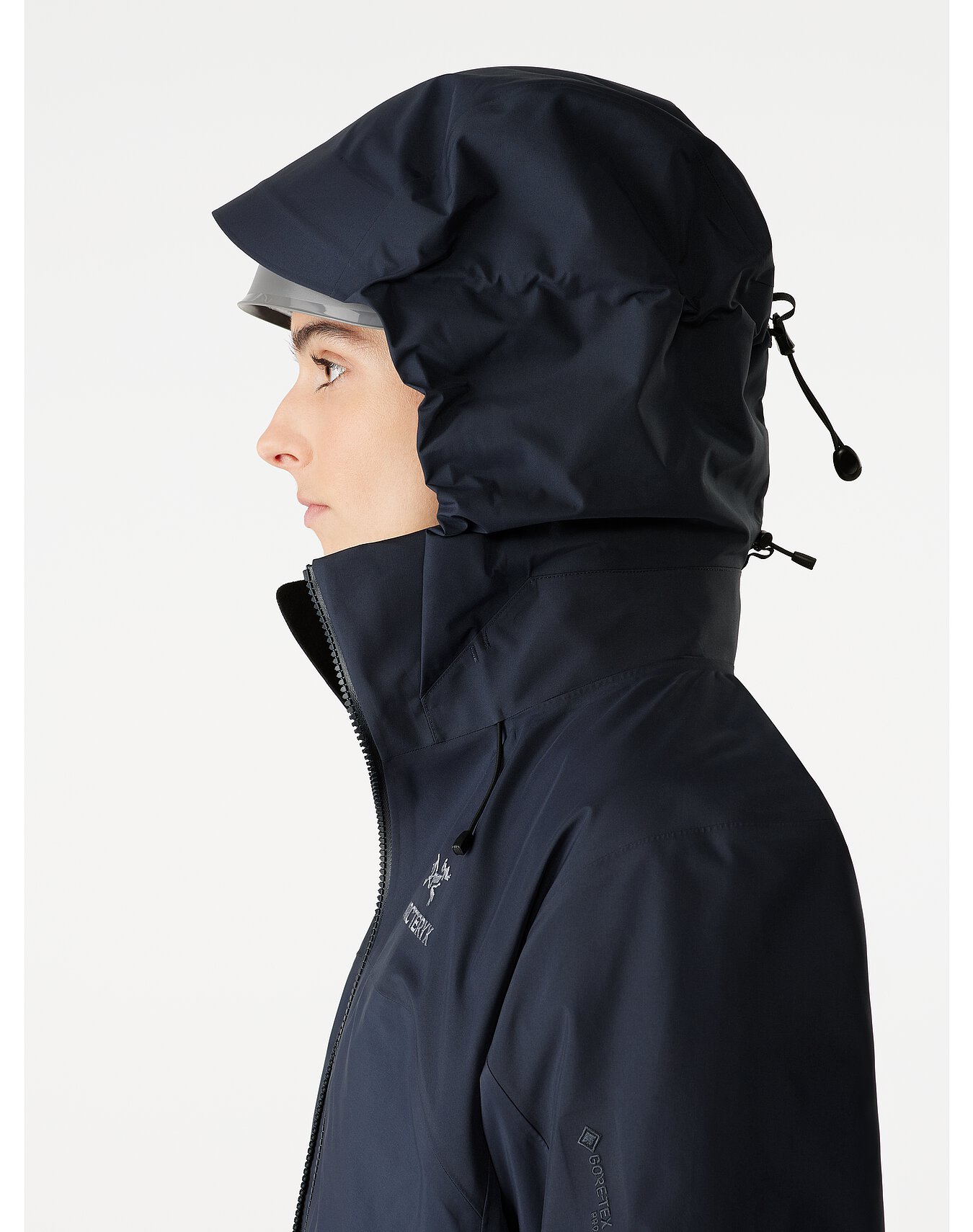 Shirts and trousers for rainy weather
Something I've started doing more and more is wearing certain more optimal trousers on rainy days, especially when it's windy AND rainy, which means rain can be coming at you from all sides. Tight denim is kind of my worse nightmare when it's really pouring because pulling off wet tight cotton jeans is horrible.
Instead, I wear wool-blend trousers on rainy days because they dry uber quick, or better yet, opt for a more technical fabric like Lululemon pants or Kit and Ace pants. If you're confused about what makes a pant technical, it's typically water-resistant fabrics and smart details like snaps or extra pockets or thoughtful extras that make it good for golfing or biking. But, some workout pants can also be great options. My Lululemon joggers are kind of the ultimate travel pant for that reason.

Now there is a whole category of actual rain pants. These are recommended to people who are going hiking in damp, rainy conditions and can be great to make you feel invincible against the elements. Pair them with a raincoat and you almost have a hazmat suit.
In terms of tops, I don't do anything special, but I do love a good cozy knit on a rainy day. Wool retains heat properties even when wet, meaning a damp wool sweater will still keep you warm. Cotton, on the other hand, loses all heat properties.
But if it's really hot and rainy, something breathable like hemp or linen is the best. Those fabrics also dry really quickly. Hemp is naturally porous and breathable and can absorb 20% of its own weight in moisture (compared to 6% for polyester). This combo means it absorbs and releases moisture faster than any other fabric. 
Shop
Packing rain-ready accessories
Choosing a good packable umbrella is key here. I would recommend reading reviews, all the good stuff is in real tried and tested internet reviews. If you're out and about, bring an extra bag to store your wet umbrella.
If you're hiking, a hat can replace an umbrella, so you can be hands-free, but I prefer the coziness of a thin wool toque.
Shop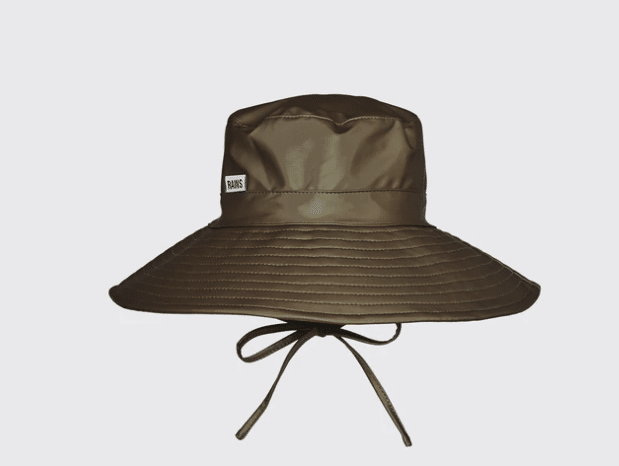 Choosing a bag for a rainy trip
As far as bags go, most hiking or more technical backpacks come with their own rain cover so your bag doesn't run the risk of getting soaked through and the contents being damaged. You can also buy universal bag covers that go over most backpacks. Alternatively, you can buy a water-repellent bag, like a waxed canvas, or a waterproof bag like the Rains bags.
Or pick a nylon bag like the Le Pliage that will be less delicate than leather, suede, and cotton. You can also get a bag that has an exterior pocket that's perfect for an umbrella, but putting your umbrella back in its sleeve or in its own bag, even a plastic bag, is usually fine.
Shop
Just remember when you get home, or to your hotel or Airbnb, to hang everything up, wipe off leather shoes and bags if that's what you were wearing, and open up your umbrella to dry, or else the water can rust the inside hinges.
Did I miss any other tips? Leave your best tips for packing for the rain below.
Happy travels!