Springtime is finicky and packing for weather that varies hour-to-hour is one of my biggest challenges while travelling light. This year I had a trip to Kansas City planned with a forecast that ranged from 9°C/48°F and rainy to 29°C/84°F and bright sun. The concept of packing for unpredictable extremes is similar to packing for transition weather. You have to be ready to bundle up one day and slather on sunscreen the next.
In this post, I'll share my best tips for packing clothes, shoes, and accessories that will give you as much flexibility as possible when you really don't know what the weather has in store.
How to Pack for Transitional Seasons
If you've been following me for some time, you'll know I start every packing list with the questions: what is the weather, what are my activities, what is the vibe, and how long is my trip.
But after that, another question that can really give me the inspiration I need to start packing is: what is my colour palette for this trip. With those five questions in mind, I'm usually able to start narrowing down what I want to pack.
But let's go back to that weather question again because in spring and fall, those very unpredictable seasons where not only can the weather fluctuate in unexpected ways across a few short days, it can change within a matter of hours.
What Outerwear to Pack for Transition Weather
Let's talk outerwear. In terms of protection from the elements, it's worth considering how easy it would be to adapt to the absolute worst possible weather scenario once you're at your destination. For example, is it worth packing an umbrella and raincoat for a 15% chance of rain, when you could easily pick up a $10 umbrella at a drugstore if you needed one? There's no right or wrong answer, but if you have to make some tough packing decisions, these types of questions can help.
If you would rather come prepared, or your trip isn't one where you'll have time to shop or access to the stores, then, in my opinion, this is where small, packable clothes come in super handy. Sure, my pocket raincoat is not my most stylish option. But it's the only that I can toss into a purse for a day of sightseeing, just in case. This packable coat concept isn't just for raincoats. You can get down coats, vests, ponchos, and have them handy in case the weather turns.
The Best Shoes for Spring Travel
In terms of footwear, for transition weather, I wouldn't personally risk it with sandals, nor suede, but everything else is fair game. Sneakers, great! If you think there's a chance or rain or sleet, maybe consider leather over canvas. Flats? Great! If you think the weather will lean hot, a mule or something with cutouts might give you the breeziness you want. For shoes like loafers or ballet flats, you can always pack thin socks to wear if it's slightly too cold for exposed ankles. Plus, I find long days on my feet, sightseeing, for example, are more comfortable with socks on, with less chance of rubbing.
When it comes to packing for transition weather, or transeasonal, the key, to absolutely no one's surprise, is layering. That can be layered over, under, or just using the pieces you've brought in new and creative ways.
Best Layering Clothing for Transition Weather
Thin long sleeve layers: Whether this is a long sleeve shirt or a turtleneck, paper-thin tops can add a bit of warmth and modesty to just about anything. These can be especially useful for dresses, vests, and tops that you can wear over things.
Cardigans: Cardigans are a classic choice. Buttoned up, unbuttoned, worn as a top, or even as a scarf in a pinch.
Vests: Whether these are knit, made from tailoring material, or down-filled, vests can be worn as tops, layering items or as a topper.
Cardigan dresses and knit dresses: I love a good knit dress, and my favourite kinds button all the way down the front so you can wear them as a dress, as a top, or as a duster.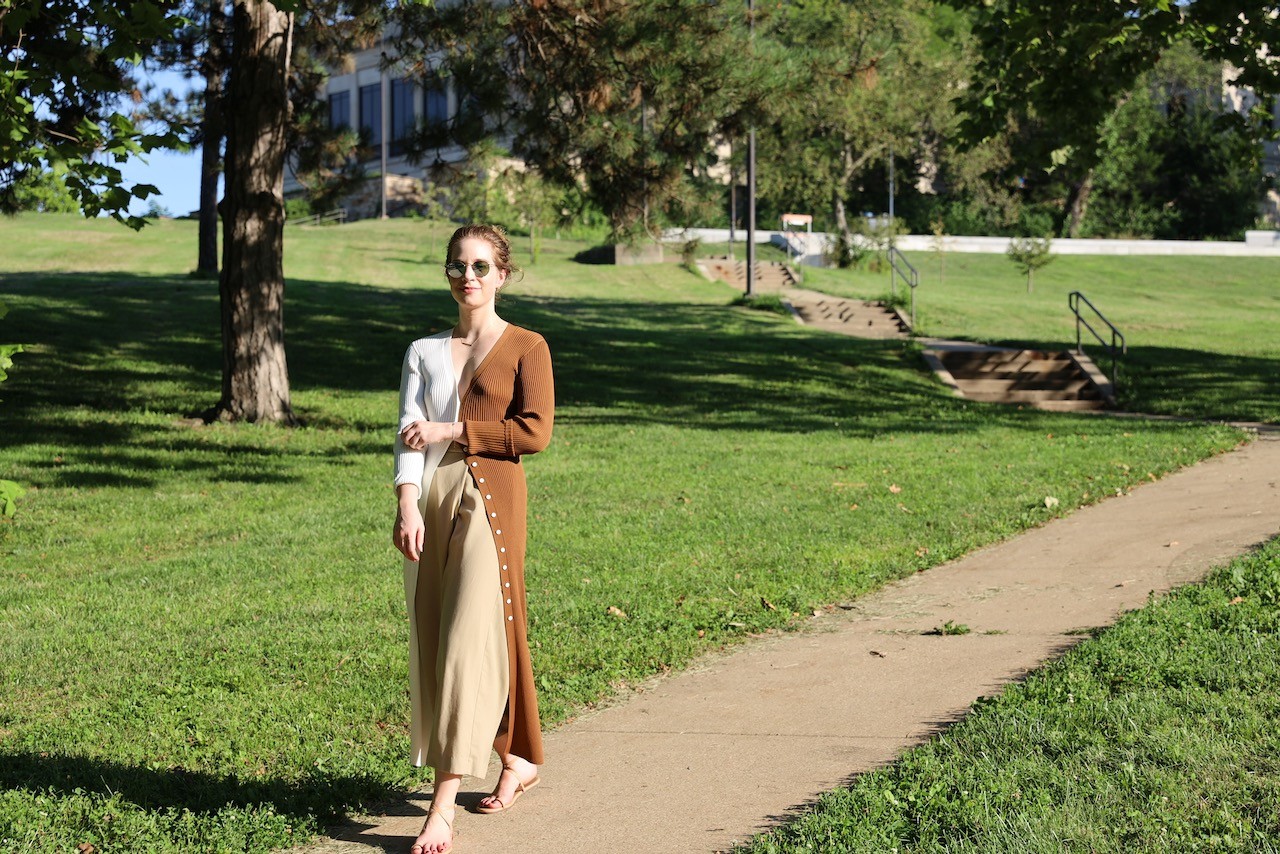 Long sleeve button-ups, wrap tops, oversized shirts, or light deconstructed blazers are great layering pieces that have a softness to them and can easily be worn as tops or as a shacket.
Sleeveless dresses (with or without tights): sleeveless dresses are the perfect way to have total control over how warmly to dress. Layer it over a long-sleeve thin sweater, add tights, and it's a winter dress. Wear it with flats or sneakers and it's a summer look. If you get a wrap dress, you can use the same advice as for sweater dresses and wear them as a gilet slash duster.
Midi skirts: if it's not cold enough for tights but not quite warm enough for mini skirts, a midi length can give you a bit more protection from the elements, which is great for weather that can fluctuate from day to evening.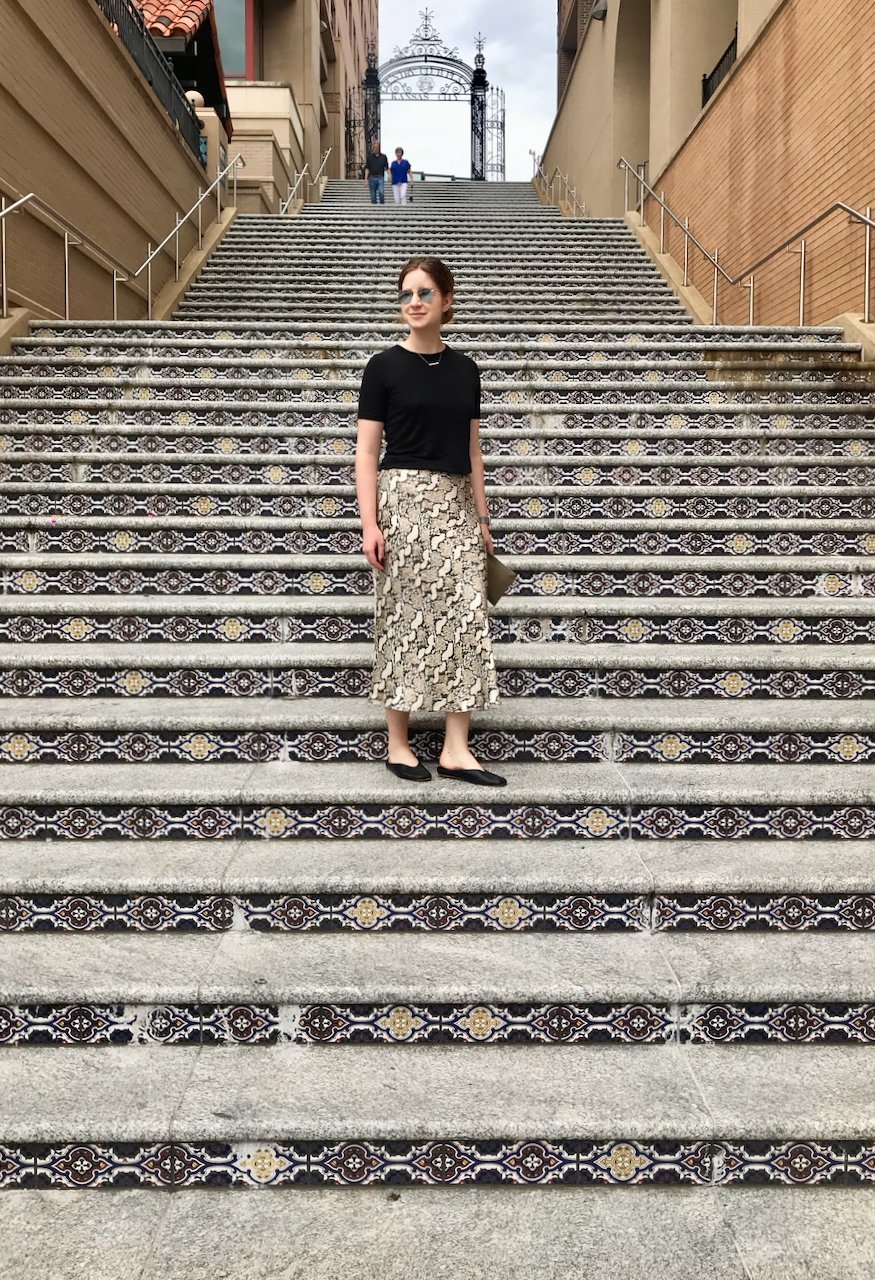 Scarves are another great tool to instantly change your outfit. If it's a little chilly, but not cold enough to pack a whole coat, wrapping yourself in a warm shawl can be the perfect compromise. A silk scarf around the neck can also be surprisingly cozy, or, if on the flip side, it gets quite hot, you can use it to protect your head.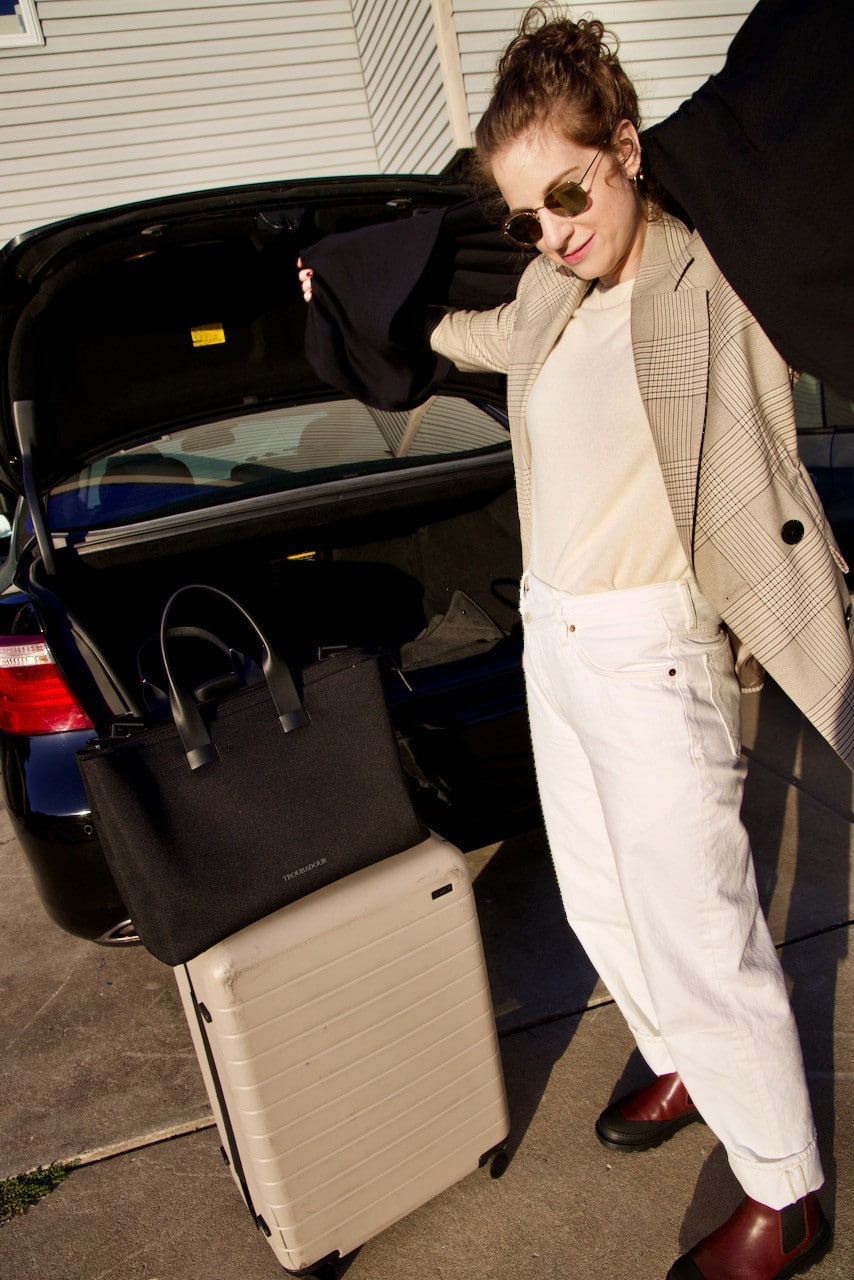 My Spring Capsule Wardobe
This Spring season, I'm all about beige and red, along with my usual black and white. My prints of choice are gingham and stripes and I've been into satin as a trendy fabric finish. I'm still enjoying a heavy rotation of Japanese-inspired cuts and fit, like wide pants and long tops. Take a look at my Spring mood board for a snapshot of what's on my brain when I get dressed.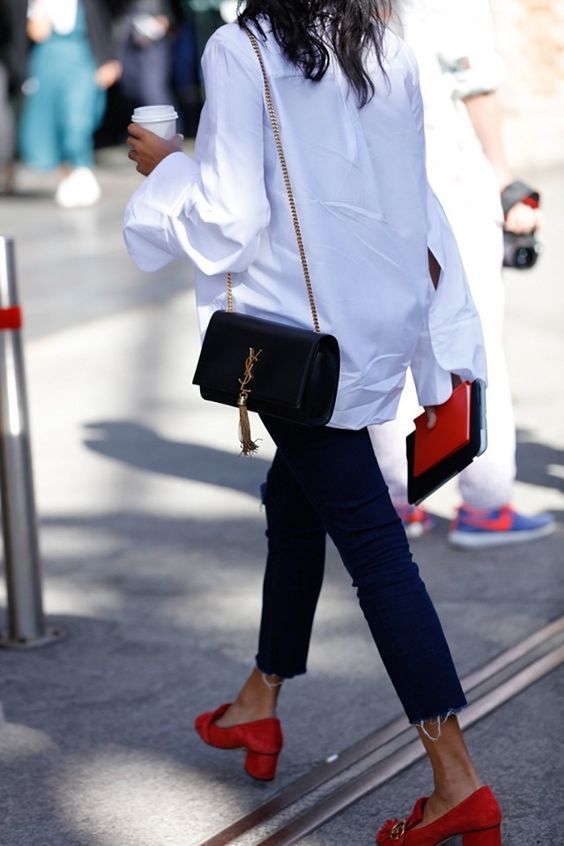 For this trip, my strategy was simple. I packed what I'd need for pouring rain as well as some pieces that were versatile enough to layer. For example, I chose a lightweight raincoat with a deep hood from Everlane and my trusty white leather vans that kept my feet dry in light rain.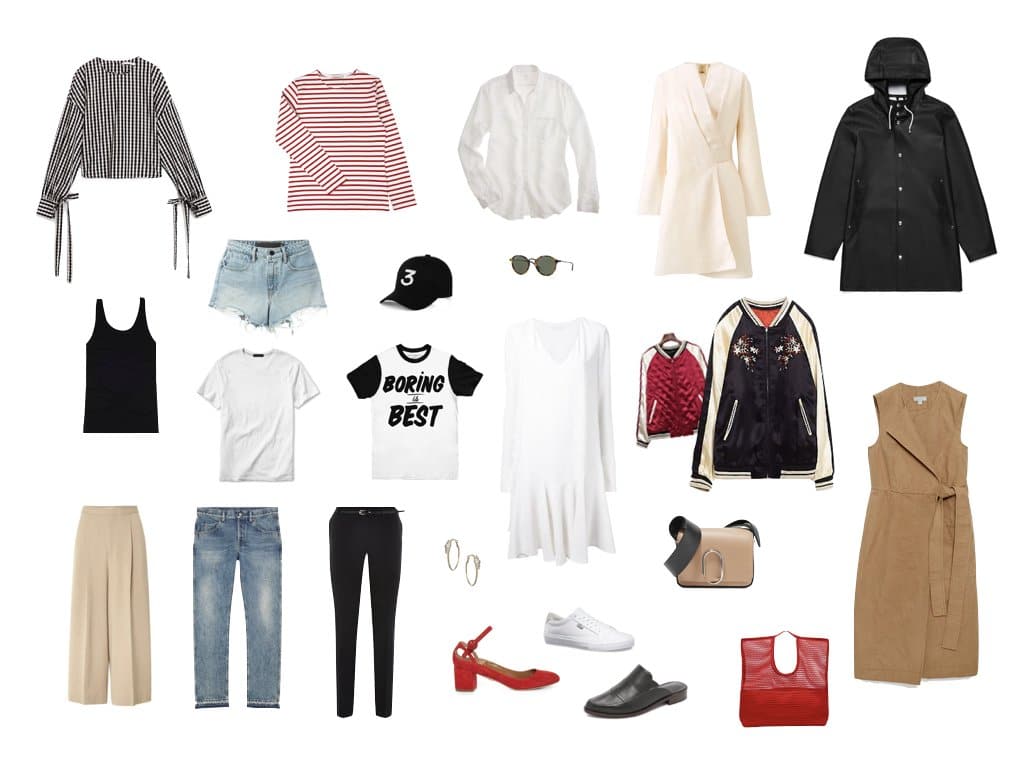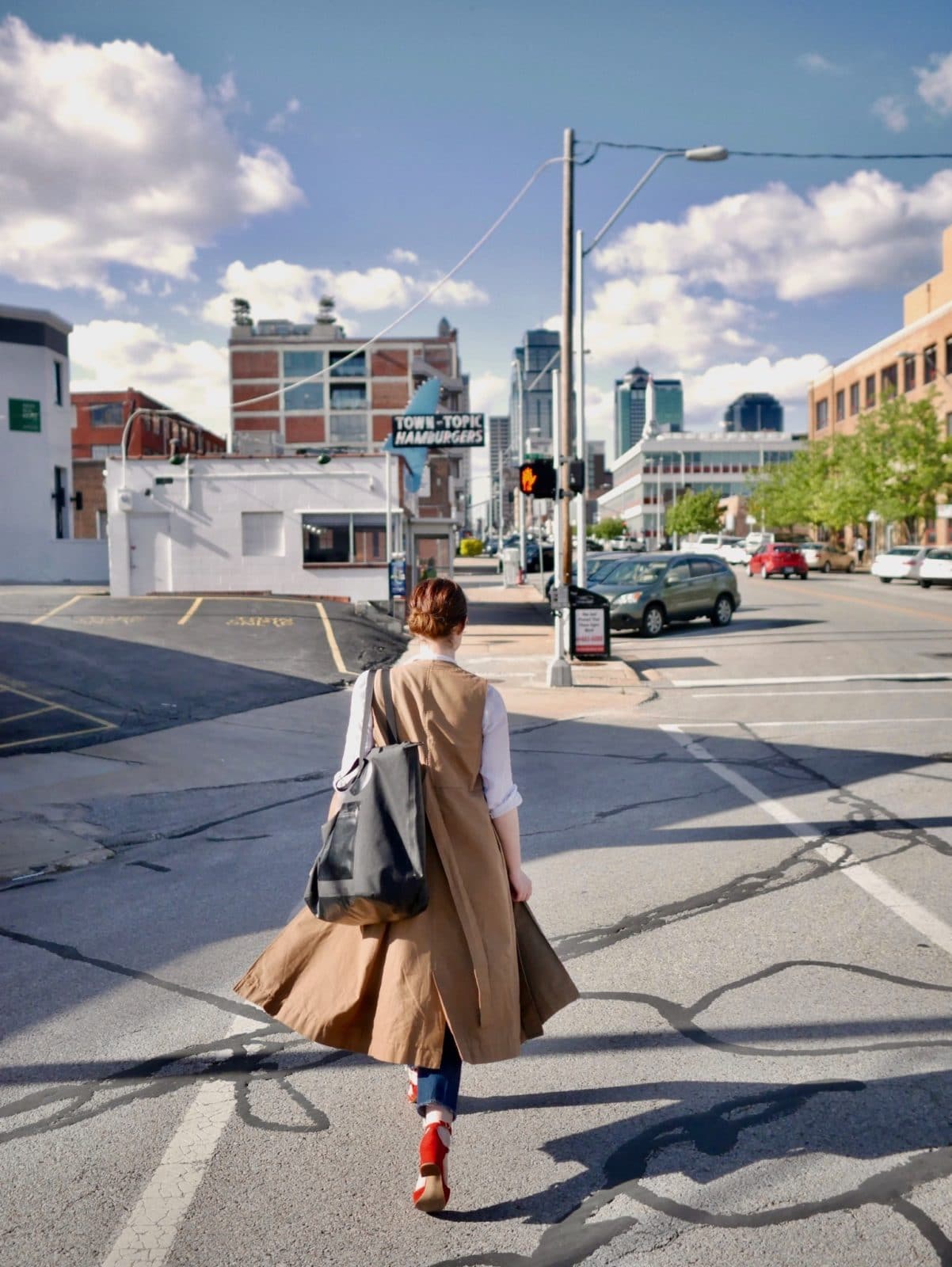 Versatile items to me are pieces that can be worn multiple ways, layered over and under each other, and dressed up or down. I'm a fan of this tan COS trench dress that I can wear as a standalone dress or as a vest/coat over jeans. I packed this really cool satin souvenir jacket that is reversible, and a few tanks and shirts that I could mix and match with the rest of my capsule.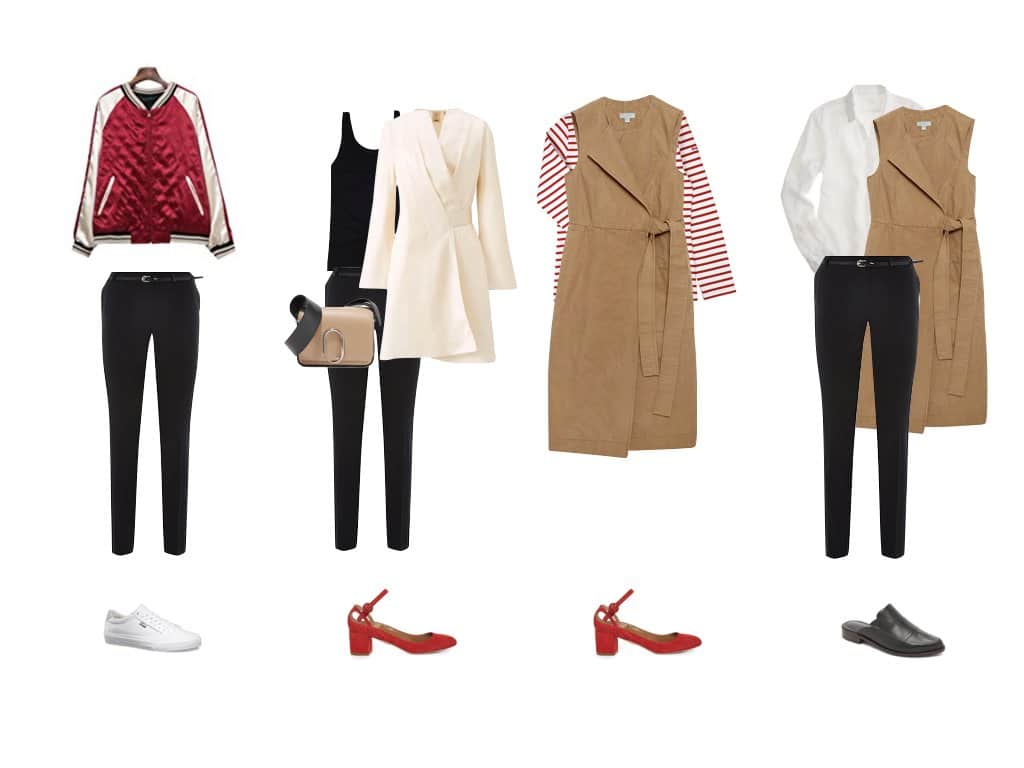 Because I was speaking at a conference while in Kansas City, I brought some simple black trousers, black mules, and a few blouses. The cream satin blouse is a special collaboration with Uniqlo and popular Muslim fashion designer Hana Tajimathat — I wear it as a cardigan as well as a wrap blouse.
Dressing for unpredictable weather also means wearing layers you can add and remove as the temperature fluctuates. I like blouses that can be worn under vests as well as over tanks.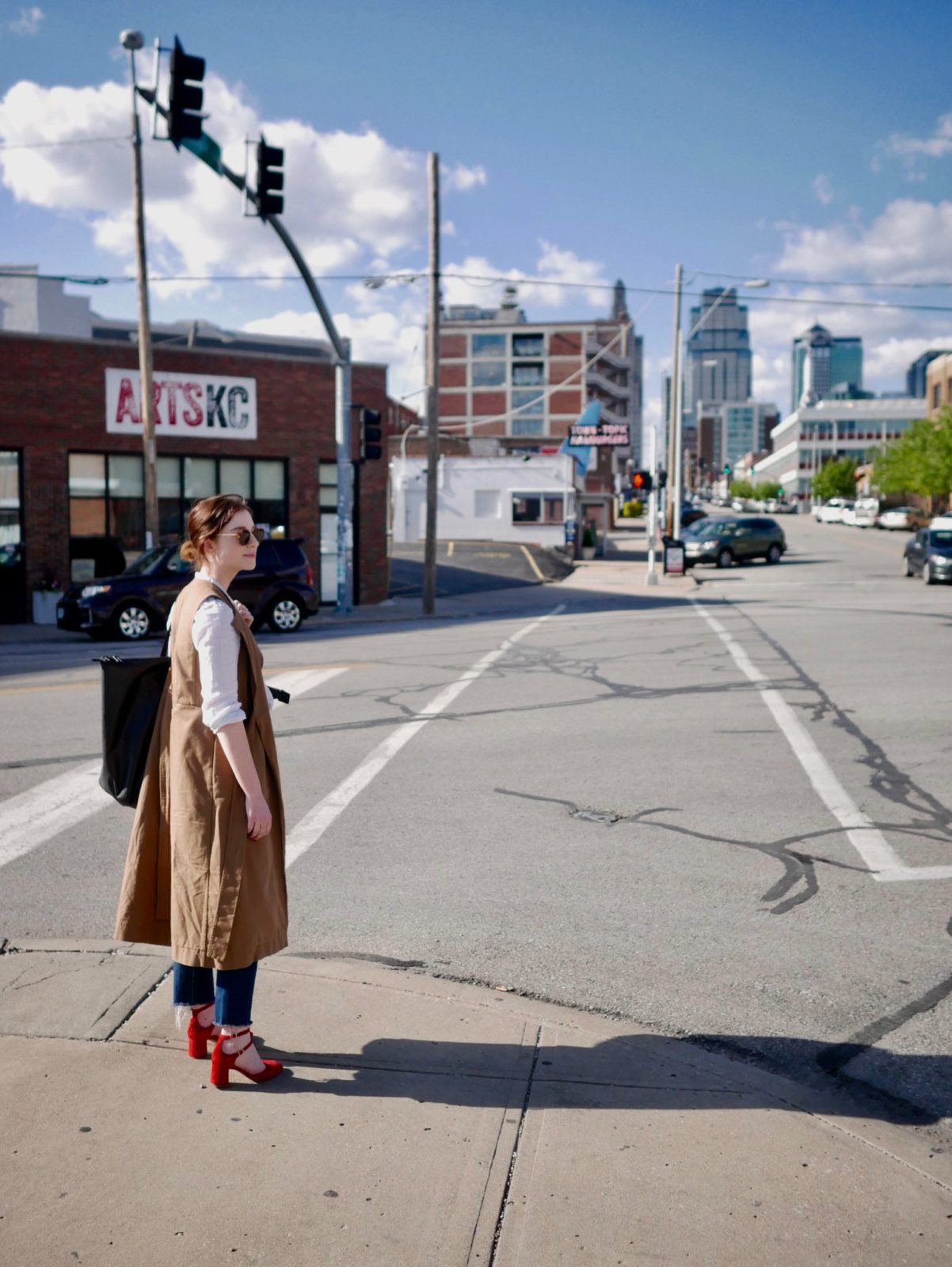 Because I love to dine out and go to art events in Kansas City, I like to pack a few fancier items, like a pair of (reasonable) heels and a dress or two. I also make sure to bring a few casual articles that dress down any outfit, like a baseball cap and a cheeky t-shirt. I packed a light mesh grocery bag for a pop of colour and a small leather envelope purse with removable straps that I can wear as a clutch, fanny pack, or cross-body purse.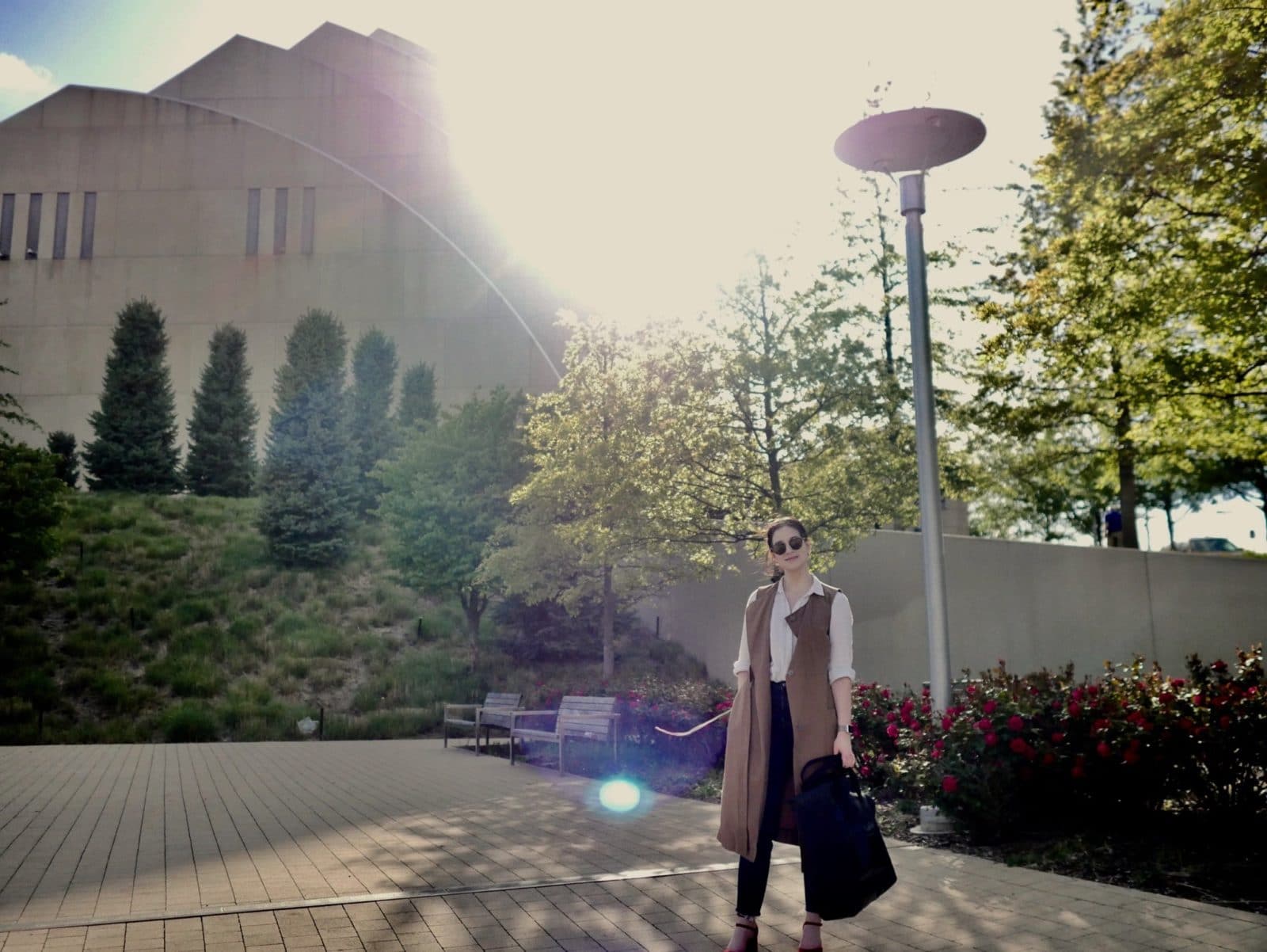 Just remember not to worry too much about having everything you could ever need. Part of packing light is also thinking on your feet! Buy things on the go, borrow from friends, and get creative with layering!
Happy Travels xox