If you're going somewhere soon that could be considered a rainy trip, this post is for you. Whether your trip is a weekend stay at a local chalet or home to visit family over the holidays, inclement weather means planning ahead. This post will show you three ways to pack for a fall trip. It includes packing tips based on your trip's activities, weather, and your personal style.
Packing list 1
Packing List for a Rainy Fall Trip
The packing capsule is what I call rain-ready and function-first. This is for the types of trips where you'll be spending lots of time outdoors and where the weather might not be so great. Think of the UK, Seattle, or Vancouver as examples! In fact, this packing list is very close to what I packed for my trip to Ireland.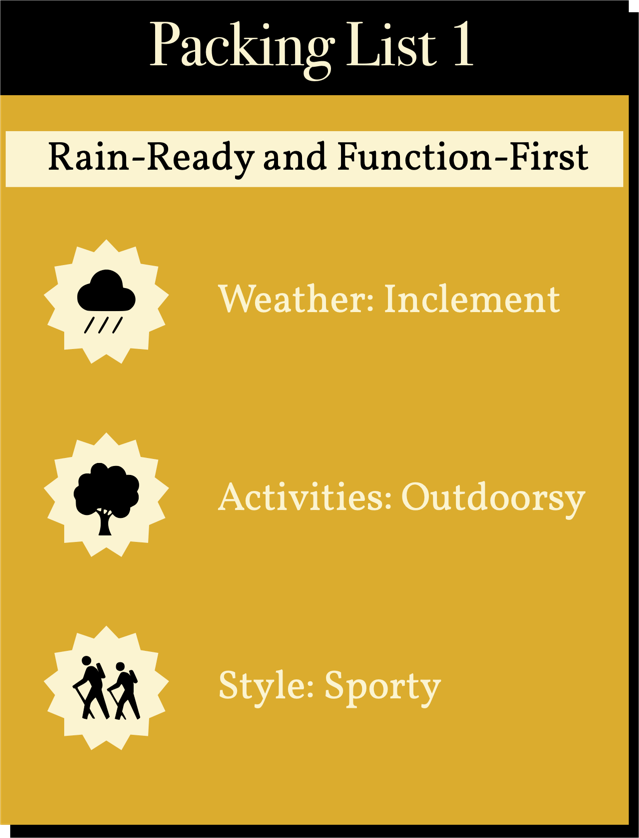 Packing Cute But Practical Footwear
I often start my packing with footwear, and I have a general rule of thumb that I pack no more than 3 pairs of shoes per trip.
For this trip, I've selected a pair of weather-proof boots, a pair of leather sneakers, and a leather brogue as my third option. Looking for comfortable but cute shoes? I have a blog post about "comfort" brands with some stand out pairs.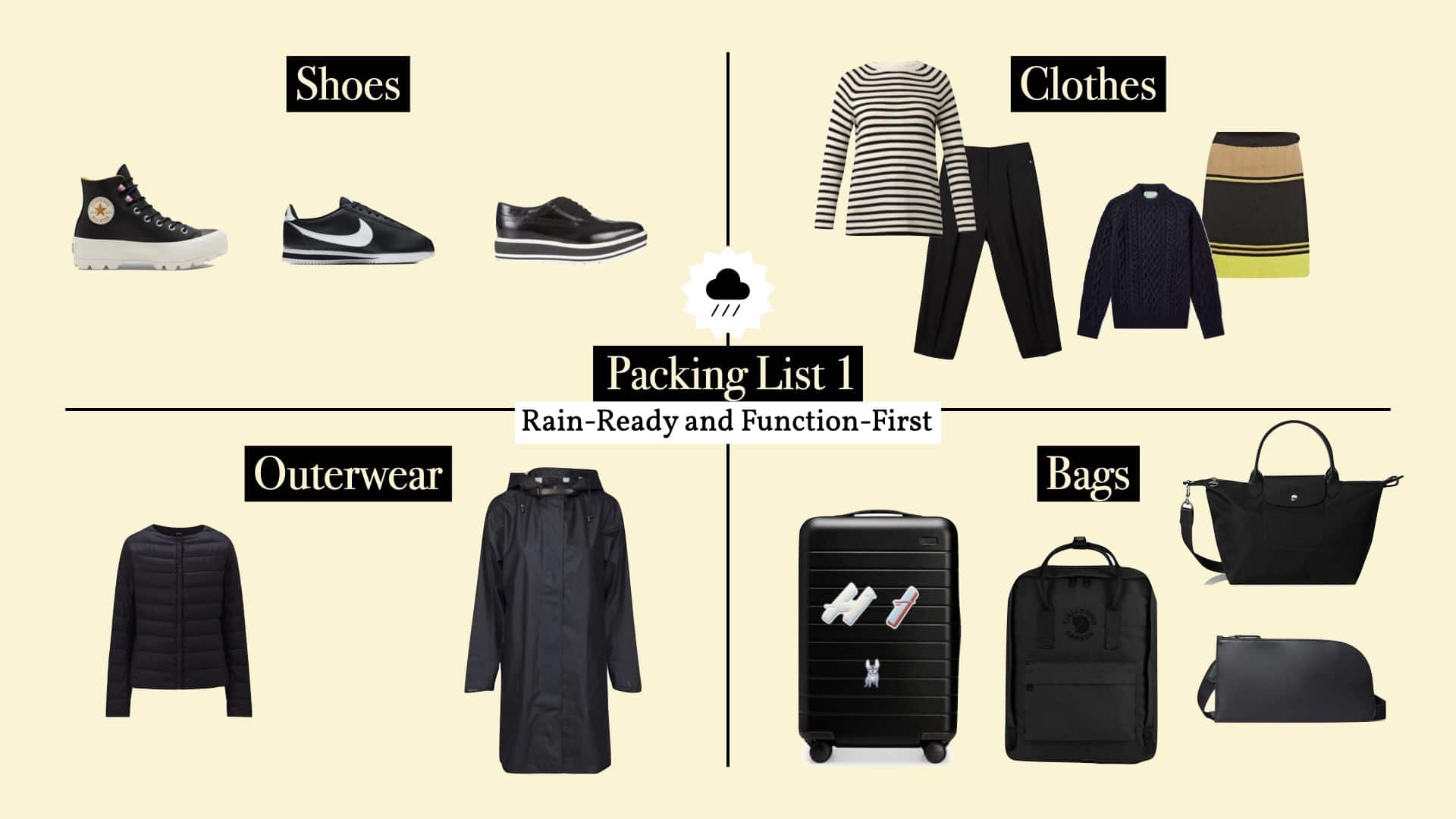 For the boots, you could choose a leather boot that's been treated for rain or even a straight-up pair of winter boots.
Now, sneakers. This one really depends on your activities. For me, I rarely pack full on running or workout shoes. I don't work out that much on short trips, and I'd rather save that space for a cute pair of sneakers I can style in other ways. For fall and winter, I really like leather trainers because they are warmer than a mesh or canvas pair and hold up better to rain and sleet.
Now the third pair, is totally up to you. Personally, I like to fill this slot with a "smarter" shoe, that I can dress up if I need to. A leather closed shoe does that for me, and I have a few brogue styles I like to choose from. These are sturdy, comfy and cute and wear much better than suede, for example.
How to Pack Cute but Functional Clothing
Now, let's move on to clothing. For these trips, I like to pack sweaters, merino layers, and things that are good for hiking. Usually, I'm guided by my general colour scheme when making these decisions, after fabric.
Outerwear is crucial. If it's just going to be very rainy, I make sure to pack a rain jacket with a generous hood. But if it's cold and rainy, then I bring a compact down vest or puffer coat that I can wear on its own or layer under the coat. Click here for suggestions for rainy weather.
Another thing I'll mention about clothing is to look out for pants made from more technical fabrics like water-repellant blends. Workout brands or brands geared towards outdoorsy people or those who bike to work are a great place to start. I love my On-the-fly pants from Lululemon and the Navigator line of pants from Kit and Ace.
The Best Accessories for a Rainy Trip
Of course, an umbrella comes to mind first. You could even invest in a rain hat! For bags, I say think super functional for this trip. I'd pack my Longchamp Nylon le pliage purse, because it's nearly indestructible and something practical like my 15″ Fjallraven backpack. You could also pack a small leather purse or sling for a hands-free option.
Packing list 2
Packing List for a Cute and Cozy Fall Trip
If you're one of the lucky ones who lives in a place with a warm fall, you have so many options and can really tap into the autumnal colours.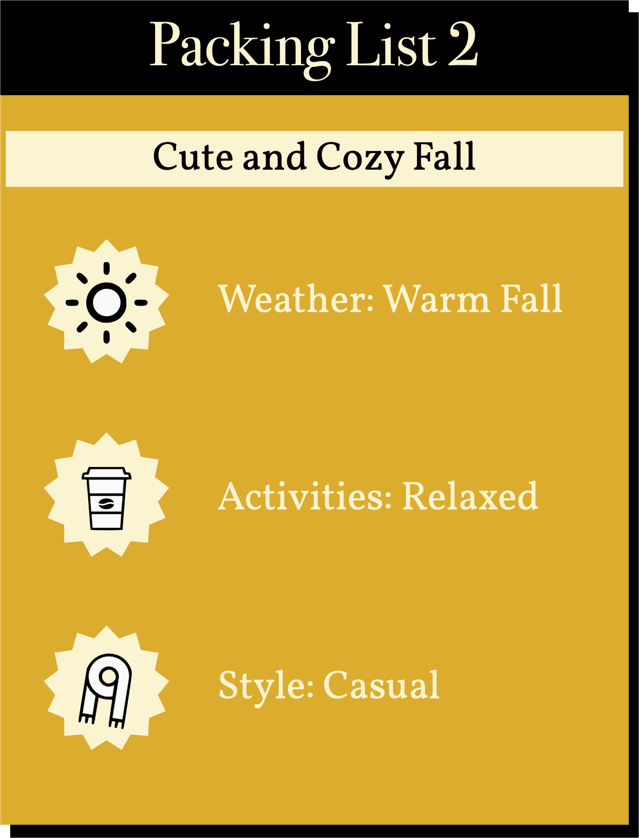 Again, I'd start with footwear and choose some cute but comfy boots. Depending on your style, you can go with something dressy like a snakeskin or patent boot, or something trendy like lugsole booties.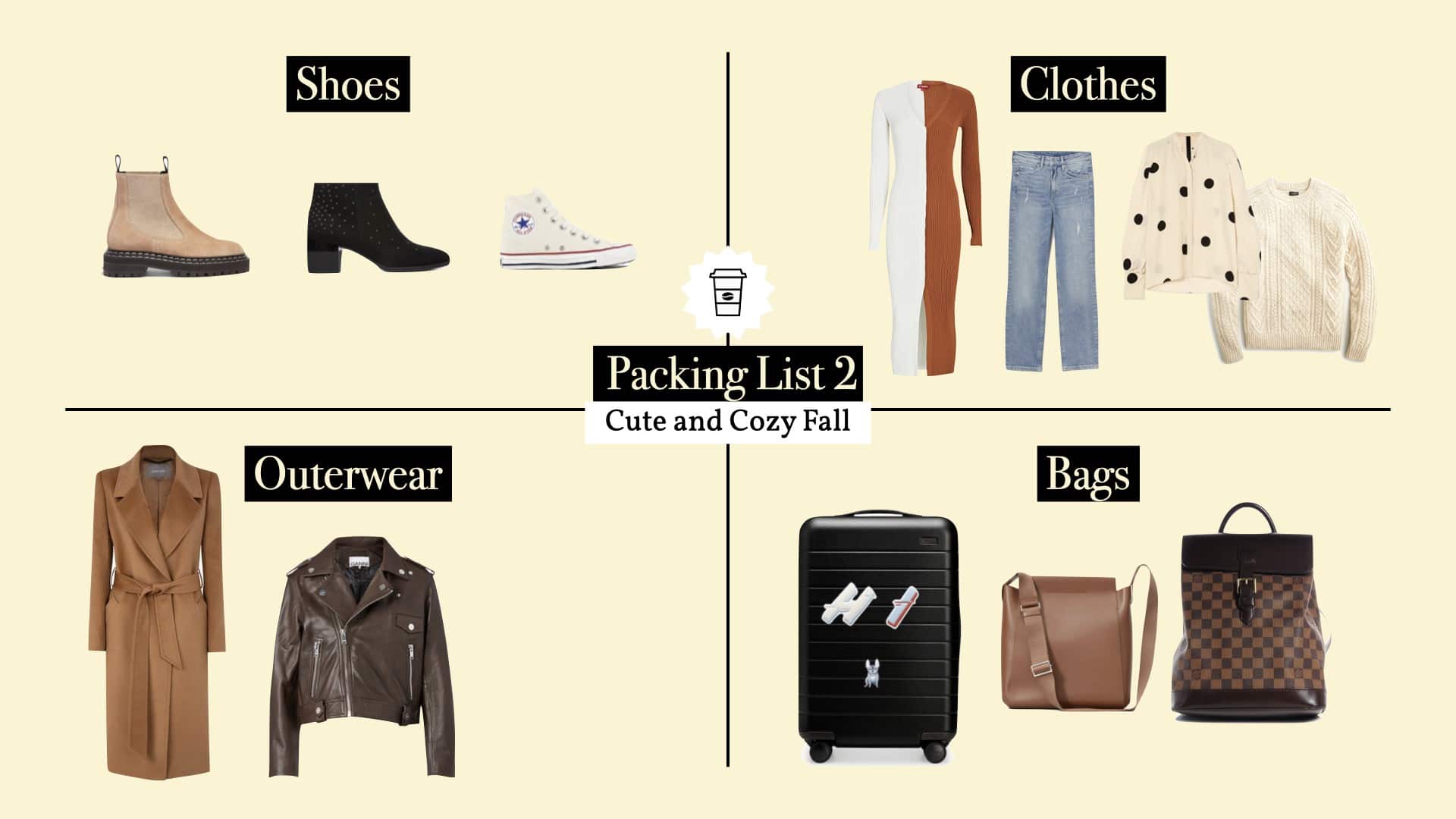 My second shoe choice is also a pair of booties, but something fancier, possibly with a heel. And my third choice is a sneaker of some sort, and because your fall is warm, you can get away with summer sneakers as a third option.
For this capsule, I've chosen more light and medium coloured denim, leather jackets, and wool coats, because you don't have to worry about the rain! For bags, I'd suggest a cute little backpack, or something in a beautiful tan or brown colour.
Recommended reading:
Packing list 3
Packing List for a Business or Fancy Fall Trip
This third option can totally borrow items from the previous two, but the keyword here is this packing list means business. If you're travelling for a special occasion or for a business trip with an unspoken dress code, I have a few suggestions to make all of those outfits travel-friendly.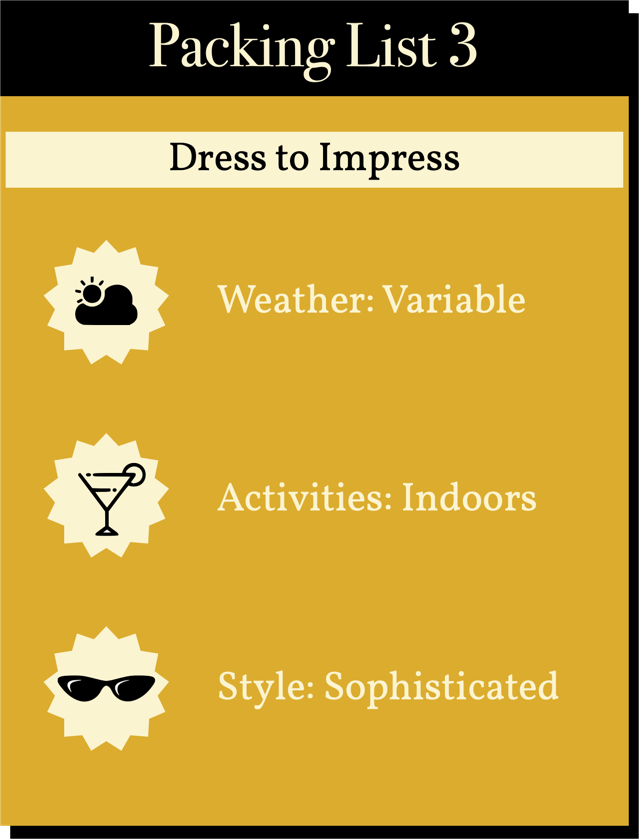 As always, let's start with footwear. For this one, a great comfy black boot is my foundation. If you want to wear dresses and skirts, but are afraid of getting a little chilly, the combination of a thick tight and a high boot is a great way to stay warm.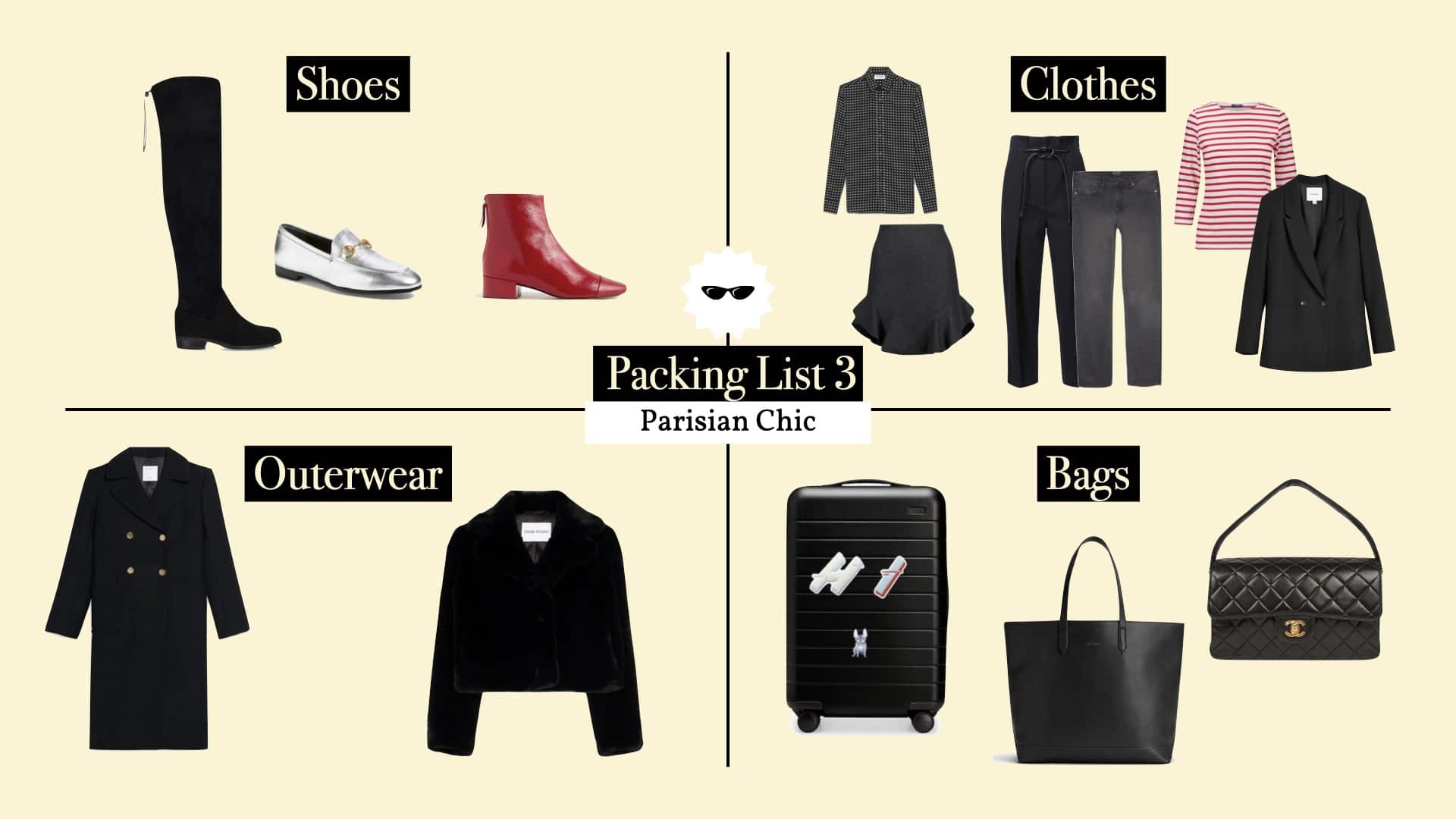 Then, I'd make your next shoe options some statement shoes, like a red pair of shoes, or metallic, something that will make any outfit pop. Make sure one of your pair is comfortable though, because you still need something for travel days, and in case you have to run around.
Packing Travel-Friendly Business Clothing
For these kinds of trips, I like to pack really good travel-friendly trousers. Some of my favourites are a wool-blend that have the softness and warmth of wool but the crease-resistant properties of a synthetic. Wool trousers often have a little stretch, which can be nice to travel days. Dark or grey denim can be a nice substitute as well, and when paired with a blazer, can make for a super-smart outfit.
I recommend blouses and thin sweaters for this list, and you can even pick a top with a little drama like sheer sleeves or interesting detail. Paired with a dress or skirt, it can be an easy and versatile piece to dress up or down. If you do pack a dress or a delicate item, make sure to pack them in a garment bag to protect them, and pack a travel steamer if you think you might need one.
To top it off, one smart coat can carry you through this trip and really add structure to any outfit. This is also a place to sport your favourite accessories or simply something that fits your work laptop.
And that's it, these are my three ways to pack for a fall trip. Let me know in the comments if you found this useful and if you have any extra tips to share with.
Happy travels xoxo