I've been getting questions on Instagram about how to shop for vintage luxury, especially how I bought my Chanel bag. So, here is a post to answer some of those questions and provide a few tips and warnings. This is mostly based on my recent experience buying my 90's Classic Flap purse.
Define What You Want Before Shopping Vintage Luxury
The first step I took before shopping for vintage purses was to have a really clear idea of what I want. If you prefer buying things that speak to you on a whim, then this step might not be your preferred way to start. But at the prices we're talking for a Chanel purse, you better believe I built a battle plan going into it.
What criteria did this include?
Well, first, I determined my budget limit and what style of the purse I wanted. Deep down, I knew I wanted a classic flap, or something as close to that as possible. After doing research on the models out there, new and vintage. I narrowed it down to the classic flap or the Diana bag, in small or one of the medium sizes, and in Black. There were some camera bags, boy bags, and other variations, but ultimately, I knew I wanted something unmistakably Chanel. I was flexible on the colour of the hardware, gold or silver. As well as whether it was caviar leather or lambskin, I was open to both.
Because of my budget, I knew I was going to buy pre-loved and I also just liked the idea of buying vintage. I read that the hardware on older bags was higher quality since they are gold-plated instead of just gold-toned. I also personally, like the more deflated quilted look. If you notice, new Chanel bags have quite a puffy diamond pattern, but older ones have lost that air and are flatter.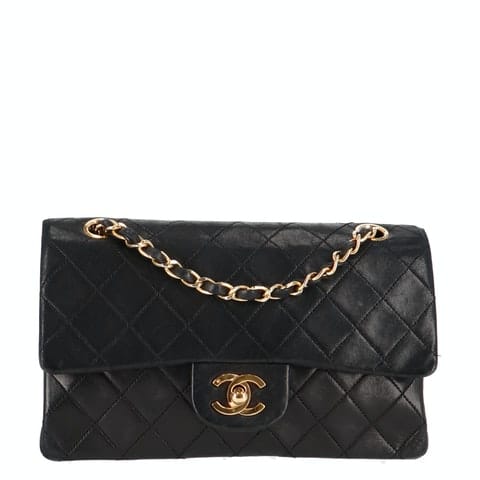 Set Your Priorities Before Shopping for Vintage Luxury
Now, the next step is crucial, which is to set your priorities, because from bag to bag, different ones have different pros and cons. For example, if you are particularly concerned about resell value, you'll want a bag in great condition, with an authenticity card, and preferably, the original box and dust bag. You are going to have to pay more for those, though, since that does increase the value.
If you're more concerned about getting the model you want, you might be more flexible on the card and dustbag situation. Whereas if price is your top priority, you might be more flexible on the condition of the bag, and be willing to buy a bag that needs to be re-dyed, or restored in some way.
People think that all Chanel bags are wildly expensive, and yes, if bought new, they're pretty crazy expensive, but on the second-hand market, there's a whole spectrum. If you're patient, willing to dig the internet, are prepared to give an older bag some TLC and haggle, you can get a great deal.
And, if done right, you could turn around, sell it, and make a profit on it. In fact, for me that was a major perk of buying Chanel over another brand. If I ever change my mind about this bag, I can probably make at least $500 dollars of profit when I resell.
Shopping Online for Second-Hand Designer Bags
I set up alerts on sites like The Real Real, Vestiaire Collective, while also browsing Etsy, eBay, Deuxième Edition, and Poshmark.
Then, I saved a bunch of options, while keeping in mind my criteria and how I stack-ranked my priorities. I bookmarked some that were more expensive but in better condition, some that needed love but had potential, and others that were a little off from what I wanted, but interesting nonetheless to keep an eye on.
It took me about 6 weeks to find the one I wanted, at the price I wanted, in the condition I wanted. That's usually how it goes with vintage luxury. I still had to compromise on some things, which I'll share a little later.
Click here for more fashion tips for stylish nomads!
How to Avoid Buying Fake Designer Bags
Ok, the next part is how not to get scammed and accidentally buy a fake. I learned a lot about authenticating a Chanel purse through this experience, mostly by watching a lot of Youtube videos, reading blogs, and reading purse forums.
The best thing you can do to make sure you're buying authentic luxury is to buy from a site that authenticates their vintage items. You can also check star ratings and reviews on the seller.
Sites that only carry authentic pieces and store them in their warehouse will be more expensive than peer-to-peer shopping. Ultimately, you pay for their service. Poshmark does things a little differently. They authenticate items over $500 free of charge. The seller ships it to them, they authenticate it, and then ship it to you.
Now, when looking on sites like Poshmark, if you see something for under $500 that really shouldn't be that cheap. Don't get excited, it's almost always too good to be true. I would never buy a Chanel purse listed under $500, simply because I want that guarantee of authenticity. If someone is listing an item that should be $1500 at $499, they're trying to avoid going through authentication.
The exception to this might be Chanel WOC, or wallet on chain. Depending on the year and condition, wallet on chains can be priced much lower. And therefore, fall under the $500 authentication threshold. The other thing to look out for listings that include "Price reflects authenticity". This is a common way to add a disclaimer that in fact, the item is a superfake.
I bought my purse on Poshmark, and I actually submitted an offer that was $300 less than the listed price. The seller accepted it, so I paid 1,200 for it. Poshmark allows the seller to counter offer too. I've purchased things before where we haggled a bit on the price before settling on a number. Now if you're in the know, you know that's a steal. So, what was the catch with this super low price?
It used to be navy!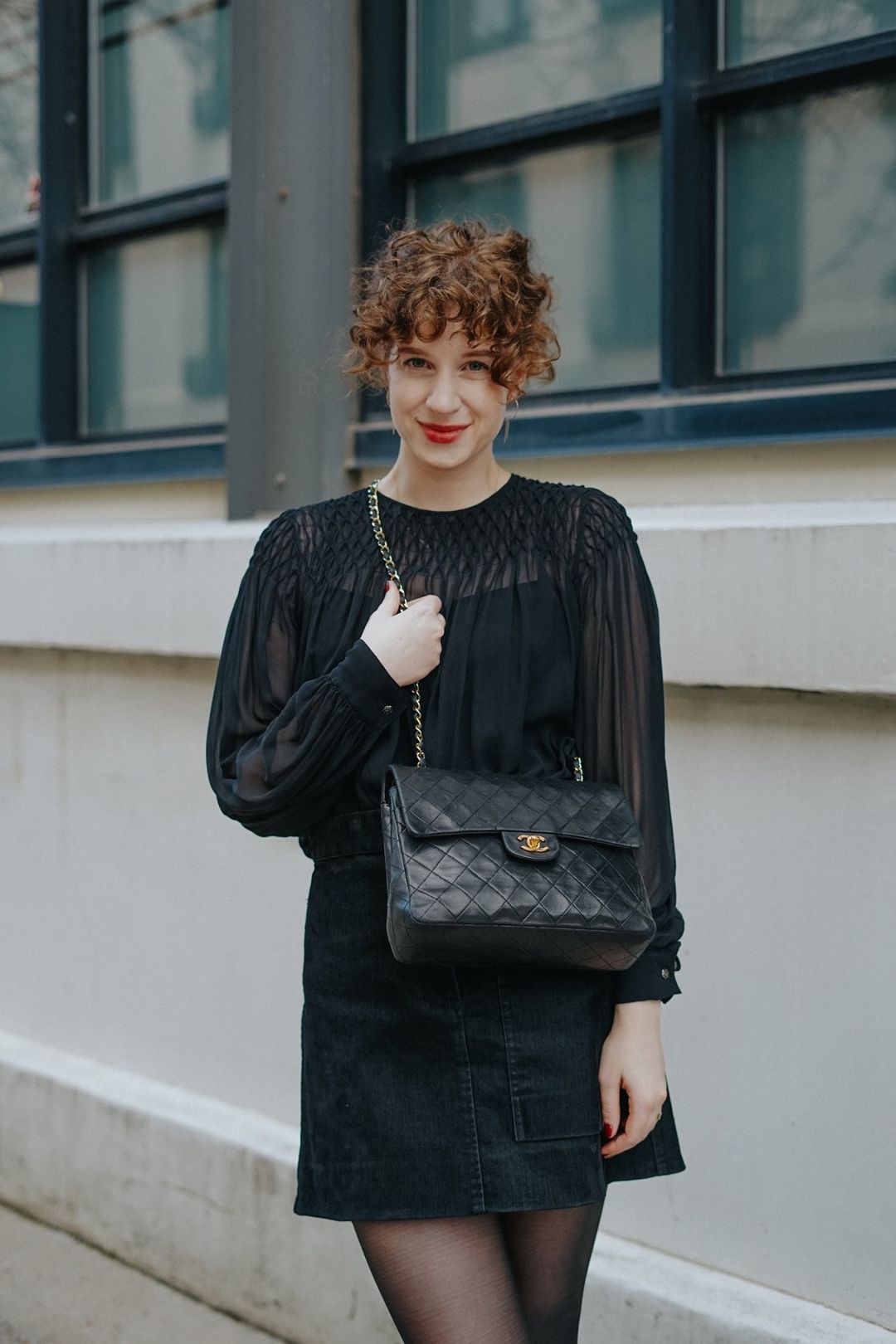 It's in fact been dyed black and that's why the inside isn't the standard Chanel red. The navy purses are blue inside, and this one was dyed to restore the sheen and to change the colour. I wanted a black purse, so this fits exactly my criteria. But, the fact that it's not in its original colour does decrease the value. It also doesn't have an authenticity card. But overall, it's in amazing shape.
Authenticating Your Vintage Chanel Purse
What are some key things to look for when trying to determine authenticity on a classic Chanel flap? Well, first, know some details about the model and year of the item. Chanel purses have slight differences from decade-to-decade, so what's true for one model, might not be true for another.
Normally, feeling and smelling the leather is the first thing I'd do, as well as checking the lining to make sure there are no lumps and bumps. But you can't do that online, so you have to use photos.
First, look at the quilting and stitching. If you need to, ask the seller for close-up photos. A genuine Chanel bag will feature up to eleven stitches per panel. And, the quilting should line up along the pockets and flap.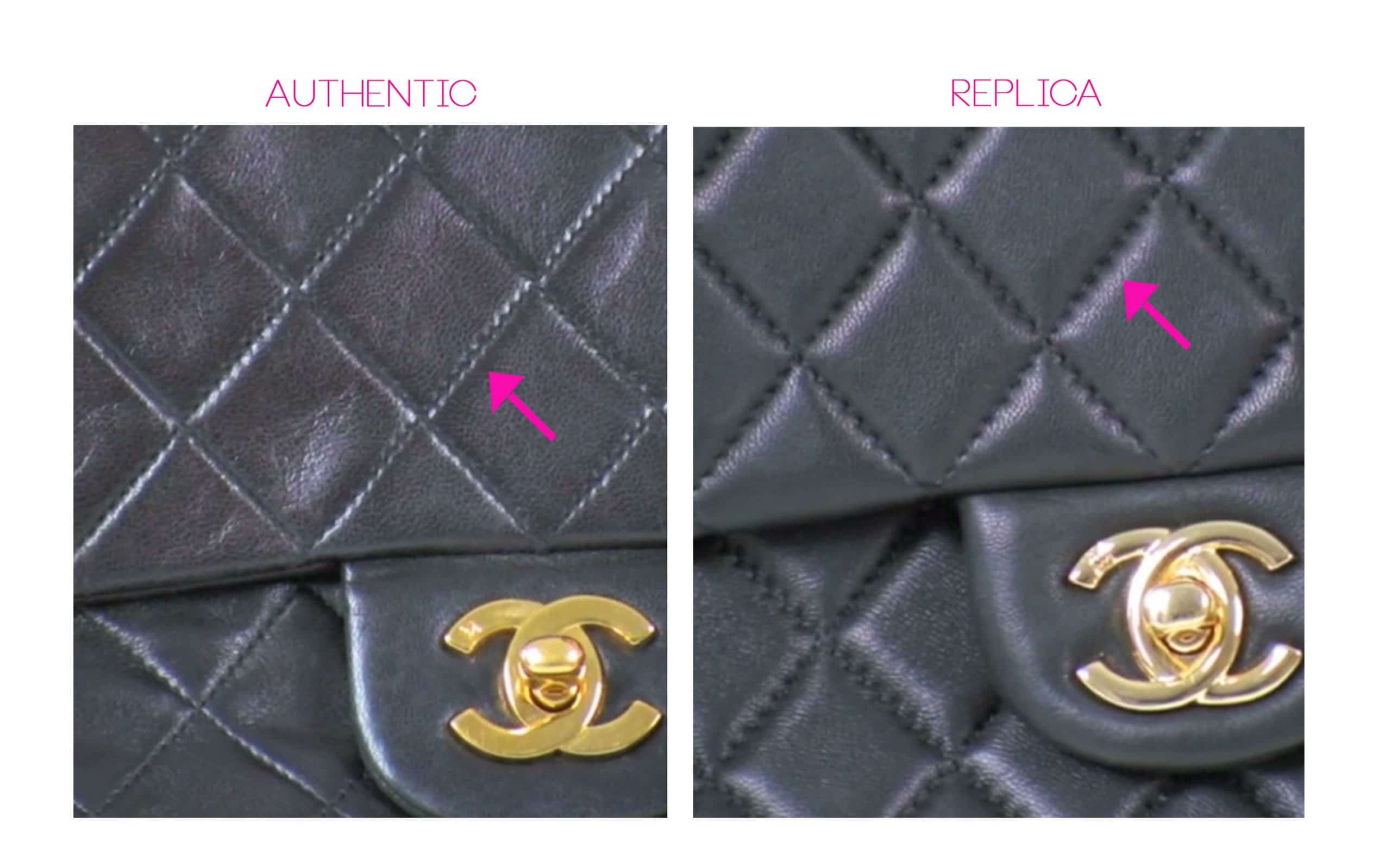 Next, the lock. The CC lock can feature either raised or flat finishes with the right C overlapping the left C at the top and the left C overlapping the right C at the bottom. I have a purse timestamped 1989-1991, so it has a mark on the C.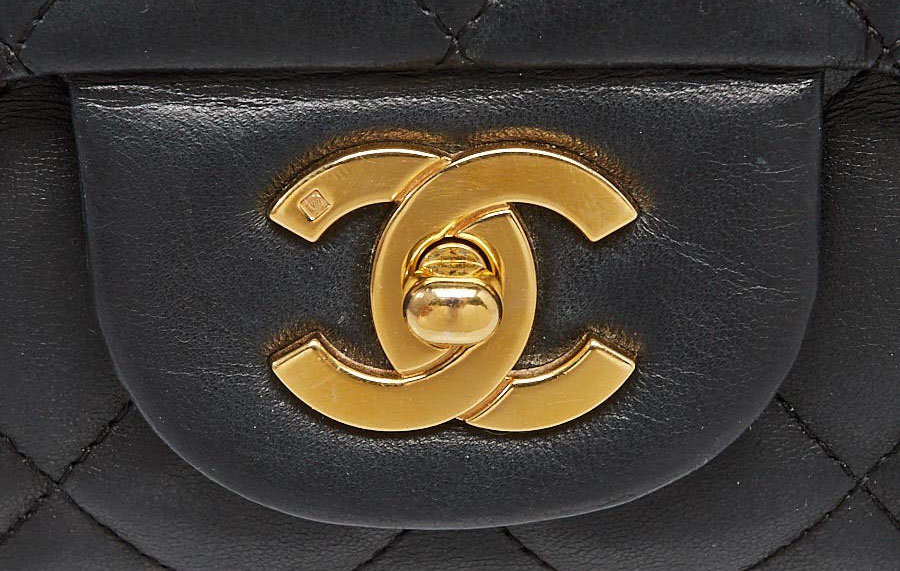 Then, check the back of the Lock. The screws should be small flat heads and it should say Chanel Paris.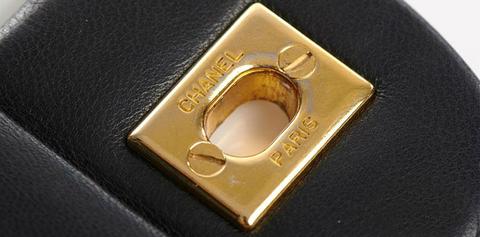 Next, look at the CCs on the inside. The width of the Cs is the exact same width as the space between the letters. The Chanel logo should be directly across from the Made in France stamp. And deep inside the purse should be a sticker.
Lastly, there is no stitching on the chain strap on purses in the 90s. They were folded flat, and featured an incomplete link, so those are some small details to know you have a real purse. If in doubt, again, you can choose to buy from a place that is guaranteed authentic.
And that's it, those are my tips for shopping for vintage Chanel online. Hope this was useful and entertaining!