The Trip
I'm back in Kansas City, less than six months after my last visit. This time, it's for Christmas, something Kansas City is known for doing well. The weather forecasted for my first weekend there was COLD. Temperatures were closer to what we experience in Montreal and very different from my previous two Christmas trips to KC. Then, later on in the week, it would warm up to what I'd come to expect from a midwestern December.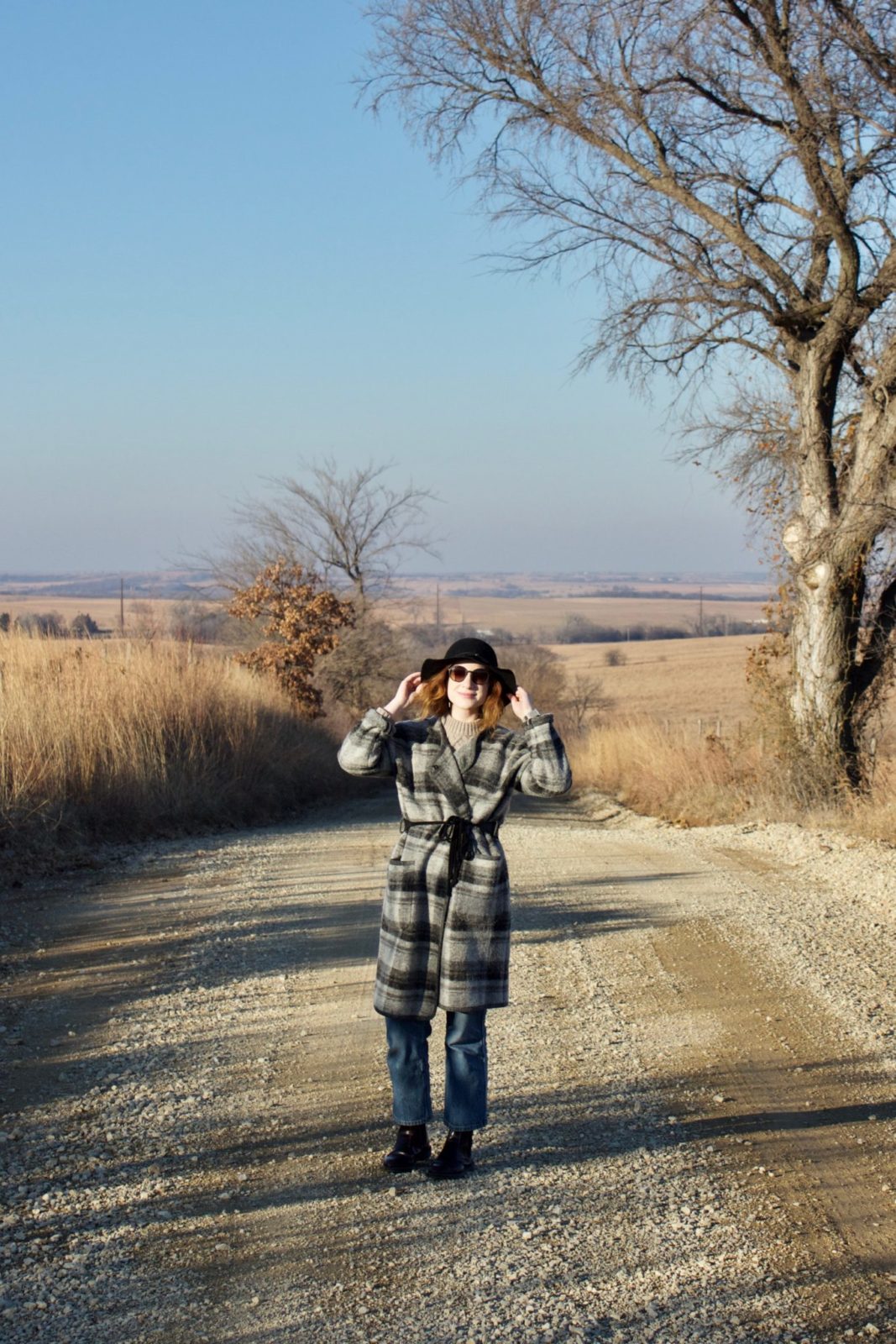 The Inspiration
For this two-week trip, my inspiration was a bit festive, a bit edgy, and very cozy. Think wools, velvets, and warm winter accessories. Christmas is always a great time to wear velvet, and possibly the only appropriate time.
The Capsule
For my fancier clothing, I chose to bring a full-on velvet dress I picked up in Lisbon and that I can wear as a dress or as a long cardigan. It makes me feel a little like a wizard, in a good way. It might seem weird to bring a leather jacket on a winter trip, and honestly, it's not my smartest move. However, it gives any outfit instant edge and my particular coat is easy to layer over sweaters when it's chilly.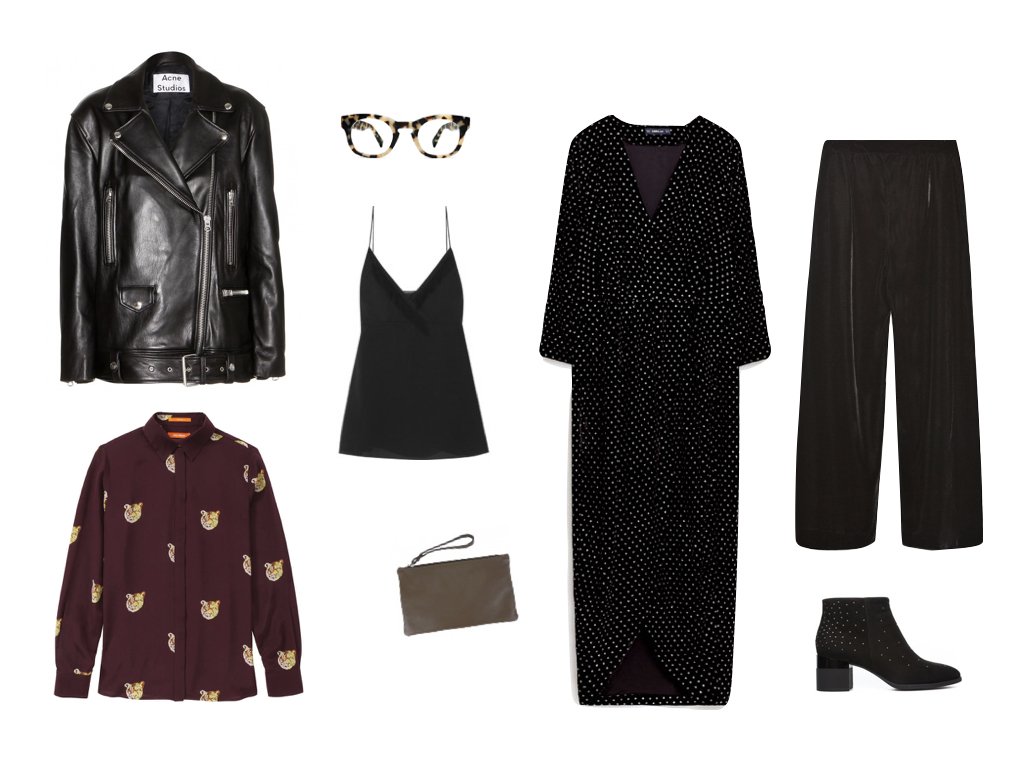 Leather jacket, glasses, black tank
, velvet wrap dress, velvet culottes, suede booties, leather clutch, print blouse.
Every time I come for Christmas, I bring my dark red Doc Martens, which always seem to have the perfect balance of comfort, toughness, and festive colour. I'm also still into the ribbed midi dress I've been wearing all season. I threw in a wool coat, that walks the line of homeless housecoat and fancy full-length menswear coat. I'm very self-aware of how easily my winter looks fall into bag lady chic.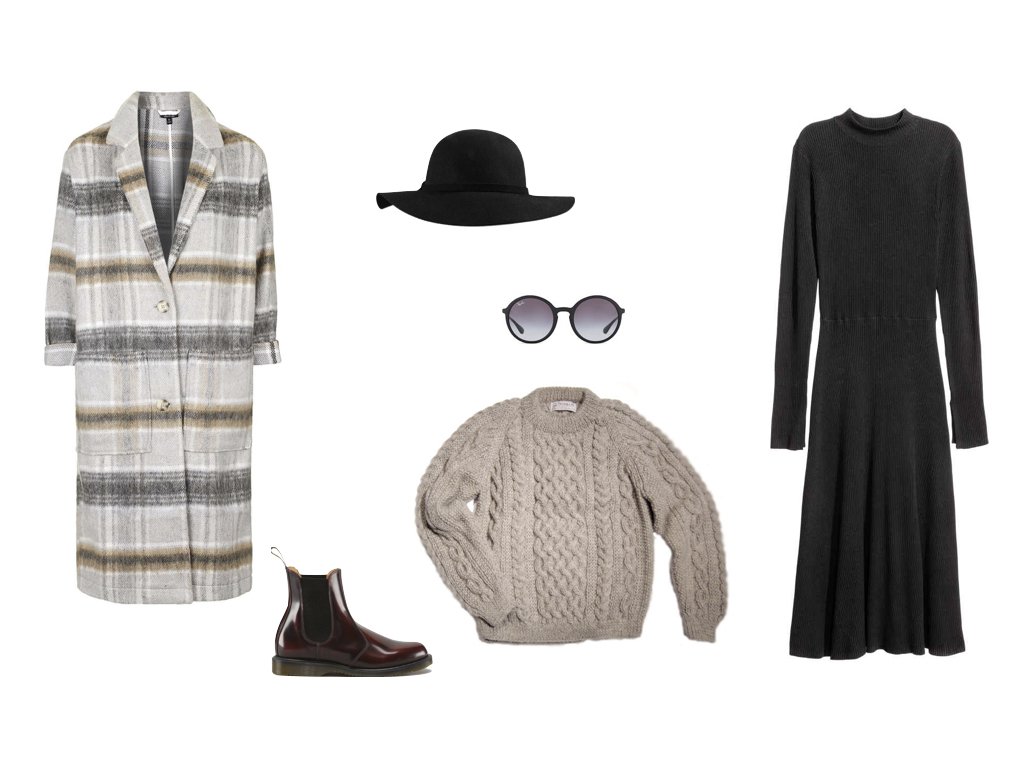 Wool plaid coat, felt hat, sunglasses, long dress, wool sweater,
leather boots.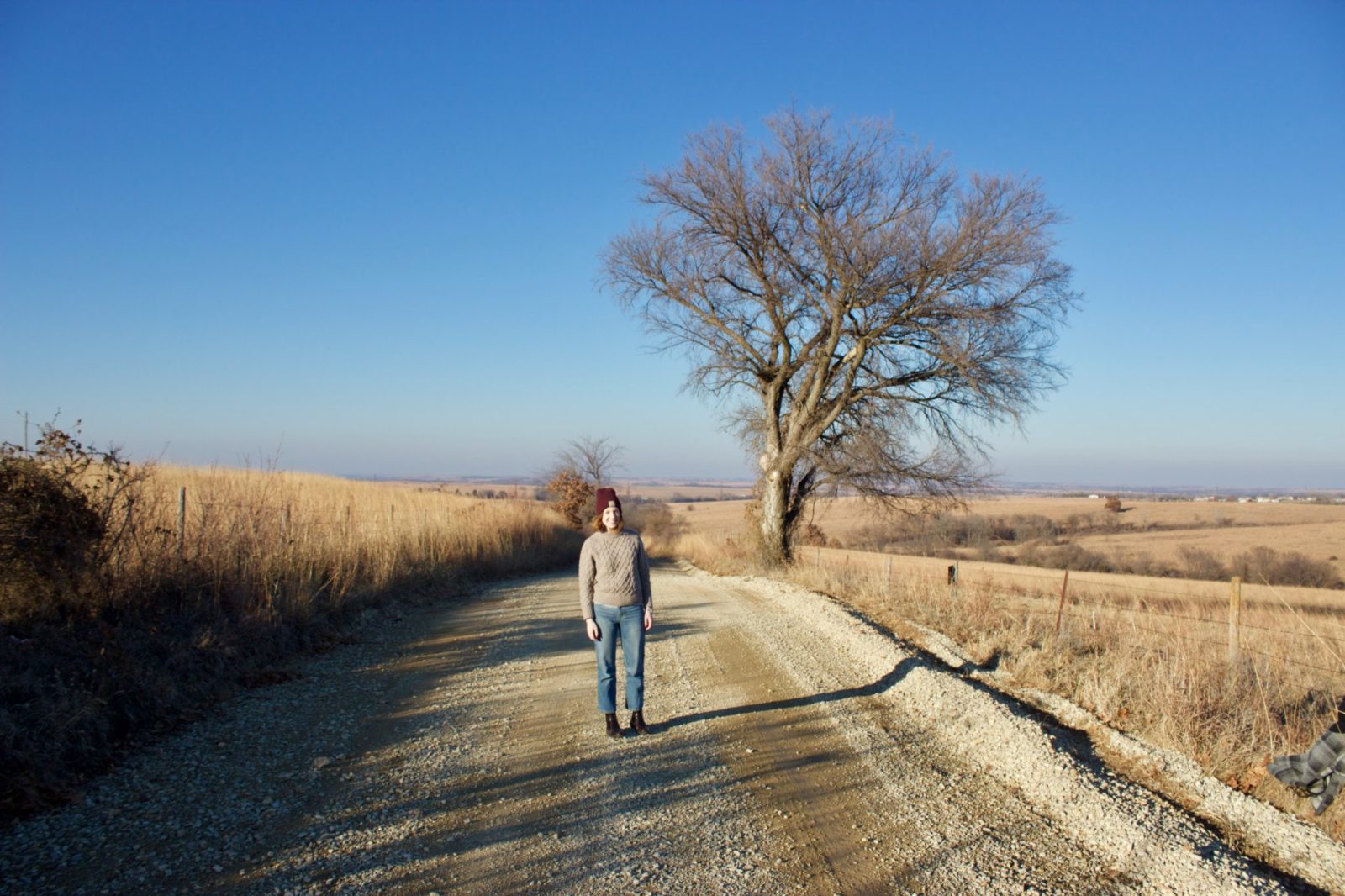 This trip also involved lots of casual hanging out with family and friends, which meant no-frills staples like jeans and converse sneakers. I added a printed blouse and my packaway coat, which makes traveling in winter a lot more pleasant. My trusty Carhartt toques were purchased in Kansas, so it only makes sense they make the cut.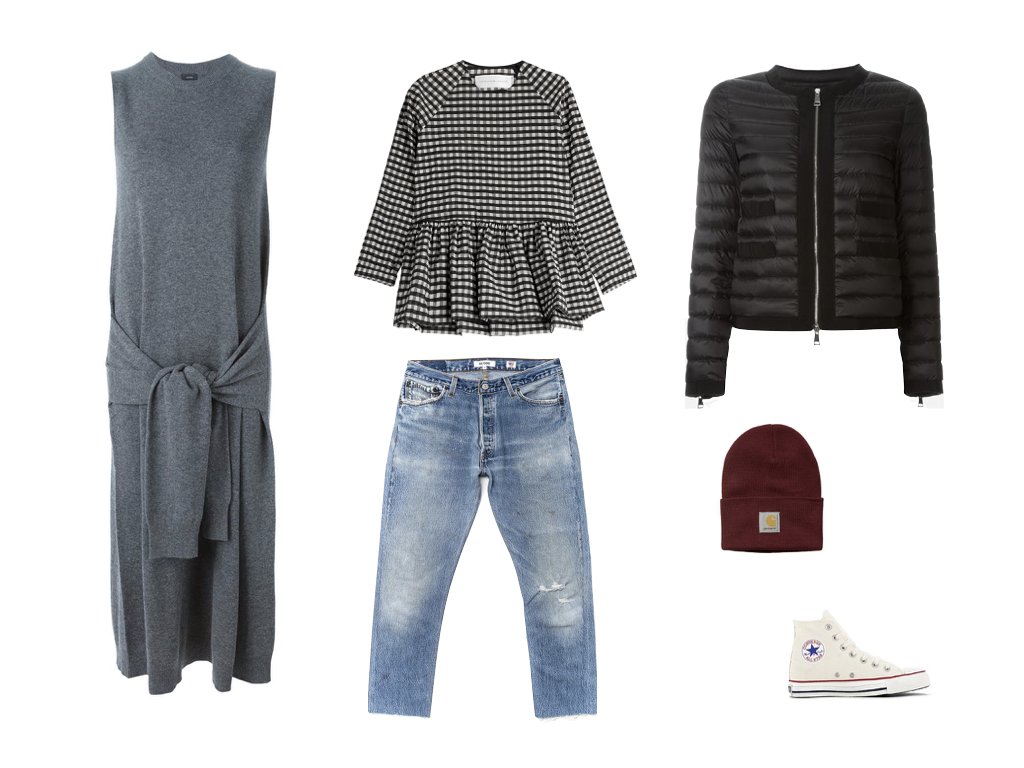 Long maxi dress, gingham top, puffer coat, beanie, converse sneakers, jeans
.
More casual than jeans is overalls, which I've been having a love affair with for the past two years. I dress them "up" with heels and a slim tank, or go full-on Denis the Menace with child-like accessories. I completed my capsule with a black merino wool scarf and a burgundy bucket bag for the few days I didn't need to haul my laptop.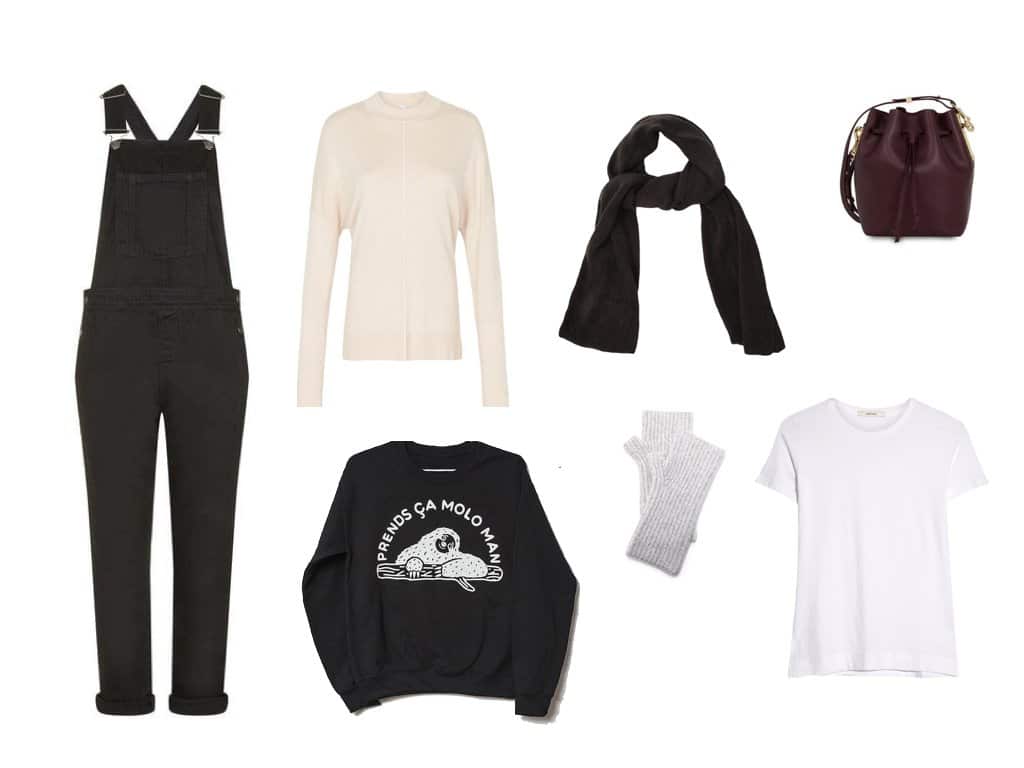 Overalls
, turtleneck
, scarf
, bucket bag, t-shirt
gloves, sweatshirt.
Want to know how I styled these clothes? I put together a list of possible outfits that I've been using as inspiration every day on this trip.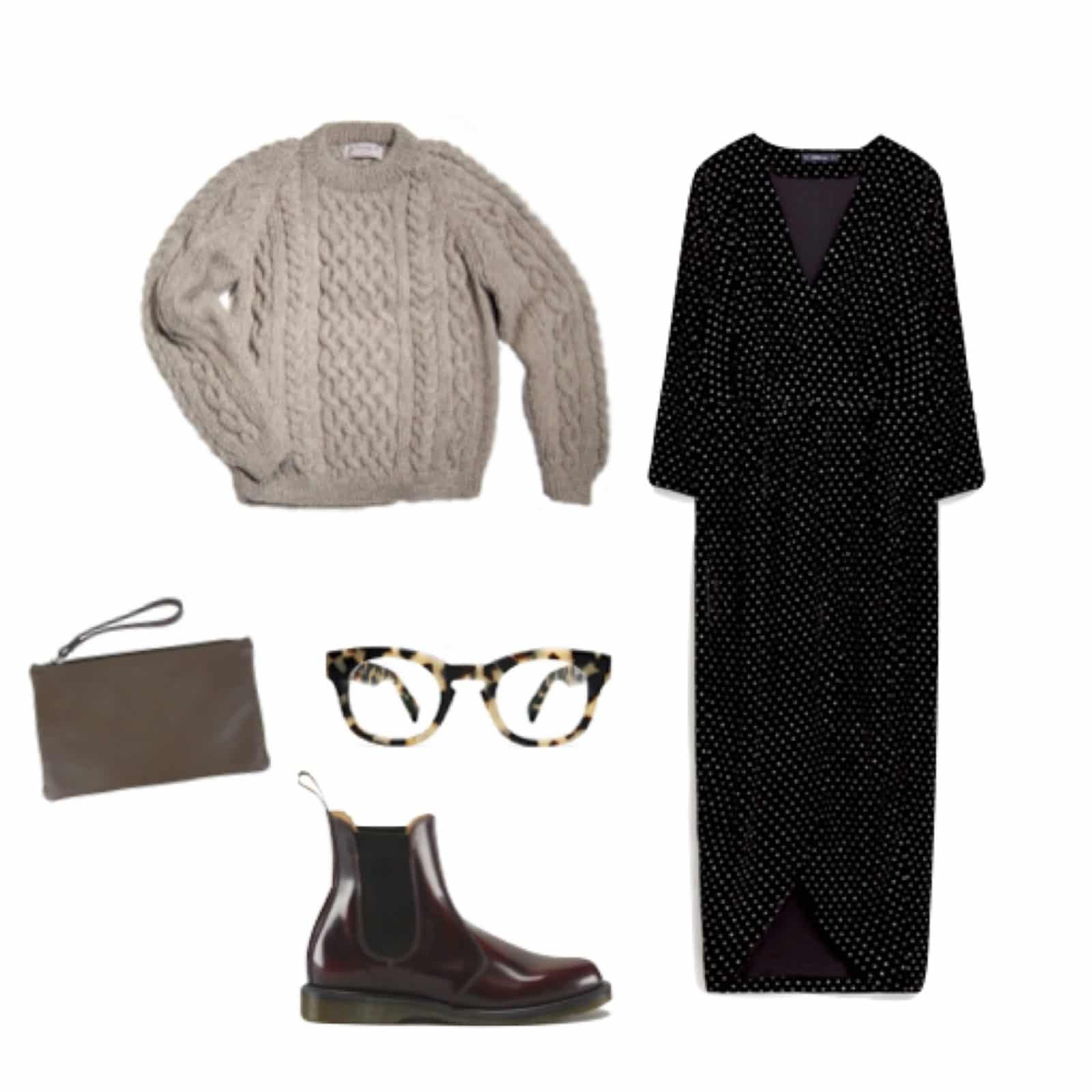 Merry Christmas Everyone!
*Thanks to my brother Martin and sister-in-law Amy for driving me out to Wamego, Kansas, home of my favourite muted landscape.