Estimated reading time: 3 minutes
When I travel to places like San Francisco, the typical business look there is a lot more casual than most cities. The hills of the city make high heels nearly impossible and the laid-back tech industry sets a different tone and expectation for professionals. Many fashion startups on the West Coast blend technical outdoorsy fabrics with smart business casual looks, so you can look professional while getting the benefits of performance design.
As a frequent traveller, I know that travelling for work has its own set of rules. You need to pack clothing that looks good while being comfortable and wrinkle-resistant. I've written a lot about business travel packing already but truth be told, my personal style involves blending a lot more streetwear.
What to pack for work and play
Packing a travel capsule wardrobe that's good for work and play means packing enough items to make professional outfits but the right clothes for activities like a light hike or on-foot sightseeing. Then, for styling outfits, I like to mix and match everything by dressing up sneakers and dressing down trousers and dresses.
Swap heels for sensible but fun shoes and keep sneakers streamlined and minimal. I kept my clothes fairly neutral with a black, white, and red colour scheme. I also played with some classic suiting looks like a white dress shirt, a shirt dress, and trousers and threw in more casual items like a fun sweatshirt.
I needed a backpack for my laptop and tech gear, because I work while I travel, which immediately make my outfits more casual. However, I did pack a purse to give myself more options.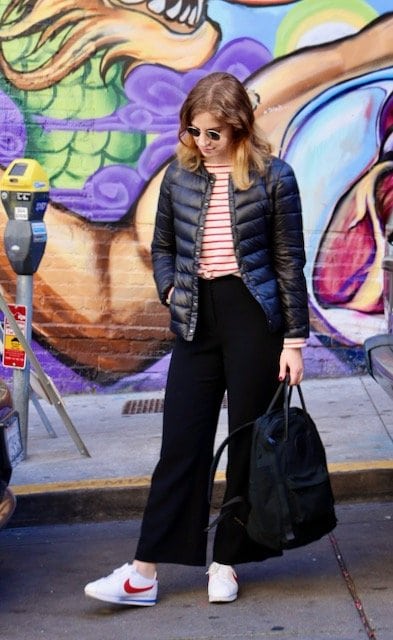 There aren't many situations where I have to tap into my true "business casual" attire but I do love to save inspiration for corporate outfits to my Workwear Pinterest board if you want to take a look!
Happy Travels xox