The Trip
I'm going to Lisbon for a week for Web Summit, one of the largest tech conferences in Europe. Previous editions were held in Dublin but the organizers decided to move it to Lisbon for the 2016 edition. Lisbon will be overrun as they expect 50,000 at the event from November 7 to 10.
I was lucky enough to get a free ticket to go and also found out a few other Montrealers were going and we decided to split an airbnb in downtown Lisbon. I also work with a talented designer based in Lisbon, so there will be more than one familiar face.
The Inspiration
….was lacking. The weather kept flip-flopping between rainy and sunny, from 14-21C. I knew I'd be inside for the conference, then mingling and bar-hopping in the evenings. My non-conference days, I'd planned to explore the hip neighbourhoods and take a train up to Sintra.
I did a bit of research and my fellow travel bloggers all suggested packing very sensible shoes since Lisbon is all hills and cobblestone. Done. Other than that, I just knew I wanted to have some decent outfits for the tech conference, you know, to prove to everyone I know what's cool.
But here's the thing, I'm in an all-black and grey phase right now and no matter what I tried to pair together, black just kept feeling right for this trip. So here's my all black/grey/white capsule for Lisbon.
The Capsule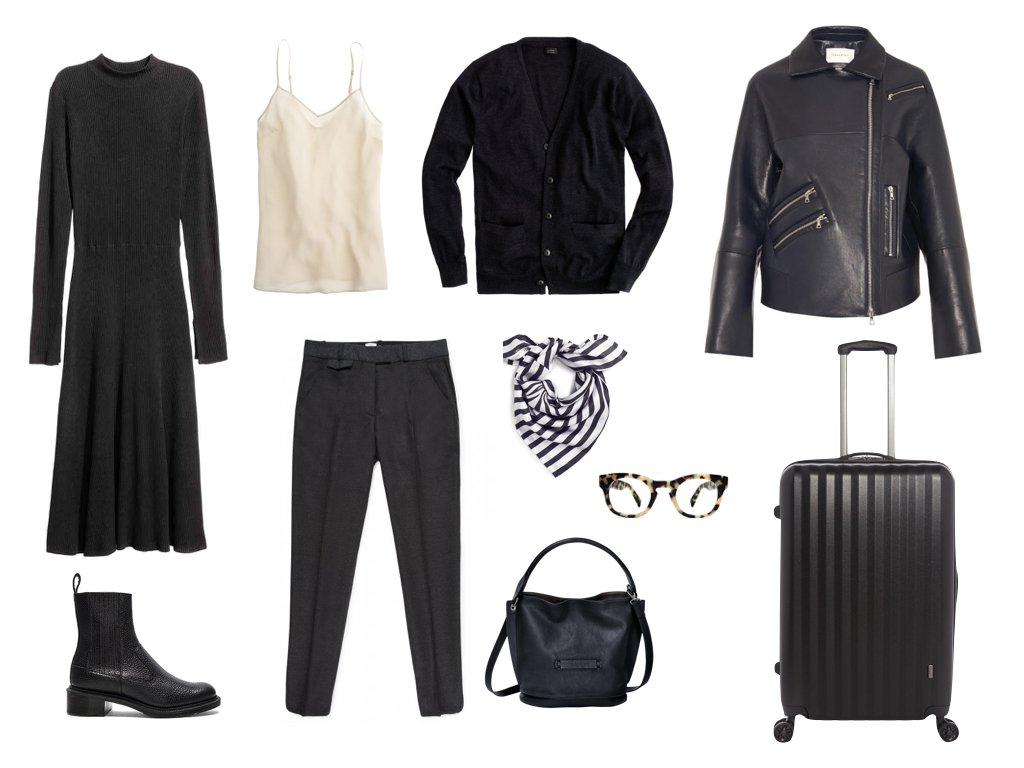 Shoes: I'm bringing the same footwear as my Thanksgiving Capsule. It's just what I'm into these days, and play well with walking and rain.
Dresses: I'm in love with my merino wool dress also featured in my Thanksgiving Capsule. I expect to wear it with boots and sneakers, and trust it will help me feel comfortable in the fluctuating temperatures. I also picked up this black ribbed midi dress from H&M that borders on matronly or even witch-like but is also a little model-off-duty if done right.

Outerwear: This was so tough for this trip. I had the option of a trusty mac coat that would do well in rain, but is also breathable enough for non-rainy days. Or a really cool leather jacket. I succumbed to the leather jacket and threw in a small pack-away rain coat. I just needed a statement piece that would speak for itself and the leather jacket did that. It also made all my other clothing seem less boring. It's bulky, but I need to own my decisions.
Pants: Choosing pants was pretty straightforward…black wool trousers from Everlane and black cropped flare jeans. Interchangeable, smart, versatile, maybe too similar? I'm learning as I go.
Tops: Also didn't put too much thought into this one. Packed a long sleeve henley, because Garance Doré said they were cool. Threw in some tank tops for layering and voila.
Sweaters: I chose a merino wool black cardigan from Everlane for layering, because it's easy and elegant and a really fun sweatshirt for the moments I want to have personality and stand out.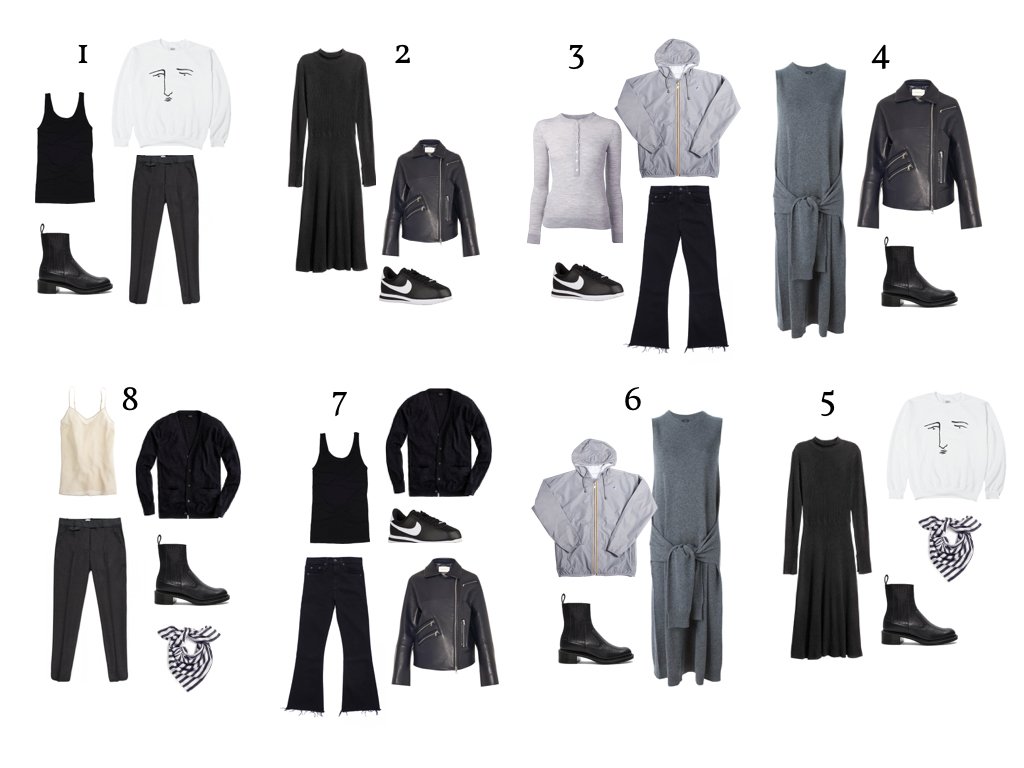 For the rest, I'm packing a cross-body purse, a water bottle, some tights, and all the regular other stuff. Oh and silk scarf for when I want to feel a bit fancy.
That's it!
Follow the Capsule Suitcase on Instagram to get updates on my Lisbon trip!