This week, I came back from a two-week stint in the U.S. including a stop in St. Louis, Missouri. I didn't spend the full two weeks in St. Louis, in fact, I did St. Louis to Kansas City, and Kansas City to Seattle. However, I've already shared packing lists for Kansas City and one for Seattle, so for this trip, let's pretend this packing list is dedicated to St. Louis only.
Packing for St. Louis was actually one of the easiest travel capsule wardrobes I've ever put together. I had a colour palette in mind from the start, because I'd been wearing a few of these items in heavy rotation anyway and it made sense to pack them.
As usual, I started by determining what activities I needed to do on this trip. Luckily, this was a trip of two back-to-back conference weekends, which means doing a lot of the same activities twice over: speaking engagement, social events, and a lot of time in a company t-shirt.
In the middle, I'd be crashing at my brother's house instead of flying back to Montreal, a decision that ended up saving me time, money, and allowing me to catch up with family a little bit. The weather called for some cold temperatures, but one one day where it freezing and two days with a little bit of rain. So, I packed for late Fall, and threw in an umbrella for good measure.
Here's what I packed for St. Louis, Kansas City, and Seattle:
Tops: Uniqlo merino cardigan (similar here), Equipment wool sweater, H&M Long sleeve tops (similar here), American Tye Dye top, H&M merino wool t-shirt (similar here).
Dresses: COS wool a-line dress (similar here: Utility Pinafore in Black).
Outerwear: Part Two wool coat (similar here), Joe Fresh puffy coat.
Pants: White Vintage Dickie's (similar here), Grey Kit and Ace wool trousers, Levi's Jeans.
Bags: Parker Clay Marketo Tote, Longchamp Neo medium LePliage
Shoes: Nike Cortez Sneakers, Silver brogues
Not pictured: Socks, underwear, pyjamas, workout leggings, sports bra, and an umbrella. Oh, and my work polo.
I should mention I was able to pack light because I had access to a washing machine in the middle of my trip. Yay for crashing at family and friend's houses.
Here are a couple of snaps to showcase the outfits in action.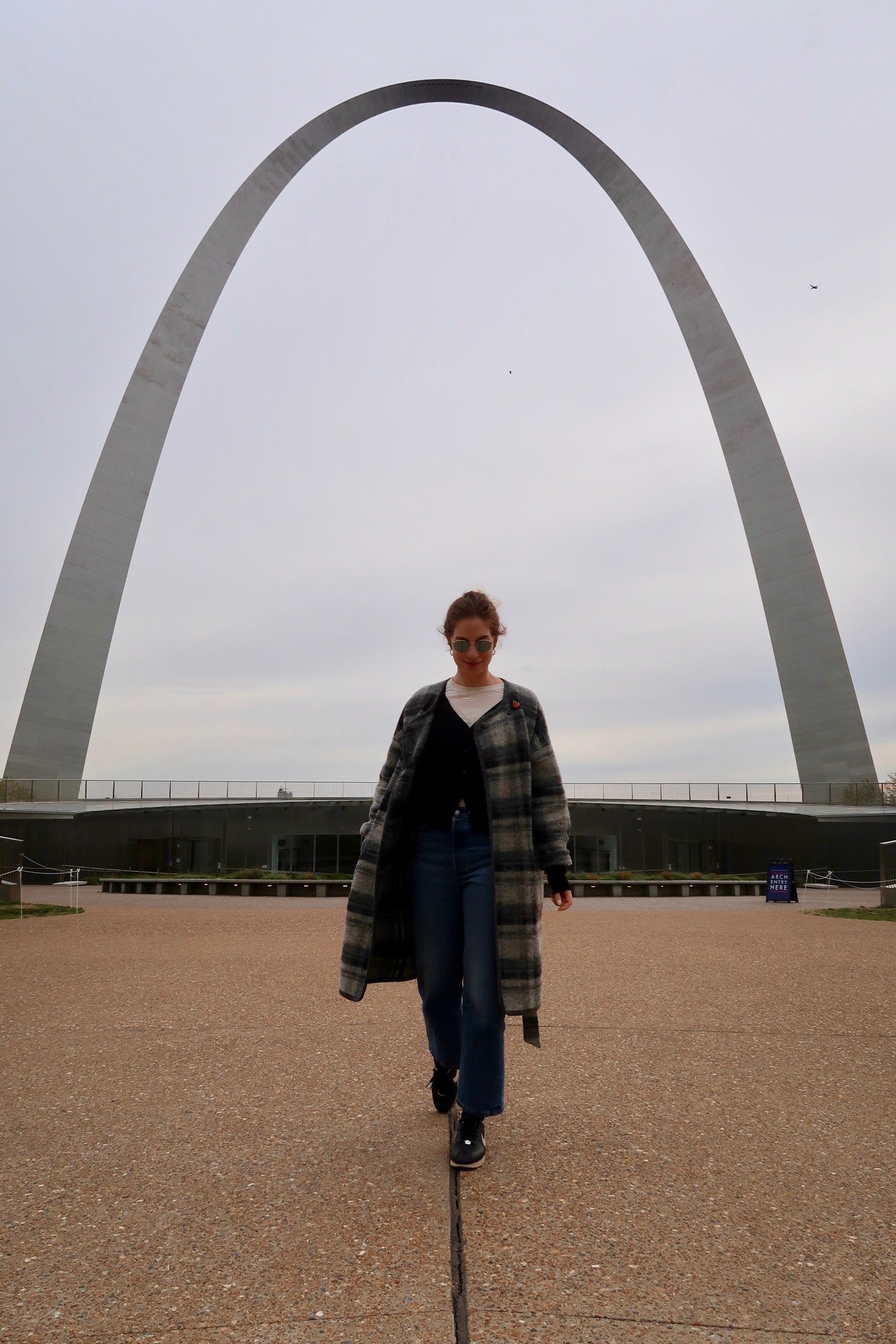 And that's it! I lot of grey, black, and white, with enough texture to keep things interesting.