Planning a Trip to Florence, Italy
The main company I consult for is completely distributed. Everyone works from home, wherever they live. The designer on my team is in Lisbon, for example, and my boss is in Rome. Once or twice a year, teams get together for in-person meetings and team bonding time. I don't usually go to these meetups since I'm a consultant rather than a company employee. However, this being a big year for Marketing, it was important for us all to be aligned in our work and I was invited to join them in Florence!
The challenge: My trip was June 3-8, and I was packing for six days. A week is my favourite length of time for a capsule travel wardrobe, so this was great! In this situation though, I had no idea what we were doing, where we'd be going, and how much time we'd spend on our feet, in A/C, or in fancy restaurants. The only information I had was the weather: A bit rainy, a bit sunny, and ranging from 17-25°C.
This was also a business trip, technically speaking. I was going to be hanging out with the company CMO, the head of Marketing, and the head of Business Development.
The Inspiration for the Packing List
Inspired by the neutrals of Florence with a splash of colour and texture, I wanted to strike a balance between business-appropriate, feminine, but also avant-garde, cool, and youthful. Professional but trendy and forward-thinking — Just like me!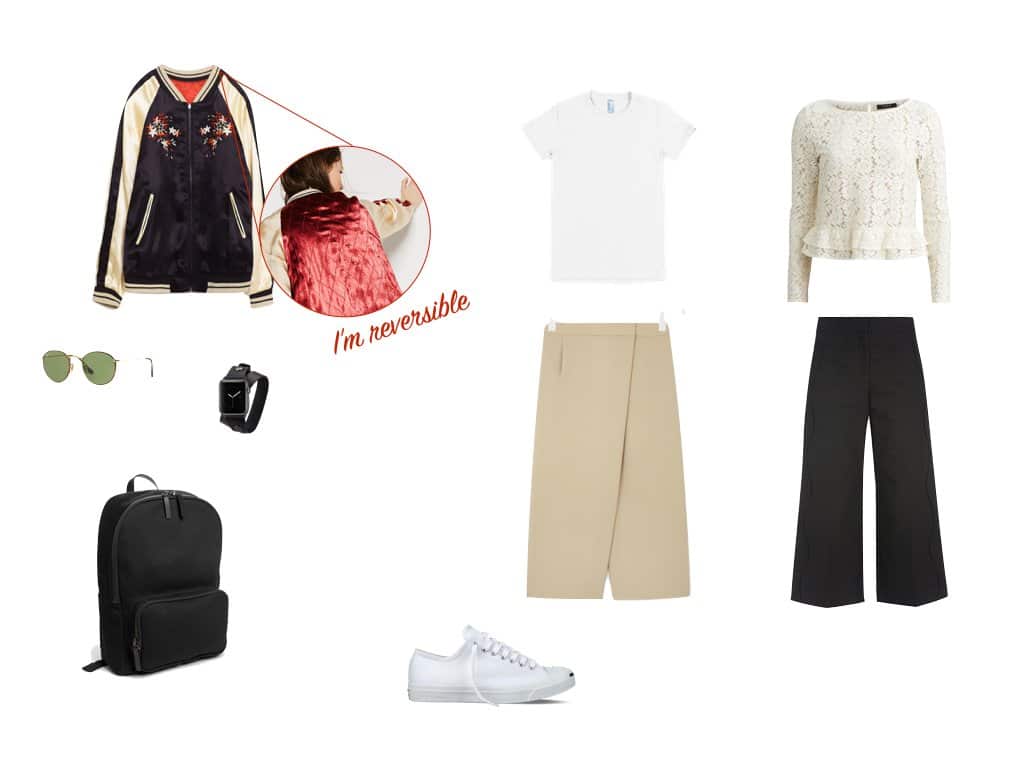 My MVP was most definitely my reversible satin bomber. Outerwear takes up room, so having two jackets in one was an awesome perk. A close runner-up was my handy Everlane backpack, a trusty favourite for all my work-related travels.
I chose two pairs of pants on the more flowy side, like these, because A. I don't love skinny jeans anymore, and B. They are great for traveling.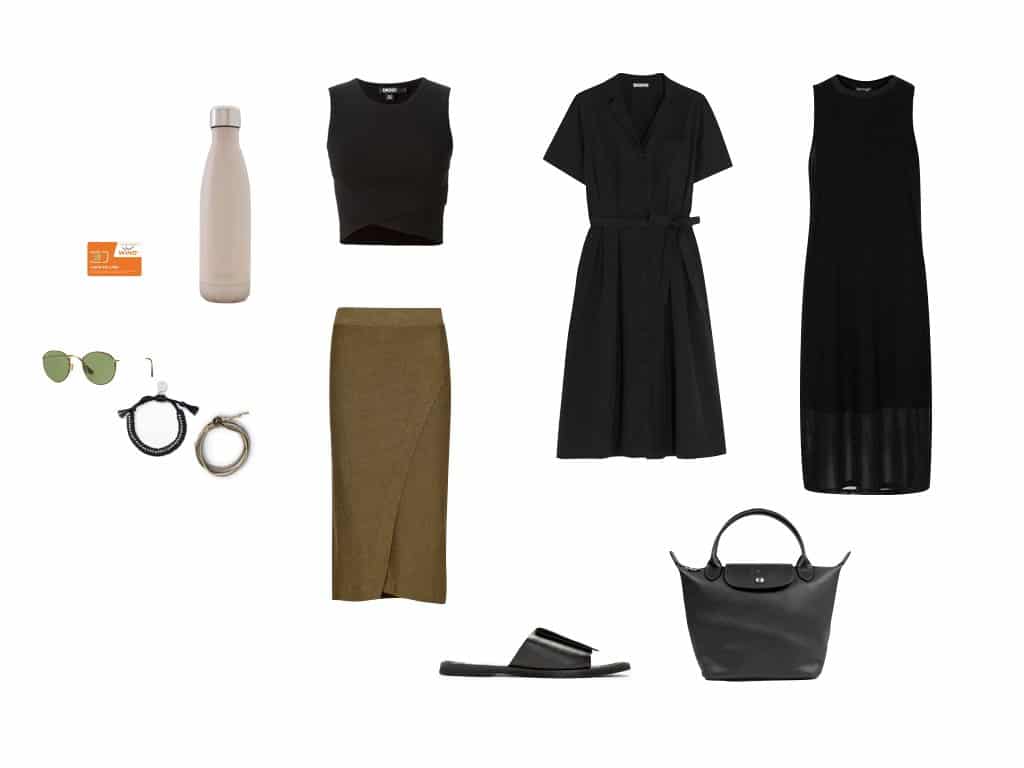 On the fancier side, I chose some neutral tops and a t-shirt dress. I don't usually bring two of something, like two black dresses, but these were different enough to warrant it. I don't love this linen shirt dress from Simons, because it feels a bit stuffy or matronly on me, but I appreciated it when entering the Duomo, which required knee-length hems and covered shoulders.
Third MVP was my Wind Mobile SIM card a friend loaned me. I was a bit useless without Google Maps and having an Italian plan was so worth it.
I kept my accessories really minimal: purse with a cross-body strap, wrap bracelet, comfortable and stylish sneakers, and simple sandals. Most of my accessories were black or white/cream and made of leather and canvas, because natural fibers.
The Trip
This was my first time in Italy. My last trip to Europe was in 2010, so it felt like a big deal crossing the Atlantic. I was nervous about jetlag, but I did what everyone says and just adopted the local routine as soon as possible. My favourite things about Florence were walking along the Arno river, the Duomo di Firenze, and having delicious espresso at every meal. I also enjoyed the Accademia (where you can spot the David), the Boboli Gardens, and all the gelato. I also loved le giubbe rosse, a café with a ton of history — just ask the owner!
On my last few hours in Florence, I had some time to sightsee. In Italy, it's easiest to buy your museum tickets online with a set entry time, but not knowing what I would do on my last morning in town, I didn't book anything. I decided to try my luck at the Uffizi Gallery anyway and was able to get in after 40 minutes of waiting. It was worth it, even though I had to blitz through the entire place, including Botticelli's Venus. Thanks to Sara and Zé for really stressing it as a must-see!