HomeExchange, the website that allows you to swap homes or stay at people's homes in exchange for earned points, is one of the best ways to save money on your travel accommodations. Read on to see how it works and read about my experiences using the website.
HomeExchange is for true travel-lovers
There's no doubt Airbnb is currently the most popular alternative to hotels and hostels. But over the years, it's gotten overly commodified, to the point where people buy apartments just for Airbnb or evict long-term tenants in favour of short-term rentals. It's been a real problem for several years now and you can really feel the impact on vacancy rates in dense cities.
But remember when Airbnb just started and was still very much just people who loved travelling and wanted a more authentic and affordable alternative to hotels? That's what HomeExchange feels like. It's an international community of people who love to travel and list their homes online for people to swap homes or exchange for redeemable guest points, the HomeExchange currency.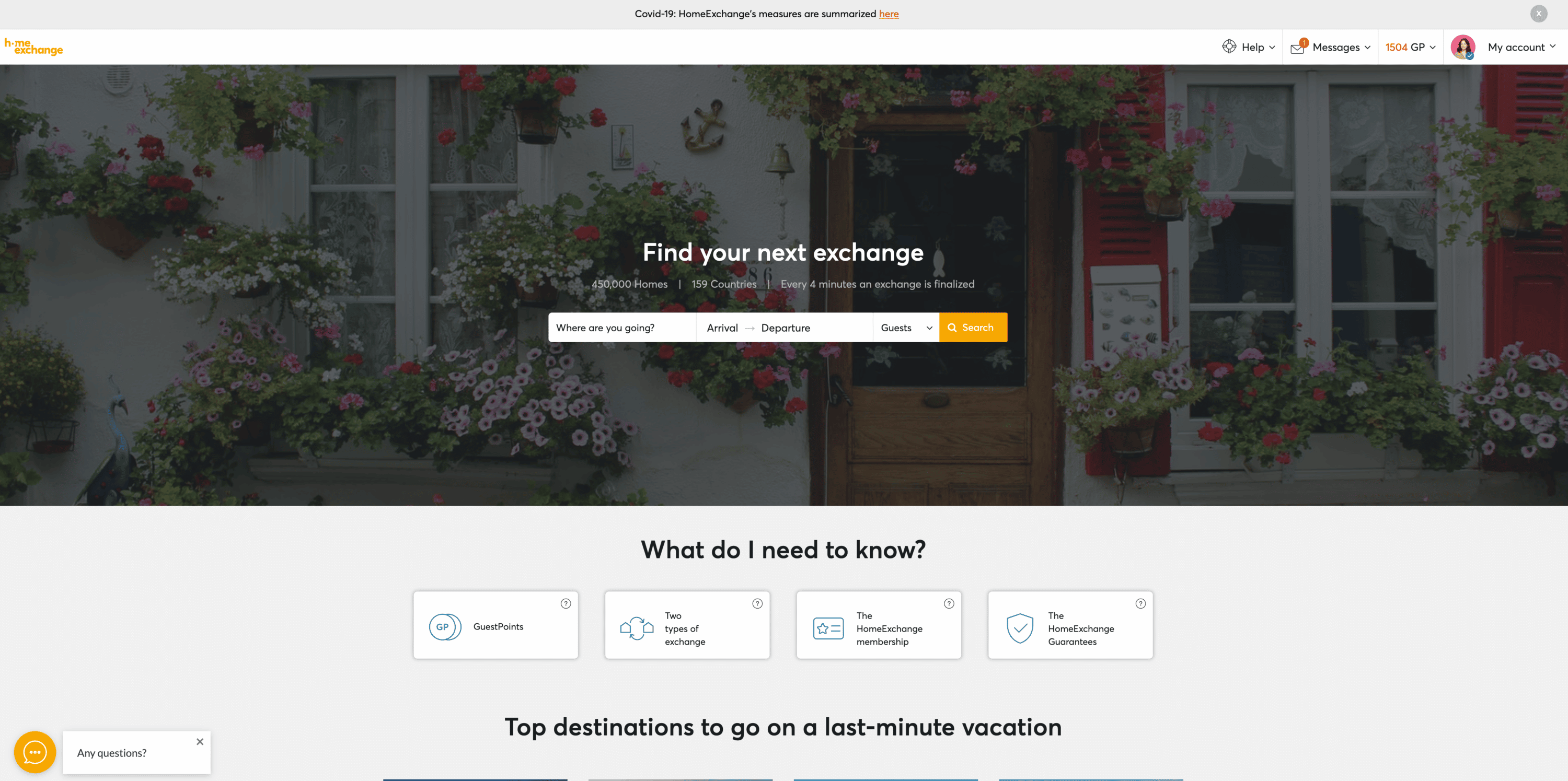 How HomeExchange works
When you want to stay at a place, you have two options, as described on the HomeExchange website: reciprocal exchange and non-reciprocal.
Non-reciprocal exchange with GuestPoints
The member you reached out to does not want to stay at your house but they are willing to welcome you? For more flexibility, use your GuestPoints to arrange this kind of exchange. You earn points when someone stays at your place, but you can then use those points at someone else's house, and they can use the points earned at yet another place. It's all part of one big community swapping points and getting free stays. You need an annual membership costing $175 to spend points.
Reciprocal exchange with or without GuestPoints
Reciprocal exchanges are a swap by the same two members. You take over someone's home, they stay at your house. It doesn't have to be an exact exchange nor at the same time, but it is between two members strictly, and they can agree to set the cost at 0 GuestPoints. If it's not a perfect match in the number of days or type of accommodation, you can supplement with points. This is great in theory, but incredibly hard to coordinate and find the perfect swap. This is why the GuestPoint system exists as the other option. If you're a host only, you do not need a membership.
Creating an account and earning points
First, create an account on HomeExchange. If you use my link, you'll start off with 250 guest points! Once you have an account, you can do a few more tasks to earn points: fill out your profile, list your home, and refer a friend. It's actually pretty easy to rack up points and book your first stay.
If you have your eye on a place but don't quite have enough GuestPoints to cover your stay, you can buy them. They are offered at $0.15 USD/GP but you can only use purchased GuestPoints to pay for a maximum of 20% of the total number of GuestPoints needed for the exchange. Then, if supplementary GuestPoints are required, they will cost $1.50 USD/GP. This is so that people spend the guest points they earn rather than just buying. It helps make sure it's a community that gives and takes.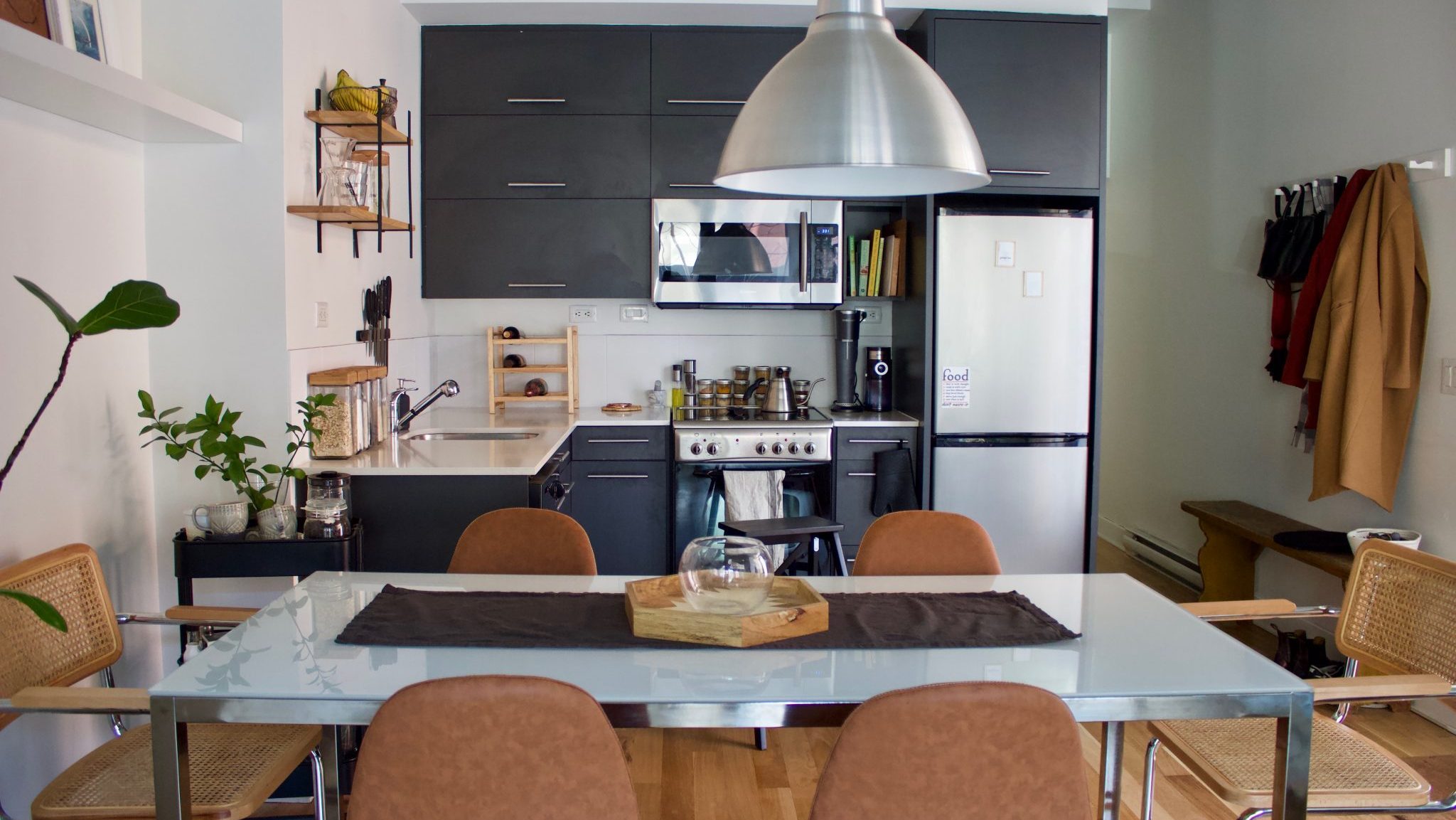 Use my code for 250 GuestPoints
Hosting guests through HomeExchange
Let's start with listing your home first. You can choose to list your available dates and when you do, you can pick two methods to "get paid": reciprocal exchange, GuestPoints, or both. When you list your home, you set the number of GuestPoints per night, basically establishing what your home is worth. A lot of factors go into how you should price your home: Size, location, amenities, proximity to tourist attractions and transportation, and design. 
Once your home is posted, people message you and ask about staying. There's no obligation to say yes, or even answer inquiries, even if it's considered courteous to reply within 48 hours. If someone reaches out and you agree on a date, you can confirm everything in the dashboard and the points will be transferred to you. Even if they cancel because of Covid, you'll retain the points.
While I was away, I had two families stay at my place back to back. I didn't think to charge a cleaning fee on the first exchange but I learned that trick from the hosts I rented from and did that for my second guests. The pros for me were that I had people on location to water my plants while I was gone. All while earning GuestPoints I can spend elsewhere.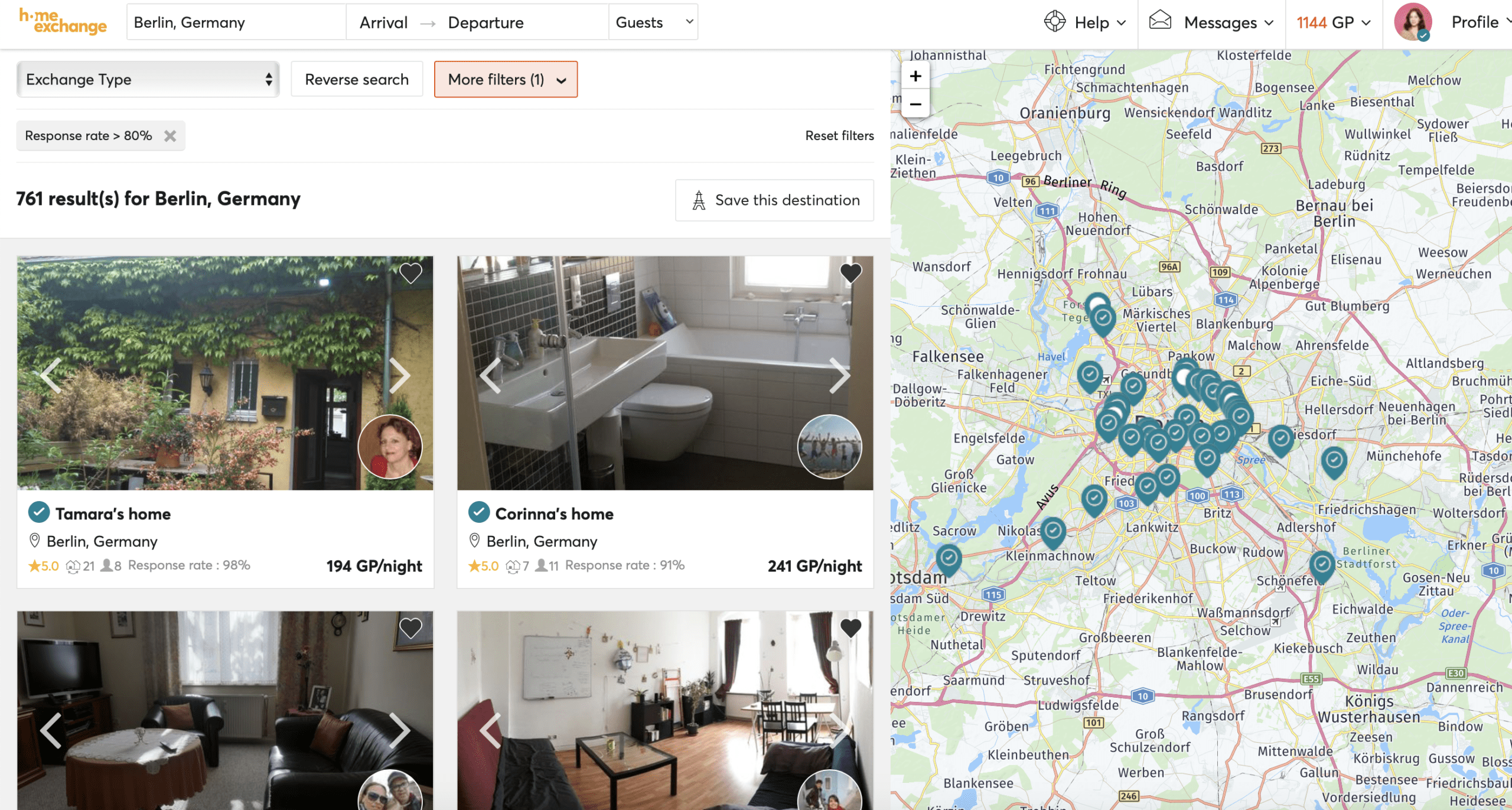 Using HomeExchange as a guest
You don't need a membership to list your home and welcome guests but you do need one to spend your points. So, what's next when you are ready to redeem your points? Well, it's as simple the other way around too! Find a place you want to stay at by using the search engine, calendar, map, and criteria to review homes. Send messages introducing yourself and your fellow travellers and start discussing with homeowners.
I originally signed up for the site for a trip to San Francisco. I found a few spots that could work but it's not as easy as Airbnb. You have to read each home listing very carefully to make sure you meet their criteria. For example, some listings have a minimum night stay or need you to look after a pet. I ended up contacting six people before I was able to secure a spot. Then, after chatting back and forth with the owners and agreeing on a cleaning fee and check-in time, the exchange was finalized.
Once I arrived at my HomeExchange place, it was more or less like Airbnb. The hosts were super friendly and the place was absolutely amazing. And all this for $120 for four nights! Since I signed up, they've now made the membership mandatory and it costs $175 a year. But that cover unlimited trips for that entire 365 days. You'd pay more in Airbnb fees, in my experience.
For the logistics of the exchange, it's a lot like Airbnb: you communicate through the app, and hosts can either decide to greet you or leave a lockbox key or give you a code to enter. 
One thing about booking that I tell everyone: you have to be persistent. On average, they say you need to send 10 messages before you'll find a host for the dates and location you're looking for. Luckily the HomeExchange network is huge, so there are lots of choices. But not everyone's homes are available on the exact dates you want, or they might not have the exact amenities you need. So, even if you get turned down five times, keep searching for homes, and sending messages, and eventually you'll find the perfect fit.
What guarantees are there?
If the thought of renting out your house to strangers is scary, or the thought of booking accommodations through a random website makes you nervous, I recommend checking out the guarantees section of the website. There's a cancellation policy that protects hosts and guests, if you arrive at a home exchange location and it's total garbage, they'll cover your last-minute accommodations elsewhere, and if your property is damaged, their insurance covers up to $1 Million dollars. Even with all those guarantees, I would advise not to leave too many breakables or valuables out. There are certainly some things I do to prep my home for guests, like putting away my personal things and making sure the fire extinguisher is easy to find. 
All in all, I had a great experience, both as a guest and a host. I still can't believe I got such a good deal on my accommodations in San Francisco. I highly recommend trying it out too!
Happy Travels xox