If your travel plans this summer include a friend or family member's wedding, you might be wondering how to pack so that you look great as a wedding guest, but also have loads of outfits and options for the rest of your vacation.  
If you're extending a destination wedding trip into a mini vacation, you'll want every piece you pack to pull its weight, including your wedding look. Now, this is where people who aren't wearing a suit win out: because you have way more versatility to make whatever you wear to the wedding, casual enough for a lot more outfit combinations. 
Choosing a travel-friendly wedding guest outfit
Let's start with your main wedding look. Depending on the wedding culture, the location, and the time of year, your wedding guest outfit can be so many different things. If it's a morning wedding, a little dress and jacket combination might be very chic, if it's a beach wedding, a casual short dress might be appropriate. Understanding the weather and vibe will be key here. 
Now, I rarely advocate for one-and-done outfits in a travel capsule, but a dress to wear to a wedding might be the exception. However, if chosen wisely, this item can actually be a super versatile dress or even a nice jumpsuit. Here are a few more examples:
A slip dress for example can be dressed up or dressed down.
A dress with a cute skirt part can be worn under another top for a great look.
Or, you can choose a dress that has a top part and a liner and wear them separately, like these really old photos from a wedding I attended several years ago. 
Top and skirt combination that when worn together look like a dress.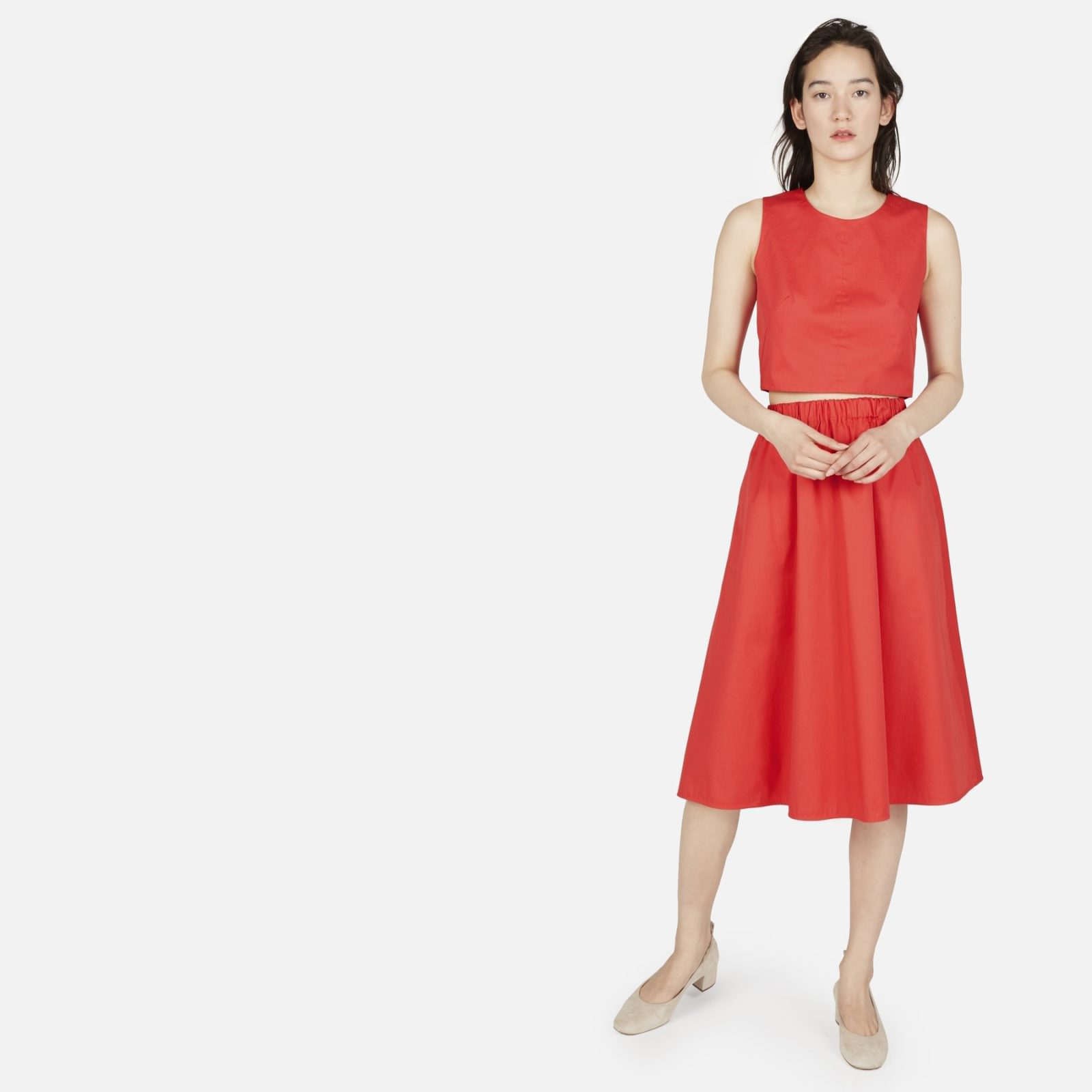 A skirt and top combination is a great way to build a wedding-appropriate look but with separates that will serve you for the rest of your trip. For an even bigger impact, pick two separates that together, look like a dress. I see these everywhere online and not only does it give you more options for mixing and matching your items, but it also allows you to pick different sizes if, like me, you're smaller on top than on the bottom. I'm a 4 on top and 6 on the bottom, so I always need to alter my dresses.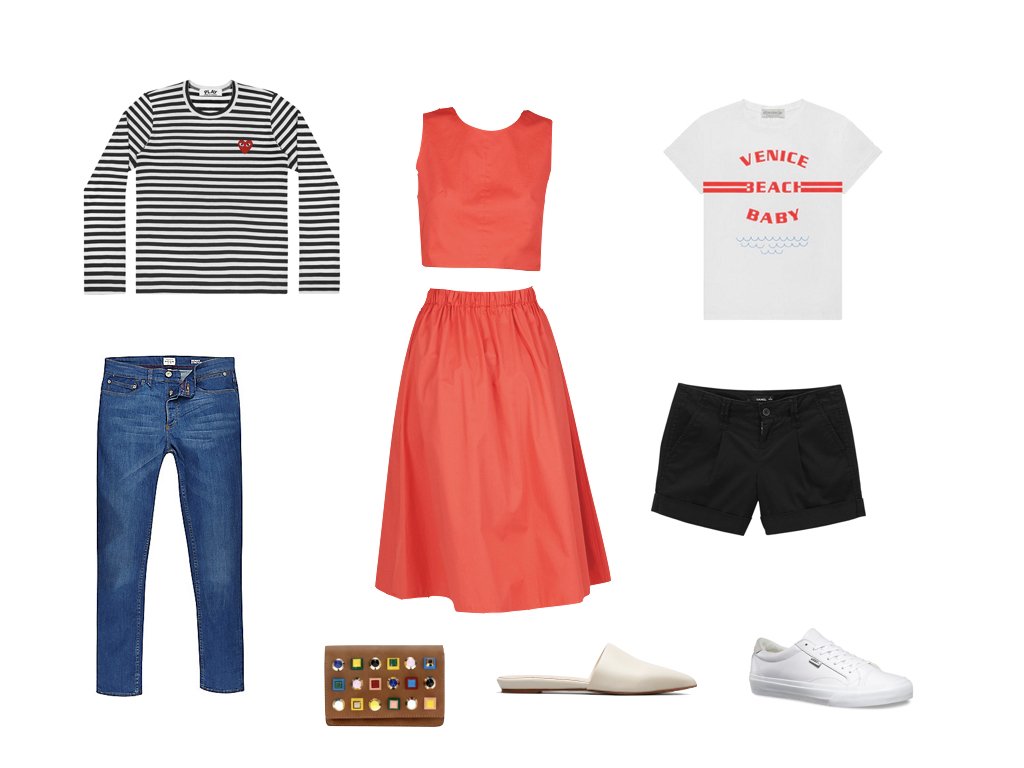 How to pack formalwear in a suitcase
If you're packing your wedding outfit into a carry-on, remember to read my post on how to pack formalwear. I share tips on using garment bags, bringing a steamer, and packing delicate items so they look great. One thing I've seen a lot lately is the use of plissé fabric, or crinkly fabric, where the texture of folds and wrinkles is intentional. This style is so great for travel because you don't have to worry quite so much about steaming your garment on your trip.
Choosing shoes for a destination wedding
If the wedding you're attending is just one of many activities planned during your trip, you'll have to think about whether packing heels is worth your luggage space. You could choose a lower, more comfortable heel or even bejewelled flats or sandals. So many weddings are held outside now which gives way more freedom to wear comfortable footwear.
The fun thing about footwear is that you can add so much personality that way. Don't be afraid to use footwear for a pop of colour. I actually feel like this is what makes an outfit look particularly fashion-forward vs just some uncomfortable strappy sandals. Just remember that a trip is not the time to break in a new pair of shoes. 
Packing accessories on your trip
In general, accessories are really where you can play up your look and they take up basically no space. So get some big earrings, a cocktail ring, or a bold necklace. Level up your hairstyle and makeup too. These are gamechangers for an outfit. 
Wondering about your purse? I'd say the same thing: this is where you can bring something bejewelled or fun. If you really want to err on the side of practicality, pack a small purse with removable straps so you can wear it as a clutch and then as a cross-body bag for the rest of your trip. 
Completing your packing list for all the other activities
Now that you have your wedding look secured, think about other trip activities, like other engagements that are part of the wedding festivities or not. Are you invited to the rehearsal dinner? Then a cute skirt and chill top, or a going out top and a pair of jeans could all work really well. 
Next, round out your looks with the other items you need to make more outfits: jeans, shorts, t-shirts, sweaters, and bathing suits. Try on different looks to figure out how to style the must-pack items that you've landed on, and find combinations that make the most of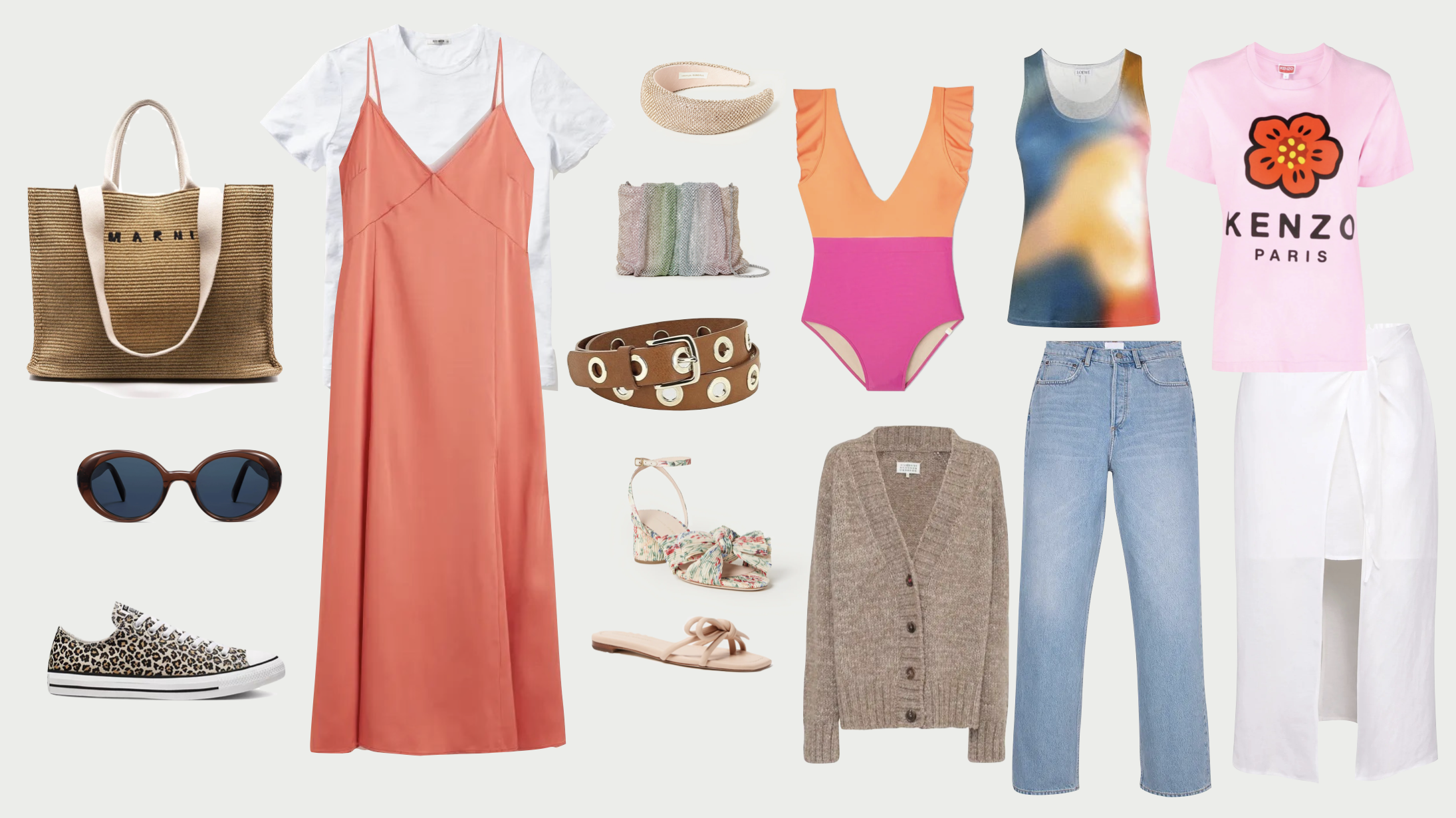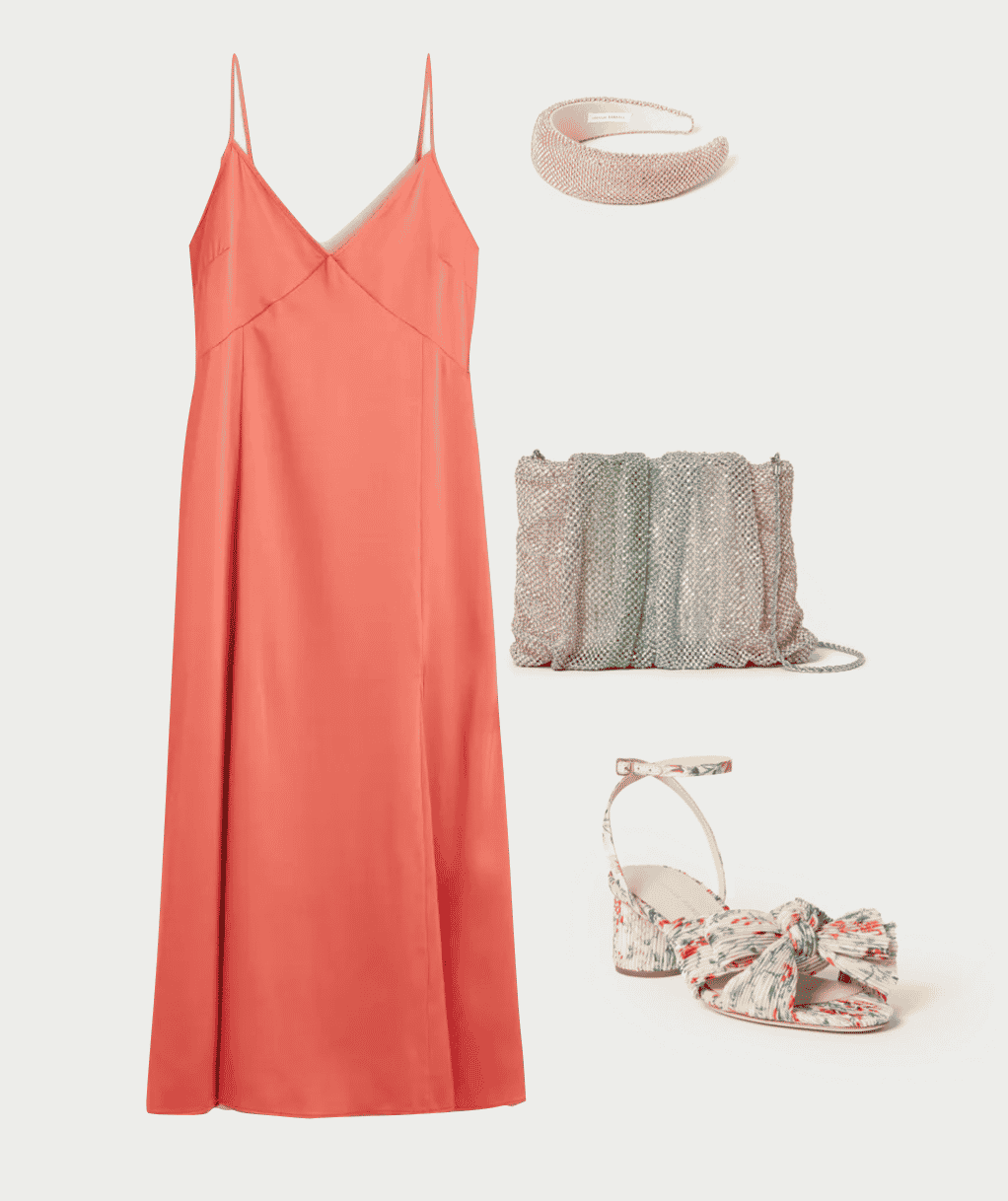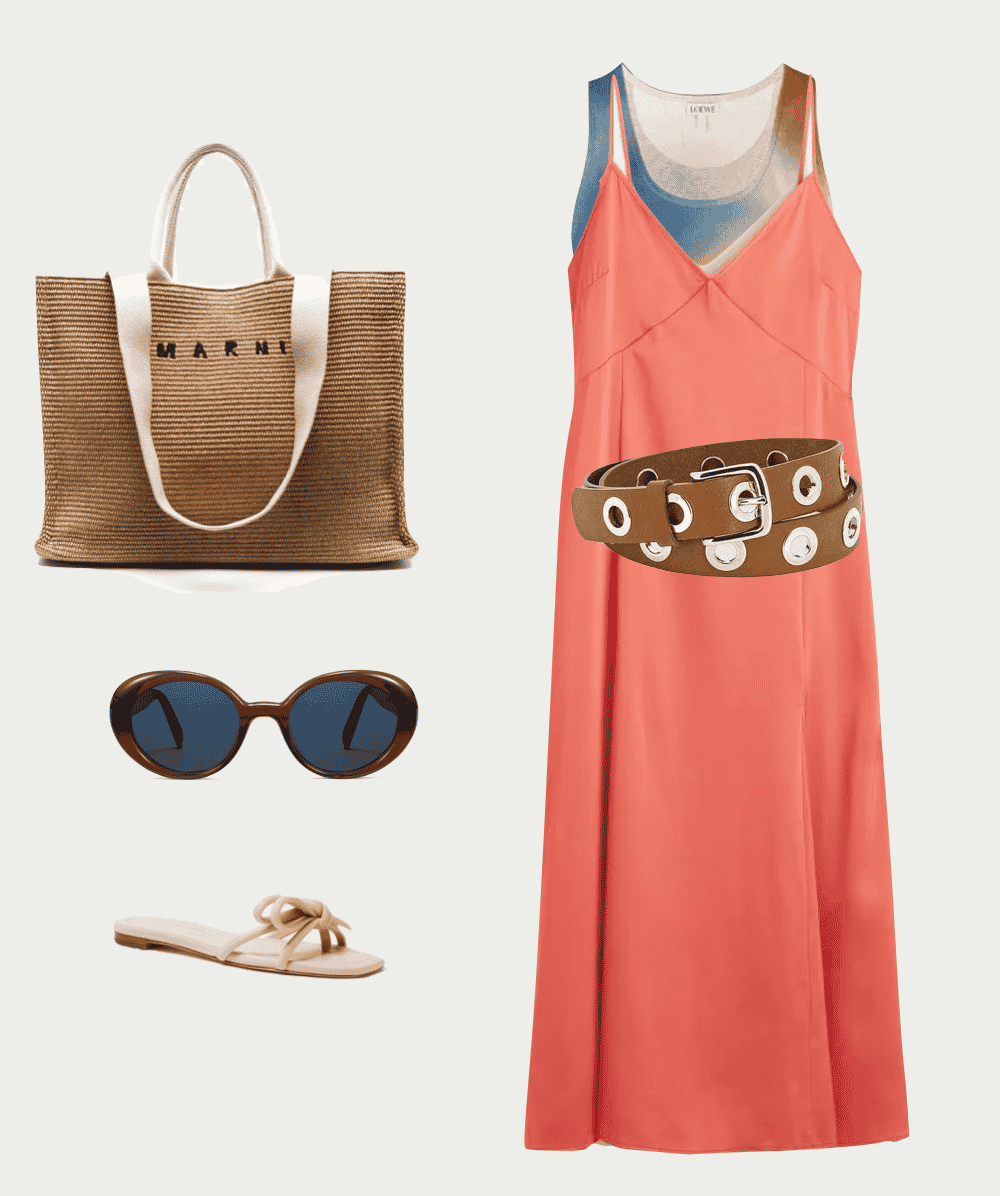 For your other items, you can go wild! Think about what activities you have planned and pack around your separates. Add a fun t-shirt and sneakers to dress down the skirt and some jeans to pair with your bright top. If you play your cards right, you'll have way more outfit options than with one fancy dress. Just make sure you have a strategy to release any wrinkles from travel, like a wrinkle release spray.
Happy Travels xox