The Trip
Earlier this month, I spent a few days in Las Vegas on the tail-end of a West Coast trip. Considering I'd been city-hopping for close to three weeks, the clothing I packed was more or less adapted to such a unique city as Vegas. I didn't mind, because I was staying with friends, working at cafés, and only going out in the evenings. I also had a fun field trip out to the Las Vegas Motor Speedway where my friend Andy works at Dream Racing, a luxury/supercar/racecar driving experience.
I wasn't staying at one of the fancy hotels or trying to impress. In fact, I was lucky to have clean clothes (thanks, Andy). If you want to see what I had with me, you can head on over to my packing list for California in the winter. But, that didn't prevent me from keeping an eye on the style around me and picturing what I'd bring if I was intentionally packing for a winter weekend in Las Vegas.
The Capsule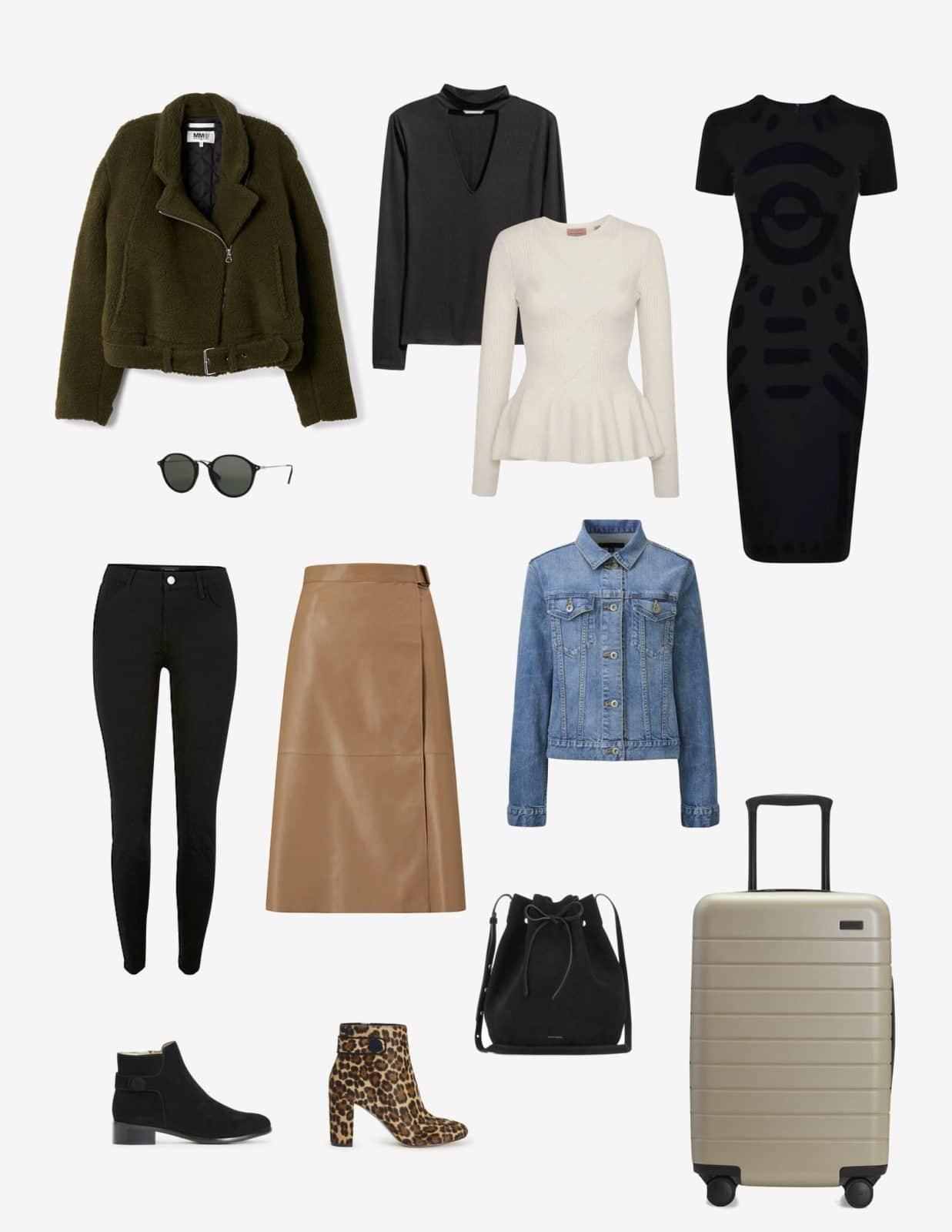 Coat: Maison Martin Margiela (similar here), Sunglasses: Ray Ban, Black Top: H&M, Peplum Sweater: Ann Taylor, Dress: Ann Taylor, Denim Jacket: Frank and Oak, Skirt: John Lewis, Black Jeans: Frank and Oak, Chelsea Boots: Ann Taylor, Leopard Boots: Ann Taylor, Bag: Mansur Gavriel (similar here), Suitcase: Away.
Of all places, Vegas is a fun city to be a little more glamorous than usual. I would recommend a statement coat rather than something purely functional. You'll likely be walking around going from casino to casino so your coat will get plenty of wear and be a big part of your outfits. Temperatures in the day reach 20°C but in the evening, they dip way down. Blame the desert!
If you like wearing heels, I'd also make them a fun statement piece like leopard-print booties. The rest of the time, I'd stick to flats as much as possible. Even if you take cabs, you'll end up walking quite a bit. A simple Chelsea boot is cool and comfy.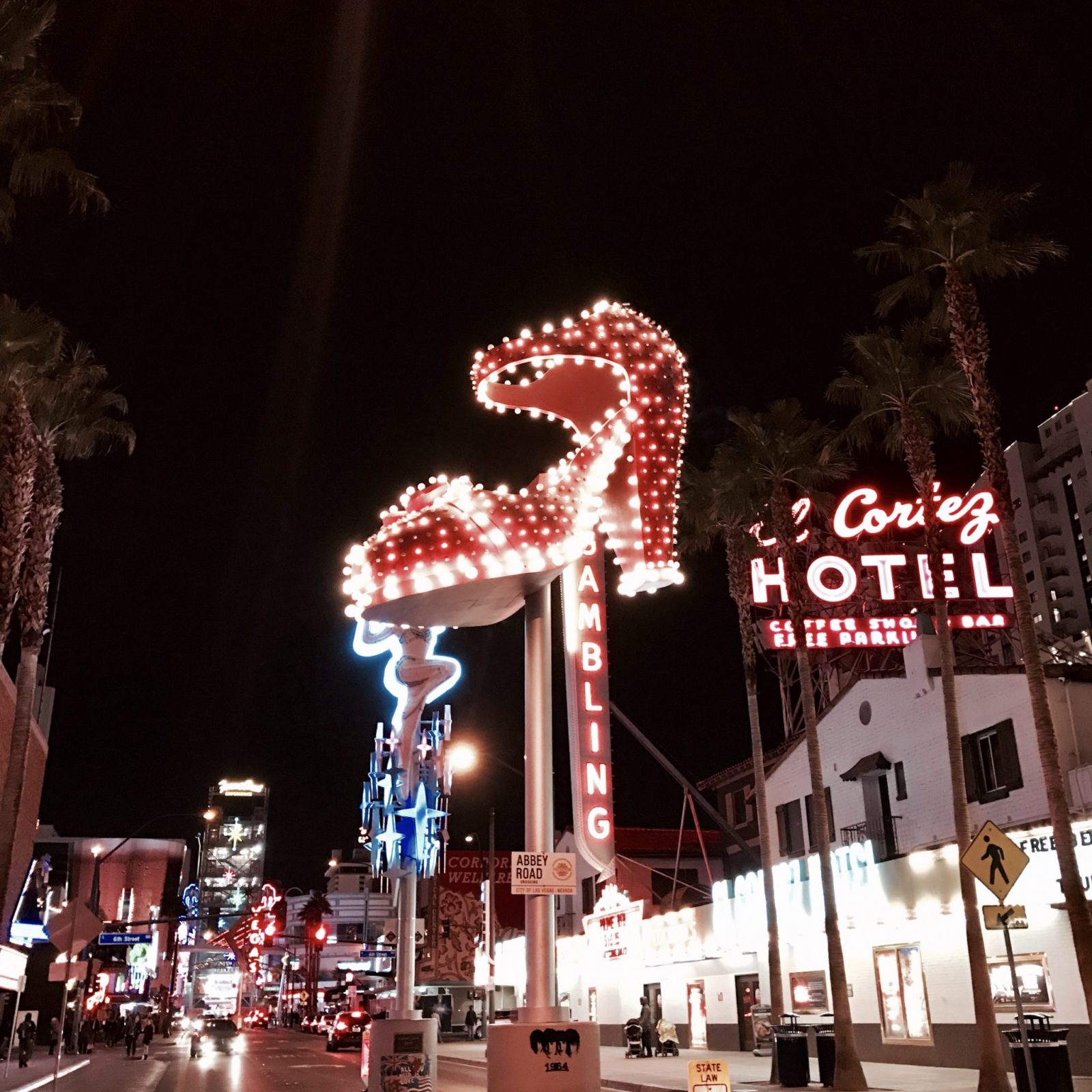 If you want to dress up, I'd recommend packing a midi skirt and a midi bodycon dress. Midi-length will keep you warm, is a slightly more expensive-looking and fashion-forward length, and will separate you from the hundreds of young women freezing in lines outside clubs. As for tops, I'd choose a subtly sexy long sleeve top that's slightly sheer and a sweater with an interesting cut.
Now, this capsule is starting to skew a little older and slightly stuffy, which is why I'll break it up with DENIM! Denim is an easy way to make all these stylish fancy clothes a little bit cooler. Black skinny jeans are super versatile and will balance out the oversized coat. Wear a denim jacket buttoned up under your coat for a cool jacket-as-a-shirt effect à la Jenna Lyons. If you're looking for new denim, my hometown homies Frank and Oak just launched a brand new line of denim basics. Take a look!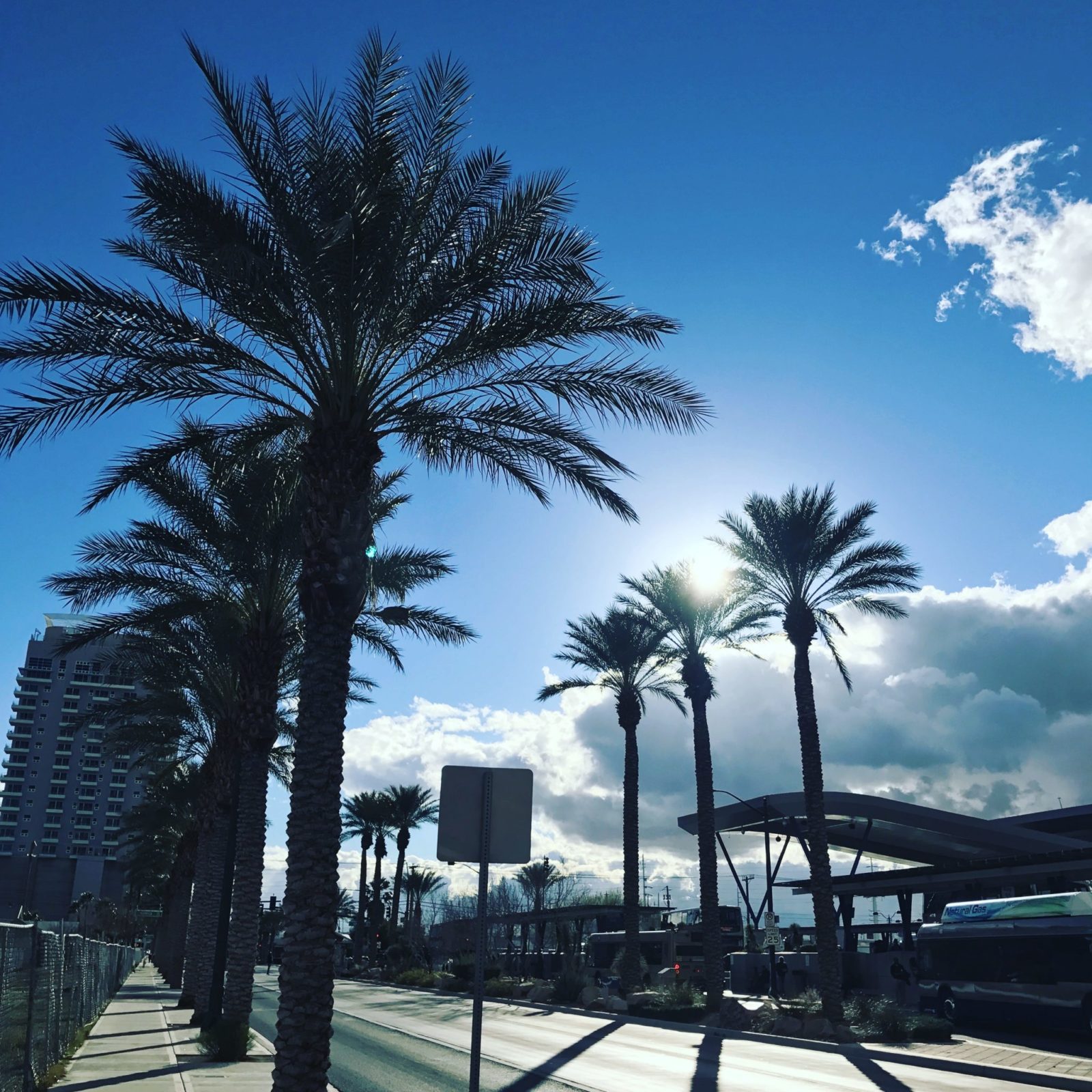 Lastly, don't forget your sunnies, crossbody bucket bag, and one stylish suitcase for it all. In the daytime, you can pair your jeans or skirt with the denim jacket, coat, and flat booties. As soon as you want to dress it up, swap your shoes and add a bold lip.
The Trip
Vegas can be an expensive place, even before you start gambling. As much as possible, I'd recommend eating outside the main Strip, mixing drinks at home, or getting drinks at the pharmacy or convenience store. Bars and street vendors will try and charge you $18 for a margarita when you can go to a 7-Eleven and get a slushy and a bottle of tequila and mix your own. Just saying. Also, if you're sitting in front of a slot machine pretending to gamble, you can get served free drinks. Make it count!
If you are going to pay for drinks, I'd recommend spending your monies on a fancy cocktail at The Laundry Room, a speakeasy behind Commonwealth. Text them to get invited and you'll be ushered through a door in the wall. My drink came with a big bowl of caramel popcorn, so I was pleased.
My favourite places to eat in Las Vegas were PublicUs, an artsy canteen spot in East Freemont, best coffee was at Vesta Coffee Roasters in the Arts District. If you want a delicious Neapolitan-style pizza on the cheap, 800° Pizza has a weekday pizza-of-the-day special. If you have kids and need them to burn off some energy, Container Park has lots of shops, restaurants, and a playground.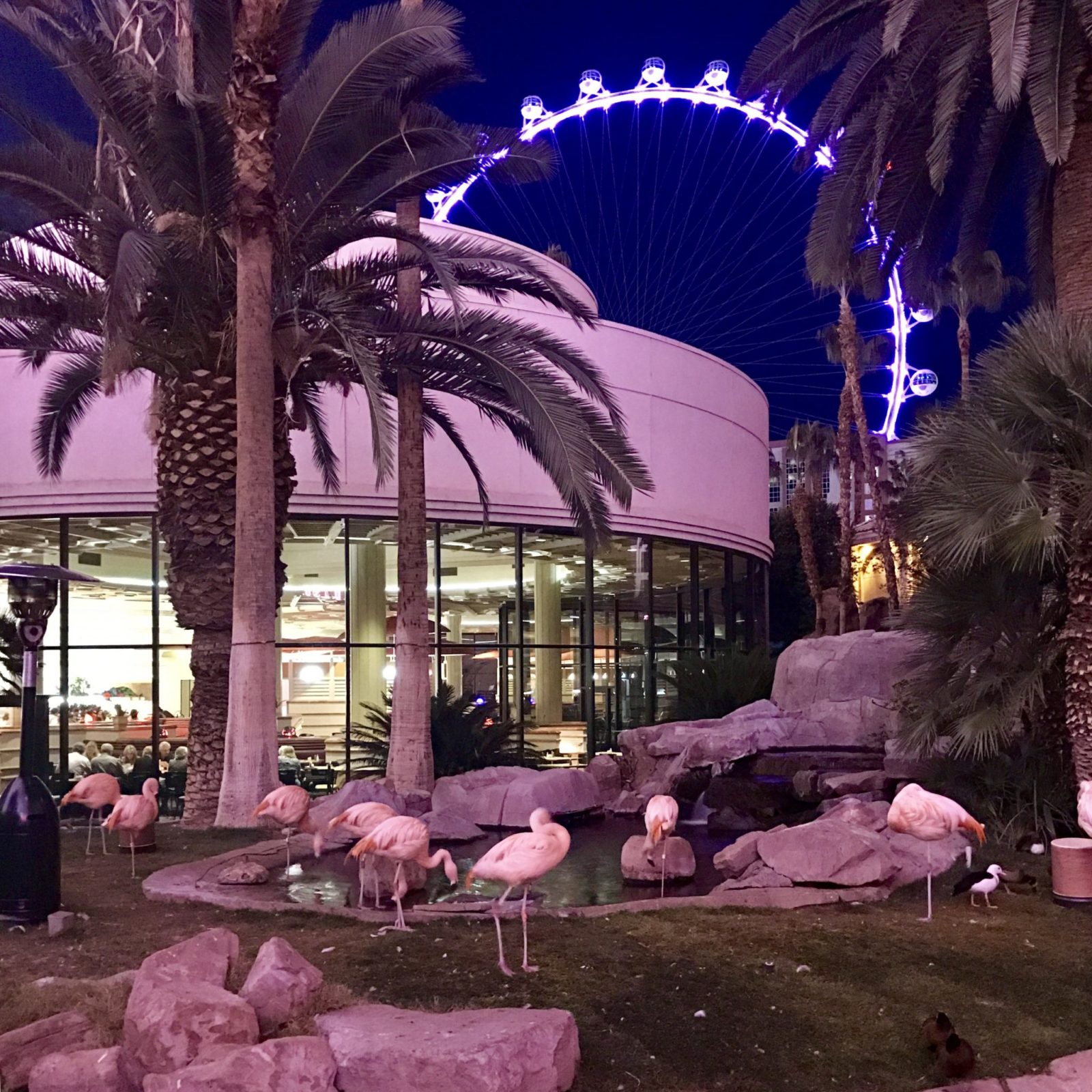 The casinos are wild, impressive, and beautiful in a weird way. It's overwhelming. The Fremont area is where you'll find all the older, more kitschy casinos, but it's well worth the visit. On the main strip, I saw the Bellagio fountains, the I Love New York casino and arcade, the Paris-themed casino, the flamingos at the Flamingo, and walked by the Wynn, arguably one of the nicest casinos in Vegas. Yes, I also saw the Trump Hotel and Casino.
There is so much to do and see in Vegas and I barely scratched the surface. If you're heading to Sin City soon, check out this guide of 100 things to do in Vegas to plan your trip or browse Las Vegas deals for things like shows or taking a tour of life off the strip!
Happy Travels xox