Estimated reading time: 10 minutes
What's are the best suitcases for travel? There are a lot of things to consider when picking the best travel bag. You may discover that you prefer backpacks or duffle bags! But for many of us, a good wheeled suitcase remains the best way to travel without breaking your back.
How to pick between a softshell or hardshell suitcase is the next question you should ask yourself. There are plenty of pros and cons when picking a suitcase type. In fact, I have a whole video about it!

Picking a travel bag is like picking a car. You know you're going to use it more than once and it'll be a real pain if it fails you on a trip. However, depending on the person, the trip, the use, and the budget, the choice is very different. For example, you might want a rugged and roomy SUV for a weekend camping trip and a little Fiat for your Roman holiday. Bags are the same. Sometimes a backpack is perfect and sometimes I want an elegant suitcase.
What to look for in your next suitcase
When shopping for a new suitcase, I ask myself the following questions:
Do I like the look? I'll have to travel with this for a while, may as well match my style.
Does it have four wheels or just two? I like the maneuverability of four wheels. If the wheels feel cheap, that's a red flag.
How sturdy are the shell and the zippers?
How light is it? I don't want half the bag weight to be the suitcase only.
Does the telescopic handle seem strong? Are there handles on the luggage where I need them?
Is the inside lining functional, easy-to-wash, and high quality?
Extras: Is there a neat feature that will improve my travel: secret compartment, expandable section, battery pack, or side access?
What's my budget?
What do the reviews say? Is there a guarantee or warranty?
For this article, I focused on suitcases with wheels. I've tried my best to round up bags I think are functional, sturdy, cool, and stylish. I picked only 11 and tried to take into consideration different styles and trends so there is something for everyone!
The best value-for-money suitcase
Delsey Helium Aero International – $105 USD
This sturdy, simple wheeled suitcase model has rave reviews on Amazon. It comes in many colours, and for under $200, gets the job done in style.
Consistently, Delsey Paris had high ratings and plenty of reviews on Amazon. Several of their models had an average of 4.5 stars and more than 200 reviews. The brand fits into the budget friendly category of $80-150 and has the basics: sturdy shell and handle, 360-spin, TSA-approved lock, smart compartments inside, and an expandable zipper if you need more room.
The bonus feature that several reviewers noted about this model, is the opening in the front. Often, hard shells receive the critique of not being easy to access on the go. If you want to sneak something in or out you basically have to lay it flat, unzip it, and hope nothing falls out. With this little compartment, you can tuck away gloves, a book, even your laptop.
The most Instagrammable suitcase
Calpak Astyll Carry-On – $125 USD
Calpak makes some of the most stylish, trendy, and photogenic suitcases on the market. Their many influencer collaborations and matching sets make them a great affordable and stylish option for trendy jet-setters.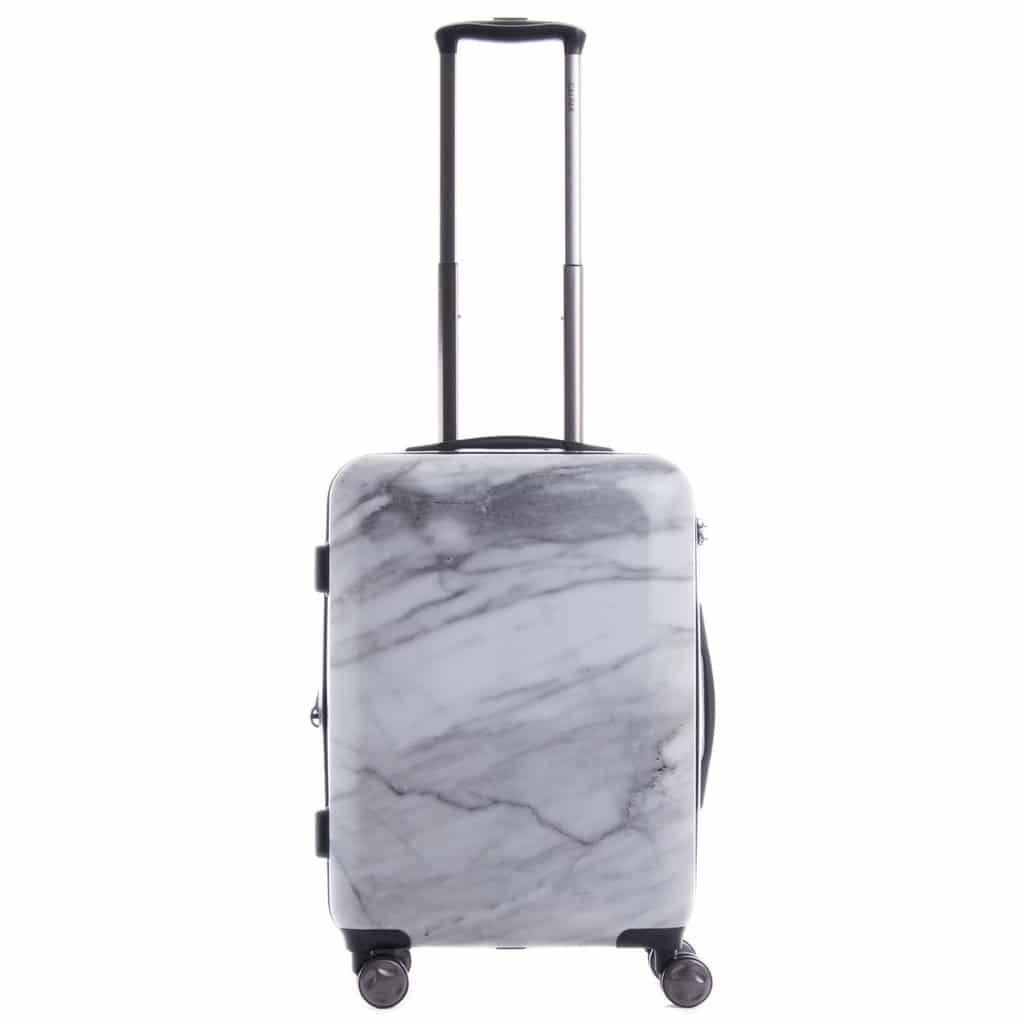 The reviews are very good for all of their hardshell suitcases and some of their softshell ones too. If you want a one-stop-shop for your personal item, packing cubes, and suitcase, Calpak has pretty great options. If you love the marble print and want something that stands out, this particular model is for you.
The best indestructible suitcase
Crumpler Vis-à-Vis Carry On, $395 USD
Lightweight yet rugged, this Crumpler model was designed for people who want no-fuss luggage that works.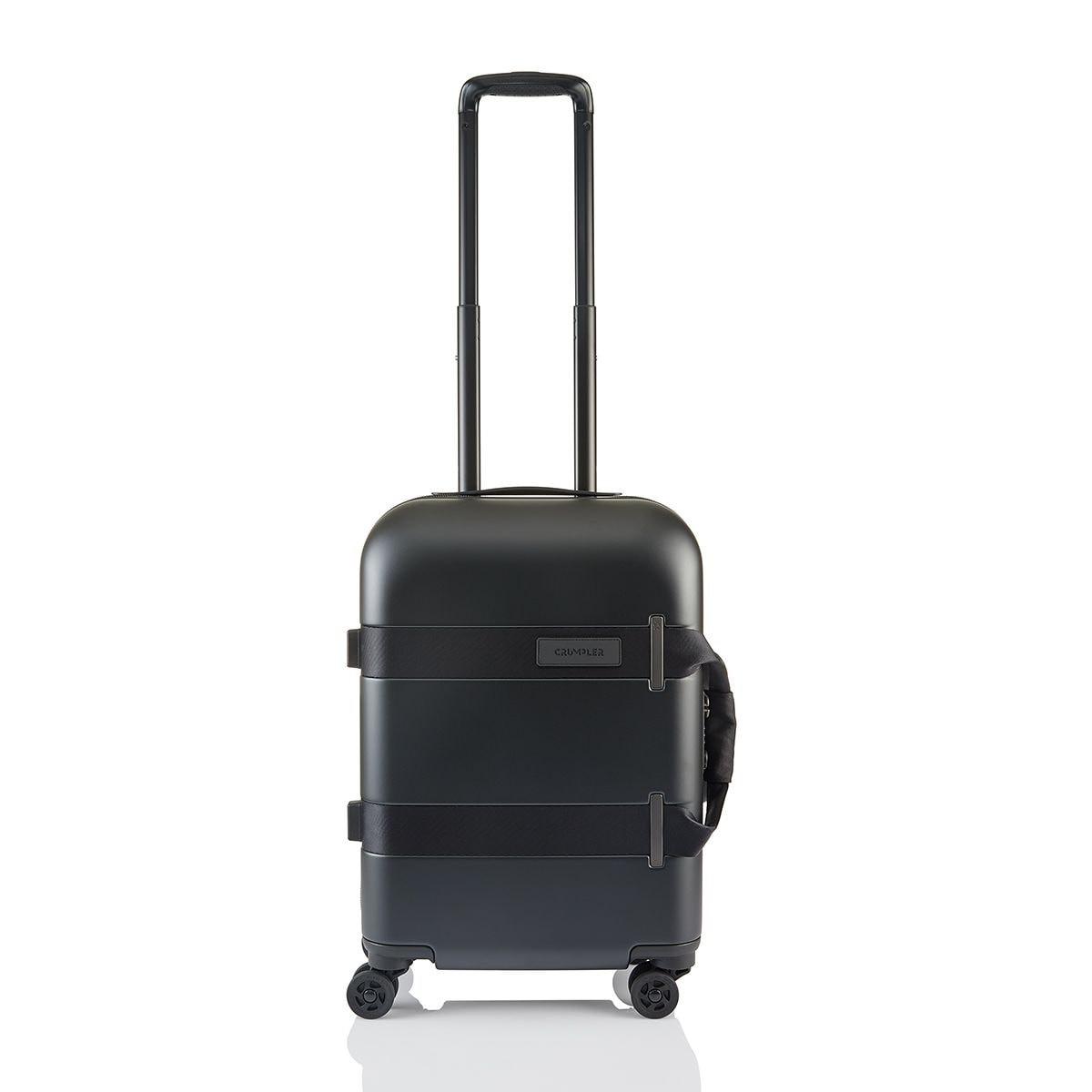 Wherever you travel, there always seems to be one Aussie in the hostel dorms. That's why I'd trust a suitcase brand from down under any day. Crumpler created a carry-on that's perfect for the full-time traveler. It's designed to withstand a lot of wear and tear, both from internal and external pressures. What I like about the Crumpler suitcase is the straps around the body that also offer a nice side handle that a lot of carry-ons lack.
The best lifetime-guaranteed suitcase
Away Large Carry-On – $245 USD
Away is the suitcase everyone is talking about mostly because they've done an incredible job of marketing themselves as the suitcase for young creatives. Designed by former Warby Parker execs, another cool-yet-affordable fashion startup, the Away brand offers everything $200+ suitcases usually do: sturdy build, good handles, useful interior, but there's a twist. They also have a built-in battery so you can charge your electronics while you wait for your flight.
I've had my Away suitcase as my primary case, and even added a Medium-sized one to my collection two summers ago. They are my go-to and the fact that they are guaranteed for life makes me feel secure in my purchase.
The best suitcase interior
Right up there with Away suitcases is Monos, another luggage startup. Monos has a pretty impressive product which in reviews, exceeds many other brands in sturdiness, ergonomic design, price, and the often ignored interior pockets and compression system.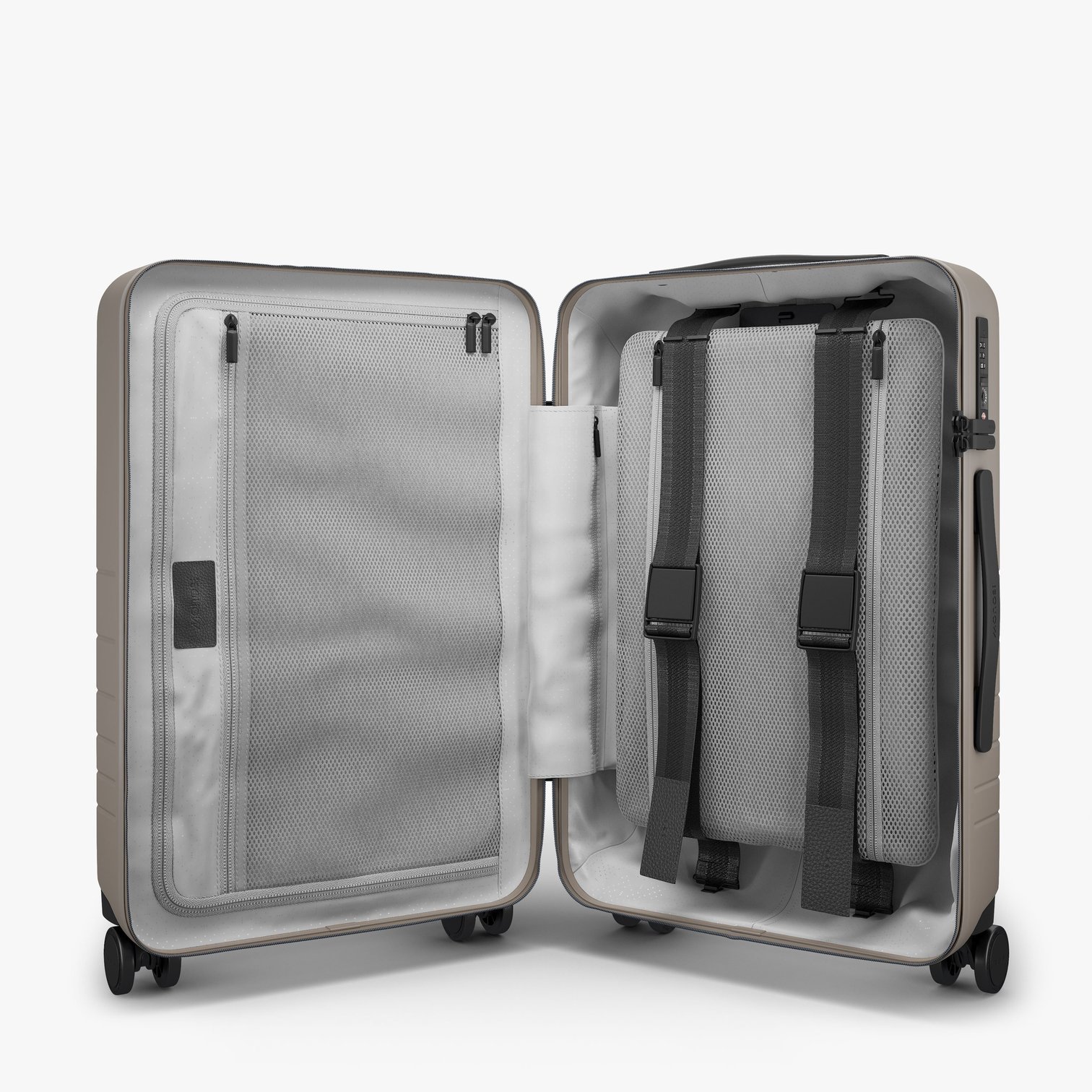 Check out their luggage, and take a peek at their UV pod cleaner, which may be helpful to stay safe from viruses on your next flight.
The best duffle suitcase
Herschel Supply Co. Wheelie Outfitter Duffle Bag – $149.99 USD
Fan of wheeled luggage but also want to be able to throw your bag over your shoulder in transit? Then the duffle with wheels is for you!
This duffle bag has a built-in handle and while I don't usually gravitate towards this kind of model, I love bags that are easy to transport up and down stairs and in public transportation once you leave the airport.
This one has many straps and handles. It gets high reviews and is pretty budget-friendly. It's roomy, waterproof, and light. It also has a convenient pocket on the side where you could put your passport if you didn't have a purse or personal bag. The only issue is size, as it might not be permitted as a carry-on because it doesn't fit the standard dimensions.
The best aluminum suitcase
Arlo Skye Frame Carry-on – $550 USD
Not much is more chic than an aluminum suitcase, not to mention indestructible.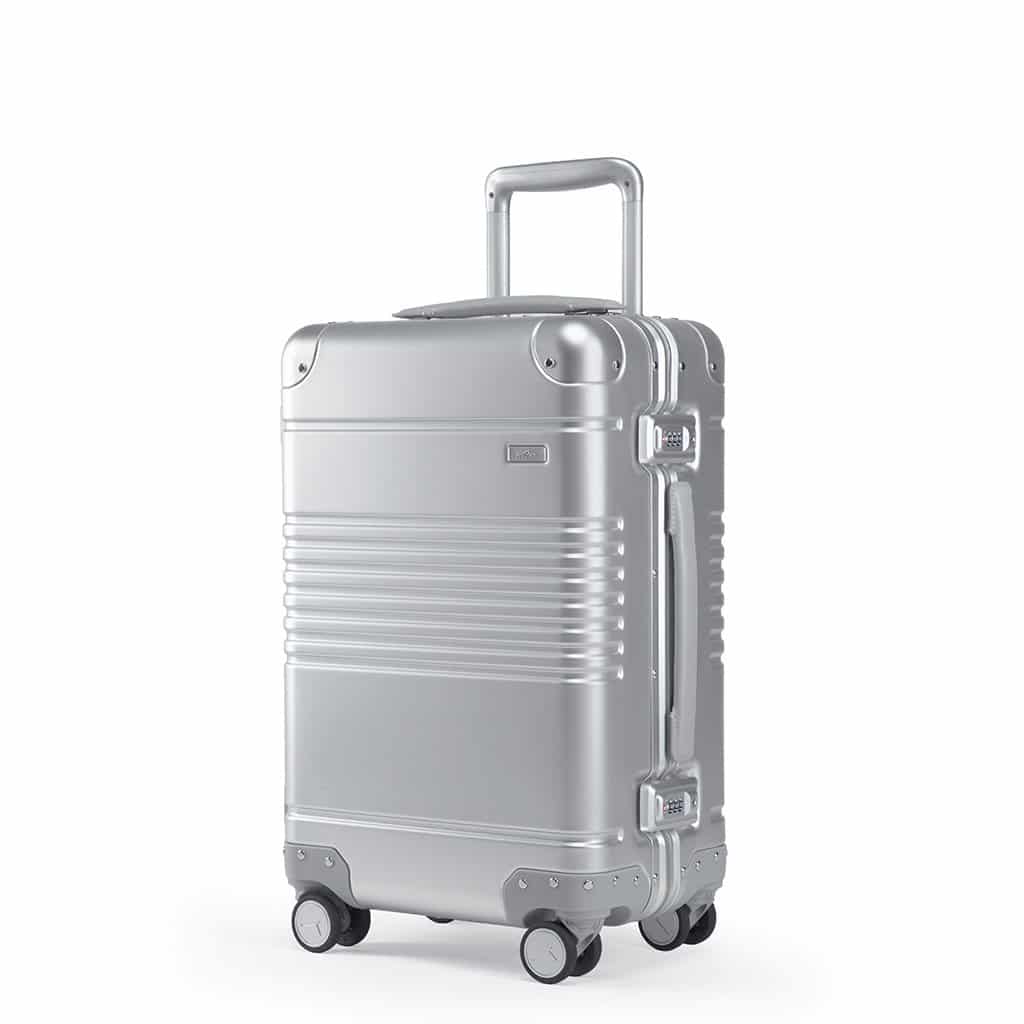 This Arlo Skye model is on the more affordable end of the aluminum spectrum. It also has all the perks of their polycarbonate line.
Alternatively, the Level8 aluminum suitcases are an incredible deal at 382.99 USD and the Monos Hybrid models have the look and durability of aluminum cases without the price point.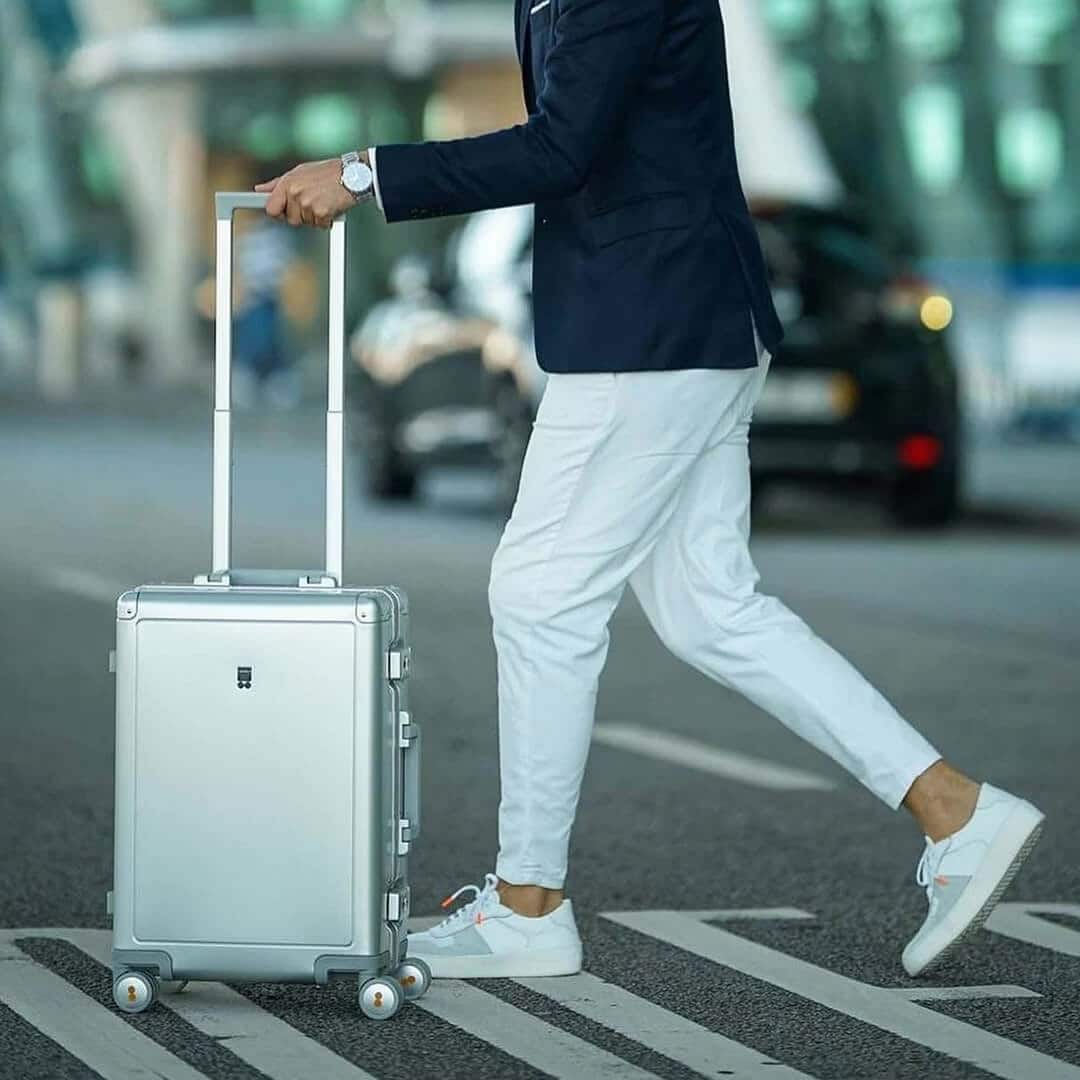 The best vintage-inspired suitcase
Unitravel Vintage Suitcase Set – $200 USD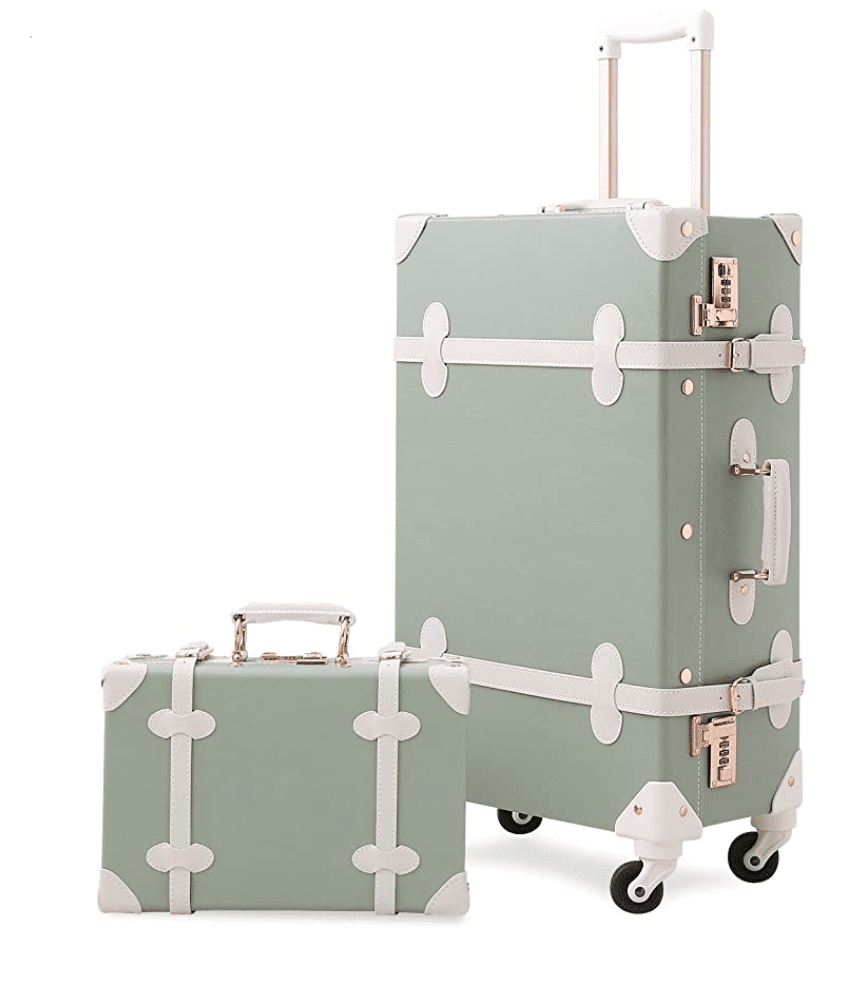 If you're the kind of wanderlust-er who loves Downton Abbey, Out of Africa, and other romantic depictions of travel, maybe all these plastic and mesh cases feel a little too cold. For you, there is a whole range of vintage-inspired suitcases that channel old trunks and luggage. This particular set is pretty affordable since you get two suitcases for $200, but it's not genuine leather, so some reviews said the pleather was noticeably cheap.
The grey and green are my favourite and the details are very cute. I've never heard of this brand, so it's possible it's a cheap Chinese make. It's pretty regardless and way less expensive than the alternative and vogue-approved Globe Trotter brand (check it out though, very beautiful pieces).
The best lightweight suitcase
Lipault Luggage Original Plume 20″ Spinner – $220 USD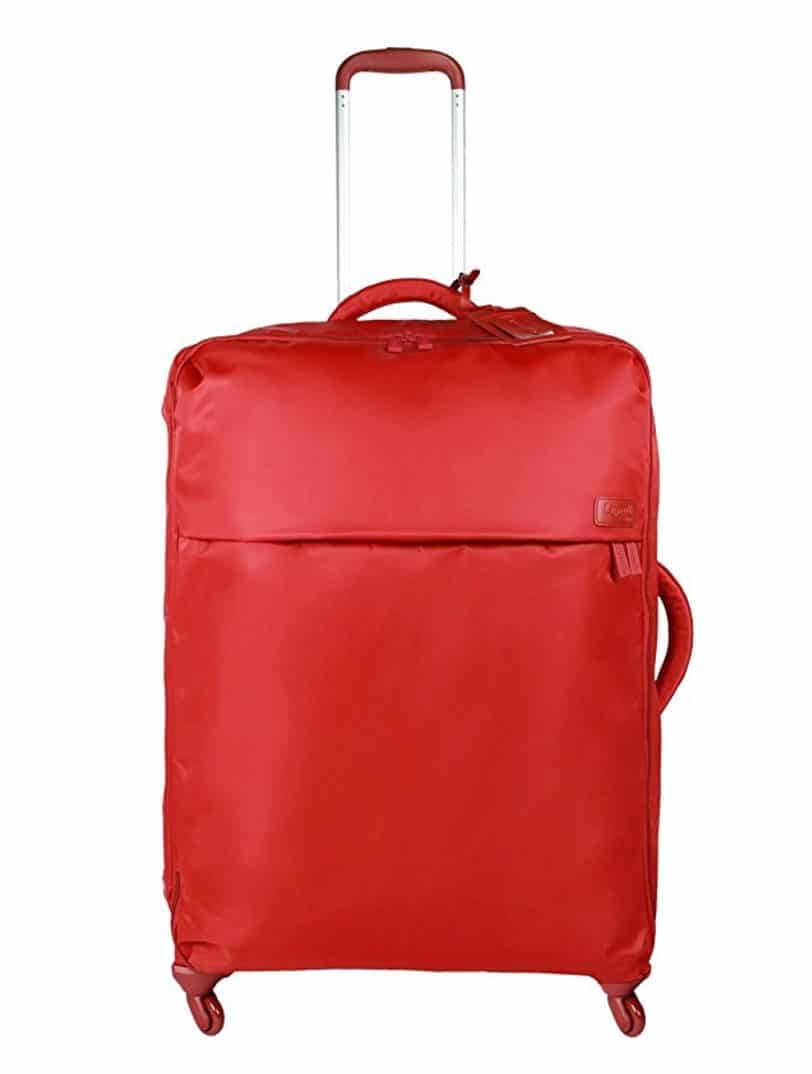 The Lipault suitcases were brought to my attention by the travel community because of one feature. It folds up into NOTHING when you're not using it and expands to hold so much when you are. It's not the most sophisticated design like other models that have amazing wheels and app-enable features. In fact, it only has two wheels.
However, reviews note how light and easy it is to shove way more in there than a rigid case. It also has a front pocket that is easy to access. When you're not using it, or when you arrive at your destination, you can easily flatten it into a few inches thick, which can be a selling point for someone who lives in a studio flat. It comes in a few colours, and you can get smaller bags to match, if you're looking to build a set.
The best suitcase under $100
Rockland Melbourne 20-Inch Expandable Abs Carry On Luggage – $50 USD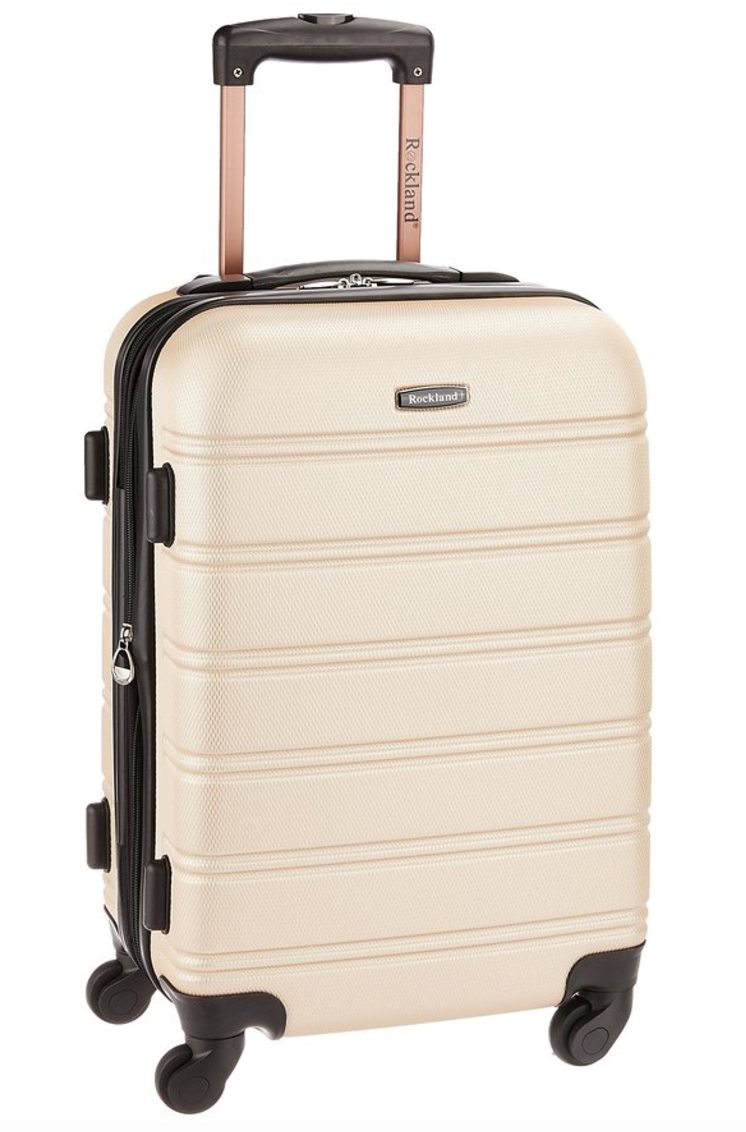 This suitcase has more than 1000 reviews on Amazon and comes out with a 4.5 star average rating. For only $50, that's a pretty great deal if you don't want to invest right now or if you travel infrequently. The bad reviews noted things like cheap wheels, flimsy lining, and the lack of warranty. It comes in a ton of colours – probably more than any other model listed here. If you're not looking for something expensive this is a good choice for you.
The high-end pick
Rimowa Hybrid Carry-on – $970 USD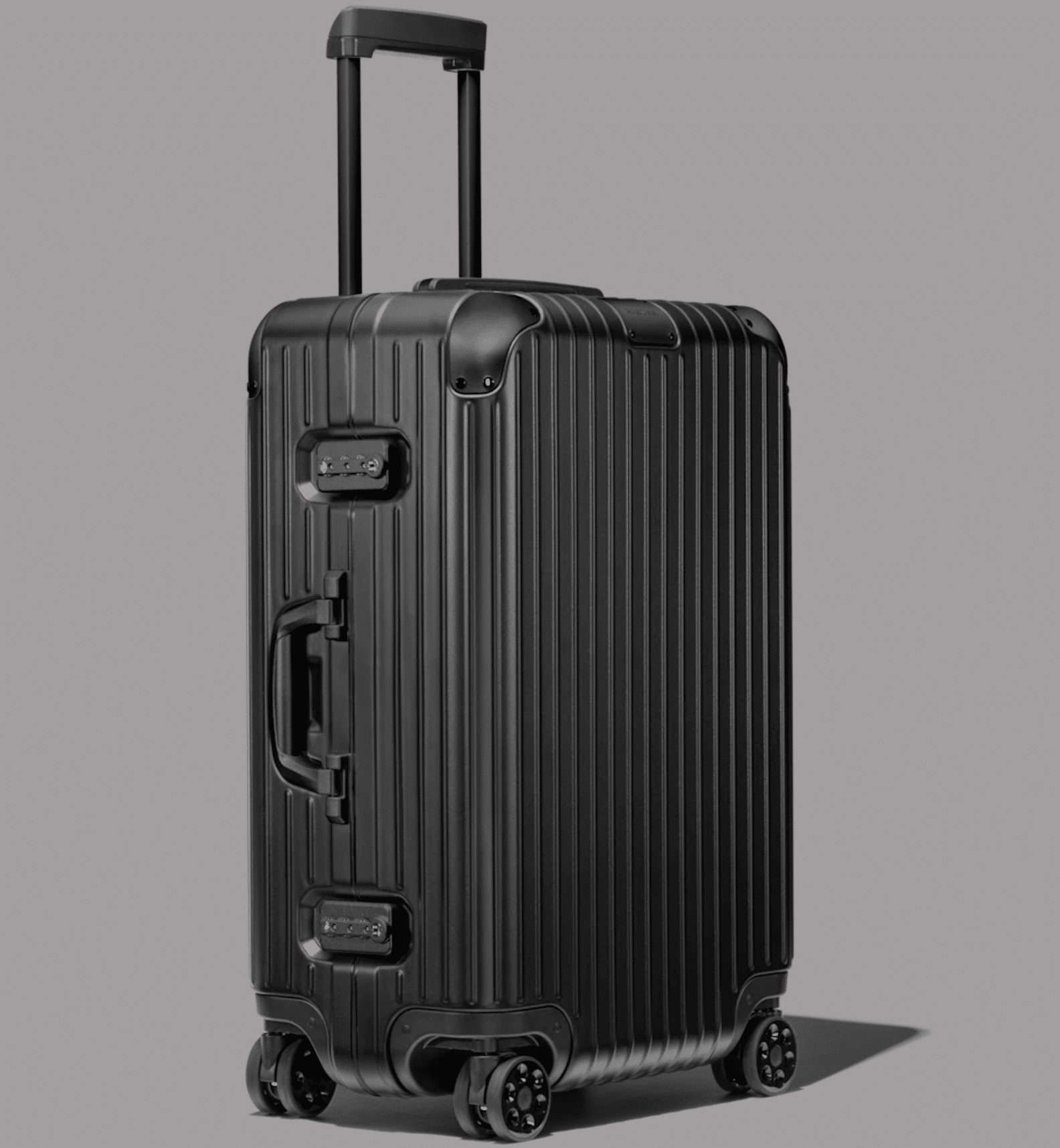 There's no doubt the Rimowa brand is near the top in terms of design, materials, and status in the travel world. As their website states, their Hybrid line "unites the resilience of our unique aluminium-magnesium alloy with the supremely lightweight quality of polycarbonate, creating a high-end piece of German engineering designed for a lifetime of purposeful travel." Even their marketing feels expensive. And I'm into it.
If you don't want to buy a new suitcase yet, consider fixing your current one with the help of my guide to fixing suitcases.