Canadians love going "to the cabin" for a little getaway. It's a summer tradition, whether you own your cottage or rent one for a few days. Even here in Bulgaria, I've managed to keep up the tradition and I wanted to share what I packed for my two recent mountainside getaways.
Twice now, I've gone up to the Rila mountains in Bulgaria for a weekend at a spa surrounded by nature. These two trips were very similar except for one small detail. On the first trip, I was all by myself. One the second, I was with 300 of my colleagues for a company retreat. For both, I pretty much packed the same things.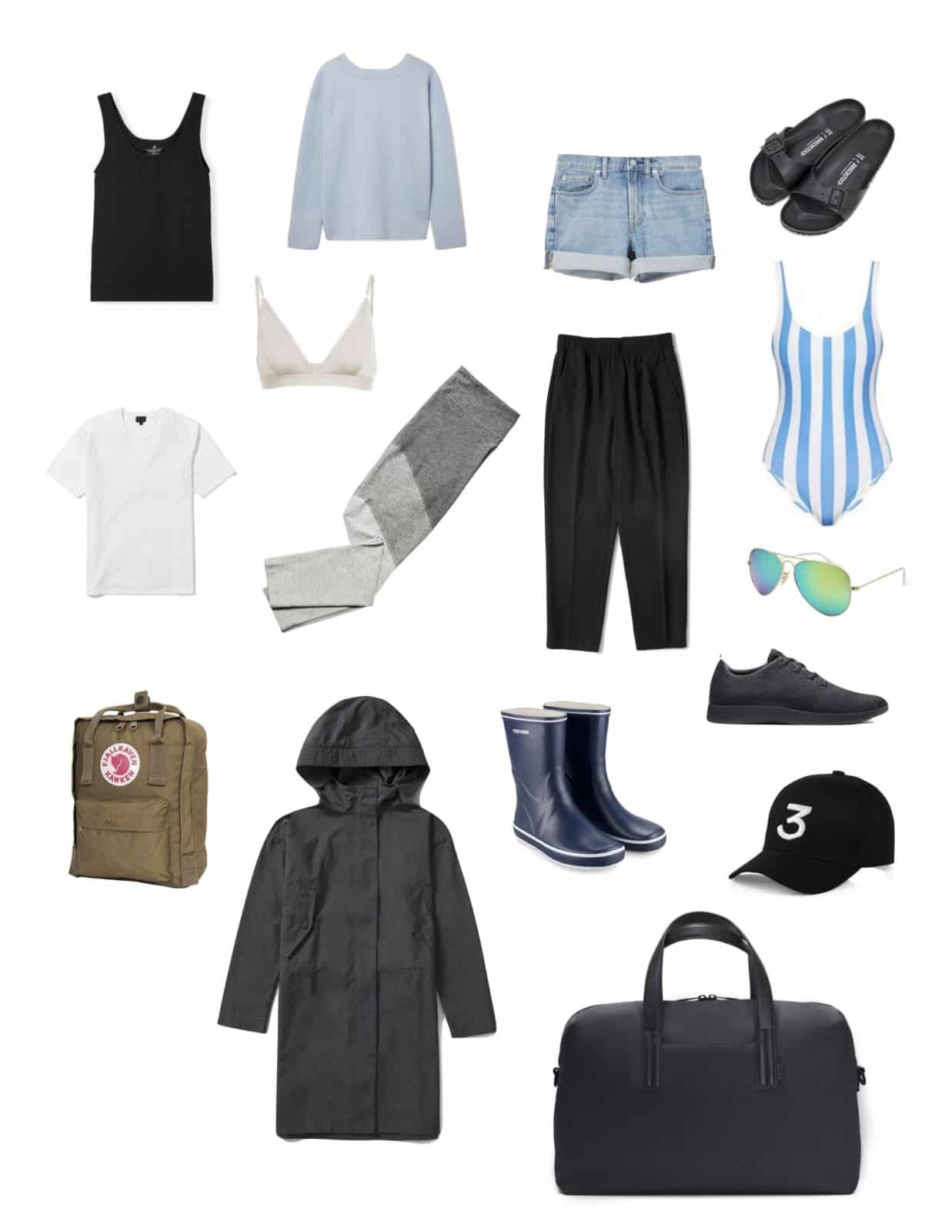 Two pairs of quick-dry pants. Pictured: Lululemon On the Fly Pants and Outdoor Voices leggings. Get $20 off.
Denim shorts
Two merino wool base layer tops. I recommend MEC, REI, or I

ce Breaker

.

Wool sweater
Running shoes, rubber boots, and flipflops for the spa
Backpack for day hikes. Mine is Fjallraven.
Merino wool bra, socks, and underwear. I like Smartwool.
Raincoat. Mine is from Everlane.
Hat and sunglasses
Bathing suit. Mine is from The Gap.

Away Weekender.

Get $20 off

. 
The important thing for me was to stay warm and dry and they called for rain on both of my trips. That's why I adopted the good old onion layering technique, where you start with a base layer that keeps you cool and dry, like merino wool, silk, or a synthetic. Don't count on cotton, it never dries and has no thermal properties when wet.
Your second layer should be for warmth. I recommend a good fleece or sweater. I ended up layering a vest between my sweater and my raincoat in the evenings because the temperatures dipped a bit. The last layer is for protection from the elements like wind and rain. I opted for a knee-length coat because it protects from windy rainstorms.
Now, if you're camping or staying at a lake with good weather, I also have packing lists for those. Check them out!
The Ultimate Camping Packing List
3 Ways to Pack for a Lake House
Happy Travels xox