This UFO 2 review blog post is part of a collaboration with FOREO Sweden
I shop on Sephora's website a lot and sometimes when I'm feeling fancy, I browse the Beauty Devices section. This is where brands like FOREO sell their high-tech beauty tools that intrigue me and sometimes confuse the heck out of me. Enter the UFO 2 by FOREO Sweden, a little device that at first, I wasn't too sure what it did. But by the third use, I couldn't stop. Let me tell you why. 
What is the UFO 2 by FOREO Sweden
First, you should know that FOREO Sweden is a high-tech beauty brand that specializes in creating a range of cleansing and firming devices, usually made of medical-grade silicon. I've been a fan for year, a love affair that started with their kids toothbrush and cleansing brushes. I also recently added their Bear mini microcurrent device to my collection. Read my Bear mini vs NuFace Mini review here!
While the toothbrush and facial brush are pretty self-explanatory, the UFO 2 wasn't so obvious. But once I watched a video on it, it all made sense. And the more I learned, the cooler it got. The UFO 2 by FOREO Sweden is a facial device that uses therapeutic light, T-Sonic pulsations, and hot and cold modes to give you a mini facial. When you add one of their power-activated masks to the UFO 2, you run the device across your face following the app-powered routine.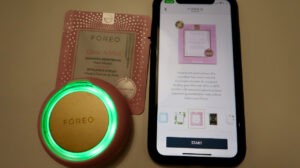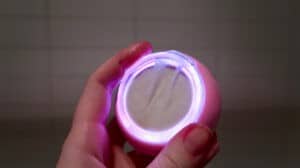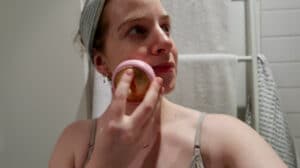 To use the device, turn it on and turn on the FOREO app. Choose your FOREO power-activated mask from the treatments. This will kick-off the routine. Place your mask on the device and slowly run the mask across your face in a gentle, circular motion. Each mask has different properties and pairs well with different settings of the UFO 2. All of this is automated if you select the treatments in your app. 
You can also use your UFO 2 device with your own custom settings. The UFO 2's hyper-infusion technology combines heating, cooling, and T-Sonic pulsations along with 8 different full-spectrum LED lights that provide targeted photofacials: Purple, white, green, orange, blue, cyan, yellow and red lights. 
In plain language, the device can heat up, get cold to provide cryo-therapy benefits, and pulsate to increase blood microcirculation. And along with the light therapy, this helps with product absorption, refining pores, reducing puffiness. Even helping reduce swelling from pesky pimples.
The app is so handy to help pick the right treatment, whether you're following a mask treatment or designing your own. As with all of our newer FOREO devices, UFO 2 features the Find My Device function – which locates and automatically unlocks your device.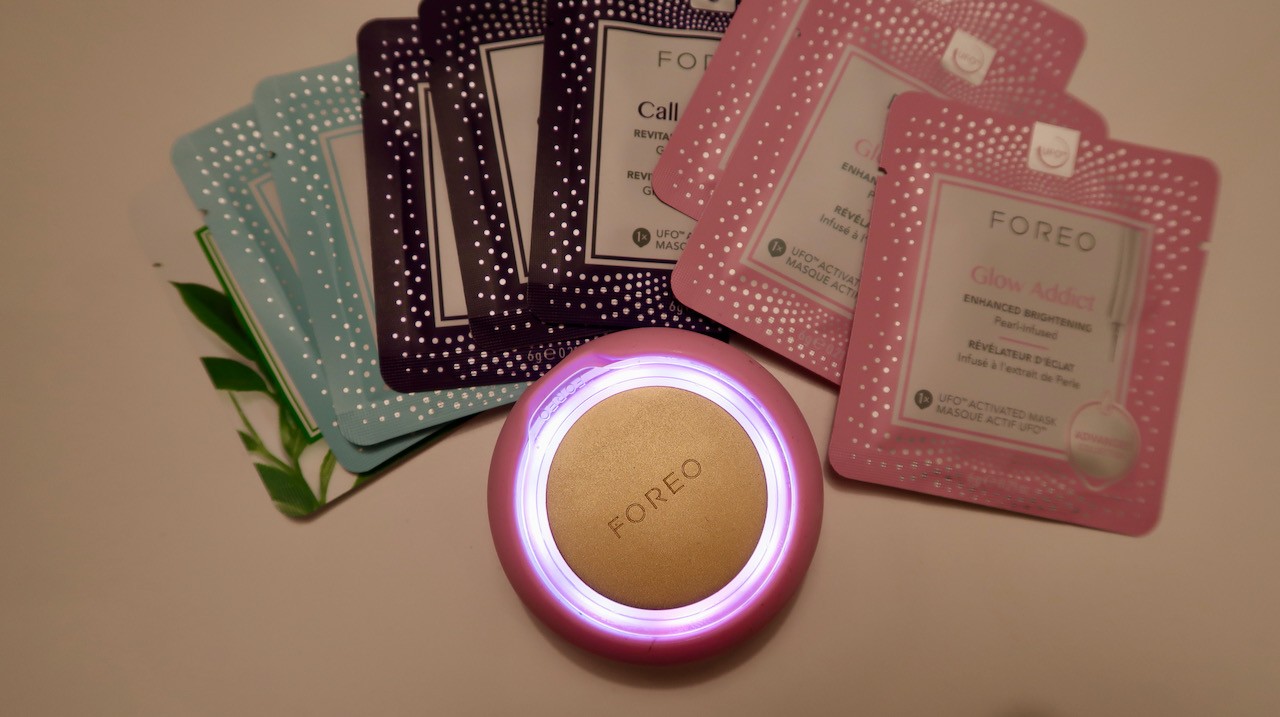 The FOREO UFO power-activated masks
The masks are sold separately and pack some serious skincare punch. They are developed and sourced in Korea, tapping into the trendy k-beauty wisdom and ingredients. They're made from ultra-soft microfiber and drenched in premium skincare formulas. The wide range of masks include ones for acne-prone skin, dry skin, to exfoliate, hydrate, and so much more. 
Personally, my favourite mask was the Youth Junkie but I experimented with about 5 varieties and liked them all. I even combined the UFO 2 app treatments with my own cleanings products and serums. Now, they don't recommend going all willy-nilly like I did, because some products might lose efficiency when paired with the heating and cryo-therapy. Look into the ingredients of any product you want to use with your UFO device so you're not compromising your results. 
The benefits of an at-home facial
If you love treating yourself to supercharged 2-minute facials daily, this is the tool for you. They can really extend the life of your longer, more invasive facials to prolong the post-facial glow and healthy, unclogged skin. Plus, I don't know how else to explain this: I feel so relaxed after each UFO cycle. Like…I'm in a daze. Once the treatment cycle is done, I run it a second and sometimes third time just to get even more relaxation out of the session. Unlike the microcurrent device, which I do in front of the TV, my UFO 2 facials are a sacred time. 
Here are the main advantages of doing the UFO 2 treatments a few times a week:
Rejuvenating skin: It locks in moisture while reducing the appearance of pores

Advanced temperature control: Offering more control over your device, Advanced Temperature Control means you can now use your UFO 2 with most sheet masks.

Better absorption: instantly infuses serum into the deepest layers of skin, for superior results

Time saver: UFO 2 turns a 20-minute mask routine into a 120-second treat, saving you more than 5 days a year

Pampering effect: Provides a soothing facial massage

Personalization: possibility to create your own customized  routines to meet the needs of your skin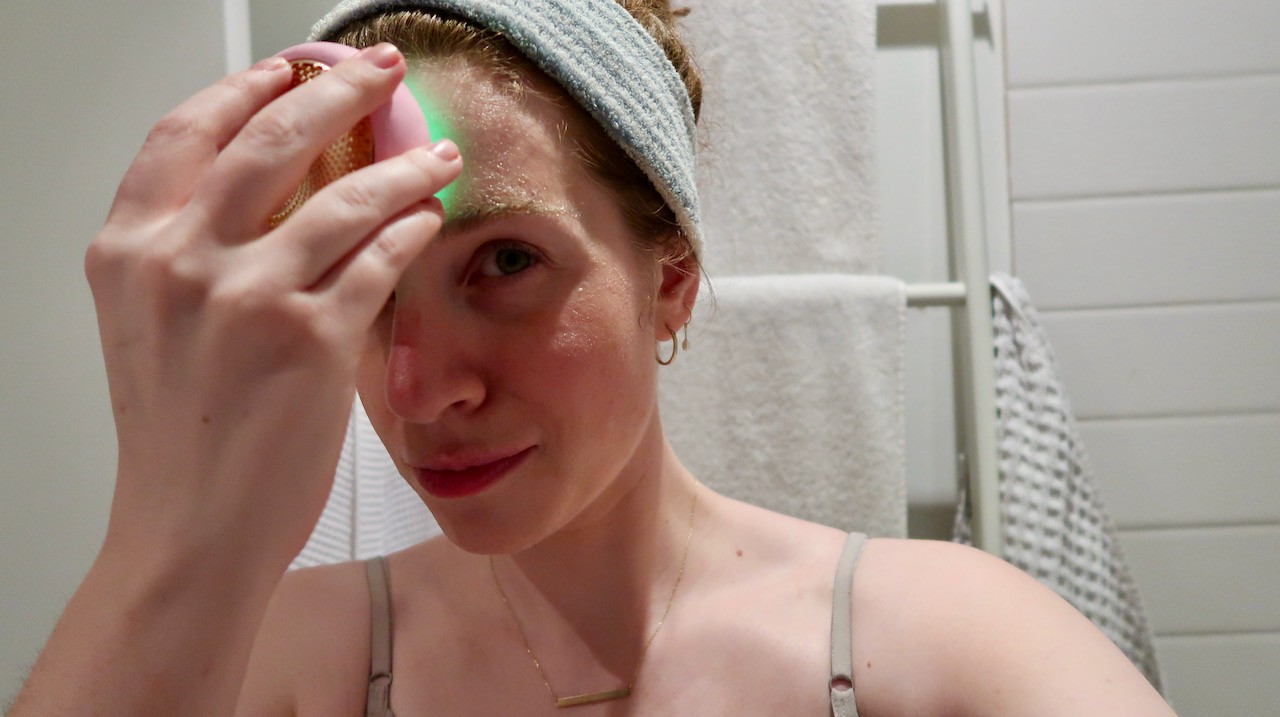 What I love about my UFO 2
Other than the speedy relaxation session, my skin looks so healthy and clean since adding the UFO 2 to my routine. It's such a nice way to wind down at the end of the day. I feel my skin being gently exfoliated and pampered. I squeeze the extra out of each mask packet and run the device a second and third time, switching up treatment types to include cryo-therapy and blue light if I feel a pimple deep in my skin. You know the kind of pimples under the skin. I've found the device helps prevent those from coming to the surface and shrinks surface pimples so much faster. 

So far, I feel like my skin has had way fewer breakouts around my chin and neck and overall smoother appearance on my nose and forehead. I have a combination skin type that borders on dry in most areas, so I need that extra moisture penetration that's added from the LED and pulsations. Overall, my skin just feels super plump and glowing after each session!
 I'll definitely be taking this with me on trips since the charge lasts hours and the masks take up so little room. It's definitely a great travel-friendly way to pamper yourself.