This BEAR mini vs NuFACE mini blog post is part of a collaboration with FOREO Sweden
I'm turning 30 this year, which for me, means I've graduated from preventing pimples to fighting fine lines and wrinkles. In the process, I've added a whole arsenal of products and anti-aging devices to my beauty routine. This isn't always travel-friendly however. Especially since I've strived for so long to pack fewer toiletries. That's why my approach now is still to pack less, but pack better and bring products and tools that really make a difference. Enter the microcurrent facial at home.
Are microcurrent devices worth it?
Microcurrent devices are relatively new to the beauty scene. They use little electric currents to contract your facial muscles to lift and tone your face. Consider it the futuristic version of the ancient Chinese Gua Sha tool. Many dermatologists and facialists have used them in professional settings. The at-home variety, like most things in the industry, came from a desire to get pro results without the price tag and hassle of regular spa appointments. Because I travel so much, I also love anti-aging devices I can take with me to keep up my routines. And, during the pandemic when most things were closed, having these devices at home was awesome. 
Microcurrent devices are all about consistency. This face-firming device is literally a workout for your face, so just like an exercise routine, you will see results over time, but nothing is permanent. If you slack off, it'll show. For that reason, having an easy-to-use, compact, and effective microcurrent device is the key to getting a more lifted and defined face.
The claims for microcurrent devices include: 
Stimulates the recovery of damaged tissue
Re-educate the muscles
Improve muscle tone and contour in the face/neck
Temporarily improve local circulation
Aid in lymphatic drainage
Enhance product penetration
Reduce fine lines and wrinkles
Firm and tighten skin
While this may be true with consistent and prolonged use, we're only human, and I skip days all the time, so consider this my warning that these devices can *help* but it all depends on how committed you are.
Microcurrent devices comparison
Several months ago, I purchased the NuFACE Mini, one of the popular consumer-grade microcurrent devices on the market. Then, earlier this year, I was sent the BEAR mini by FOREO Sweden, another extremely popular model. I've been able to test both on their own, and in tandem. I've gotten to truly compare how effective they are, how easy they are to use, and to determine which one I would recommend. 
I almost always pick the smallest version of a product I can. I want my tools to be easy to pack, so naturally, I picked two mini microcurrent devices.
The BEAR mini by FOREO Sweden
First one up is the super cute BEAR mini by FOREO Sweden. The FOREO BEAR mini microcurrent toning device is my fourth FOREO device. I should note that it's not a mini version of the BEAR model, but a small device meant for more targeted treatments. I bought their kids toothbrush, the ISSA mini, several years ago as well as the Luna Play and Mini (are you sensing a mini theme here?). Needless to say, I'm a big fan of the Swedish brand's range of devices. They pretty consistently nail the trifecta of durable, easy-to-clean, and effective. I love their silicone products because they feel tough and durable but also easy to grip. According the FOREO, the BEAR mini is also 2x more powerful than the NuFACE Mini. 
The NuFACE was my first forray into at-home microcurrent devices, making them the standard for quite some time. They have a range of attachments for their bigger models of microcurrent devices including eye and mouth ones. I think they even have a body device too! 
How much is the BEAR mini vs the NuFACE Mini?
These two devices are the same price in USD.  You could consider this a good thing or a bad thing, depending on whether you were hoping to have the decision made for you based on your budget. I haven't seen them on sale that often, except around Black Friday and the bi-annual Sephora sales. What I have seen more often is bundles and promotions where you get extra serums and add-ons to go along with your device.
How big are the BEAR mini and NuFACE Mini devices?
BEAR mini: 1.57″ x 3.74″ x 5.31″. Ultra-hygienic silicone. 
NuFACE Mini: 2.5″W x 4.2″ L x 1.2″. Thermoplastic resin. 
The biggest difference when first looking at these two devices is the size. While the NuFACE takes up about 3/4 of my hand, the BEAR mini fits well within my palm. The two feel extremely ergonomic when gliding them along the skin but you do have a bit more surface area to grip with the NuFACE. 
Apart from the size of the device, the two spheres at the top are also considerably different sizes. The NuFACE has much larger microcurrent orbs which feel pretty great on the larger cheek area. It dips into the jaw line really comfortably too, and you feel like you're covering more area, quicker. This isn't all good though, since it can be harder to get into the smaller, more fine areas around the mouth and eyes. The BEAR mini is smaller and more nimble, so it is great for those contours where you want to get in a bit closer and focus on smaller facial muscles during your microcurrent facial at home. 
Ultimately, these devices are both small, so I wouldn't say one is considerably more clunky. However, being a light packer, my vote goes to the BEAR mini for its compact size. And, the fact that it's smaller and more powerful is pretty cool. 
What's the battery life for the BEAR mini vs NuFACE Mini?
The BEAR mini has a 1 Lithium Polymer battery that can be charged in 1.5 hours and last for 90 minutes of use. It's recharged with a USB charger.
The NuFACE device has 1 Lithium Ion battery and requires a 12-hour charge and lasts 280 minutes.  The device is charged with a proprietary cable.
I love that both devices hold a charge for quite a bit of time. Not only is this just one less thing to think about, but when travelling for a week-long trip for example, I can charge it up and bring it with me without the cable. However, once I do need to charge the device, the BEAR mini is the winner for me. I have other FOREO devices, so being able to share the same cable across my facial brush, toothbrush, and the BEAR mini is such a space saver. Also, when visiting foreign countries, being able to plug it into a USB port rather than fumble with International adapters is a huge bonus.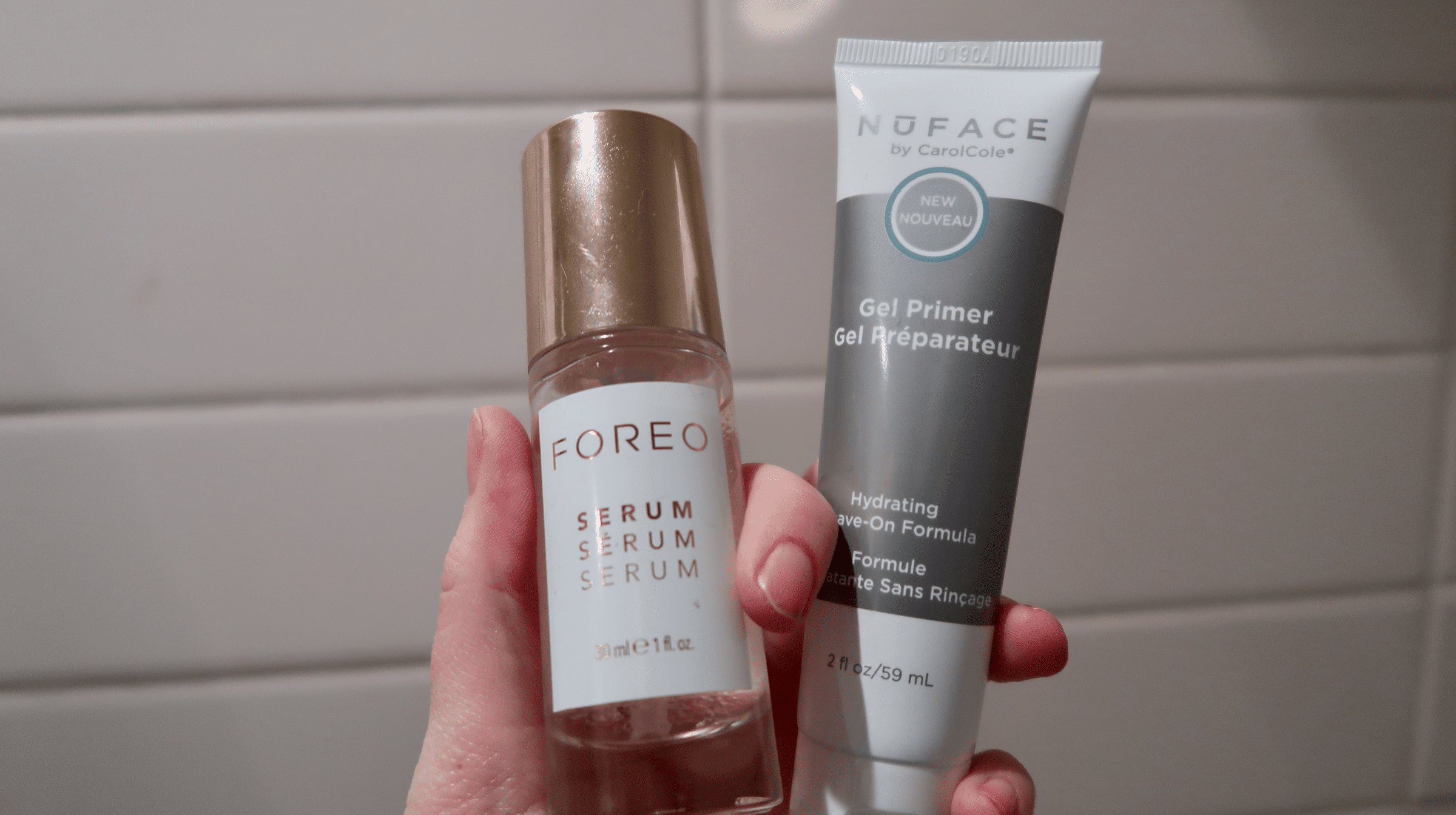 NuFACE Primer vs Foreo Serum Serum Serum
Any microcurrent device should be used with a conductive gel to conduct the current without zapping you. It's a must. The NuFACE primer is a cooling gel that isn't too expensive and is easy to order at Sephora. My skin didn't break out and I liked that it wasn't too heavy on fragrance. It did feel a little tacky after it dried, but you wash it off after. 
FOREO recommends using their device with their face product called Serum Serum Serum. The formula isn't just good for microcurrents, it also contains Hyaluronic acid and Squalane for extra skin-boosting effects. It's not cheap and retails at $59 which rivals other top-shelf serums. The main difference is that this is a legitimate skincare product rather than just a gel. If you want to save, many blogs recommend using aloe vera gel with your microcurrent device and following it with the serum of your choice after. I have no preference here, but if you do manage to snag the BEAR mini with a complimentary Foreo serum, I would go for it!
BEAR mini vs NuFACE Mini, which one was easiest to use ?
In terms of the setup, the NuFACE Mini was easier to get started with. After the initial 16-hour startup charge they recommend, you turn on the device, choose a setting out of three choices, and start gliding. Once you hear the device "beep", you move on to the next section. I did watch a video or two to get the main motions and areas memorized. After that, it's pretty much just about repeating those steps every day.
The BEAR mini device required an app to get things set up. It can also be used without the app and has an on/off button and three levels. The app was easy to install, so I have no complaints about that, and it unlocked even more settings. What I like about the app is that it tells you the battery level of your device and can walk you through a guided treatment and the device does the work and you follow the video.
The first major difference I felt with the use of the devices is that the BEAR mini feels like a smarter device. It doesn't send microcurrents until you gently press it against your face. The app feature also makes it easy to follow a routine that's the same every night, without feeling like you're doing your facial all willy-nilly.
The second main difference was the T-Sonic pulsations in the BEAR mini. When I didn't apply enough gel, I would often feel the tiny "shocks" of the NuFACE device. This was definitely user error above all else, but I never felt that with the BEAR mini. The T-Sonic pulsations made the whole routine so relaxing and totally shock-free. If you're wondering what they are, they're pulsations which extend deep into the pores to increase circulation, eliminate toxins & ease facial tension, according to FOREO. 
Which one gave better results?
I forgot to take any before photos before I started using microcurrent devices, so I took some quick snaps before and after one session. Left side of the face was done with the BEAR mini and the right side was done with the NuFACE Mini. I think the results are pretty comparable between the two sides, but I did shock myself with the NuFACE, oops. 
Things I like about the NuFACE Mini:
How easy it was to use and get started. Pretty much a turn it on and get going.

The larger handle and larger spheres are really comfortable in my hand.

Long battery charge
Things I like about the BEAR mini:
Silicone makes it feel super sturdy and indestructible

Small size is perfect for travel

T-Sonic pulsations feel amazing

Easy USB charging cable
Ultimately, I find myself gravitating towards the
FOREO BEAR mini microcurrent toning device 
a lot more and plan to pack it with me on my next trip. It's compact, easy to clean, and feels pretty powerful with both the microcurrent and T-Sonic pulsations.