Trying to pick a new suitcase? There are pros and cons to a hardshell suitcase vs softshell suitcase. In this post, I outline things to consider to help you choose the best one for your next trip. Let's go!
Weight of the hardshell vs softshell suitcase
In my experience, my hardshell suitcases have been much lighter when empty, and are slightly easier to lift over my head into the overhead bin. This also means that when weighing a checked bag, I won't be wasting precious pounds on the weight of the bag itself. Now, not all hardshell cases are light and not all softshell cases are heavy, so make sure you read up on the weight of the bag when shopping for a new one.
Maneuverability and wheel count
A lot of hardshell cases come with 4 wheels, and if you have a good suitcase, the wheels are like butter. This was a gamechanger for me. Most softshell suitcases only have 2 wheels, but not always. This Calpak Luka softshell has 4 wheels and lots of pockets.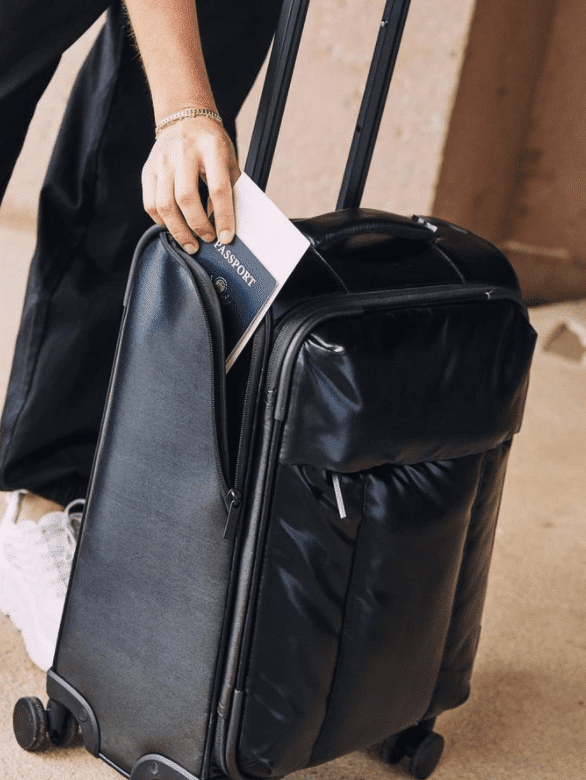 Flexibility of softshell suitcases
Now, flexibility is where softshell bags win out. If you need to squeeze it into a tighter spot, it has a bit of give, while hardshells, do not.
Accessibility of softshell suitcase pockets
What I love most about softshell bags, is that you can access the contents of your bag more easily. You can store things so they are easy to get at, and not have to open your full suitcase. There are some hybrid models like this Away model hardshell with a pocket.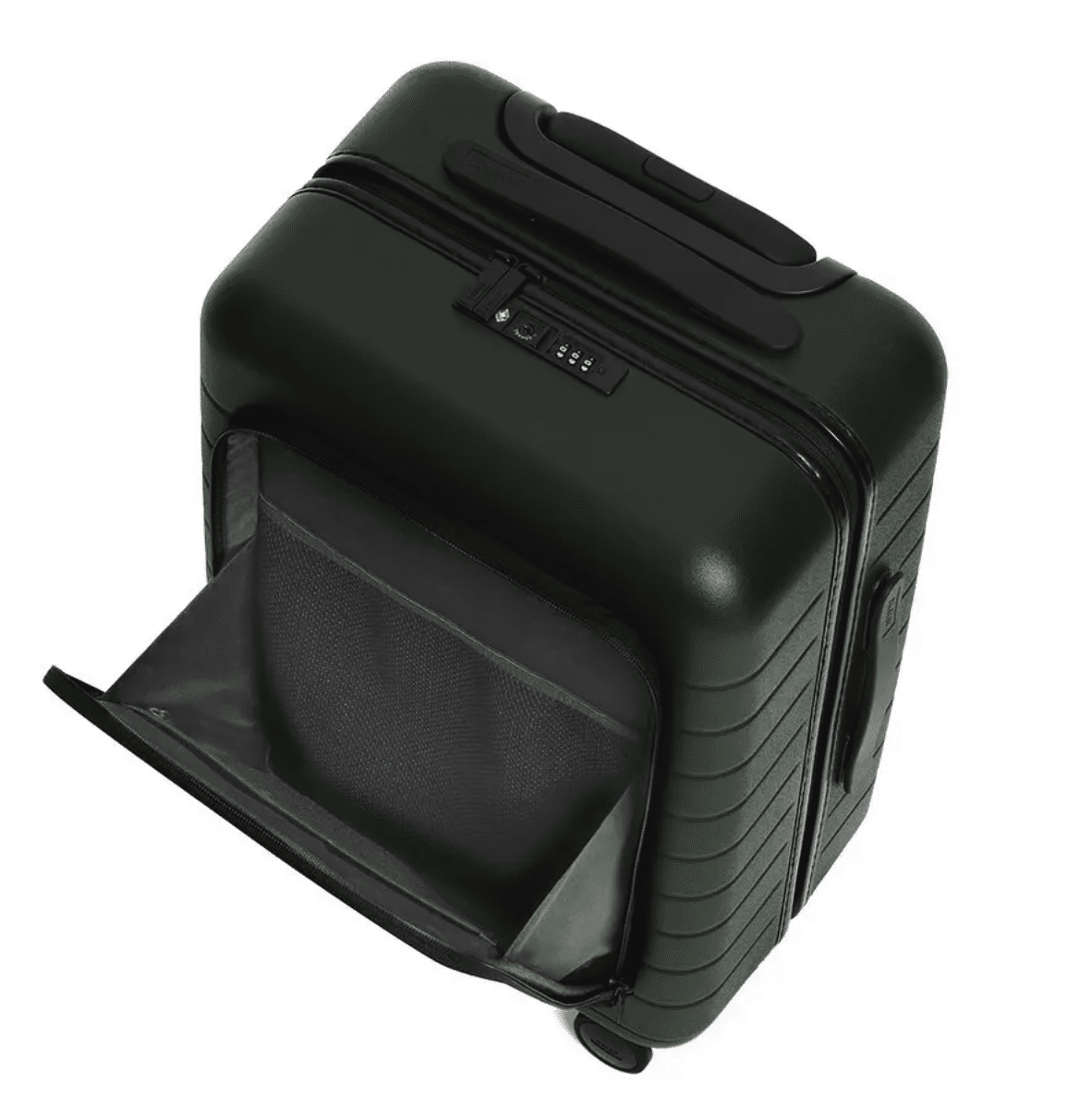 This Calpak Hue Carry-On with Pocket also features a hardshell, but with a handy pocket for documents and your laptop. As does this one from Arlo Skye.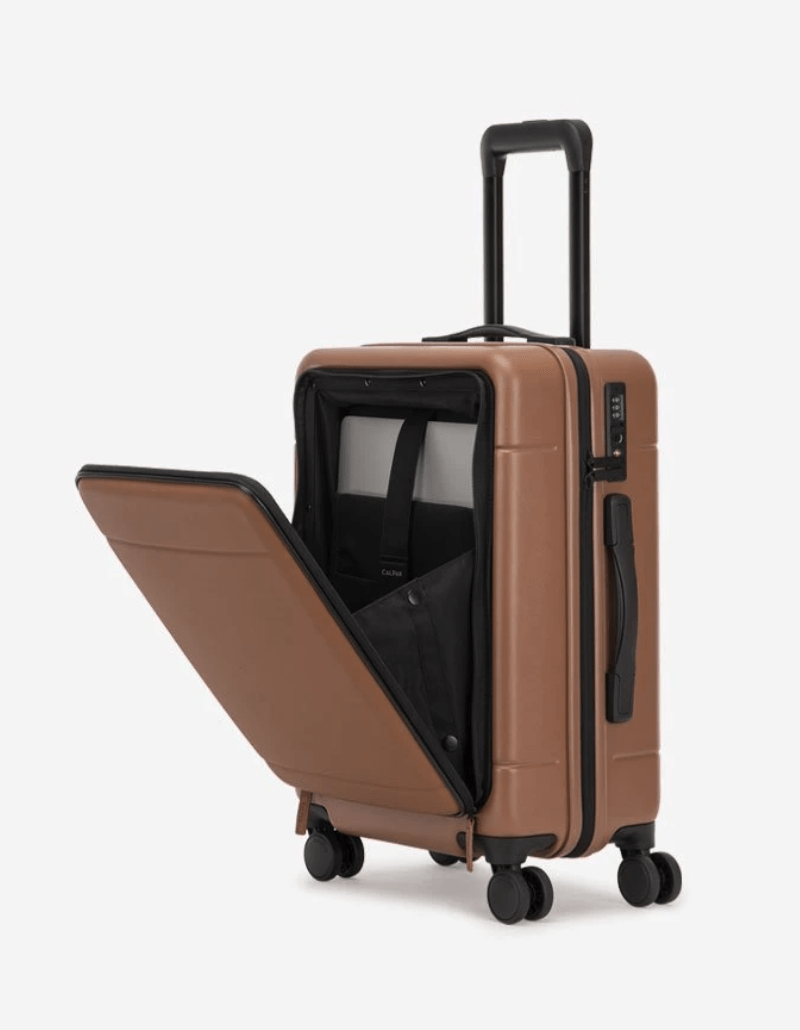 Capacity of softshell suitcases vs hardshell suitcases
This one really depends on the model, but what I like about softshell bags are their ability to expand and be stuffed to the max. Hardshells are rigid, and therefore, you can't squeeze out any more room. Softshells also often have that extra zipper to expand the suitcase.
Water-resistance of softshell suitcases
Fabric suitcases are well, fabric, so they aren't the most weatherproof if you need to drag your suitcase through the rain or slush.
Ease of cleaning of a fabric suitcase
On that subject, fabric suitcases are harder to clean, whereas, hardshell suitcases have the advantage of being easy to wipe down.
Customizations of travel luggage
Hardshells are easier to customize, which you want to do when you check a bag, so it's easy to spot at baggage claim. Stickers, or artwork, are some examples of ways to personalize your bag. On the other hand, a red scarf can really go a long way in making your bag stand out.

Durability of a softshell suitcase vs hardshell suitcase
The jury is still out on whether hardshell cases or softshell suitcases are more durable in the long-haul. So, here are my personal thoughts on the matter. Hardshells are often made of polycarbonate material, so they are super resistant while having a bit of flex to avoid cracking under pressure. However, once they crack, it's kind of downhill from there, so I recommend getting one that is guaranteed for life, like an Away suitcase or a Rimowa. It's essentially the last suitcase you'll ever buy. On the flip side, you can keep patching and fixing a softshell suitcase for a long time before it totally gives up. I happen to have a whole post on all the ways your suitcase can break, like wheels, zippers, and handle, and how to fix it!
Price of softshell suitcase vs hardshell suitcase
This can vary quite a bit, but generally, softshell suitcases are more affordable, so that's something to consider if budget is a factor. Check out this post with a lineup of budget luggage options all the way up to luxury ones.
And that's it! As you can see, there are serious pros and cons to each type of suitcase. I hope this video was helpful in giving you some things to consider as you choose your next suitcase!
Happy Travels xoxo