When you think of business travel, does an image of a woman in a suit and stiletto heels come to mind? How do they do it? I know from experience it can be hard to strike a balance between the practical travel outfits I could nap in and a more professional look. Luckily, I've found a few brands that do both well. With smart fabrics and nifty tailoring, these items can make you look like you mean business even if you've been travelling for the better part of a day.
The Best Pants and Skirts for Business Travel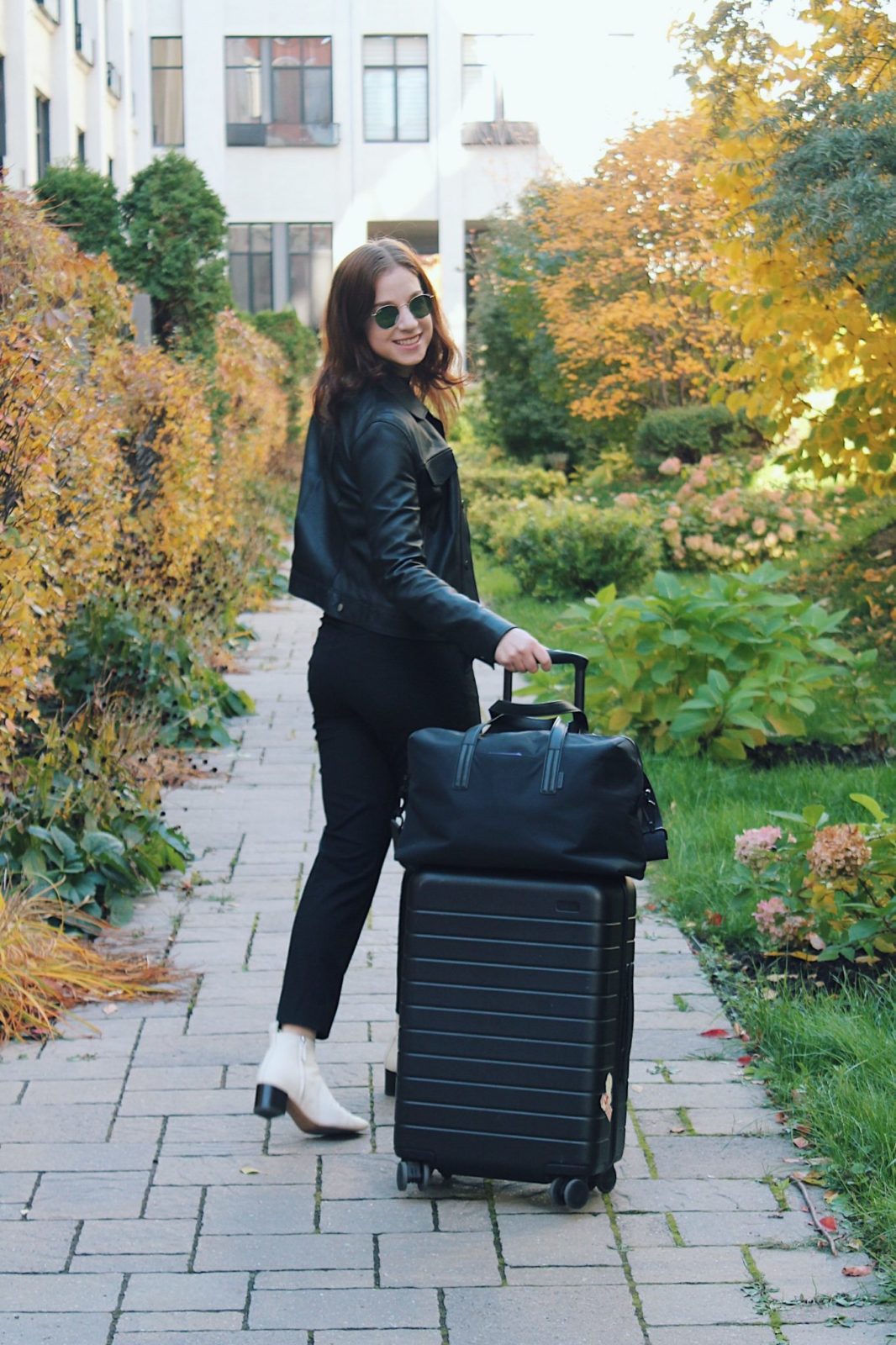 Fabric composition and the waistband are two things I look for in bottoms when packing for the plane. I like knits that have enough give around the middle to accommodate sitting for hours and any plane bloat that might happen. For trousers, I love love love a wool blend that isn't skin tight but still has a great cut. My ultimate favourite brands for travel-friendly trousers are Everlane and Kit and Ace (a Canadian brand!). Kit and Ace was founded by the children of the Lululemon founder and their mission is to design business clothes for active people. I love their use of wool and cashmere in more technical styles. Travel is a mix of moving around a lot and sitting, so I need something that doesn't constrict my movements too much.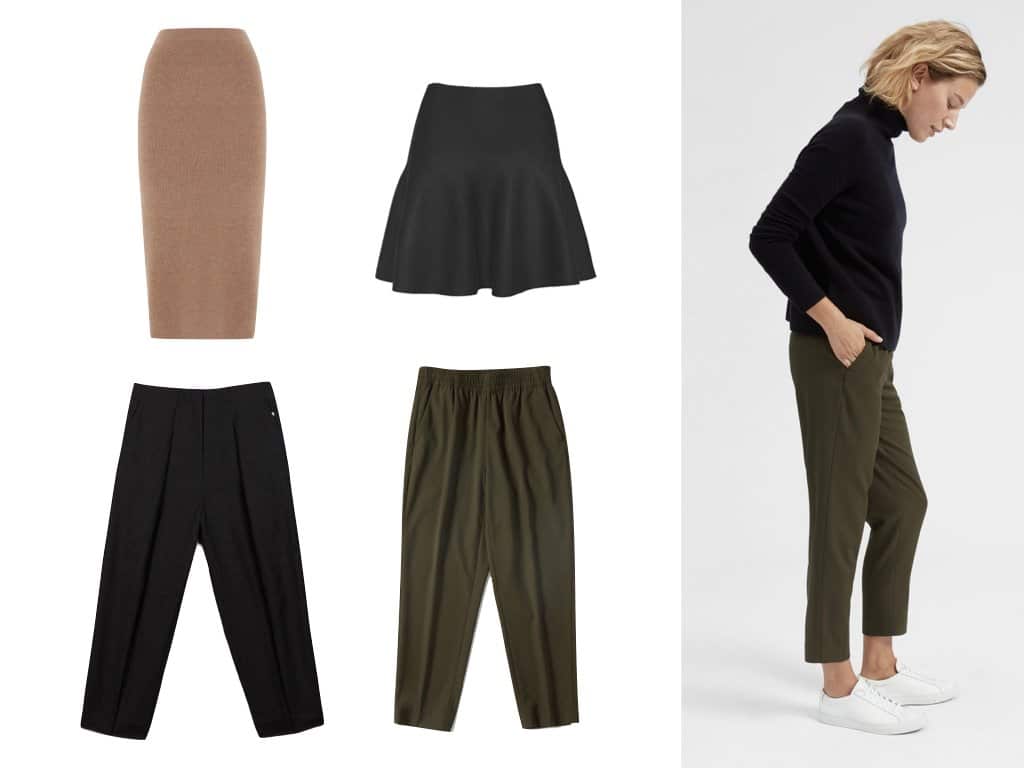 Knit Pencil Skirt, Black Flare Skirt, Olive Wool Trousers, Black Wool Trousers
Blazer Alternatives for Business Travel
I love a structured blazer as much as the next person, but it can't just be any old blazer. Like my recent trip to a marketing conference in Boston, I love packing a blazer that has a bit of stretch so I don't feel quite so constricted.
When I went to Florence for work in the summer of 2016, I packed trousers, pencil skirts, and replaced the traditional blazer with a cool bomber. Depending on the context, that can be a more casual alternative. If you don't need a jacket, you can also just opt for a neutral-yet-interesting sweater to top off your outfit.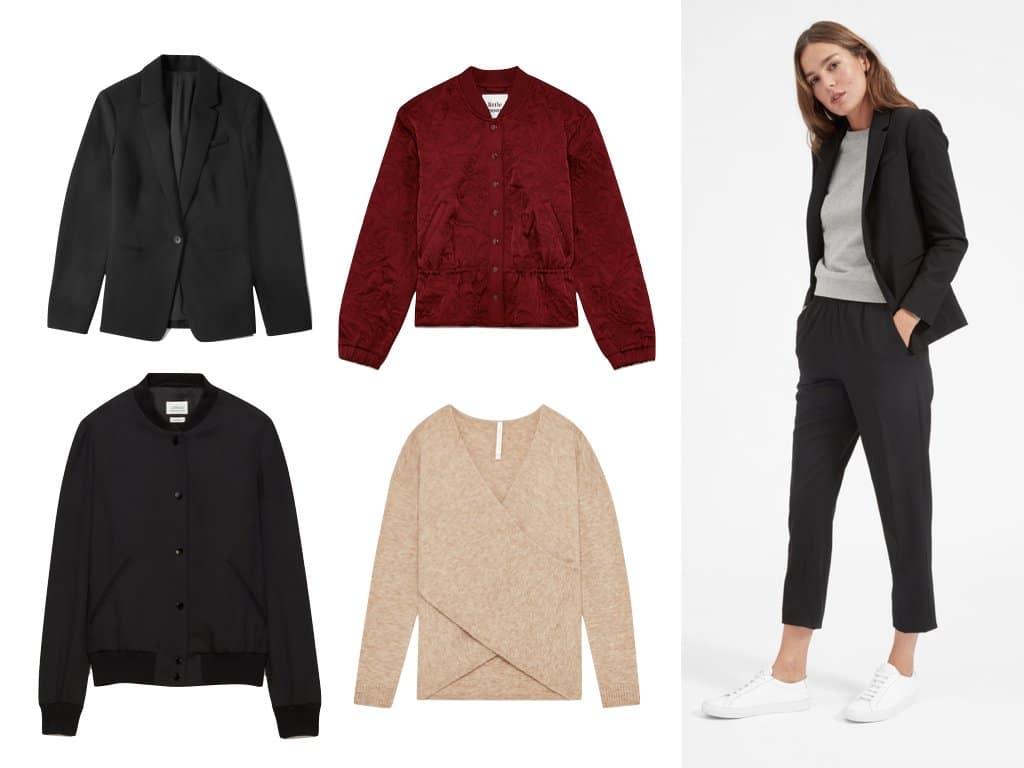 Italian GoWeave Blazer, Aritzia Satin Bomber, Sweater, Aritzia Black Bomber
Classic Dresses for Business Travel
Dresses can be so comfortable if that's a look you're into. When I'm avoiding wearing leggings on the plane, I often reach for knit dresses that is an all-in-one outfit. Wear them over pants for an artsy look, layer them over a blouse to switch things up, or buy a shirt dress that doubles as a long cardigan. You can also purchase a dress that zips off at the waist to turn into a top.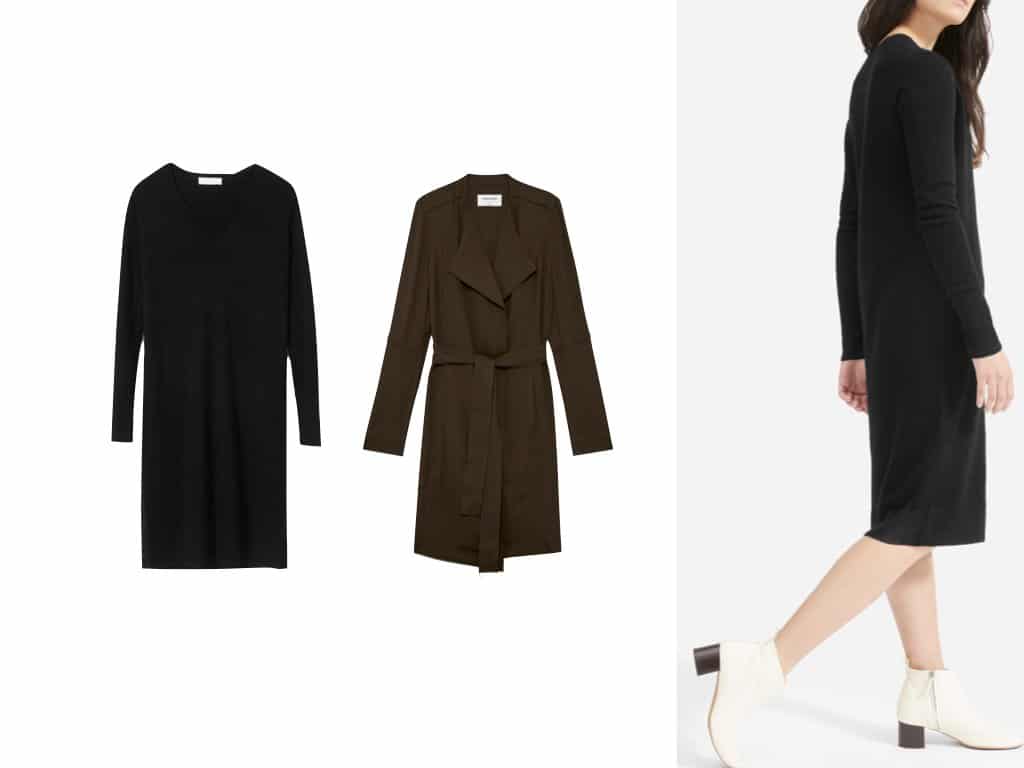 The Best Fall and Winter Coats for Business Travel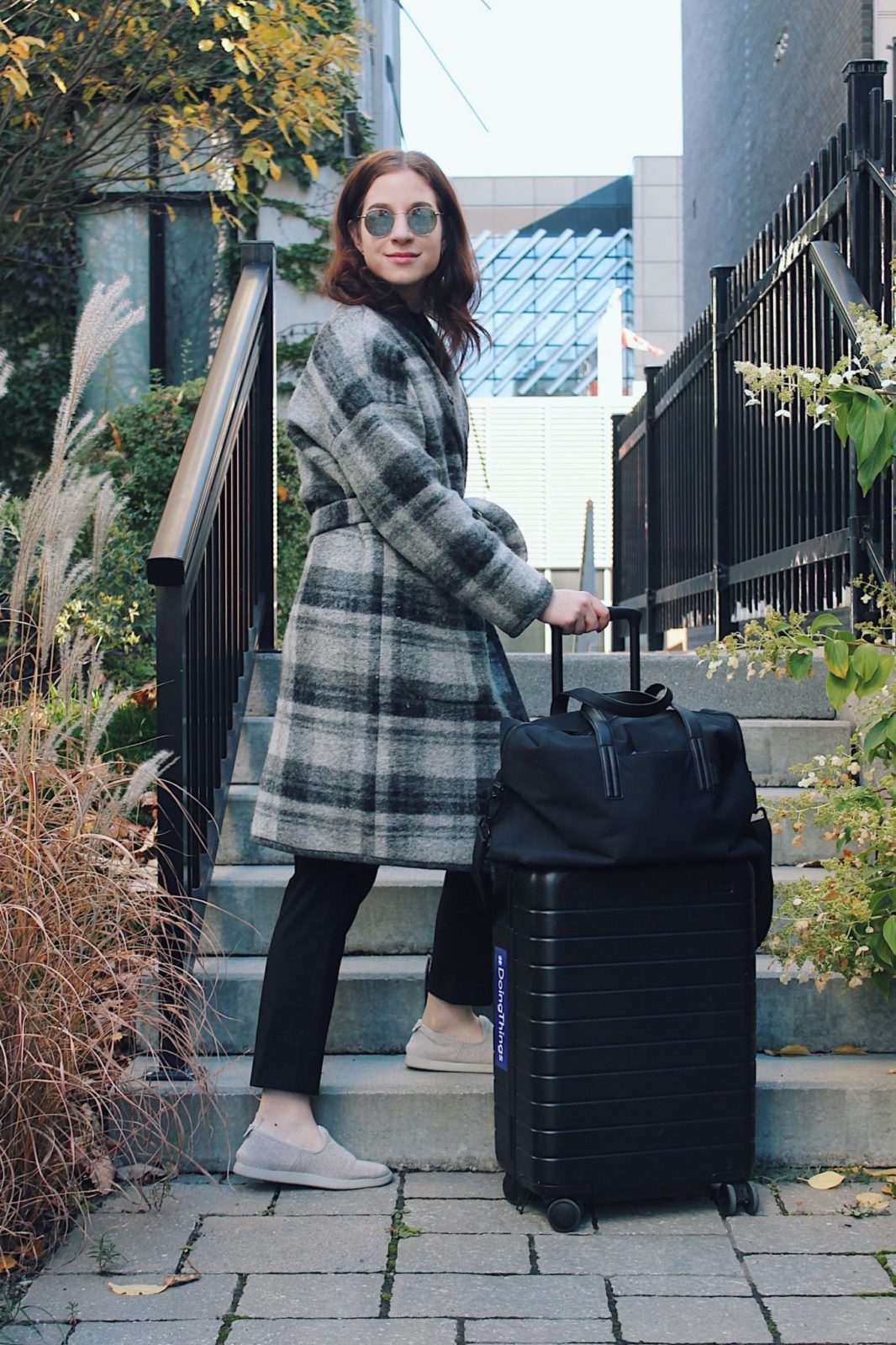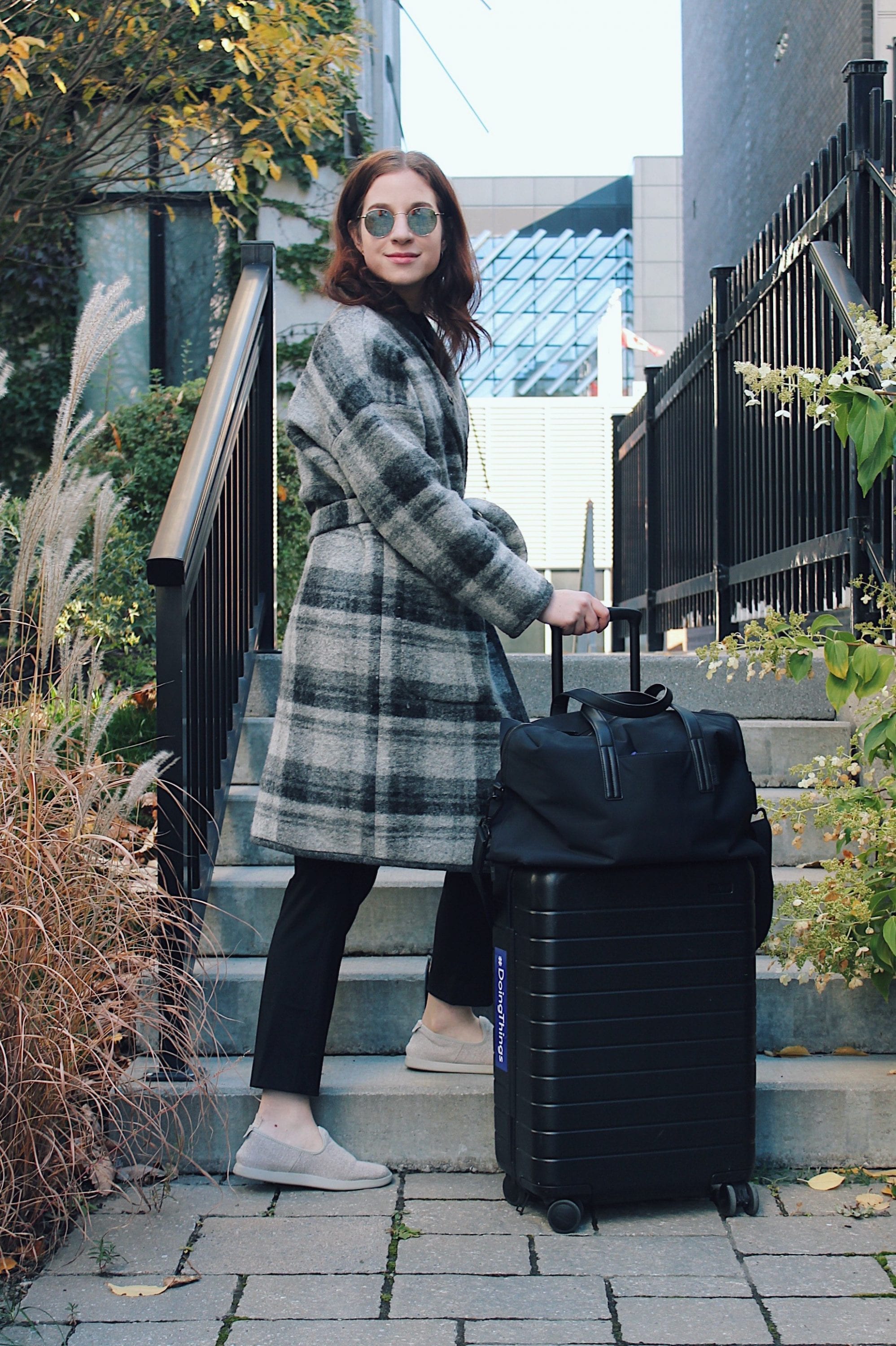 When your outfit is a little casual and loose, a structured or interesting coat can fix it instantly. I love big coats even if they aren't as practical as say, a down puffer because you can drape them over yourself when trying to sleep on an airplane.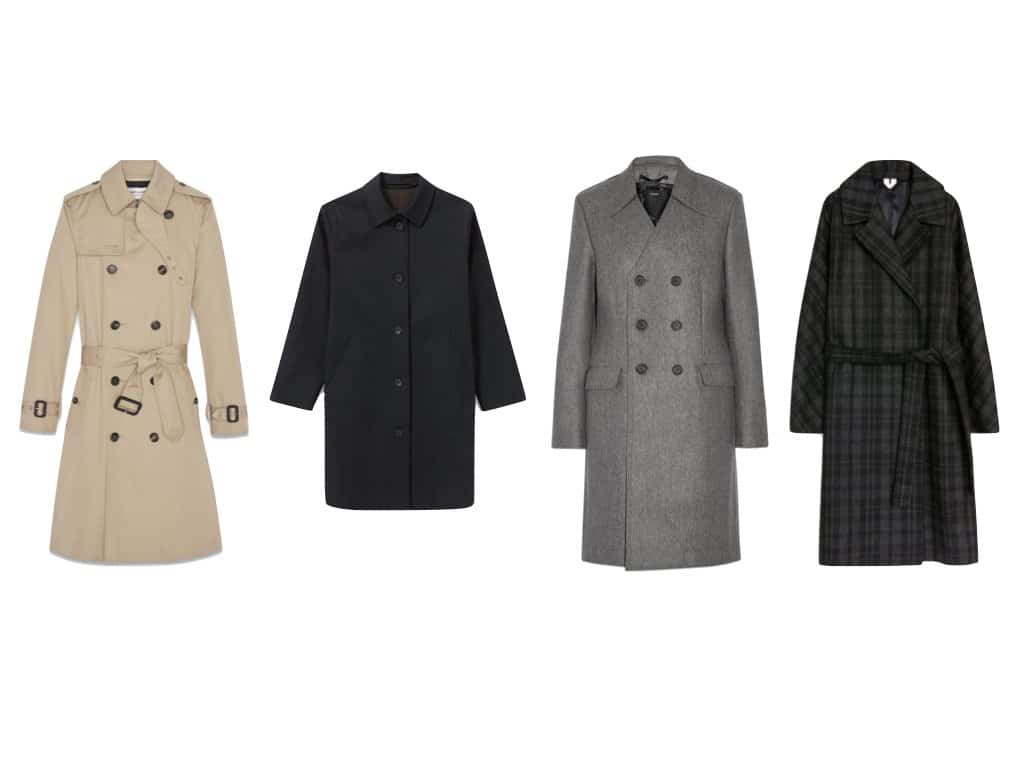 Trench Coat, Mac Coat, Wool Coat, Aritzia Plaid Coat
Travelling this winter? Check out my guides to packing for winter and travelling during the winter.
The Best Footwear for Business Travel
Uncomfortable footwear can really make you miserable. If you must wear heels, I recommend a solid and sensible bootie with a block heel. It keeps your foot centred and supported and leaves room for an insole or a warm and comfy sock to avoid blisters. For a more active trip, try a flat hybrid type shoe, like a slip-on or a brogue that has the sole of a running shoe but still looks polished, or choose the classic ballet flat.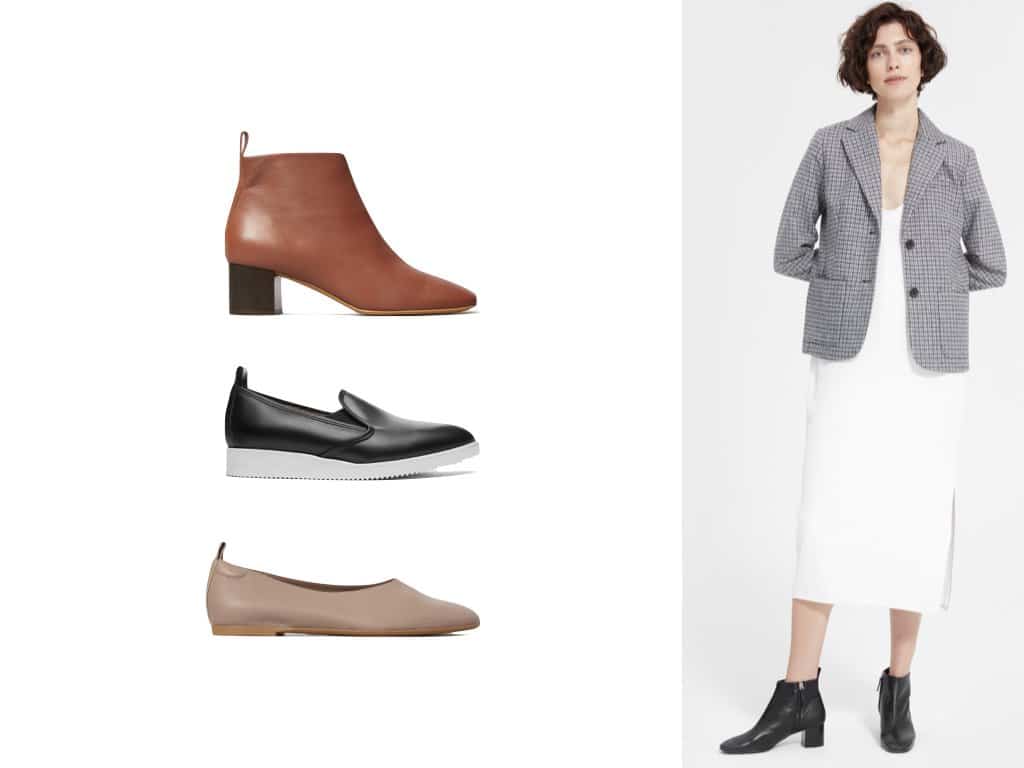 Boots, Street Shoe, Ballet Flats
If you want to be super comfy, you can also change your footwear in the airport to something like these merino wool loafers, and switch back when you exit the airport.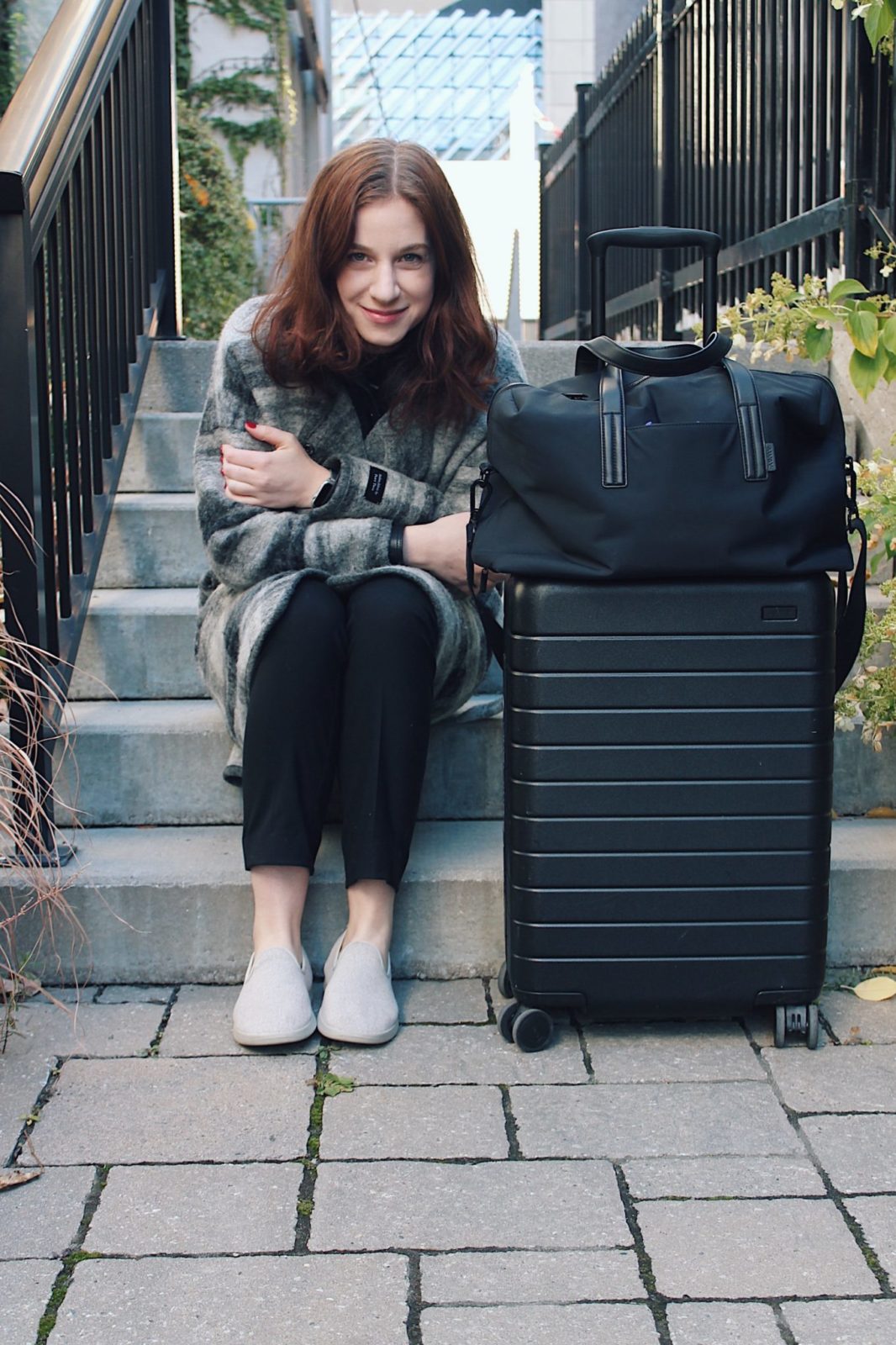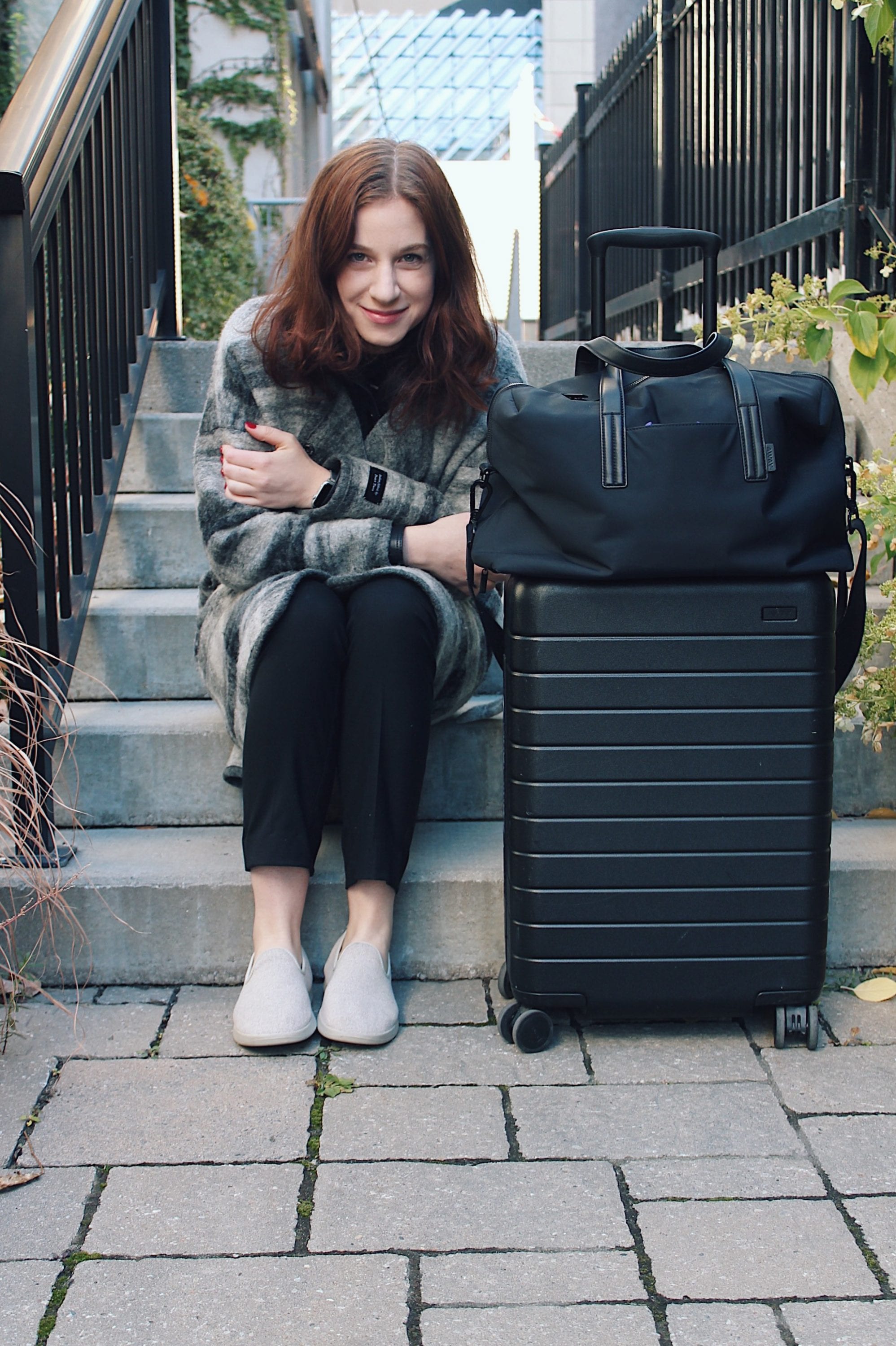 You may have noticed that I omitted to talk about tops. That's because it's pretty easy to pick a top that is comfy enough for travel. Opt for a merino wool fine-knit sweater or top or a blouse that is breathable and wrinkle-resistant. Again, check out Kit and Ace, Everlane, Frank and Oak, or Uniqlo.
My last few tips are to pack a big luxurious scarf that can wrap you up like a blanket, some boot wipes if you are travelling to a salt-the-streets city, and a lint roller so you always look polished. Also, make sure your luggage looks A+, like an Away suitcase and weekender bag combo pictured here. I take them everywhere with me.
Happy Travels xox