Can you believe 2018 is already over? For me, that means making last-minute donations to round-out my 2018 fiscal year (boring) and gearing up for New Year's Eve festivities (fun). I'm usually traveling home from Kansas City around this time of year because my Montreal family celebrates New Year's together. Honestly, I love it because it's a second Christmas and it also takes the pressure off making epic NYE plans.
If you're traveling somewhere for New Year's and packing special outfits, there are a few things you can do to make your life easier.
Choose Versatile Pieces
I hate packing an item I can only wear once. Even for weddings, I try to bring a dress I can wear for other parts of the trip. The same goes for the holidays, which is why I like separates or a dress I can dress up or down.
Pick Your Fabrics Wisely
Choose bottoms in wrinkle-resistant items like ponte or suiting fabric, because these tend to keep their shape more easily. Or, go the opposite direction and bring a jersey dress or a pleated fabric and embrace the wrinkles! I also love packing thin layers, because they look dressier and pack well.


Pack Carefully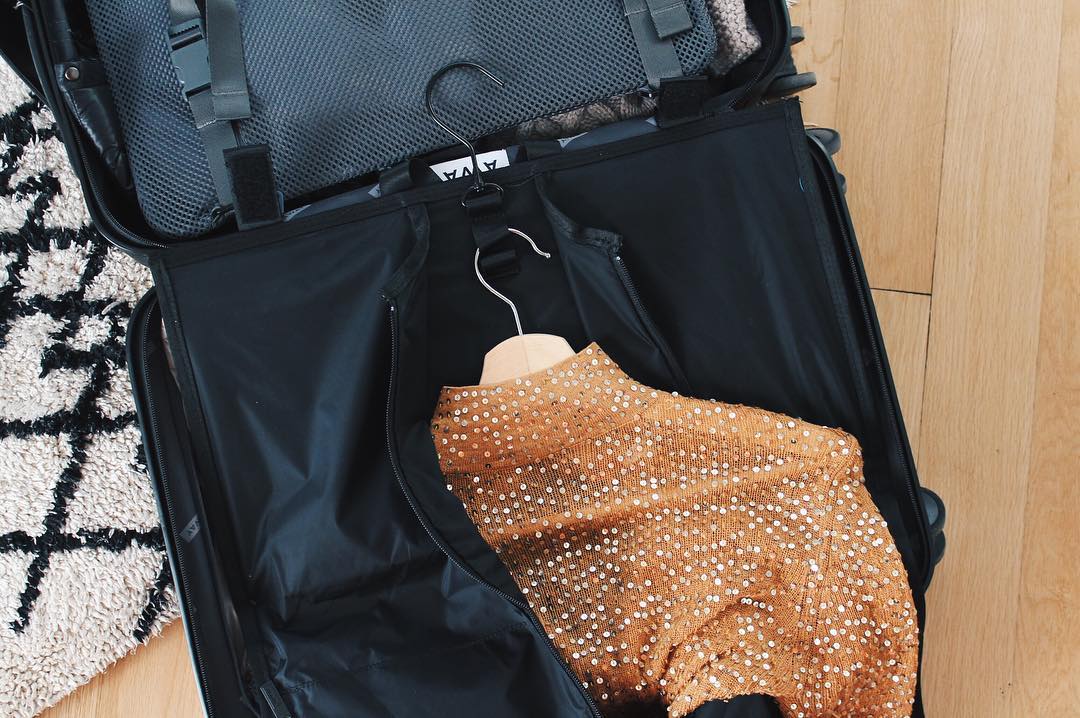 Delicate items are often harder to pack. They crease, snag, and are more difficult to clean. The last thing you want to be doing on a trip is looking for a sewing kit or seeking out a same-day dry-cleaner. That's why I take extra care when I do choose to pack a special item of clothing. I use a garment bag like this one from Away that clips into my suitcase. It protects my fine knits and embellished pieces from zippers, dirt, or anything else that might damage it. I've also heard that tissue paper is another good way of protecting beaded pieces like small purses.
Bring a Travel Steamer
If you're bringing silks, check if the place you're going has a steamer or iron. Otherwise, you might consider getting a travel steamer.
Dress Up Normal Clothes With a Red Lip
A few years ago I wrote about how to improvise a fancy outfit and I still believe that even a simple outfit can be dressed up with a small tube of red lipstick.
Happy Travels and Happy New Year!