San Francisco is statistically one of the most expensive cities in the States which makes it a tricky budget destination for any traveller. But, the same rules of shoestring travel can be applied to any city so read on for SF-specific tips to travelling on a budget!
Travel to SF in February or March
Airfare is usually the first or second-largest expense on a trip, so if you can save there, you're on track. Set up flight alerts using trackers like Hopper or with Google flights. March is the cheapest travel month for most cities and midday, midweek flights are cheaper too. This is good news if you hate getting up early.
Skip the San Francisco hotels
Stay with a friend
If work is paying for your trip, you can stop reading right here. However, if you're footing the bill for your accommodations, you're going to want to do some research before booking a place. You could tap into your network to stay with a friend or acquaintance. I've done it and I am so grateful for being able to stay near Oakland once and Mill Bay another time, for free.
Home Exchange
You could also use HomeExchange, a service where you pay for your stays with points instead of dollars and is such a travel hack to save money. I was able to stay a full week in Bernal Heights for a service fee of $15 a night.
Single room occupancy
Another option is SRO, or single room occupancy, a term I just learned recently. These are buildings with lots of individual rooms that have a bed, a sink, microwave, and fridge, tv, and a desk, and the bathrooms are shared on each floor. There are tons in San Francisco and often in cool central locations. They can go for about $35-50 a night and include wifi. Compared to Airbnb, which is pretty expensive in San Francisco, these hostel-like facilities are a steal.
Take San Francisco public transportation or shared ride services
I'm a big fan of public transportation as a way to get to know a city. In San Francisco, the Bart system can get you around very quickly and connects to CalTrain which can take you all around the Bay area. Just remember it's a tap-in-tap-out system like London and Washington, DC, so make sure you have money on your card and you tap your card at CalTrain stations.
If you need a taxi, try Uber and Lyft's shared ride saver. These options allow you to carpool to save a few bucks. Or to save even more, choose the option to carpool and walk a little to make the pickup for the driver more convenient.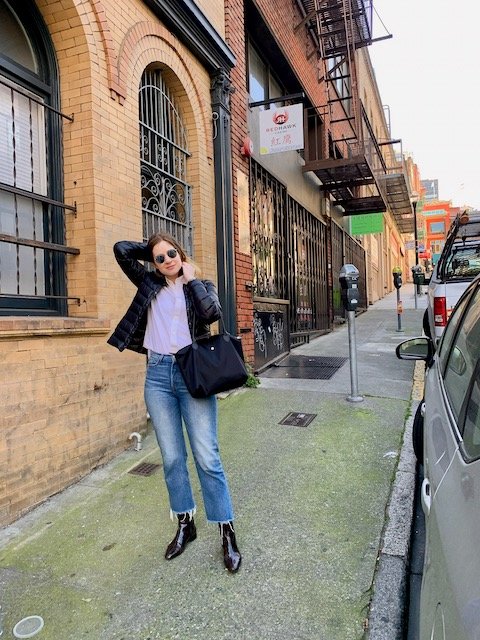 Eat out strategically
Restaurants in San Francisco are amazing but prices can easily get out of hand. Choose your splurge meals, enjoy them, and then scale back the rest of the time. The perks of staying in a place with a kitchen or at least a fridge are that you can buy food at grocery stores and cheap takeout places and stretch your food to cover more meals.
Find free activities
Being on a budget can be a bummer when you want to do activities like the Alcatraz tour, boat rides, and other paid activities. But, there's still plenty to do. Walking around Ficherman's Wharf is free, as is the Ferry Building. Renting shared bikes can also be a great and cheap way to cover more ground. There are so many sights to take in, like the many street-art-covered neighbourhoods, that you can create your own free tour.
What are your tips for saving money while you travel?