This ISSA kids review blog post is part of a collaboration with FOREO Sweden
For beauty enthusiasts, packing all your favourite cosmetics and beauty tools can tricky. They take up so much space! That's one reason I actually love the mini sizes and samples that beauty brands make, even if sometimes it's less bang for your buck. One example of using the mini version of something is my love of the ISSA kids by FOREO Sweden toothbrush. Originally designed for kids 5 to 12, I, a 29-year-old woman, absolutely love this little toothbrush as my go-to for travel. It's smaller than the adult size but packs just as much cleaning action, in my opinion. I believe there were so many adults like me who preferred the small size that they released the ISSA mini in response. 
Bacteria-resistant medical-grade silicone
Like all of FOREO Sweden's products, the ISSA kids toothbrush is made from their signature silicone. This makes it super easy to clean and also makes the brush heads really resistant. The fact that it's bacteria-resistant is important to me because a toothbrush is going straight in my mouth! The silicone is free of BPA and phthalates, is quick-drying, non-porous (nowhere for bacteria to go), and up to 10,000x more hygienic than nylon bristles. The brush heads come in two types: regular, which is super soft on hums, and hybrid, which includes a brush centre for a more thorough clean. Also, each regular brush head only has to be replaced every year and the hybrid one every 6 months, so it's so much more economical than a regular electric brush head system. The hybrid brush also has ridges on the head to clean tongue and cheeks.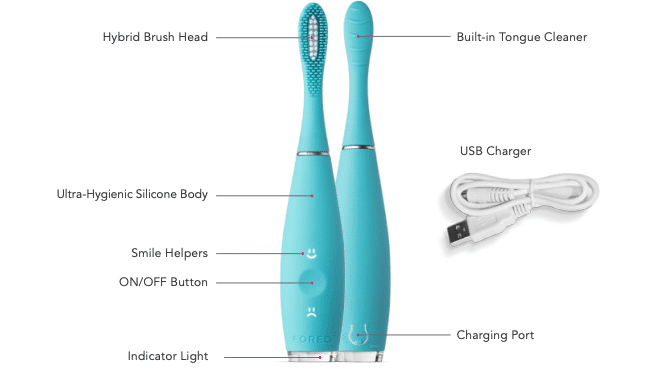 As a kid, I would have loved having such a fun toothbrush. As an aunt to 18 nieces and nephews and honorary auntie to friends' kids, I would highly recommend this to any parent in my life who wants a safe, effective, and downright entertaining way to teach kids good dental hygiene habits. 
Although the ISSA kids is an electric toothbrush, it's not quite the same as the rotating ones. It requires a manual brushing technique but combines the power of pulsations to clean teeth. I actually prefer this since I like feeling like I'm actively cleaning my teeth. The T-Sonic pulsations generate 9,000 pulsations per minute for gentle cleaning and gum massage. I bought my ISSA kids about 8 years ago now and at first, I was afraid my dentist would think I'd slacked off on my brushing, since the ISSA's head looked so gentle. But that year, after the switch, I got the best compliments from the dental hygienist! Receding gum lines run in my family, and so far, I haven't had any dentist tell me I had to brush more gently. One of the other perks of the ISSA kids is the buzzing every 30 seconds that tells you it's time to switch parts of your mouth and a longer buzzing that indicates two mins have passed. Another fun feature designed for kids but loved by adults is the happy-sad face. The glum and glee displays tell you when you haven't brushed in over 12hrs. I know it's meant for kids…but I can't help but smile when my toothbrush is smiling back.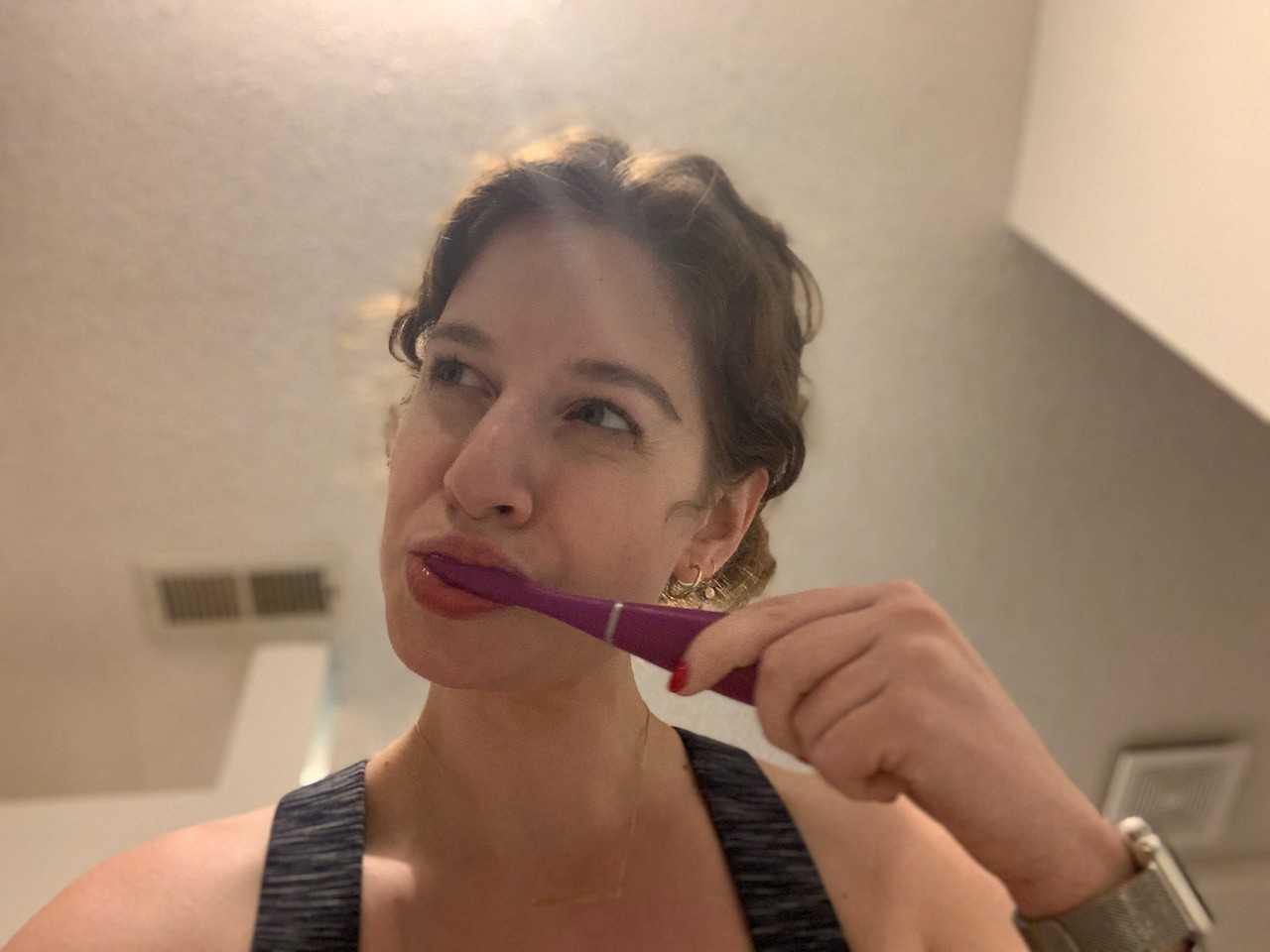 This brush holds a charge
One of the annoying features of other electric toothbrushes is the bulky carrying case. That's one of the huge perks of the ISSA kids but also of all FOREO Sweden products. Like Apple products, I've bought into their system of long-lasting batteries and one charging cable to rule them all. I use the same cable to charge my ISSA kids, my BEAR mini, my LUNA 2, and my UFO 2. When travelling, I don't like fiddling with yet another device to charge, especially when in countries where I need an outlet adapter. With the super-long battery life, that's not an issue with the ISSA, and the USB charging cable means I can plug it into any wall charger, travel battery, or even my laptop.