Every trip is an opportunity to improve the way I pack and one area that I'm always learning new things is with beauty products. I'm fairly minimalist when it comes to my makeup and sometimes I get away with only a few compact travel palettes. I also like the challenge of packing fewer liquids because carry-on travel means stricter TSA limits on liquids and gels. I haven't done a cosmetics roundup in a while, so I wanted to take this opportunity to share my latest beauty hacks for traveling light.
1. Invest in good travel pouches or Dopp kit
I noticed a huge difference in how I packed when I invested in a better suitcase and packing cubes and the same is true for my makeup bag. I went through a few different models before settling on a Lululemon men's Dopp kit. The reason I love it is because it splits into two sides, one of which is clear so the TSA can see my liquids. Unfortunately, it's no longer available, but there are many out there to choose from. Looking for the best dopp kit for travel? You just have to decide what works for your lifestyle and habits: many small pouches? Keeping makeup and toiletries separate? Having them all in one bag that hangs in the shower or on a door hook? Figure out what works for you and invest in a bag that is sturdy and easy to clean.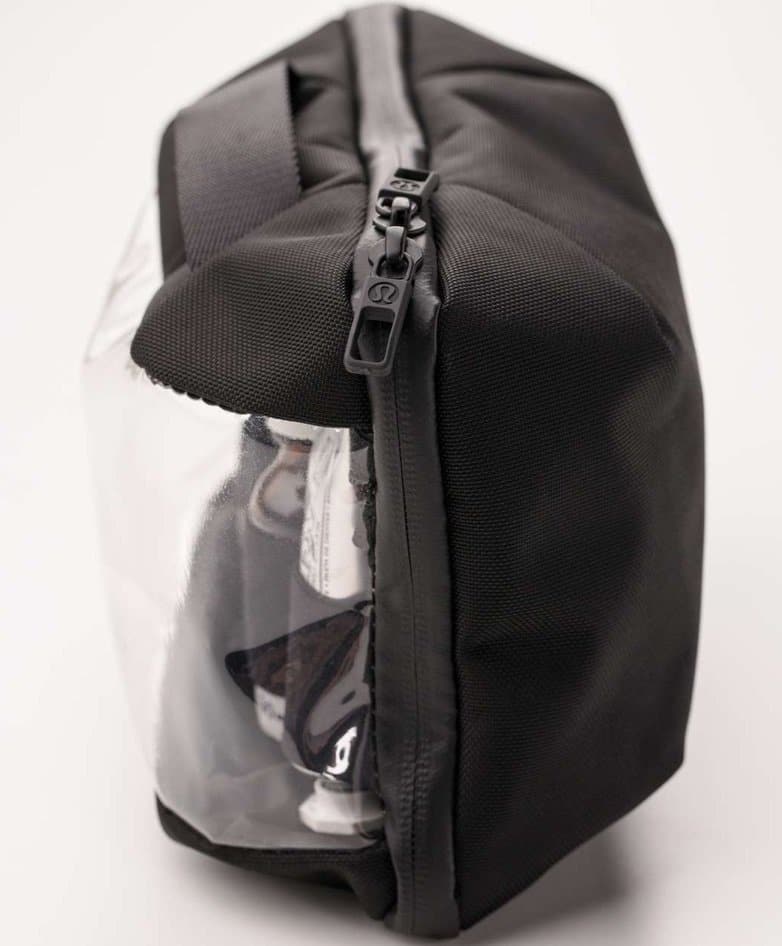 2. Minimize the mess
Recently, I needed to upgrade my foundation makeup brush and after going back and forth for weeks, I decided to spend a little more for an expensive Hourglass retractable buffing brush. I liked it because it had good reviews and it had a lid. In fact, I've slowly been swapping all my MVP brushes with ones with lids. That's because it's so much easier to keep my makeup bag clean when there are no rogue brushes and products going everywhere. The second piece of advice I've learned the hard way was to double check if everything is closed and secured before traveling. I have a bad habit of half-closing some items on my counter and then when I'm packing, I don't double-check if the lid is tight or even if it still closes properly.
3. Always remove your makeup
Growing up means taking better care of yourself and always removing my makeup is something I try to do on long flights as well as when I go to bed. As much as I like the convenience of wipes, I've been using more eco-friendly methods at home and bring those with me on the road as well. This includes reusable/washable cotton rounds for removing makeup and a special makeup removing facecloth that only uses water. I also use a makeup remover in solid stick form that is super small and a fun liquid substitute.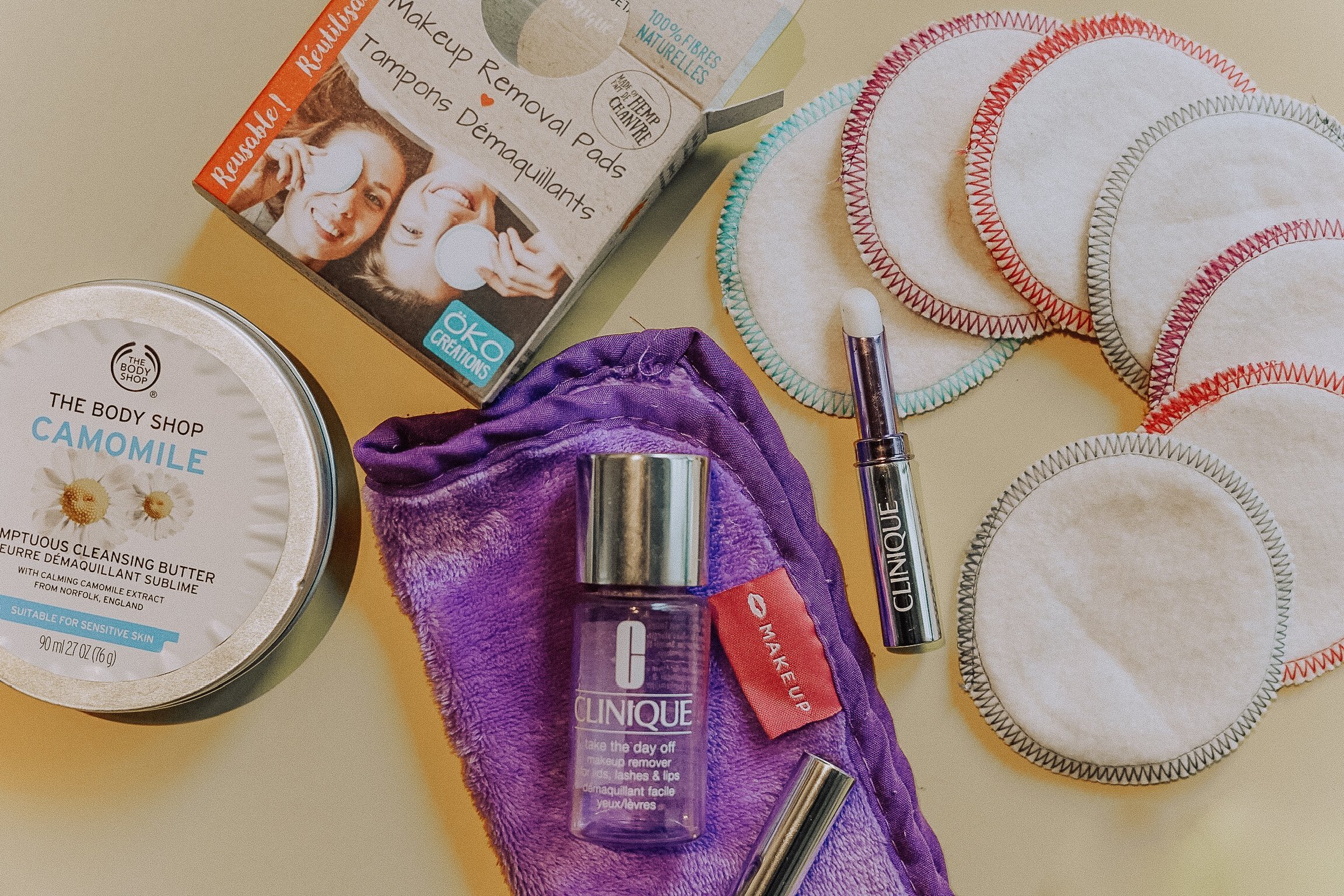 4. Invest in tools that matter
I want to be low maintenance with my hair but having curly hair can make this a struggle. During the winter time, I like to blow dry my hair but I always find hotel blow dryers suck! That's why I decided to get my own tiny one that works super well. I also just picked up one for Europe because I was having trouble making my North American one work with power adapters across the pond. If blow dryers are not important to you, maybe it's something else! Find something that makes a difference in your routine and upgrade it.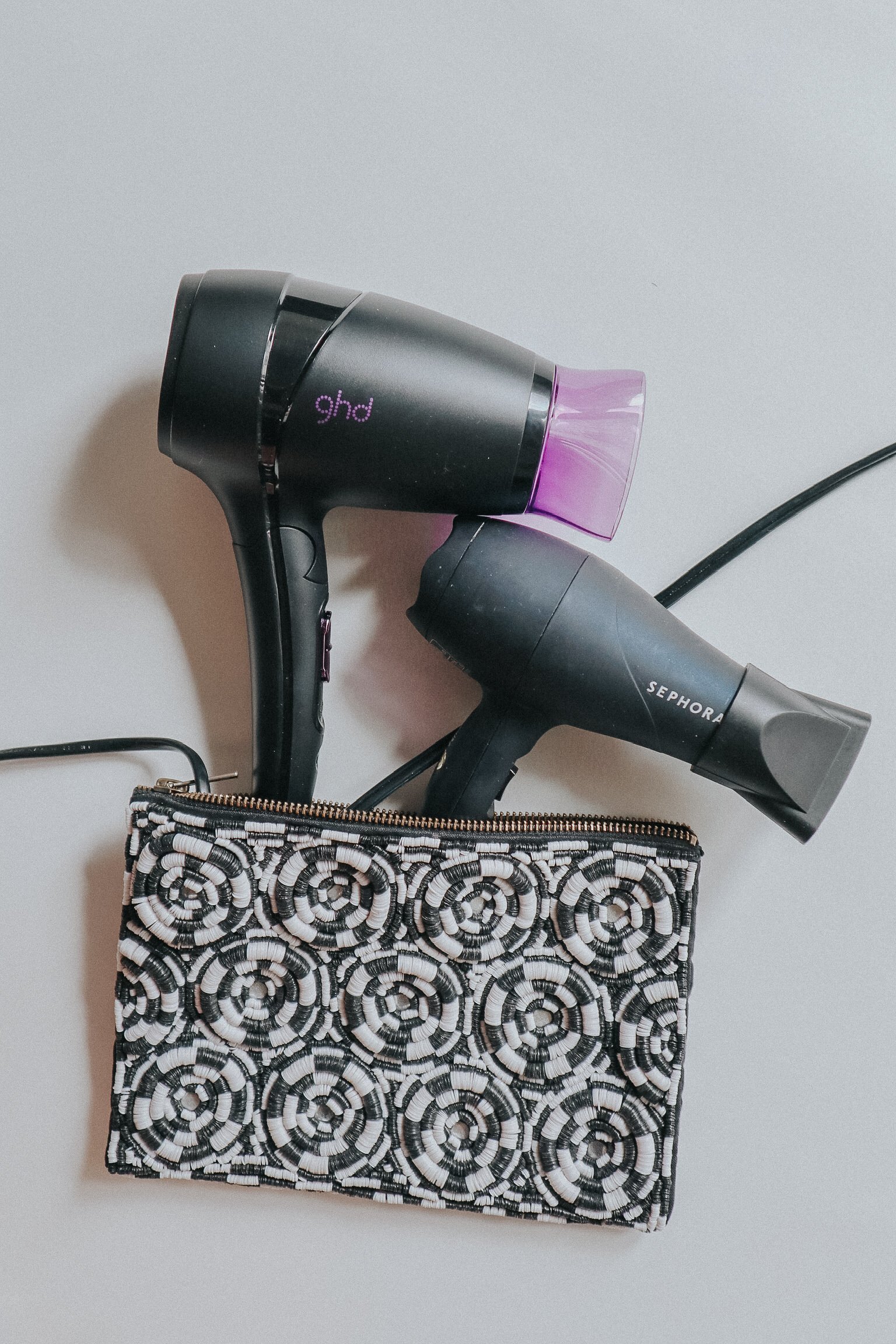 5. Be honest about what's not working for you
The best way to find a great routine is to take a scientific approach. Try something, document how it went, and adjust course. Some examples for me are how I approach transferring liquids into smaller bottles. I've gotten really good at knowing exactly how much product I'll need for 2 nights, 7 nights, 2 months, etc… I also know which products I'd rather buy in mini sizes and which ones I can decant into small Muji bottles (the only brand I use now). I also know which products I can live without and take note of the ones I miss when I leave them at home. I'm always experimenting and through it have found the perfect product combinations, which I try to share with you here.
Happy Travels xox
Take a look at some of my other beauty posts.