This December, I'm home for a combined total of five days out of 31. My December travel blitz started with a trip to Toronto, then a trip to Nashville, from where I flew directly to Sofia, Bulgaria. All three of these trips were for work. After that, I'll spend the Christmas holidays in Kansas City as is my tradition before returning to Montreal for New Years.
Packing for winter trips requires a fair amount of planning because the items can get quite bulky and the weather conditions require careful choices. Because of where I live and where I tend to travel, I have lots of experience traveling during colder months.
The Packing List
While my Toronto packing list was a little thrown together, my Nashville x Sofia capsule was a lot more deliberate. The weather in both places was going to hover around 2˚C/35˚F, and I wanted to be warm, stylish, and professional. I also had a few parties to attend in Nashville and Sofia, so I wanted to have some items I could dress up and dress down.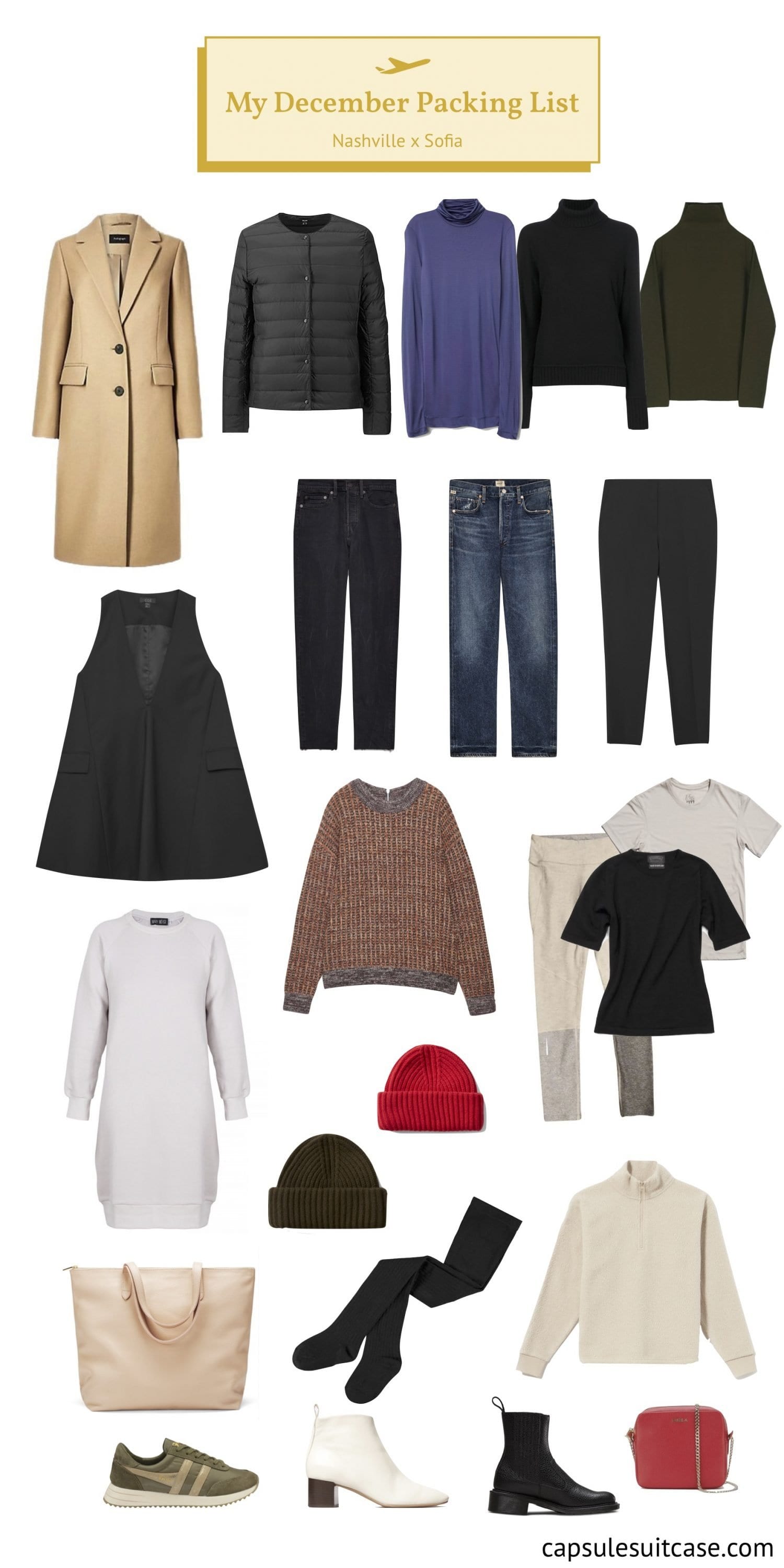 Tying It All Together 
One wouldn't expect to see red, green, and purple together, and to be honest, this colour scheme was a bit of an accident. However, the item that ties it all together is this COS sweater. 
My approach to winter capsules relies heavily on the look and quality of the coats and shoes, since these are what people see first. That's why I made the choice to bring one fancy coat and one sportier, compact puffer coat.
For shoes, I couldn't cut down to less than three pairs because I wanted a pair of winter boots, some fancier booties, and a pair of sneakers for working out as well as for casual streetwear looks.
The rest of the items I chose for their versatility and fabric, because I love thin layering pieces that keep me warm and I suppose I'm just a fan of turtlenecks in the winter. This sheer silk purple turtleneck is my winter evening wear take on turtlenecks and I love it.
Pick Items That Dress Up or Down
In Nashville, I changed outfits a few times a day, so I was glad to have so many combination options. I'd start the day at the gym and then dress casual to be on my feet all day at the conference I was attending on behalf of my company. Then, in the evening, we'd always have a dinner, party, or meeting to attend, so I'd either wear a dress with boots, or jeans with heels and a nice coat.
Conferences are busy and you end up meeting a lot of people, so I used my colourful accessories like my red hat to be memorable and help people spot me easily.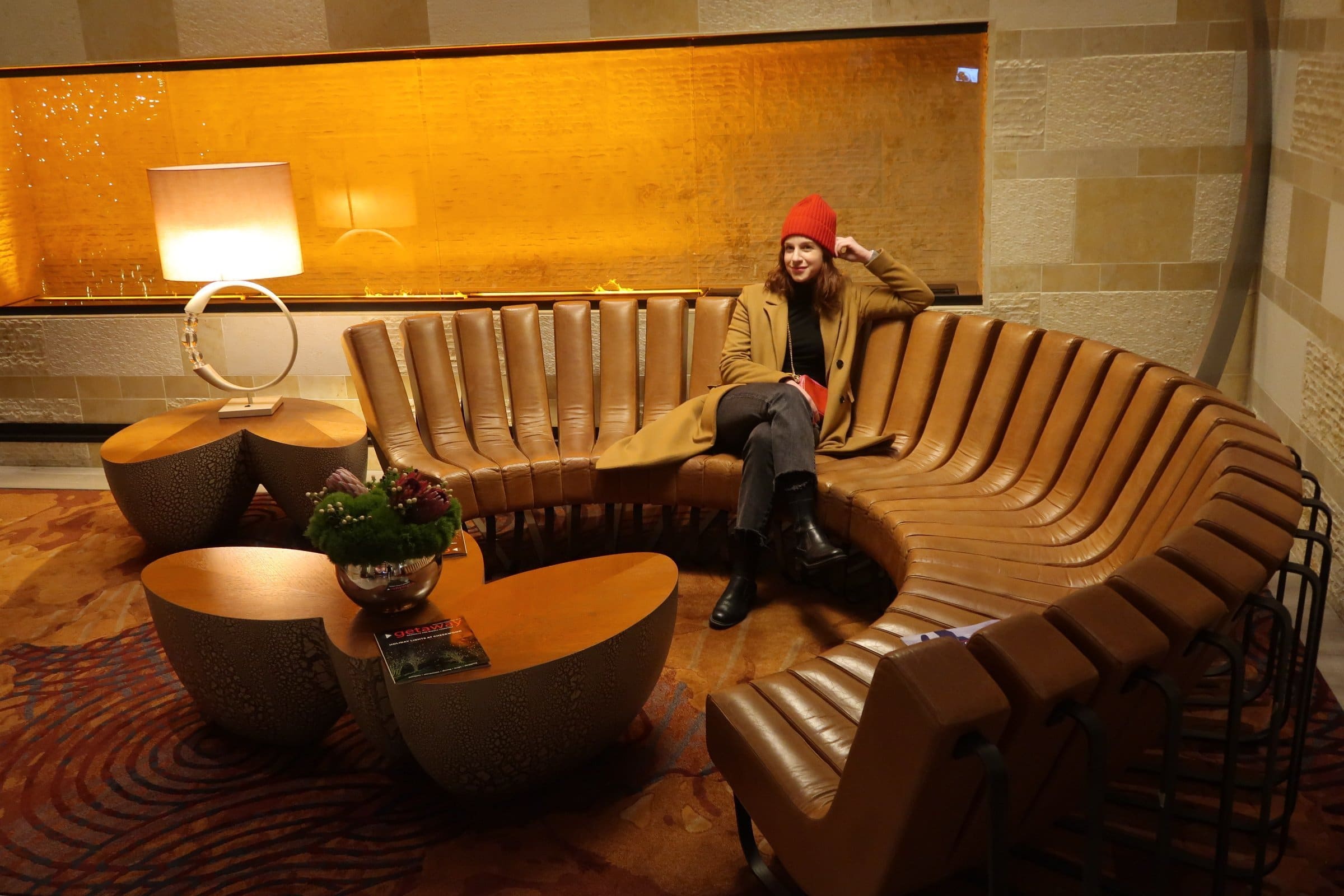 I also really appreciate that coats have deep pockets so I can get away with a smaller bag in the evenings.
I highly recommend finding a staple little black dress for winter. Mine was also another COS find and I love how easy it is to dress up or down. The a-line shape is easy and playful and also creates room for pockets. I layer it under a chunky sweater for daytime and over a thin long-sleeve top for evening. It's also made from a wonderful wool suiting material so it has a nice expensive feel to it.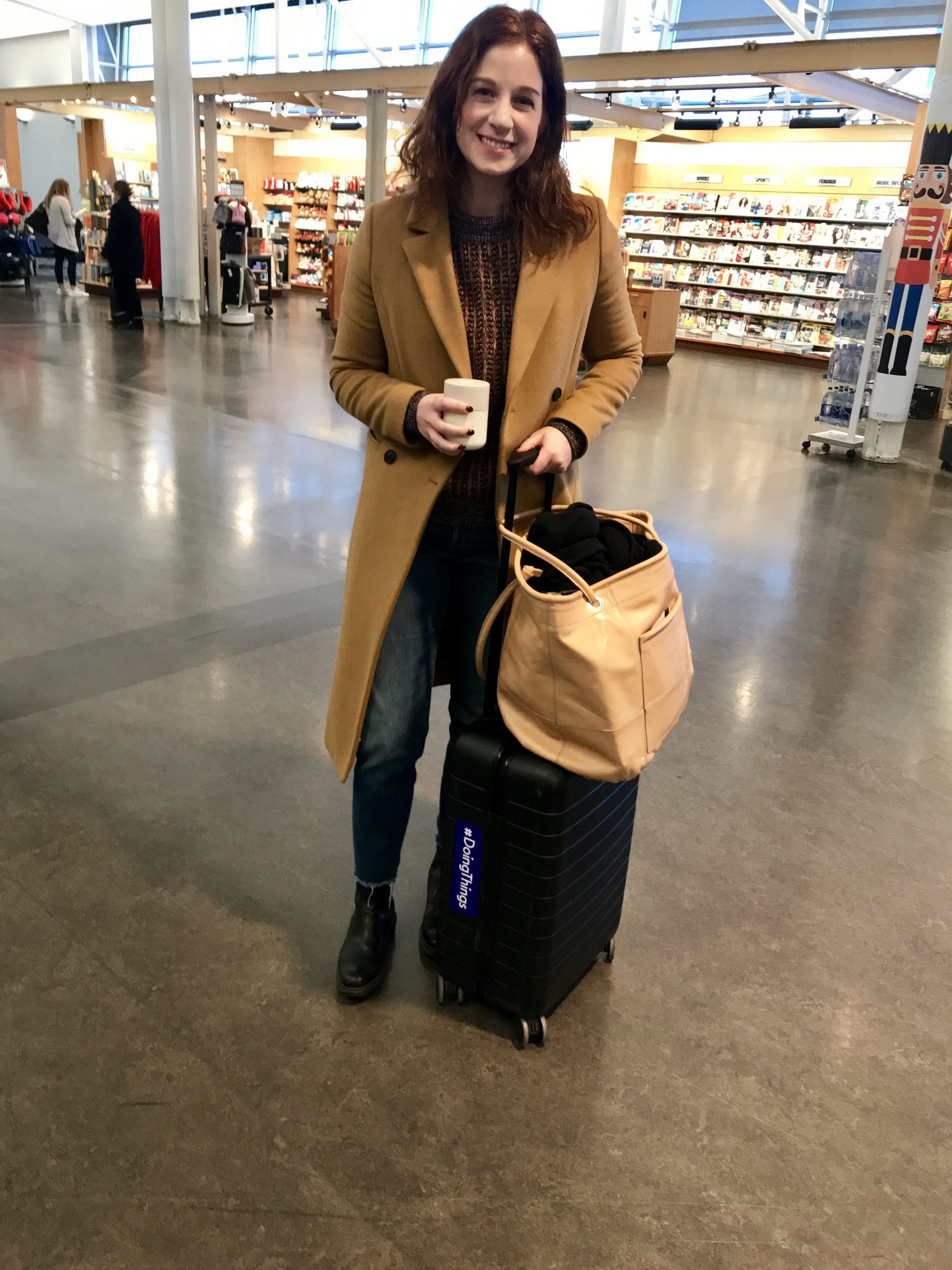 To pack all of this into one carry-on, I used a rolling technique paired with packing cubes and I believe this made all the difference. To fit it all in, I absolutely had to use all my tricks. I stuffed every shoe with socks and underwear and sprinkled makeup and other small items between the cracks. I used a big tote bag with an open top so I could fill it to the top (and even then some) with my must-haves for the flight.
Happy Travels xox