In the past few years, my wintertime travels for work and friends and family have been to other not-so-warm parts of North America. Because of it, I've gotten pretty good at travelling with my winter wardrobe. The kicker? I almost always travel with a carry-on. Here's how I plan out my winter packing list for a five-day trip.

Weather
Depending on how busy I am and how excited I feel about an upcoming trip, planning can start weeks in advance. The first step is checking the weather forecast. What can I expect when I visit [insert city name]? If I'm less than 14 days from my trip, I can check the weather network, or any weather app. If I'm planning way in advance, my first instinct is to look up historic averages for the city I'm visiting.
I look at things like temperature and precipitation. Both of these have a direct influence on which outerwear, shoes, and cold-weather accessories I pack and even which luggage will work best. Suitcase preference is hotly debated and I have friends who are firmly in the duffle-bag-with-wheels camp and others who only do backpacks.  I'm a hardshell fan through and through. 
But, you have to know what a foot of snow might mean for your ground transportation. I've packed suitcases that were too heavy to carry between airport and bus/train/ferry, and I had to drag them in the snow. Luckily my suitcase was sturdy because a fabric one would never have survived.
Activities
So you know roughly what kind of weather you can expect for your trip, but the next question is: How much will I interact with said weather? I've been on trips where I was in a car or indoors almost the entire time and probably could have brought a lot less than I did. I try to map out what I'll be doing each day to know what types of occasions to dress for. Sightseeing, conference, outdoor sports, indoor sports, fancy dinner, or casual party — I try to have a pretty good idea of what I'll need for the week. Check if your hotel has a pool too!
Of course, the fun thing about traveling is you never know what (fun) curveball could be thrown your way, so while I like having a variety of looks, I don't get too stressed about having the perfect outfit for everything. Some scenarios like outdoor sports will almost instantly bump you up to checked luggage. Snowpants are just so huge.
The Outfits
The fun stuff! Ok, let's get the major things out of the way. What coat do I need and which shoes do I bring? This is when I have to decide: "Do I need a rain/wet snow repellant coat?" and "How casual is this trip?" I usually use this axis to decide what the general mood for my looks will be.
Shoes: So I usually bring no more than two pairs of shoes. I make sure I have one fancier than the other or at least one that looks good with dresses and skirts. However, they all must be comfortable enough to wear all day. I wear the bulkiest of the two on the plane and pack away the other in a shoe bag to protect them.
Coat: I decide, depending on precipitation and temperature, which coat I'm bringing and wear that on the plane. Don't leave anything in the coat pockets while travelling. Things can easily fall out when putting on and removing the coat, laying it over your suitcase while you wait and placing in the overhead compartment.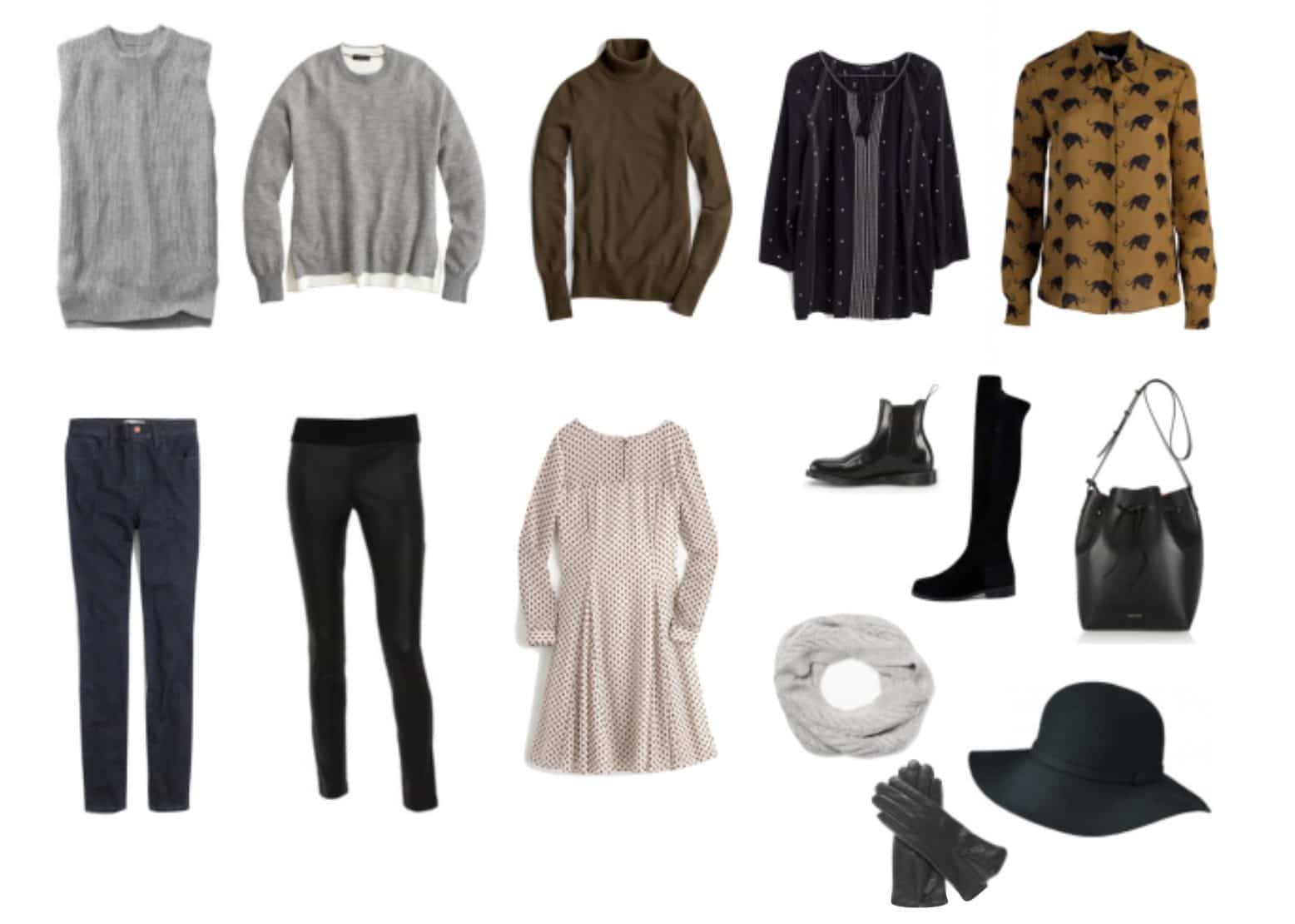 Pants: Generally, I pretty much stick to one pair of black pants and one pair of jeans. Right now, I'm loving the idea of swapping black denim for a liquid leather legging. It doubles as a great layering pant under dresses too!
Tops: I pack layering sweaters, like a wool shell that can double as a dress and a thin turtleneck that can serve as a base layer under pretty much anything. I also pack two blouses and a versatile dress.
Cold-weather accessories: I bring one set of scarf, gloves, and hat. If I'm bringing a toque, I'll pack it away, but if I'm bringing a floppy hat, I'll wear it on travel days to protect it. I also bring 2-3 pairs of fleece-lined tights.
Extras: If I'm feeling iffy about the weather, I really love packaway down vests for layering. They go well as a replacement coat if it gets too warm (just layer over a sweater or two) or as an extra layer under a coat if it gets really cold. They take up so little room and can double as a neck pillow! I'll also pack a tank top or two for sleeping and layering. If working out is part of my plans, I'll pack a lightweight tank top and leggings.
Bags: Like shoes, I try and cap it at 2-3. I only really need my backpack for my laptop and cables and a purse for everyday activities. On travel days, the purse is usually packed away and I only use my backpack and suitcase. As a bonus, sometimes I'll pack my cables and chargers away in a leather clutch that I then empty and use for parties or nights out.
As you can see, I chose all clothing that would go together for infinite layering options. I have enough outfits for a week. I also threw in a travel mug, headphones, and boot wipes, in case the city I'm visiting salts their streets a lot (ahem, Montreal).
Packing Tips
Because I'm on the hard case bandwagon as opposed to the duffle bag camp, packing is like Tetris and I make the most of the right angles. I use packing cubes for socks, underwear, and tights and roll everything else. If your sweaters are bulky, you can also check out packing compression bags. They'll suck the air out of your sweaters to make them more slim to pack. And a reminder that it's easiest to wear your bulkiest items on travel days.
Planes are very drying, which we can forget in winter. Don't forget to drink a lot of water while traveling and to carry chapstick and hand lotion with you.
Happy travels and stay warm!