Last week, I flew to London for a quick business trip that lasted a few days. After that, I flew to Sofia, for a total of two weeks in Europe.
My spring packing list for this trip is a combination of the styles I brought to Washington, DC and the items I packed for my last trip to the UK. Together, these items covered the needs of spring weather and the colour-scheme of a city like London.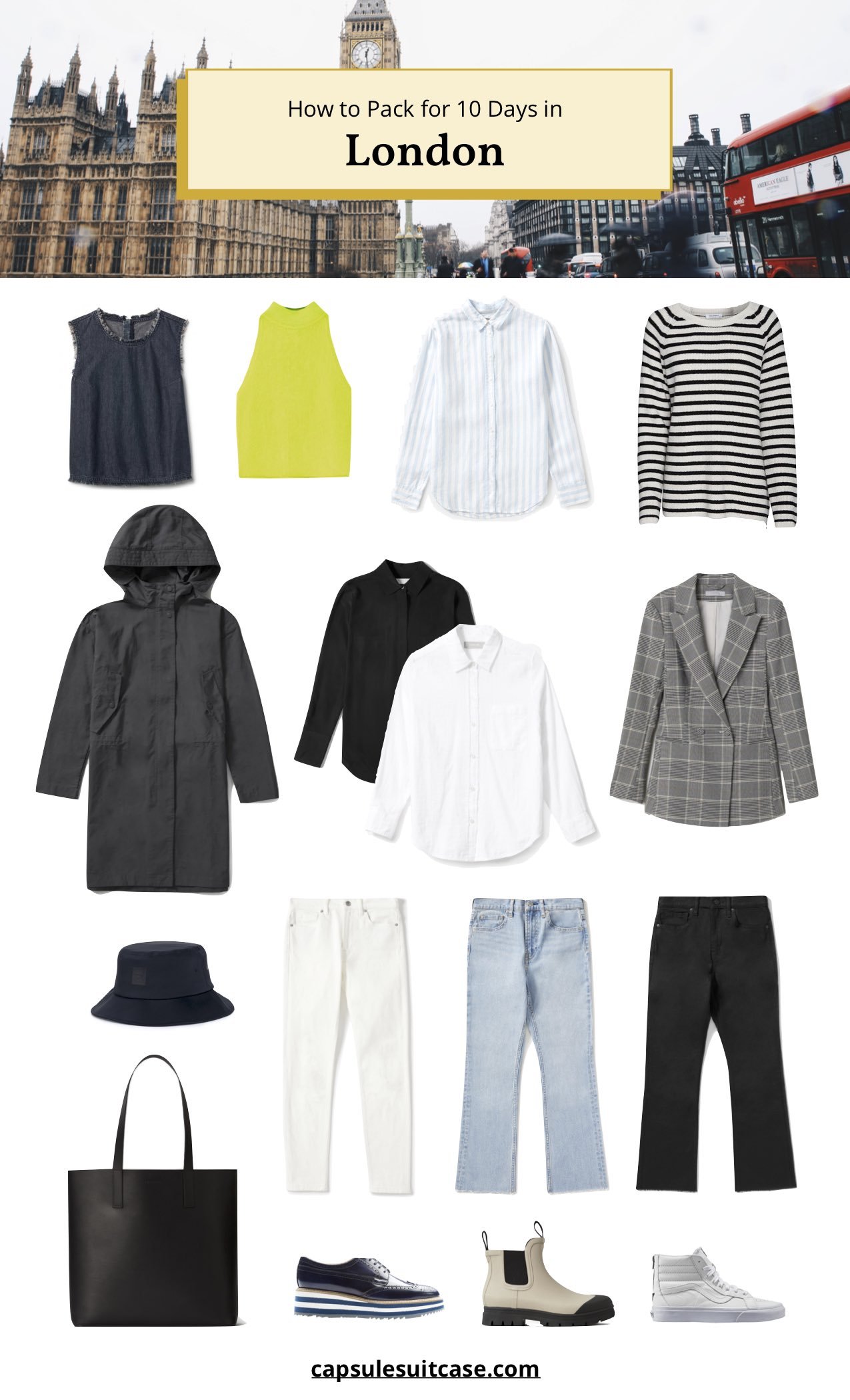 Even though I used this packing list for three cities (London, Sofia, and Plovdiv) AND stretched it out for 14 days, I feel like it works well for someone who might be spending a little over a week in any European city.
I packed a raincoat, rainbows, an umbrella, and even a bucket hat because spring is rainy and I was right to prepare! Besides, a good anorak is a great coat, no matter the level of precipitation. (For more rainy weather packing tips, click here.) I also decided a grey plaid blazer would be the central piece of this capsule, with a series of sensible blouses and jeans in three colours to mix and match. Even the striped sweater matches, if you like playing with print mixing.
I've had my navy brogues (mine are Pertini) for years and are probably my most versatile shoe ever, tied with a sensible fall boot. Dress them up or down, walk for hours, wear to the office…they do it all. As you can expect, this capsule was starting to look pretty black and white, so I made sure to pack a pop of yellow to add some playfulness.
Blouses are the easiest piece to bring for office outfits, after work drinks, and pretty much anything else. That's why I didn't overthink it and packed three. Same thing for denim. If you work in a casual office like mine, then denim in a few colours is easy-peasy.
Worried about how comfortable a blazer is for travel? If you're not wearing it on the plane, like I would on a short business trip, you can also follow these tips to pack them in your suitcase. Or, choose a more casual alternative like I suggest in my business trip blog post.
Happy Travels xox
Pants, blouses, and rain gear pictured above are all from Everlane. Now with reduced duties when shipping to Canada!