Yes, I created a capsule wardrobe even though I'm not traveling. What can I say? Once a capsule dresser, always a capsule dresser.
Last week, I shared my inspiration for work-from-home outfits. My top outfit equations were first to pair something dressy with something casual. Usually, the dressy part is the one visible in a videoconference call. Second, to pair matching colours and textures to create "sets". And third, to dip into your summer wardrobe for breezy layering options.
Pandemic or not, I like being efficient with my clothes. So this past week, I challenged myself to edit my closet down to a rack of favourites to have on hand for loungewear and work from home outfits.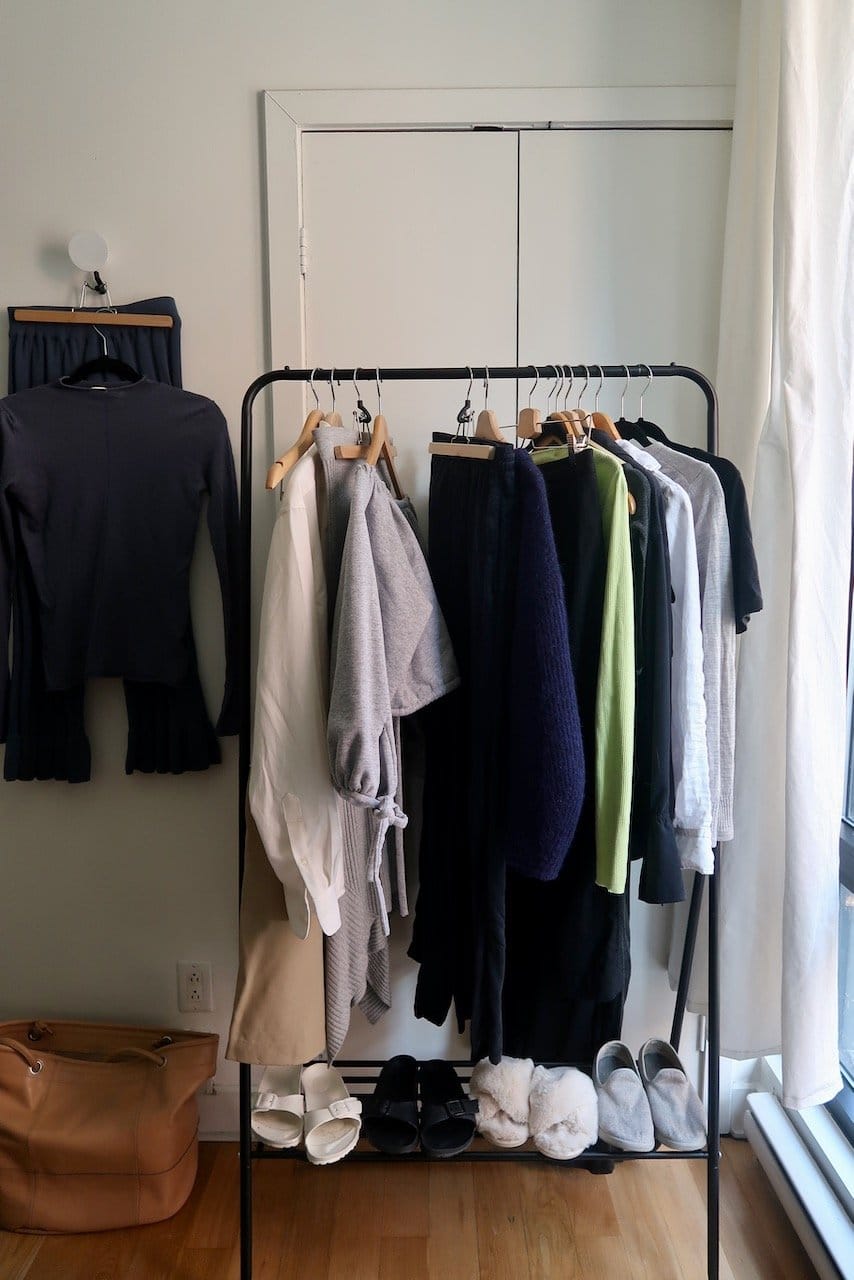 How to create a capsule wardrobe
I adopt a rotating capsule wardrobe style. So, I don't have one perfectly curated capsule. I have multiple ones that I'll throw together for a few weeks, a season, or for one trip.
Creating a capsule wardrobe, whether it's one to stay inside or not, usually starts with picking a colour scheme and a general vibe. Lately, I've been wearing a lot of neutrals and solids. This is mostly because that's the colour of most of my pyjamas and workout wear 😉.
Then, the trick is to select things that are in season, meet your needs for your usual activities, and go together in a variety of combos. For now, most activities are limited to staying in the house and yard, anxiety-inducing visits to the supermarket, and workouts. It, therefore, becomes even easier to develop a custom capsule wardrobe for the moment.
Why create a capsule wardrobe, even when working from home?
Even though life has gotten a little simpler in some ways (and a lot more complicated in others), we can still benefit from using a capsule wardrobe method. For me, the benefits are that:
It can minimize decision fatigue and start my day faster. It's quicker to assemble outfits I like from a selection of items I've pre-vetted.
It's easier to keep my bedroom tidy considering my house is tiny. By rotating seasonal pieces and only pulling out the pieces I'm wearing now, I can declutter my space and my mind.
Also, even though it's possible to wear essentially pyjamas forever, creating a capsule is a good exercise. A capsule wardrobe can help you rediscover the pieces that aren't loungewear but equally comfortable.
All other shoes and boots have been moved deep into my closet. I want to design my space for optimal use.
Think of your drawstring linen trousers, that oversized shirt, that maxi dress. They may not have made the list of your favourite loungewear at first. However, now that you've rotated through all your sweatpants, you're ready to revisit those old friends.
What's in my work from home capsule?
Lots of knits.
Actually, there are a few key items that come back in various forms. Those are:
Knit pants and tops. Something with stretch and soft fabric but that has a nice texture too. I like to find some in similar fabrics and colours to coordinate sets.
Wool trousers that are looser in the waist and leg. Some of my favourite work and travel trousers were ideal for plane travel. They're also comfortable for a work-from-home scenario.
Oversized button-ups. I can wear these over leggings in between pilates videos or that add a little crispness to a soft pant.
Knit maxi dresses and maxi skirts.
For some reason, these are all black, white, grey, and navy, but I'm not fighting it. As for footwear, this was an easy one. I like wearing slippers and slides in the house. So, I have two pairs of sandals and two pairs of slippers close by. Depending on how cold it is or what's closest at the moment, I'll choose my pair for the day. You still have to have a little fun with it, right?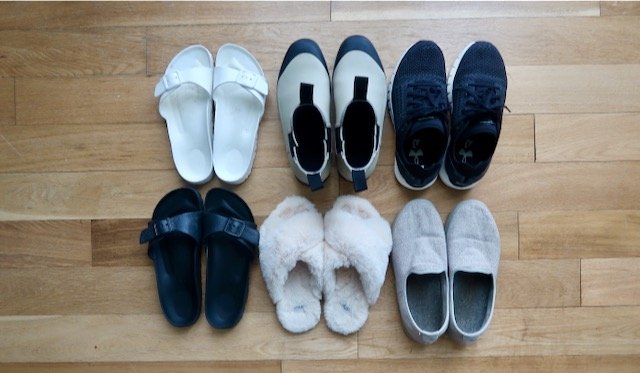 I still kept a pair of boots by the door for taking out the trash and going to my locker and mailbox. I also have a pair of running shoes out to change into for at-home workouts. All other shoes and boots have been moved deep into my closet. I want to design my space for optimal use. And those just aren't serving me right now. This is consistent with other changes I've made in my home since starting physical distancing. I'm adapting my space to be as efficient and tidy as possible since I'm here all.the.time.
Let me know what you've been wearing lately! I hope you are staying safe and well.