It seems a little frivolous to talk about fashion at this time, but if you're looking for some light content, I can deliver. Before we dig into to work-from-home (wfh) outfits, I want to say that I'm so grateful for everyone who is out there caring for people in hospitals and clinics, keeping essential services running, and working hard and risking their safety to fight COVID-19. If you were laid off and struggling financially, I'm so sorry, and I hope you receive the help and relief from the government, landlords, banks, and utility companies that everyone is asking for at this time.
If you are home now and looking for ways to keep spirits up, fashion can be a great salve. Or, if you want to at least look amazing as you allow yourself to just feel everything right now, that's a legitimate desire. Either way, I have plenty of inspiration to share.
In fact, I think that dressing to work from home is a lot like dressing for an airplane ride. Comfort is key but you still want to uphold a little bit of your dignity.
Should I dress like I'm going into the office?
I've worked from home for 6+ years, so I've gone through different phases for my work from home outfits. If you've read advice like "get up, get ready, and wear real clothes to set the tone for the day", it can be true. Treating working from home just like any workday has positive benefits. Does this mean you need to wear a pencil skirt and heels? NO, for the love of everything, you don't have anything to prove.
That being said, if putting together outfits brings you joy and does help you delineate work and lounge time, do it. Fashion should be fun, a tool, or a means of self-expression and that's true whether you have an audience or not.
You can also make small tweaks to otherwise office-appropriate looks just to take advantage of your new environment. Wear a smart, put-together top but pants that aren't quite so binding or wear a great outfit with your coziest slippers.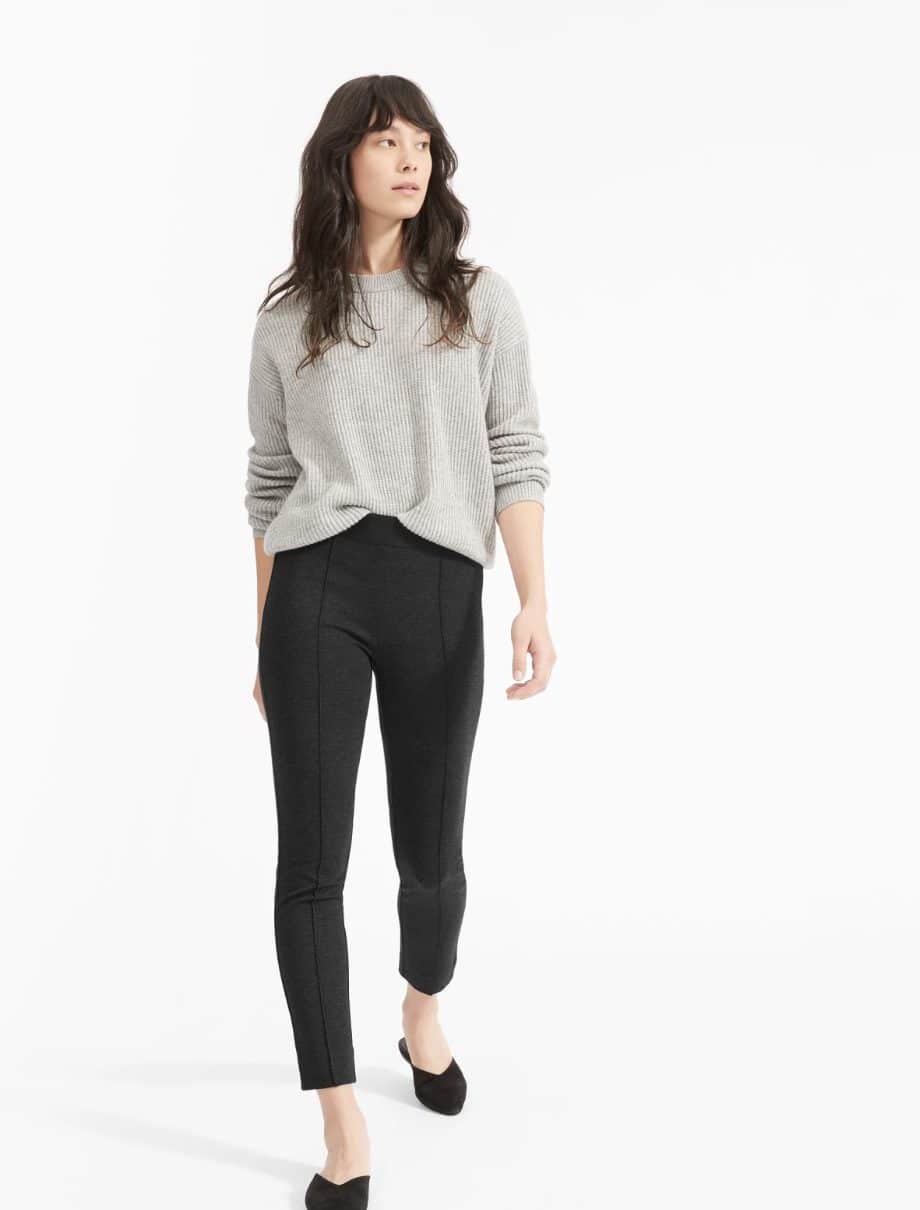 Link: Everlane sweater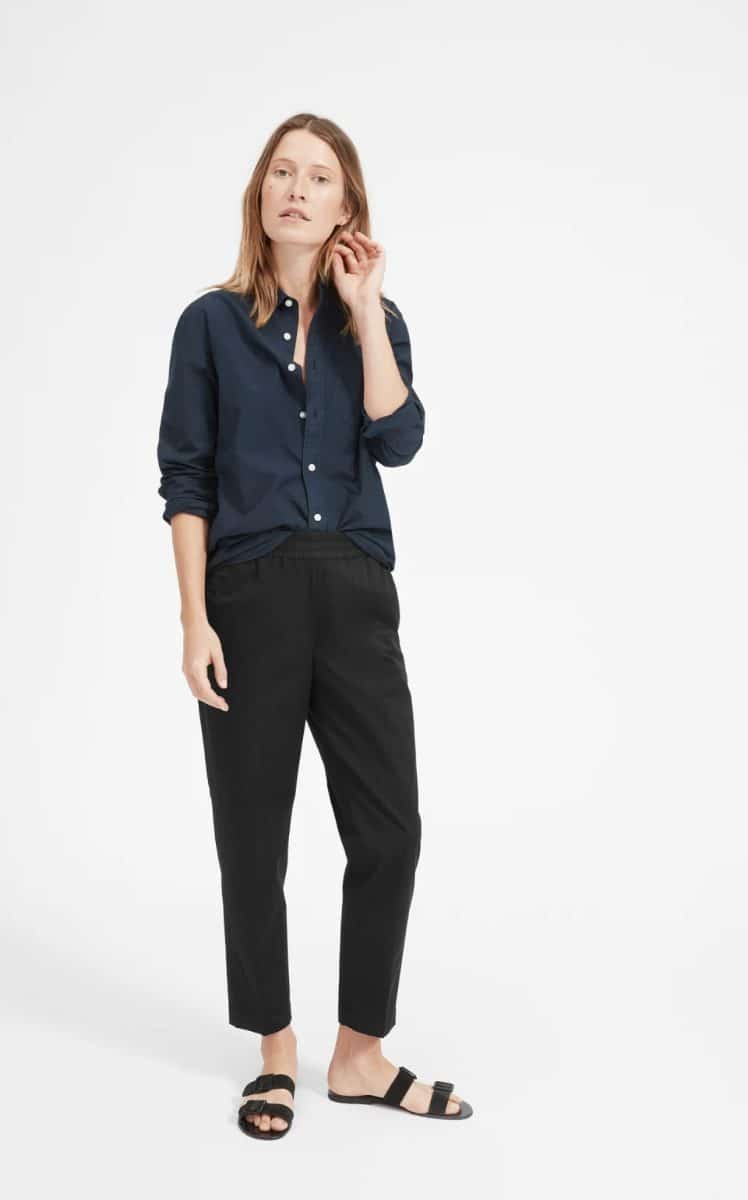 Link: Everlane Easy Chino
Can I wear leggings every day?
Heck yes! I do this often for the simple reason that I like to work out or stretch and move in the middle of the day or right after work, so being able to just put down my work and hit the mat is a bonus. You can definitely style workout wear to be cute for that video call in a bunch of ways. I do usually change into them, however. It's still a good idea to wear fresh clean clothes every day, even if you're changing from your sleep leggings into your day leggings. Take a cue from Everlane for different ways to style their Perform Leggings.
Can I wear pyjamas all day?
I'm not going to tell you no, but may I suggest the elevated co-ord instead? Wearing a head-to-toe sweatsuit, cashmere combo, or ribbed set can be so so elegant while making it feel like you're wearing pyjamas. Even just matching your top and bottom can make it seem like a style choice instead of you wanting to be your most comfortable.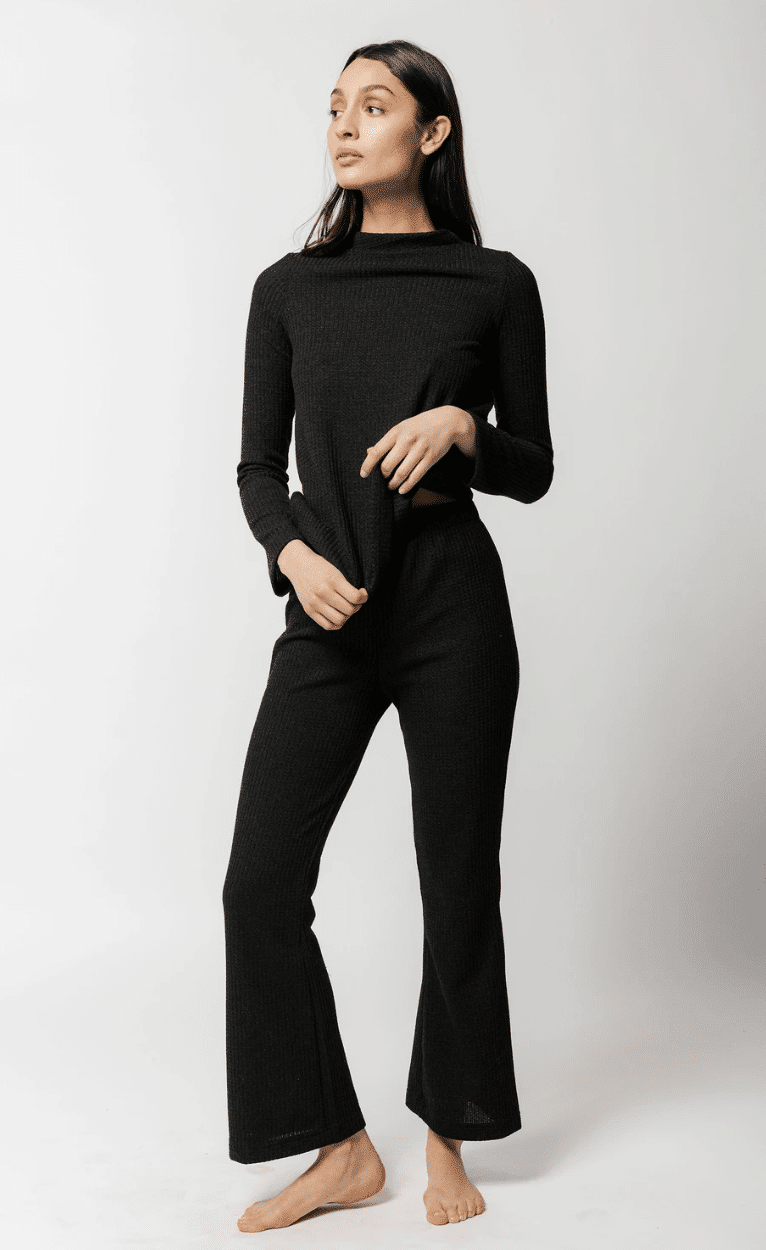 Link: Mary Young Landry Pant
Link: HM silk ensemble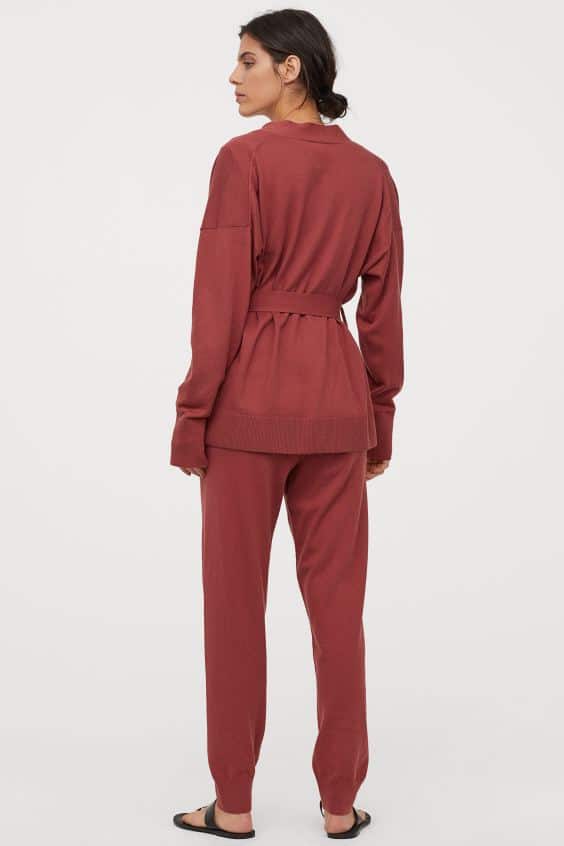 Link: H&M cashmere ensemble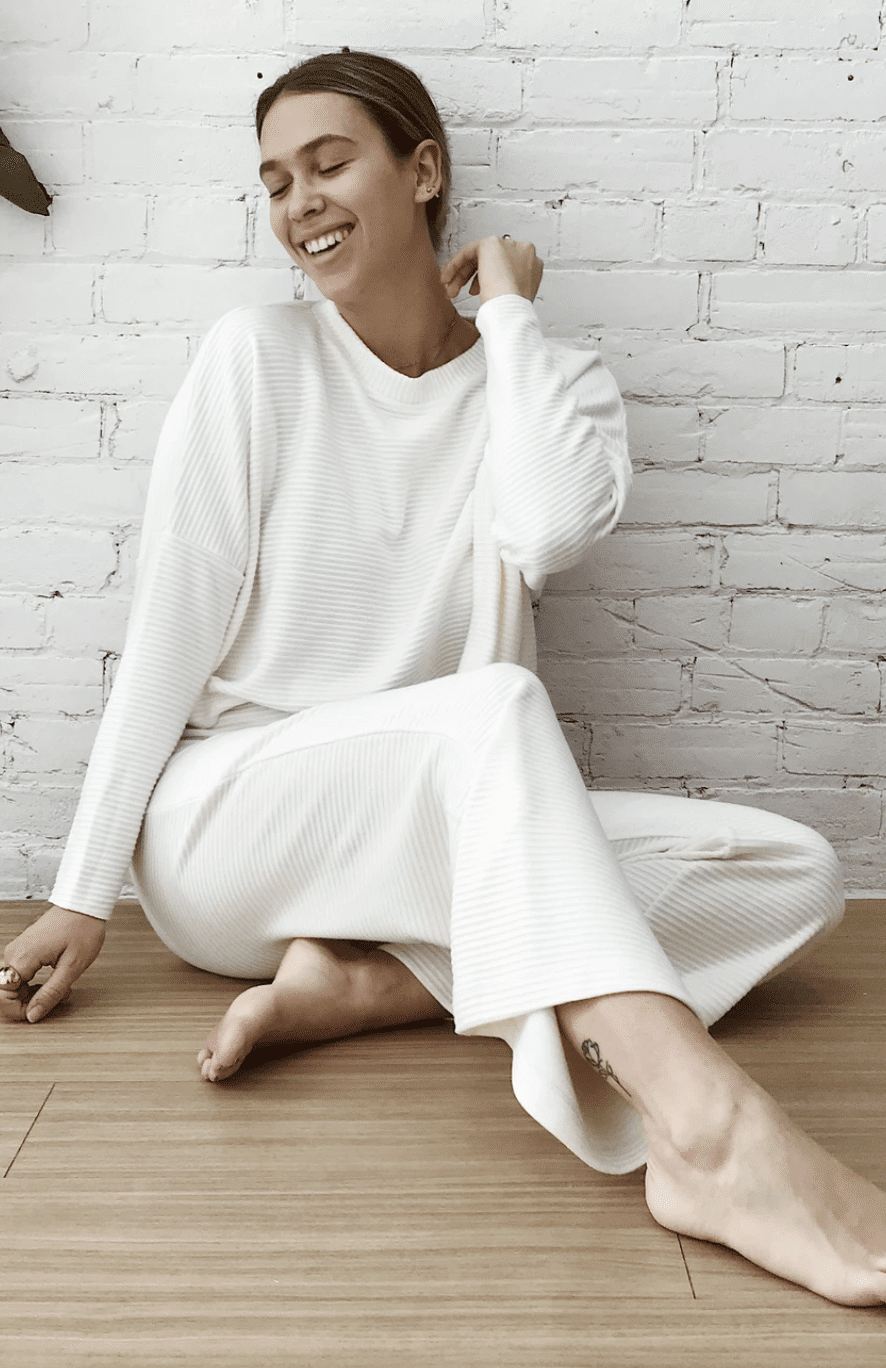 Link: Daily Story
What if I'm tired of all my clothes?
If you're indoors all day, why not break out your summer clothes? Time to wear those loose linen and silk pants, flowy dresses and easy jumpsuits. You're not going anywhere anyway, why not?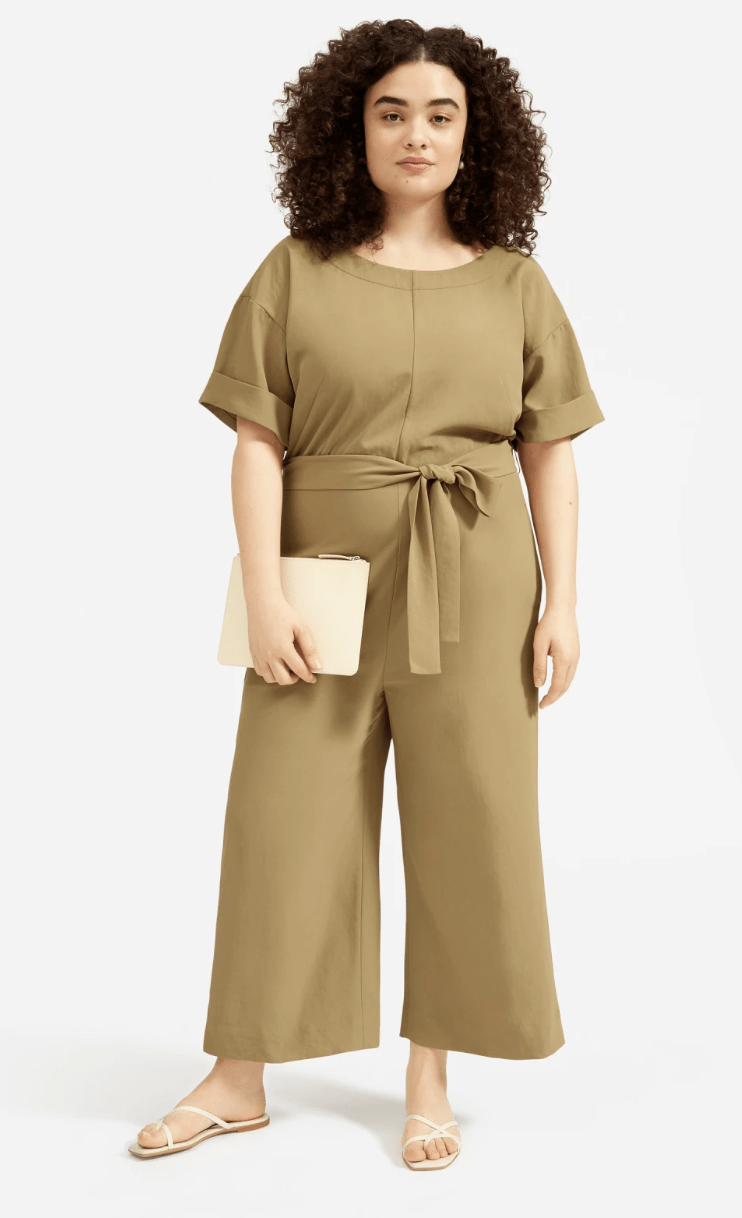 Link: Everlane Jumpsuit
Stay safe and cozy! xox