I work in tech and travel a lot to conferences like WordCamp Europe, the biggest WordPress conference in the world. When I do, I need to bring quite a bit of technical gear with me. Here's what's in my bag.
What I pack to shoot video on the go
Canon PowerShot Digital Camera [G7 X Mark II] and Charger
This is not the camera I would recommend for serious full-time digital content creators, but last year, I made the decision to prioritise lightness to performance because I'm not a professional photographer. Besides, this delightful little camera has served me very well and the video is great! I do miss having an external mic audio jack, which is why I currently do more video using my iPhone.
PowerdeWise Lavalier Lapel Mic and Apple Lightning to 3.5 mm Headphone Jack Adapter
On the topic of video audio, I plan on doing interviews and "reporting" in very loud environments with terrible acoustics like convention centres. That's why I picked up this little lapel mic that plugs into my iPhone, with the help of an adapter.
When you travel solo or need to be autonomous when covering an event, a tripod is super handy. I picked one on Amazon that was light and worked for my Canon camera as well as my iPhone, vertically and horizontally.
Shure MV5 Digital Condenser Microphone
Lately, I've been doing some tutorial videos which means managing to get good audio on the go. Usually, that means finding a carpeted room and sticking my head under a blanket to create my own sound booth. This mic helps a lot.
These were given to me by the son of famous photographer, so I know they're legit. Having a dirty lens can be easy to miss in the heat of the moment, but always shows up in postproduction, so now I play it safe and keep my devices clean as I go.
Tech I always pack
Any audio expert will tell you these are subpar earbuds, but I'm ok with that because the convenience far outweighs that for me. I love these little guys for workouts, listening to directions on unfamiliar streets, and for getting slightly better audio quality when doing Instagram Stories.
iPhone with Nomad Rugged Case
I was gifted this Nomad leather case and although these days I've gone for more bright and fun cases, this leather one was so stylish, I had to give it a go. Because I'm going to a busy event, I'm totally on board with increasing the protection on my phone in case it gets dropped or bumped around.
At a conference, there are talks and activities that I absolutely need to cover. Setting calendar reminders and notifications that ping me on my wrist help me stay on top of the time and be at the right place at the right time.
I have an iPhone 7, so it's no spring chicken. I rely on my phone for everything, so having a sturdy powerful backup battery is a must. This one also has Tile tracking, so you will never leave it behind.
Conferences are already exhausting and live social media coverage adds another layer. I always need alone time at the end of the day to rest and instead of watching tv, I'm going to try and read. We'll see how it goes.
What I pack to work as a digital nomad
Apple Power Adapter for North America and Europe
At first, I'd always plug my phone into my universal adapter's USB port until my second trip abroad in a year, when I decided to just buy the European version of the little white iPhone charging block. It's redundant but small and portable for carrying around with me. I carry a North American one with me too, because planes are funny in that you never know.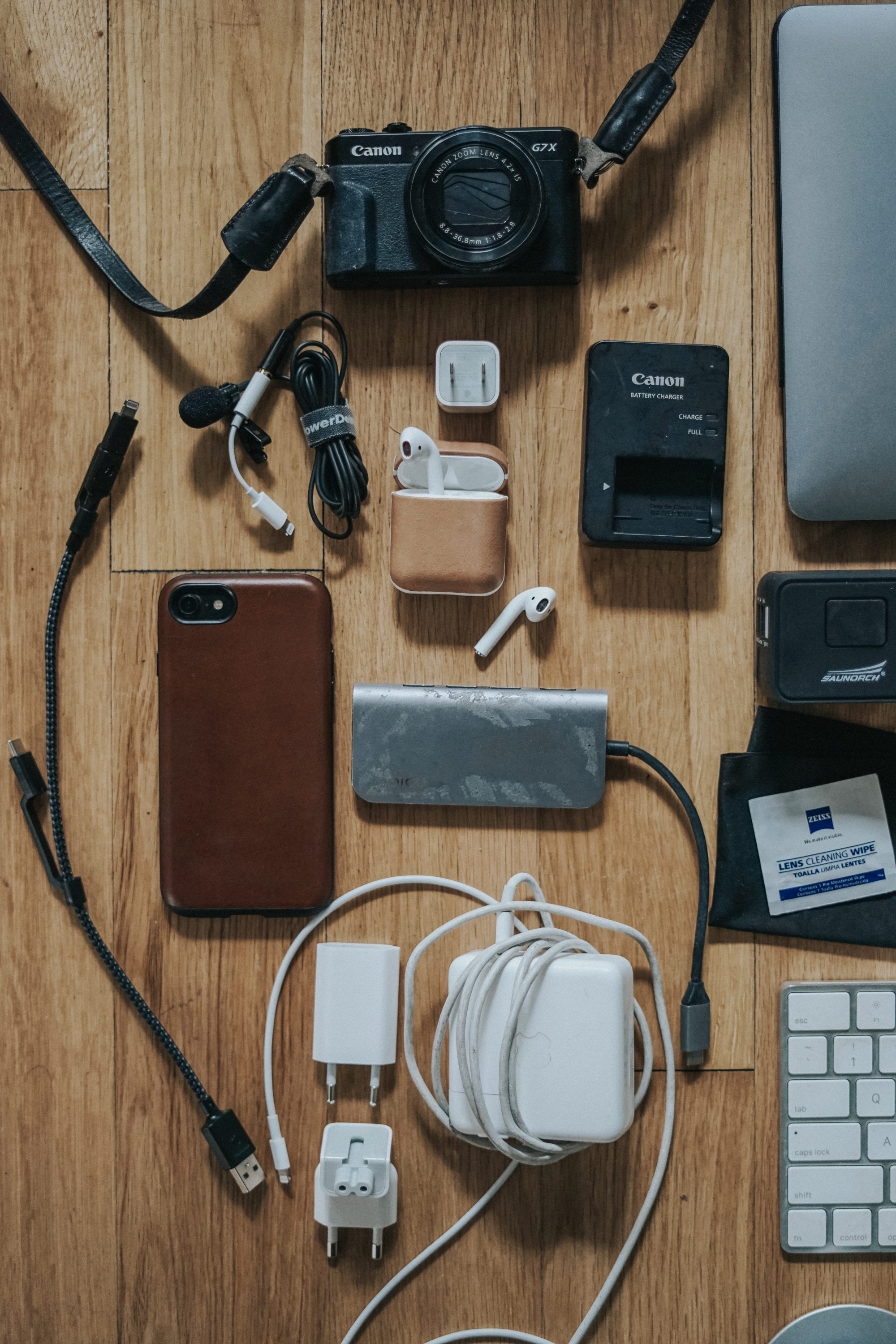 The new MacBooks need these dongles for me to plug in devices, an SD card, or an audio accessory, so I NEED THIS.
This little nifty 3-in-1 charging cable has a USB-C, micro USB, and lightning cable all in one. This covers all my needs and it's small and super portable. Also an easy way to make friends when you can offer a quick charge up with a powerbank with three options for phone chargers.
I always bring one or two generic apple lightning cables for my keyboard, trackpad, Airpods, and phone.
MacBook Pro and World Travel Adapters
My laptop is my most important tool and I make sure to have the little removable adapters for every region with me. Ages ago, I was given the adapter kit and it's definitely come in handy!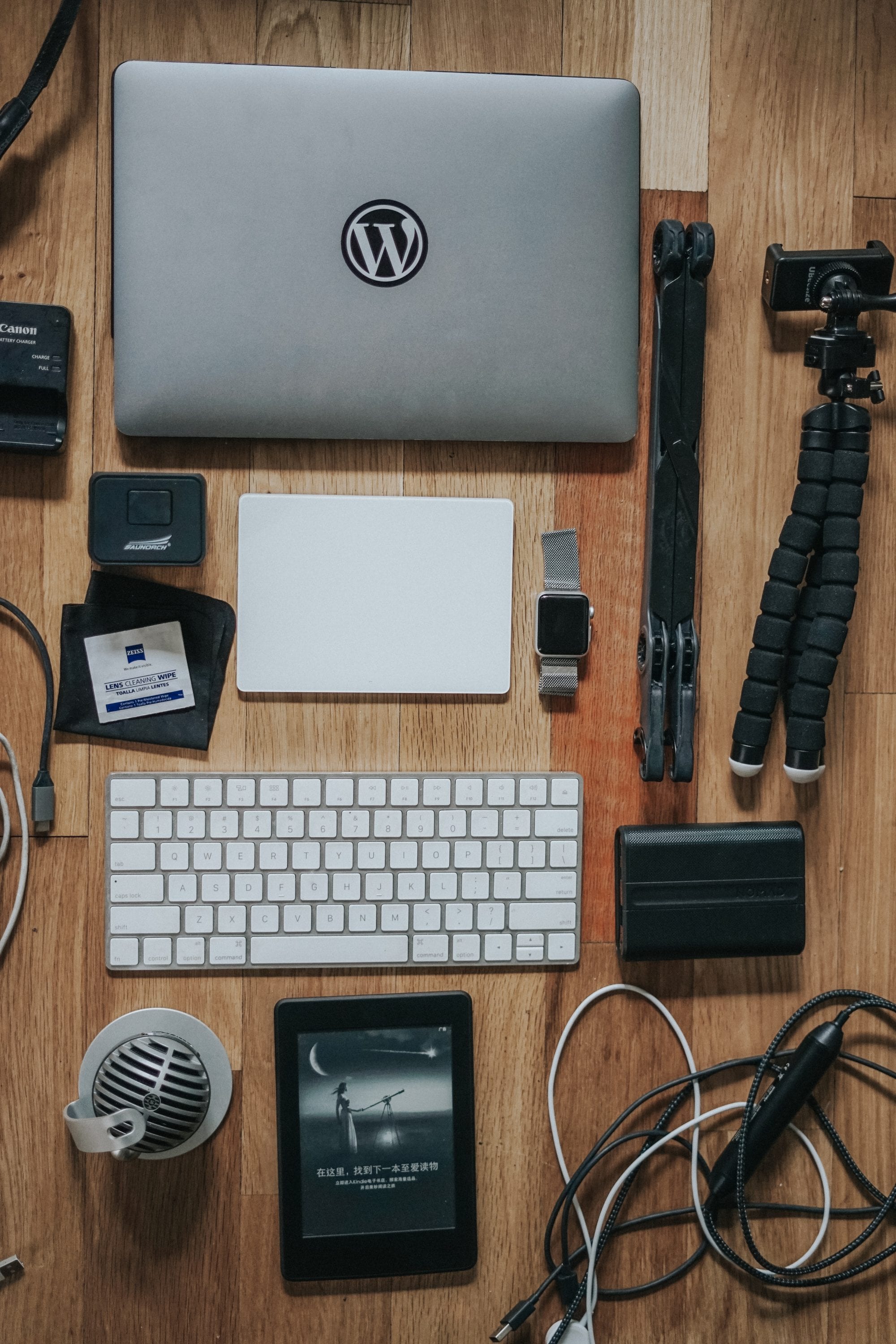 Even though all my important devices have their own European plug adapters, I still bring a universal adapter. It's convenient to have one plug next to my bed where I can plug in my watch, phone, and Airpods without looking for a million outlets around the hotel room.
Apple Wireless Keyboard and Trackpad
I know there are cheaper and probably better wireless keyboards and mouses out there, but I'm lazy and Apple just appeals to my sense of design and ease-of-use. So, I have the whole kit so when I travel and need to do some intense work or video editing, I have a comfortable setup that is kinder to my back and neck.
To get my laptop to the right height for an ergonomic desk positioning, I use the collapsible Roost stand.
For small top-ups on the go, I'm bringing my Nomad charging cable and battery combination. It charges my phone 75% of the way and I can charge it and my phone at the same time overnight.
Happy Travels! If you're heading to WordCamp Europe, make sure to find me!