For my 6-day trip to New York City, I gave myself the challenge of going without a wheeled suitcase. If this trip was anything like my last visit to the Big Apple, I knew being able to throw my bag over my shoulder to navigate the crowded sidewalks would be worth the limited packing space.
The Premise
My biggest challenge packing this capsule was the weather. Mid-July is hot and humid and this particular weekend was going to be muggy. I wanted a cool, comfortable, versatile, and somewhat professional capsule for the conference, café coworking, and Brooklyn hangs I had planned for my extended weekend trip.
I asked my resident NYC fashion expert Rachel (she works in fashion, so that's a legit descriptor) what the women of New York wear in the summer and she had one resounding recommendation: lots of dresses — the breezier, the better.
The Inspiration
My instinct was to reuse pieces that had served me well in the sweltering Kansas City heat. Quite frankly, summer is a season I find challenging to dress for on a good day, so if it ain't broke, don't fix it, right? That being said, NYC inspires a slightly different vibe, and the result is a much more feminine and workwear-inspired capsule than I've ever packed.
The Capsule
I decided to bring two dresses and a series of separates. I packed one midi black jersey dress that is the most versatile piece I own at the moment. My second dress is a slightly more fanciful one that required little-to-no accessories. It just is. I brought two midi skirts (can you guess what my favourite hemline is?), one serious pencil silhouette in a whimsical print, and a pleated microdot ballerina skirt (hello breezy!).
I wanted to bring a pair of shorts or pants, because I didn't really know what I'd be doing during my time off (isn't traveling exciting?) and wanted the option. Instead of reaching for my trusty jorts (jean shorts), I swapped them for some contemporary Bermuda shorts that are coming back into style, I promise.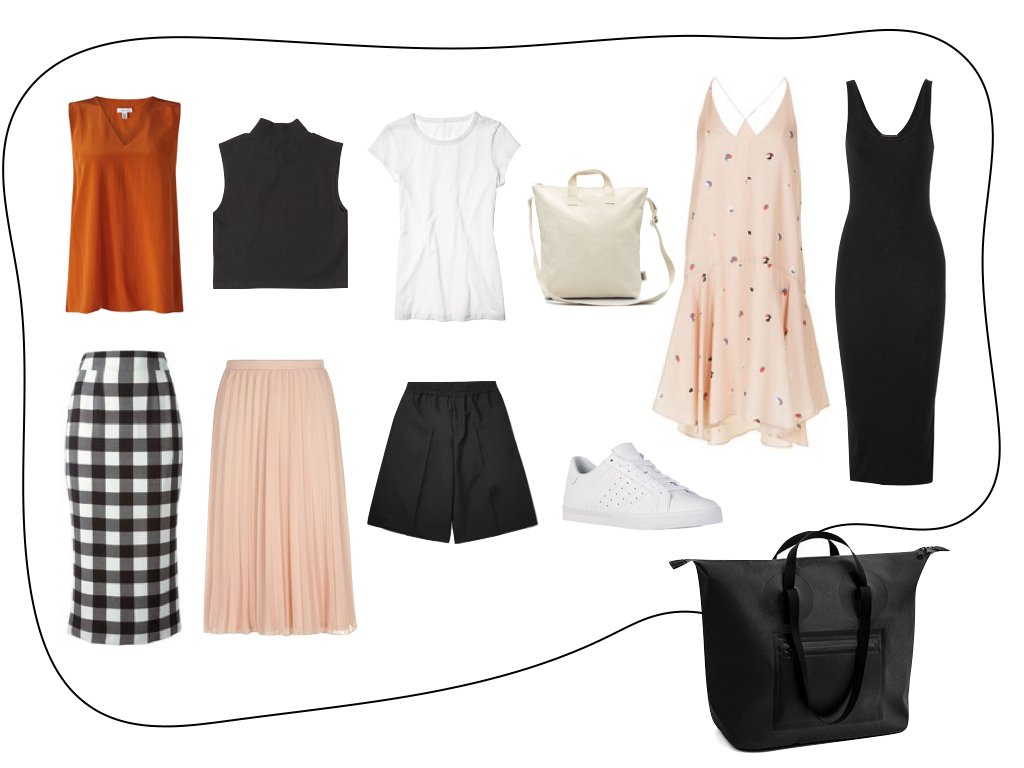 For tops, I kept it really simple: white T-shirt, mock-neck tank, and a pop of burnt orange. I didn't give a whole lot of thought to my accessories for this trip. I really only had room for one pair of shoes, so I chose my trusty K-Swiss white sneakers that have been my MVPs all summer — and could use a good power wash when I get home. For a purse, I figured I would already be bringing my favourite Everlane backpack with all my digital gear and my Baggu waterproof overnighter, so I didn't want the bulkiness of a leather purse. I opted for a canvas tote that was easy to roll up and toss in my carry-on.
And there you have it. Add sunglasses, a small umbrella, a water bottle, and a travel mug, and you have a pretty complete idea of what's tucked under the seat in front of me as I type these words.