When people start planning and shopping for travel gear, sometimes they ask themselves "do I need a luggage tag?". Generally, the answer is no because the tags printed out at the airport serve the same purpose and do a better job of it. To me, luggage tags are a lot like passport holders. They're cute, but they serve other functions than the primary one of identifying your bag in transit.
My carry-on is always by my side. It's either serving as a footrest, a table, or a charging station while I wait to board the plane, so the chances I misplace it are very slim. If I do check my bag, the printed-out tag they put on my suitcase has far more information than whatever tag I fill out myself.
That being said, I still like the idea of luggage tags and here are three reasons why.
1. Smart luggage tags can help you track your suitcase
If you have the Tile tracker, you can slip it into your luggage tag. If your suitcase leaves your sight at the airport, you can make it ring by using the Tile app. You can also track your suitcase on your phone and see if it followed you to your final destination. If your bag were to be stolen, a luggage tag is the first thing that would get ripped off your bag, so you might also consider putting your tracker inside your suitcase. For this, you might consider other luggage trackers like the LugLoc and the TrakDot.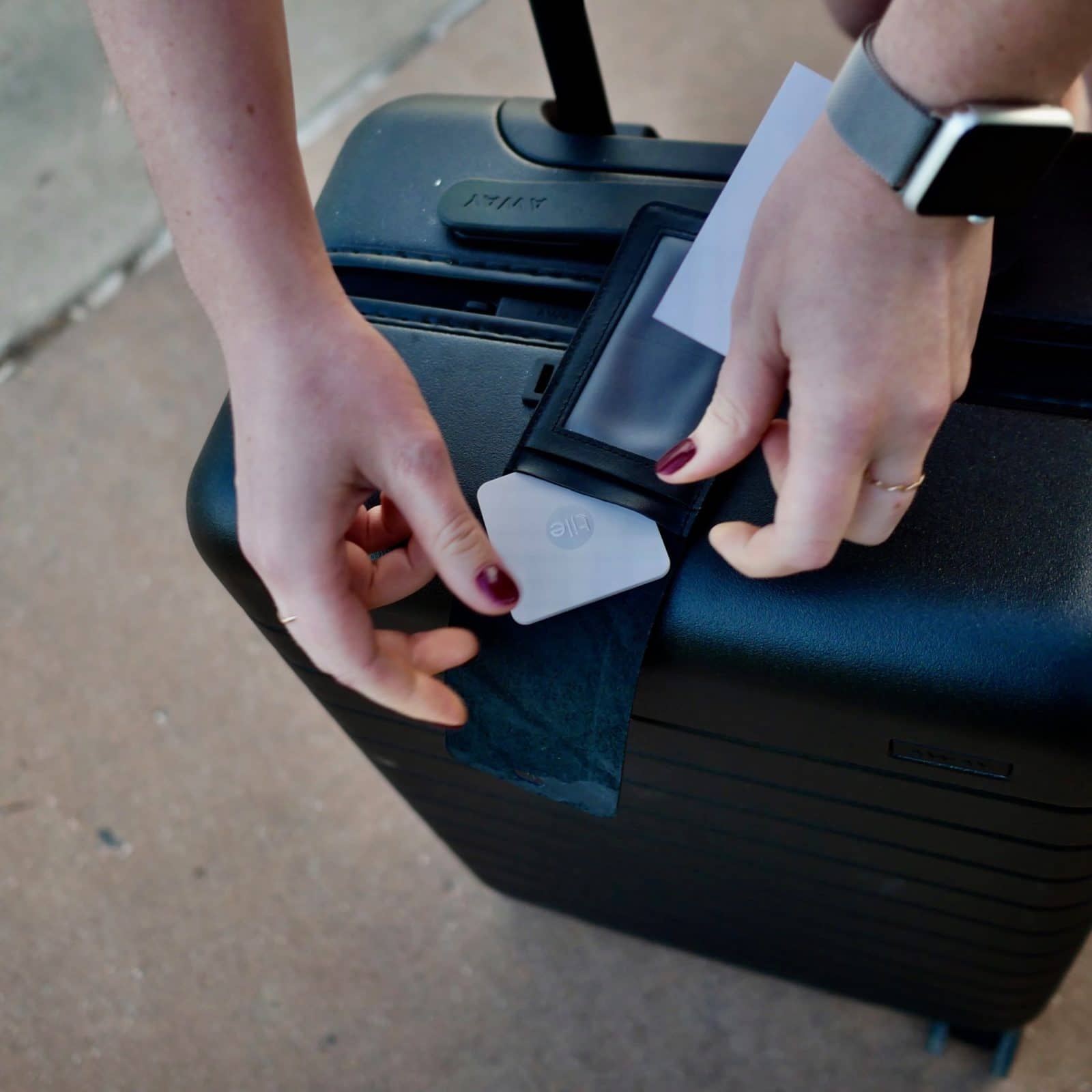 2. A bright or funny luggage tag can help you customize a generic bag
I have one of the most generic-looking suitcases ever. It's a black carry-on sized suitcase. Luckily I'm usually the only one with my exact suitcase model on a flight. But the more people buy Away suitcases, the more common it is on conveyor belts. That's why I added one or two stickers to my suitcase. However, a luggage tag is another way to add a unique twist to a very common suitcase. You can even get one designed with your own face on it!
3. Stylish luggage tags can elevate your suitcase
Luggage tags can also just be an accessory for fun for your suitcase. I picked up a lovely leather one for $1 at a flea market because the leather was so nice. That was the only reason. Hand-lettered or foil-stamped monogrammed luggage tags are such a lovely gift and a nice extra touch to a suitcase or travel bag. I love Etsy for hand-stamped leather tags.
Happy Travels xox