I don't think I've ever put as much research into a list as the time I went to the Coachella music festival in Indio, California in April 2014.
Why the zealous planning? Coachella is a pretty large-scale music festival with 675,000 attendees over the two weekends and it's in a climate I don't know too well: the California desert. This was a pretty expensive trip and I didn't want to be uncomfortable or unhappy all because I forgot something. To get answers to my questions and find inspiration, I was on forums, reading blog posts, and scouring Pinterest. Thank you, internet for being my guide! I hope to impart some of my wisdom on how to pack for a music festival. These tips are also useful for Bonnaroo, Lollapalooza, Governors Ball, and Osheaga.
Booking Accommodation and Transportation
I was travelling with a friend who was on the California leg of a nomadic adventure, so it was pretty easy to convince him to join me in Palm Springs. We decided against camping and booked a motel in a non-touristy part of Palm Springs. Do not wait to book your festival accommodations, whether it's festival camping, off-site camping, AirBnBs, or hotels, everything books up real fast.
During the Coachella weekends, there is a bus service that runs several lines from all the major hotels and motels to the festival grounds. All you have to do is pinpoint the closest pickup spot to you, note the bus line, and show up for one of the departure times. The Any Line, Any Time shuttle pass is sold separately, but you can order it online in advance just like the festival passes. I mapped out that our motel was a 15 min walk to one of the pickup spots on the white bus line.
Pro-tip: when sharing booking responsibilities with a crew, Trip It is a good way to collaborate on trip details and share your reservations with the group. Splitwise is a great app for tracking shared expenses and splitting costs.
What to Wear to Coachella
Here are some facts about Coachella that helped me plan my outfits.
It's a desert climate: it's searing hot and sunny in the day but can get cold at night.
It's dusty and you will get dirty.
You're going to want to sit on the ground.
You'll be walking a lot.
You might get wet.
You're going to want to make bathroom trips as quick as possible.
You may want to be hands-free.
Your stuff may get trashed.
Decide now if you're dressing for dancing, crowd surfing, or sitting on shoulders. (Just know, if you do the latter, people will hate you).
Here is my #1 tip for packing for Coachella: Get a locker.
I wanted to have everything I needed but I didn't want to be burdened with stuff while navigating the festival grounds. People suggested bringing a jacket or even a pair of pants to change into at night. Who wants to carry that all day? Having the locker was great. I scheduled in the pit stops to unload my stuff and swap out what I'd need for the next leg of my day.
Day 1 Outfit
I decided to go the girly route and wore long skirts for 2 out of 3 outfits. Why? I liked the idea of a breezy skirt that had lots of fabric to sit on when I was tired or snacking. I also brought a pair of denim cutoffs in classic Coachella fashion in case I changed my mind.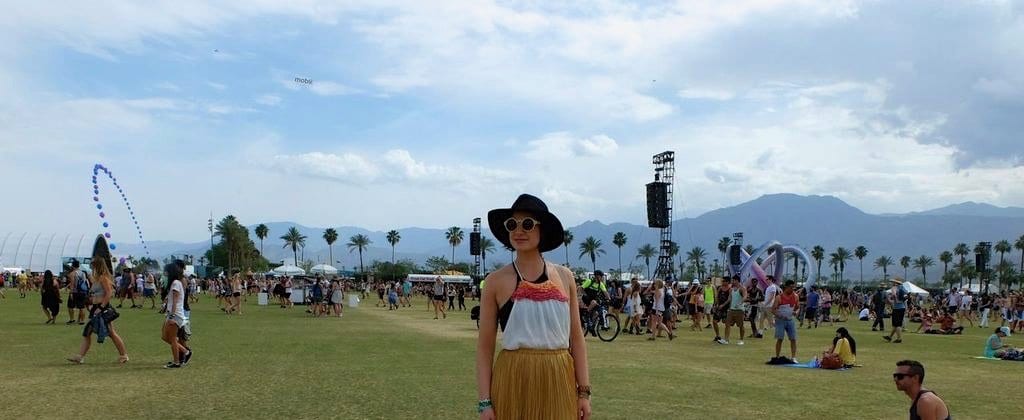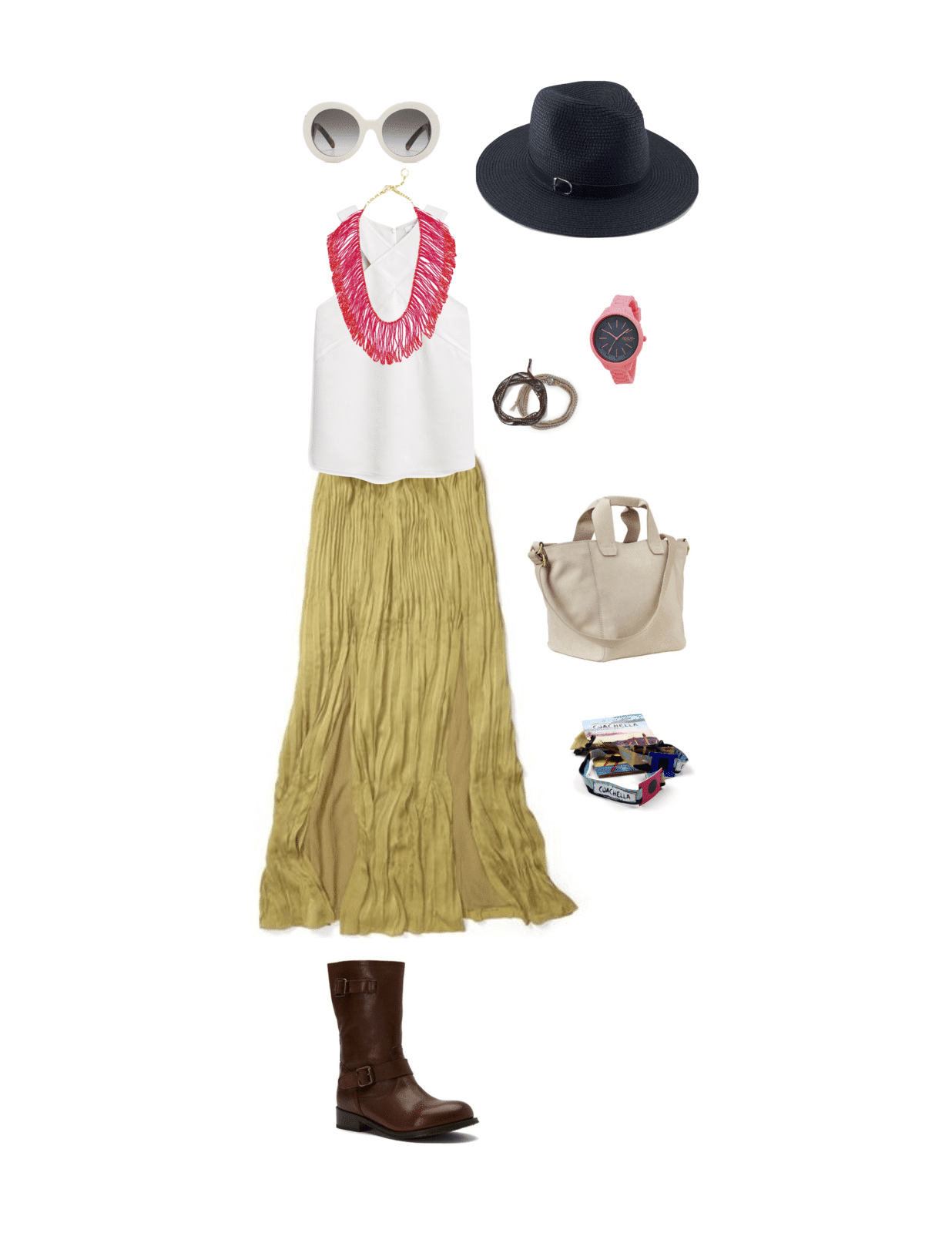 This outfit is all about the movement of this skirt. The high slits on both sides, when caught in a breeze, look so cool. I also wanted to be cool so I wore a halter top with some colourful fringe. Topped it off with a crossbody bag that matched the ivory shades.
The best footwear for Coachella
I read a lot of blog posts about music festival footwear and a lot of them mentioned getting toes trampled, having sore feet, being dirty, and generally, people agreed open-toed shoes were a bad idea. Sneakers are the comfiest choice, but I liked the idea of a sturdy pair of boots. For added comfort, I added gel insoles. A lot of people were wearing sandals though because you don't have to be in the middle of the rowdy crowd if you don't want to. You can easily just hang out around the brand tents, the food stations, the calmer shaded areas and run absolutely no risk of having your toes stepped on.
Day 2 Outfit
For this outfit, I wore fringe, a festival staple. It was in small, tasteful doses. I wanted to wear some breezy shorts and they were so comfy. I wore the boots again and made sure to wear tall socks because leather can rub against bare skin.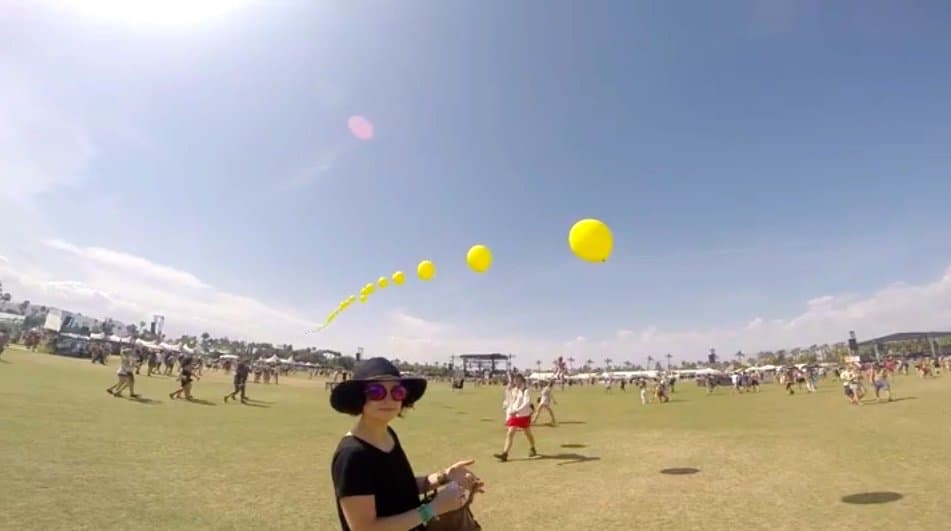 Can you Bring a Bag to Coachella?
Here's the thing about bags, smaller is better. Instead of a crossbody, I went with a backpack to stay hands-free. This was fine but can also get in people's way if it's too big. Mine was not, but a word of warning that big bags slow you down at security and get heavy quick. On day 3, I ditched both and just wore a fanny pack, but more on that below.
I also made sure to wear an analog watch at Coachella because here's the thing: you lose track of time so easily and with so many bands at so many stages, the schedule is important. To save phone juice, a watch is a much better way to keep track, although setting phone alerts when it's time to switch stages might not be a bad idea.
Day 3 Outfit
By day three, I was tired. I wanted to walk around the festival grounds and soak up my last full day of Coachella with no stress. That kind of attitude called for a boho outfit involving a mid-length skirt in cherry red. Hot tip for people concerned about chub rub, wearing cotton bike shorts under a skirt is the best.
By Sunday, I was tired of wearing the boots and I just wanted my poor Canadian toes to feel some sunlight. Honestly, I got right up in the crowd and don't remember getting stepped on so you can wear sandals if you believe in yourself.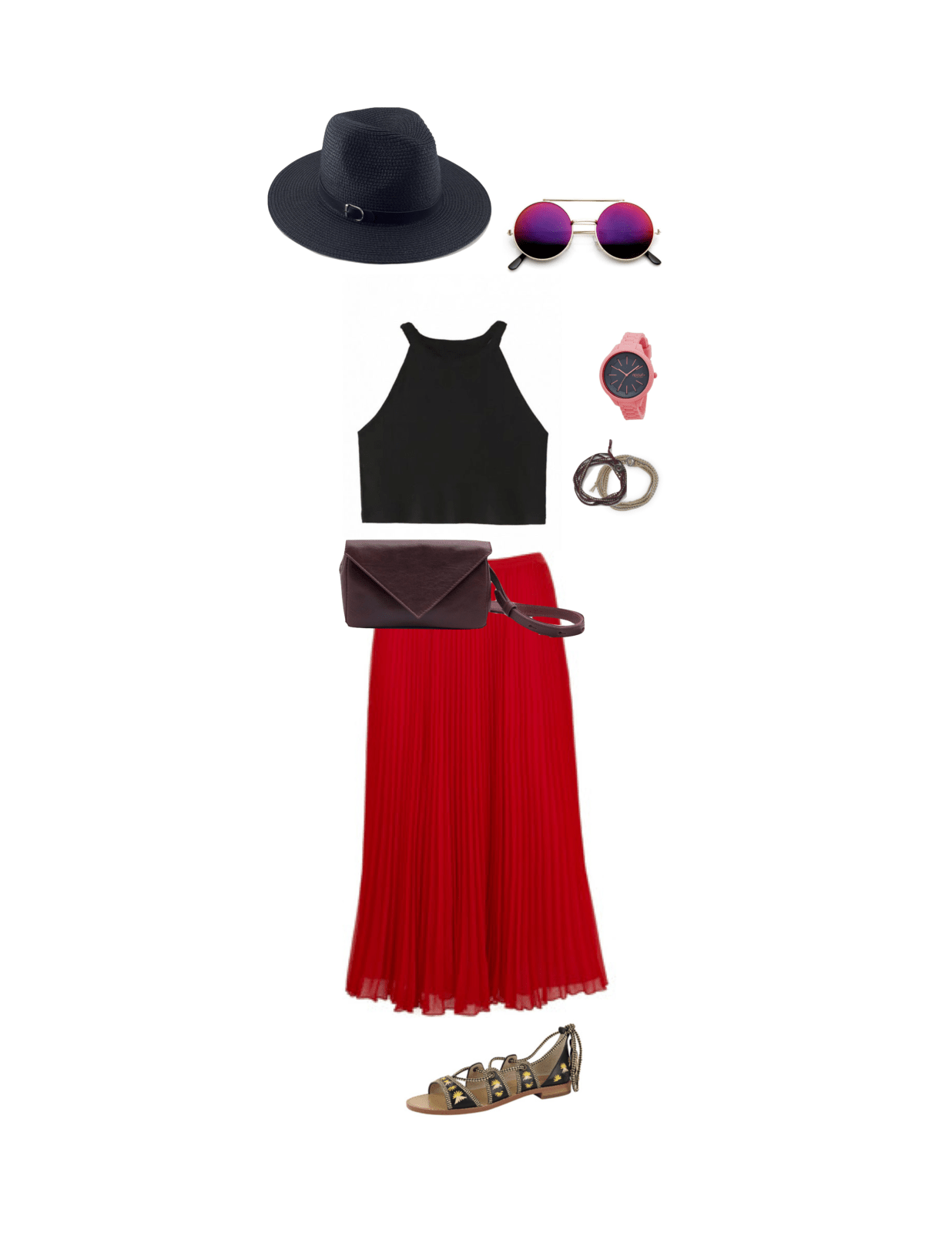 The cool thing about having that locker was that you could also leave stuff overnight. This came in handy on Sunday. On Saturday, they introduced a security line for people not carrying a bag. It was basically empty and so fast because they didn't need to search you. My friend and I decided to leave everything we'd need in the locker overnight so that on Sunday, we could just waltz in. It worked and that's when I discovered I could wear a small purse around my waist like a fanny pack. What a revelation! The ultimate freedom from stuff.
How to Survive Coachella
First off, staying in a motel was a great idea. Having a place to shower, recharge, get a night of good sleep, and swim in a pool between festival days was amazing. I was still on Montreal time, so I'd get up early, go for a swim and read in the sun. Then, we'd go to the motel diner, get a huge breakfast for a great price and decide over biscuits and gravy what bands we wanted to see when we'd go our separate ways, and chat about anything else we wanted to do so we were on the same page.
We'd usually get on the bus around 1 pm and after the drive, security, and a stop at the lockers to drop off our stuff and cover myself with sunscreen (FYI spray bottles are no longer allowed), we were ready to rock around 3 pm. Our tradition was to get a cold coffee and chill in the shade or visit some sponsored tents until the hottest part of the day passed.
Because we did research on the bands we wanted to see before, we had a pretty good idea of where to be when, but earlier in the day, with the smaller bands, we'd just roam and let our ears guide us. It was fun and very relaxed.
What to Eat at Coachella
Because we ate a huge brunch, we only needed one other meal on the festival grounds. The food was not great but the lines weren't so bad because there are so many different food areas spread out. Some people recommend bringing a water bottle and filling it up but my experience was that water was sold for $2 everywhere you turned, whereas the water fountains were fewer and very busy. I started the day with a cold coffee, then got a bottle of water, drank it, and refilled it if I had the opportunity or recycled it when I was tired of carrying it. I think I spent $4 on water a day.
Planning your Coachella Lineup
Be okay being by yourself or making new friends. I parted ways several times with my friend because we had different tastes in music. However, wherever I went, everyone was very friendly. Someone even shared their sunscreen with me. When meeting up with friends, make sure you set up a meetup spot and time before splitting up. Do not rely on cell network for getting in touch.
The festival grounds are quite large, so between 5 stages, give yourself plenty of time to get somewhere. If you have a break in your schedule and an opportunity to pee, go. That being said, it's so hot, you mostly sweat it out. A lot of people expect it to be crowded and unpleasant, but I had the opposite experience. Don't stress out and enjoy all the sights and sounds!
My Coachella Packing List
Essentials I always had on me:
Wristband
ID
Phone
Paper schedule
Watch
Cash monies and debit card
Concert earplugs (sometimes, despite your best efforts, you end up right by a speaker. Protect your ears!)
Things sometimes on me, sometimes left in my locker:
Small pseudo first aid kit: aspirin, bandaids, etc.
Big bottle of sunscreen (non-aerosol)
Phone charger and backup battery
Baby wipes and hand sanitizer (useful for everything)
Warm clothing
Bandana in case of dust storm — which didn't happen.
Hat and sunglasses
Clothing packing list:
5 tops
2 skirts
2 pairs of shorts
1 pair of jeans
2 pairs of cheap sunglasses (no designer shades, might get trampled)
Boots
Sandals
Backpack
Crossbody bag
Leather fanny pack
Jewellery and watch
Hat
Bandana
Others:
Passport
Book
Toiletries
Bathing suit
Socks and underwear
Happy Travels xox