Welcome to another Capsule Conversation! I'm very excited about this one because there are so many great tips to make travel more efficient and more comfortable, as well as some pretty exciting real-life examples of how being prepared makes a difference.
Julia Jones is a journalist covering breaking news in the Northeast of the United States and Eastern Canada for CNN. Her main beat right now is politics, but she works on a broad range of stories. Originally from Porto Alegre, a city in Southern Brazil, she's been living in the US & Canada since 2006. Read on to find out how Julia packs and travels when she could be sent to cover a story at the drop of a hat!
Describe your travels. How often do you travel? How long? For business or pleasure?
I travel at least once a month for work, and these are usually short trips, somewhere between 2-4 days. However long the trip, I'm usually flying to a major city, but often driving to the middle of nowhere to wait for a storm or hurricane to come, or to the suburbs to track down a politician or a person of interest in a big criminal case. Then about 3-4 times a year my husband and I go on trips for fun or to see family. These trips are usually to warm places, since my family is in Brazil and my husband's is in the south and southwest of the United States, and we like to stay long enough to enjoy our families and to explore the area. Last year, we took advantage of the fact that I have family in beautiful places and took an adventure sub-trip to the Itaimbezinho Canyons (home to forests dating back to the Triassic period), and snorkled with sparkly fish in a coral reef in the Northeast coast.
As soon as I get the word that I'm being deployed somewhere, I jump on the phone to start making arrangements. It helps that I always keep a packed bag with work basics for that season, emergency supplies (more on that later), and a duplicate of my everyday toiletry bag.
Do you travel alone or with colleagues, friends, a partner?
Typically on a work trip, I travel with a team: me (producer), a reporter, and a photojournalist. We might travel together from New York, or we might meet up at the destination – it all depends on what's fastest and other logistics. If it's breaking news, those decisions get made in split seconds and you just have to go with it.
When you travel with your colleagues, you get close. The combination of traveling, long work days, little sleep, and a diet of granola bars and sandwiches means tensions can run high, so we try to make the travel part as smooth as possible. We all have hotel and airline points accrued, so it's not uncommon to get upgraded. But then again, I've slept on the floor of a tiny room with no power on a Caribbean island the day after a hurricane hit – next to two of my (male) colleagues, each in our own sleeping bag, for five days. You have to put up with each other, and you have to have a sense of humor. When I travel for pleasure, it's usually with my husband!
How do you plan a trip? Ex: Are you impulsive or like everything planned out months in advance?
When I'm sent to cover a story, I have a million things to plan and basically no time to plan it. I have to strategize what to do once I land – am I going straight to a location to produce live hits with my team? Am I getting a car first? Do I have hotel reservations? Where is the news happening? I need to focus on work, and there's no time to pick out outfits, so when big news is developing, I start thinking about what I'd pack if I were sent to cover it, just in case. As soon as I get the word that I'm being deployed somewhere, I jump on the phone to start making arrangements. It helps that I always keep a packed bag with work basics for that season, emergency supplies (more on that later), and a duplicate of my everyday toiletry bag. Now, if I'm traveling for pleasure, it depends.
When my husband and I go on "exploring" trips, we like to plan activities in advance and block out our days. If we're doing a bike tour, for example, we research months in advance and look for the best routes to take in the sights, best places to camp, etc.
How do you think traveling impacts your life?
Knowing that I could get sent out any day means I have to manage expectations for any plan I make with my friends and family. Things can change last minute and I might have to cancel dinner, drinks, or a weekend trip to go cover a story. It also means I try much harder to be organized at home – packing and unpacking, doing laundry and packing again needs to be second nature. That doesn't mean I succeed… but I try! I have extras of so many of my personal items, I wouldn't know what to do with them if they weren't packed away and ready to go.
How do you pack for a trip?
My seasonal basics are always packed, so when I get the ok to go somewhere, I just have to customize my bag to that particular trip. My current basic module for fall/winter is: 2-3 long sleeve blouses a crisp button-down black merino wool sweater a red cashmere oversize turtleneck a basic black long-sleeve dress black blazer black jeans merino wool undershirt merino wool leggings winter boots sports bra sneakers swimsuit a water-resistant baseball cap (helps keep rain or snow out of your face!) more socks than you think you'd need (nothing makes you feel defeated like having wet feet) From there, I can build a myriad of outfits that will keep me warm if I have to spend hours outside producing live shots, and can be dressed up if I need to go to a court hearing or interview a governor.
I travel in ankle boots (like these) and comfortable pants (like these). I have a wonderful coat from Betabrand that is my go-to for traveling, but if I'm going somewhere particularly cold (ahem, Canada), I switch into my Merrell winter parka and wool-lined Blundstones.
My non-fashion related basics are: a bag of chargers, cables, and plug adapters external battery batteries notebook, pen, permanent marker Lysol wipes hand and face wipes flushable wipes Propel (makes bad-tasting water taste better and has electrolytes) protein & granola bars Ziploc bags (protect your electronics from water damage, separate your dirty laundry, even make a salad in one of these bad boys!) silica packets (keep your clothes dry in humid environments and bring your electronics back to life after water damage – seriously, these are amazing – more here) hand and foot warmers This is what all of that looked like when I went to cover hurricane Florence.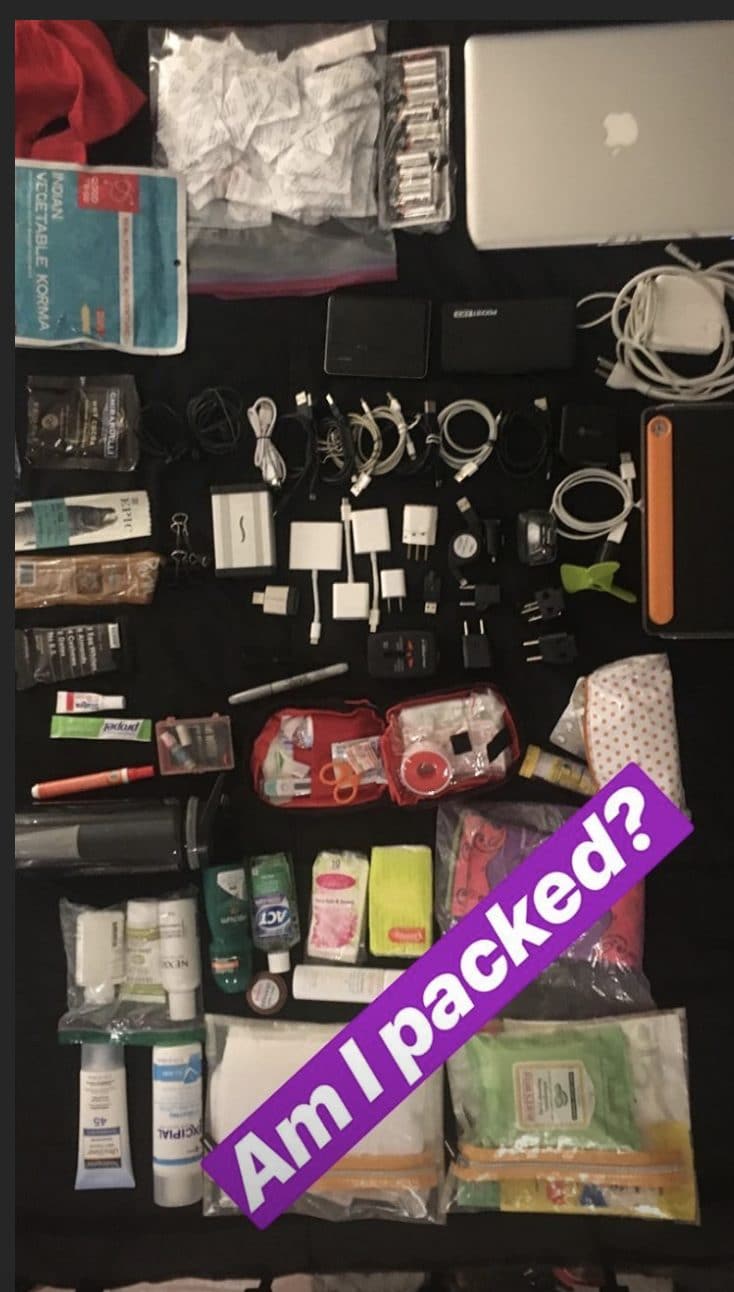 Because I didn't know how wet I'd be and if I'd have access to laundry services, I brought extras of everything, assuming I might have to change up to three times a day. Also added: rain boots, rain pants, rain jacket, water-resistant baseball cap, and many breathable t-shirts. When I travel for pleasure, though, I pack much lighter – one outfit a day plus a couple of workout outfits that I know I will be able to wash and dry every day. I pick one color scheme and stick to that for the whole trip, and try to match neutral pieces with colorful accessories. Sometimes all you need for that pop of color is to match your lip and nail polish – adding minimal weight to your suitcase.
Do you have a pre-flight ritual? What do the 12 hours leading up to a trip look like?

I don't have a ritual per se – I do quadruple-check my flight details and travel time to the airport and my plans once I get to the destination. This while also following the news super closely – things can change at a moment's notice, and the whole trip could be cancelled or your team re-routed to go cover a different story. Once I'm on my way, I'm mentally prepared for whatever might come my way.
What are your favourite items to bring on a trip?
Everyone loves the person who has snacks. I try to be that person as much as possible on my work trips – it also helps keep people happy when you're asking them to work an extra three hours at the end of a stressful day. My favorite personal items to bring are my Lush solid face wash and solid body butter, the Clinique travel sets, my silk sleep mask, and my travel pillow! I'm also obsessed with my Uniqlo merino wool sweater – it packs small, it's lightweight, soft, and warm. If I think about what's the most useful thing I carry around on my trips, though, it's the Ziploc & silica packs combo and my power outlet converters, as well as this AWESOME tool (https://reductivist.com/) my husband found on the internet a couple years ago and hasn't left my keyring ever since.
Any other killer travel tips?
Okay, this is a new thing I'm trying for longer trips: I bring a moisturizing face mask on the plane (like this one) and once I'm done with work or my meal, I put on the mask! I always suffer from the dry air in airplanes, but I recently took an overnight flight to Brazil and arrived with glowing, hydrated skin. It was a wonderful feeling that I thought was only possible if you were a Glossier model.
Read more Capsule Conversations here!
---
Capsule Conversations is a Q&A series featuring women who love travel as much as me. The goal of this series is to showcase the tips and travel habits of women from different places and hopefully share inspiration along the way. Want to be featured? Email me at hello@staging-capsulesuitcase.kinsta.cloud.