If you struggle to meet the TSA limits on liquids and gels, you're not alone. One thing that inevitably takes up a lot of room is shampoo and conditioner. Two mini bottles? That's already half the one quart bag GONE!
That's why I was curious to try solid shampoo. It's exactly like bar soap, except it's designed to be used on hair. I tried two different brands to compare and contrast and took notes that I've transcribed for your enjoyment.
Lush co-wash, $15.95/ 100g
The Product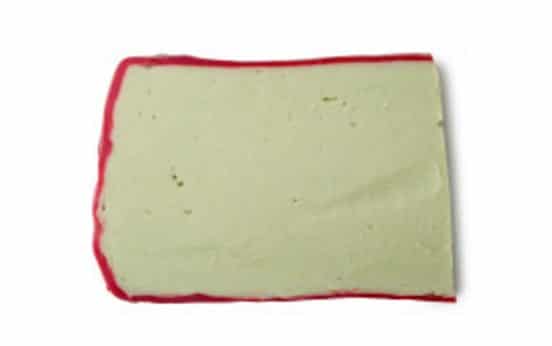 First up is a 2-in-1 shampoo and conditioner bar from Lush, which is well-known for creating inventive solid versions of basic toiletries, like mouthwash and toothpaste.
This is how the website describes the product:
"Wash and condition in one creamy step! The perfect balance of cleansing and hydrating ingredients leaves hair weightlessly moisturized without stripping away naturally beneficial oils. Fresh avocados and a nourishing mixture of cupuaçu butter, cocoa butter and shine-enhancing cider vinegar define curls, tame frizz and leave locks gleaming. Plus its fruity bergamot scent will keep your mood sunny, too!"
The Application
I wet my hair and my hands and started rubbing the little bar of shampoo in my palms to create a lather. I think I expected shampoo to magically appear in my hands but it didn't really work. I tried rubbing the shampoo bar directly in my hair, which worked much better but left the bar covered in my loose strands. Kind of tugged at my hair a bit too. Once I had a decent lather going, I could work it through my hair, even though it never felt quite as satisfying as a liquid cleanser.
The Result
The co-wash is also a conditioner, which by the feeling of it, I believed. Whether or not it would leave my curls frizzy was the real test. It didn't do too badly. Not as well as my usual conditioner and curl product routine, but it left my hair pretty soft. I'm not a huge fan of the smell, unlike most of the other reviews online. If you like the smell of tropical punch, or sweet/artificial candy, you'll like it.
In a pinch: 7/10
As a legit replacement to shampoo/conditioner: 5/10
Soap Garden Shampoo Bar, $8/120 g
The product
I picked up this shampoo bar at a farmer's market in British Columbia, the mecca of all-natural hippie living. Every three stands were natural cosmetics, so I had quite the selection. Melva, the lady who sold it to me had spent several years traveling on a boat and hated the idea of throwing away any kind of packaging.
[youtube https://www.youtube.com/watch?v=P_0SyWDoOJQ?rel=0]
So there she was now, selling shampoo that looked like a bar of soap and didn't come in a plastic bottle. All it had was a tiny piece of paper around it with the ingredients.
The list of ingredients were:
Saponified coconut, palm, olive, and canola oils. Sweet almond, jojoba, kukui nut, and castor oils. Grapefruit see extract and essential oils of clary sage, rosemary, and peppermint.
So… all oil.
The Application
This one had more of a lather. So much so, I ventured into seeing if I could also use it as a soap and maybe a shave bar too. Turns out, I could, which is definitely a vote in its favour. I'm always on the lookout for dual-purpose items. I could get more of a lather in my hair than the Lush bar, but it had the same underwhelming feeling. Maybe I just need to get used to a milder rinse.
The Result
I definitely needed to use a conditioner after this shampoo. It left my hair clean, but with nothing much to work with in terms of moisture or curl. Decent smell, not as overpowering as the Lush product.
In a pinch: 6/10
As a legit replacement to shampoo: 5/10
So, neither really wins, because they both have advantages of being dual purpose (albeit, different secondary purposes). If you really wanted to save on space, solid shampoo is actually legit. If you have room for shampoo, then I'd say treat yo'self and stick to your regular routine.